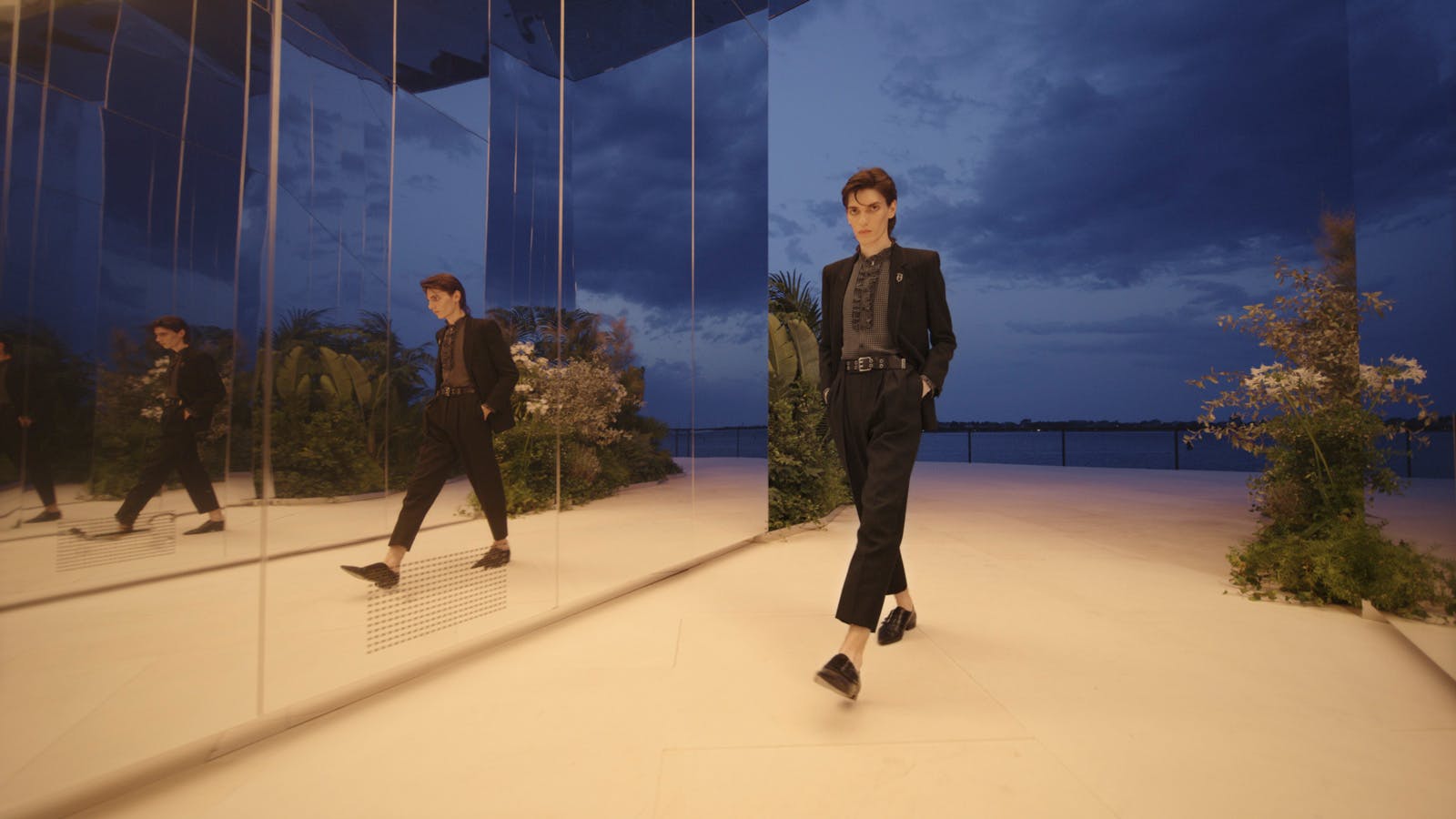 Saint Laurent / Spring/Summer 2022 / La Certosa, Venice, Italy
Editor's Notes
Saint Laurent and Anthony Vaccarello pitched up in Venice for his latest rock and roll roadshow, dodging the main tourist area's bustling crowds for a small island (complete with Doug Aitken installation) in the lagoon. When showing at such picturesque locations, I sometimes think the grandeur can make the clothing feel like a footnote. But that's not something you need to worry about with Vaccarello's Saint Laurent, where the sheer sex appeal of what's coming down the runway will inevitably draw in the eye. How low should one go when it comes to leaving shirt buttons undone? Going by this effort, there is no such thing as having too much flesh exposed.
Let's get it straight: these models don't really exist in real life. At least not for most of us. They're the guitar heroes that used to live inside the NME, the red-blooded frontman who swaggers onto the main stage at Glastonbury before tearing into a big fuck off solo. The whole gesamtkunstwerk is pure fantasy, which is why Saint Laurent has proved to be one of the most successful brands in the Kering stable over the years. It's hard to think of another luxury brand that operates with the same comforting consistency. For devotees, I imagine it's like going to the same restaurant over and over because the food is solid and you know what you're going to get.
This time around, there was a discernible smattering of Victorian-era gothic flair. Vaccarello is only too aware that when using antiquated affectations such as pussy bows and ruffles, there's always a risk of falling into deep cheese territory. Yet this mostly worked (admittedly, one or two looks felt more "circus master" than Lenny Kravitz). There was plenty of gauze and shiny suits that hit just the right note of game show host chic, while die-hard followers will be satisfied with the by-now expected haul of winkle pickers, leather pants, and jackets.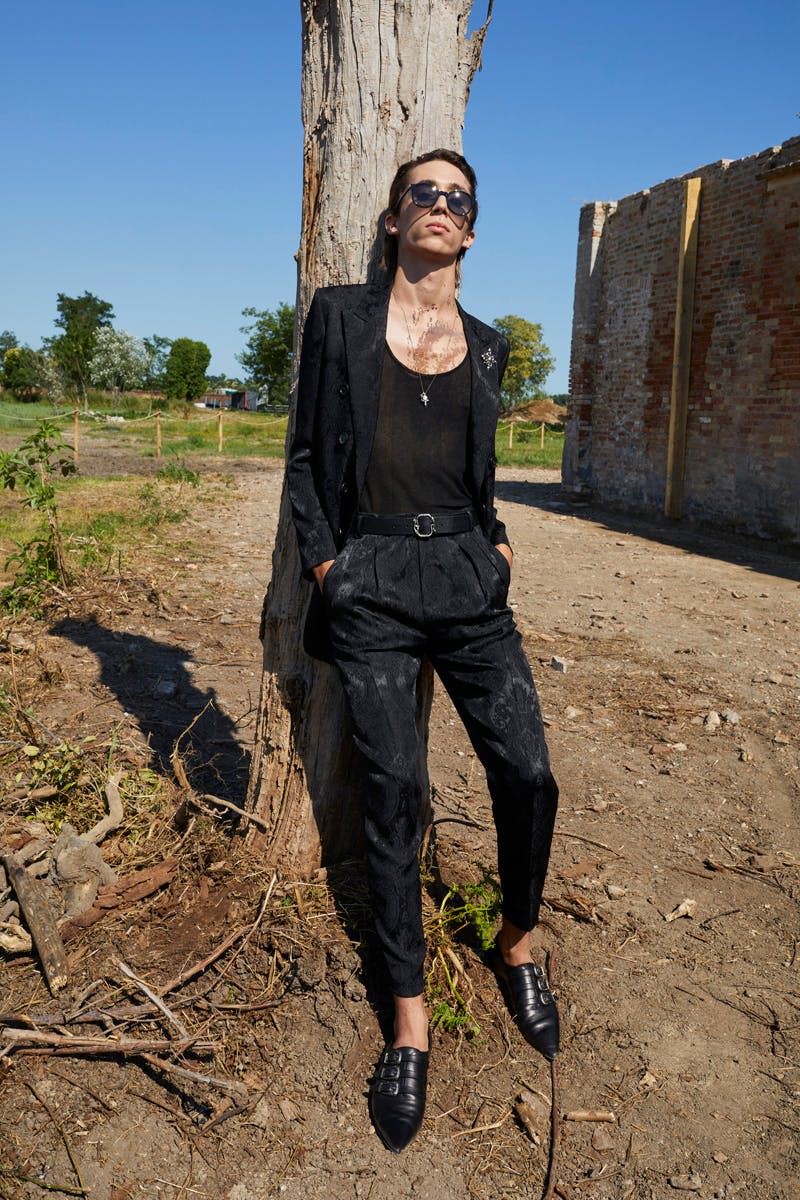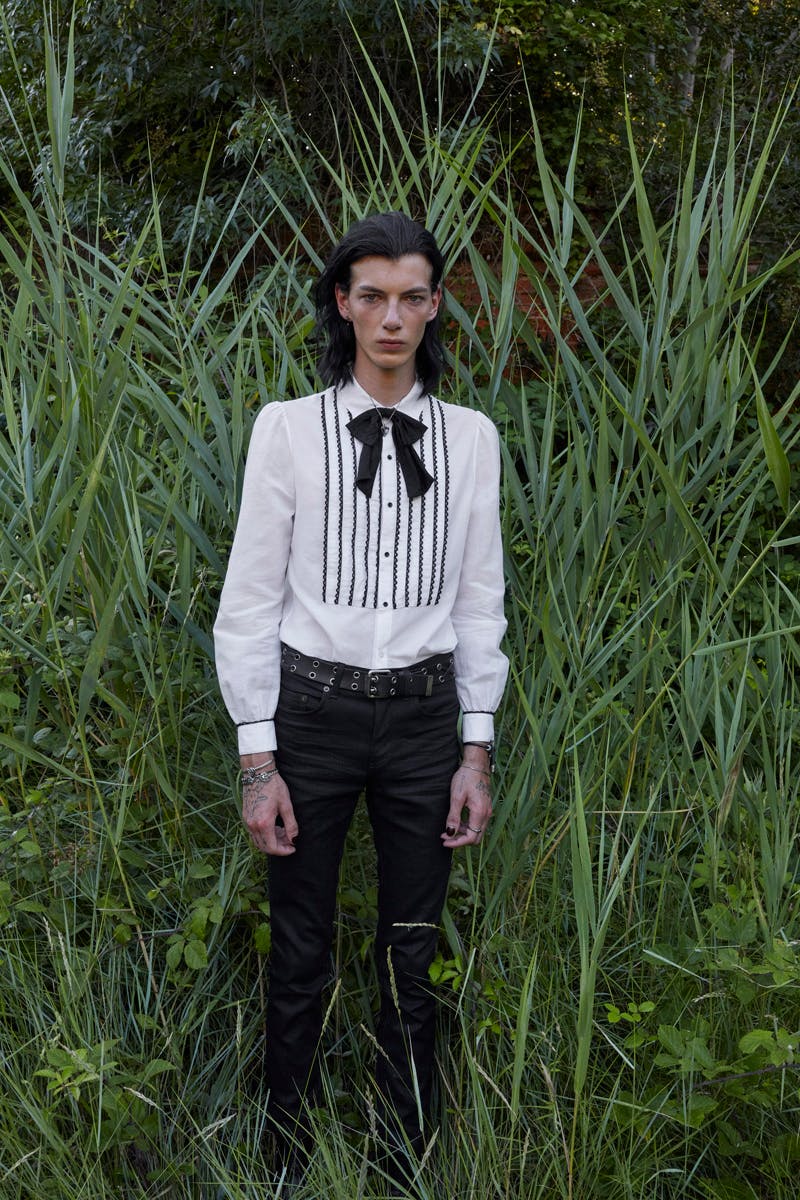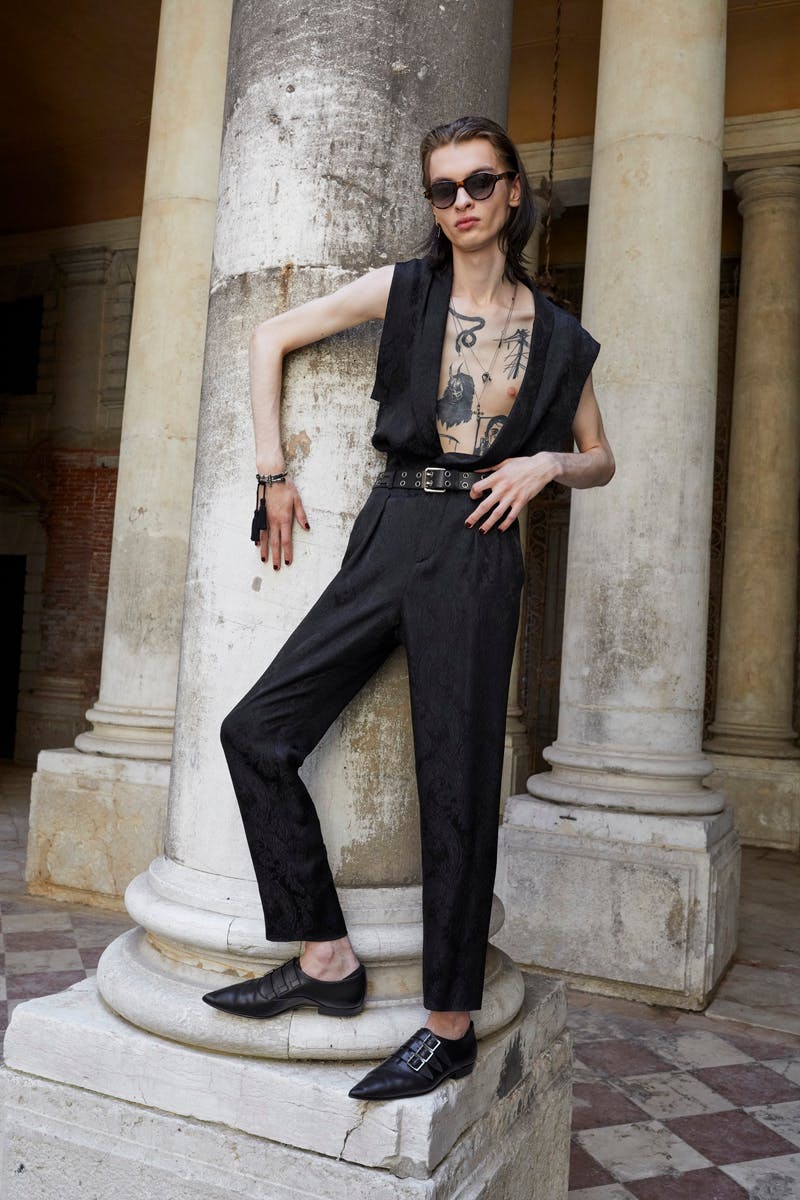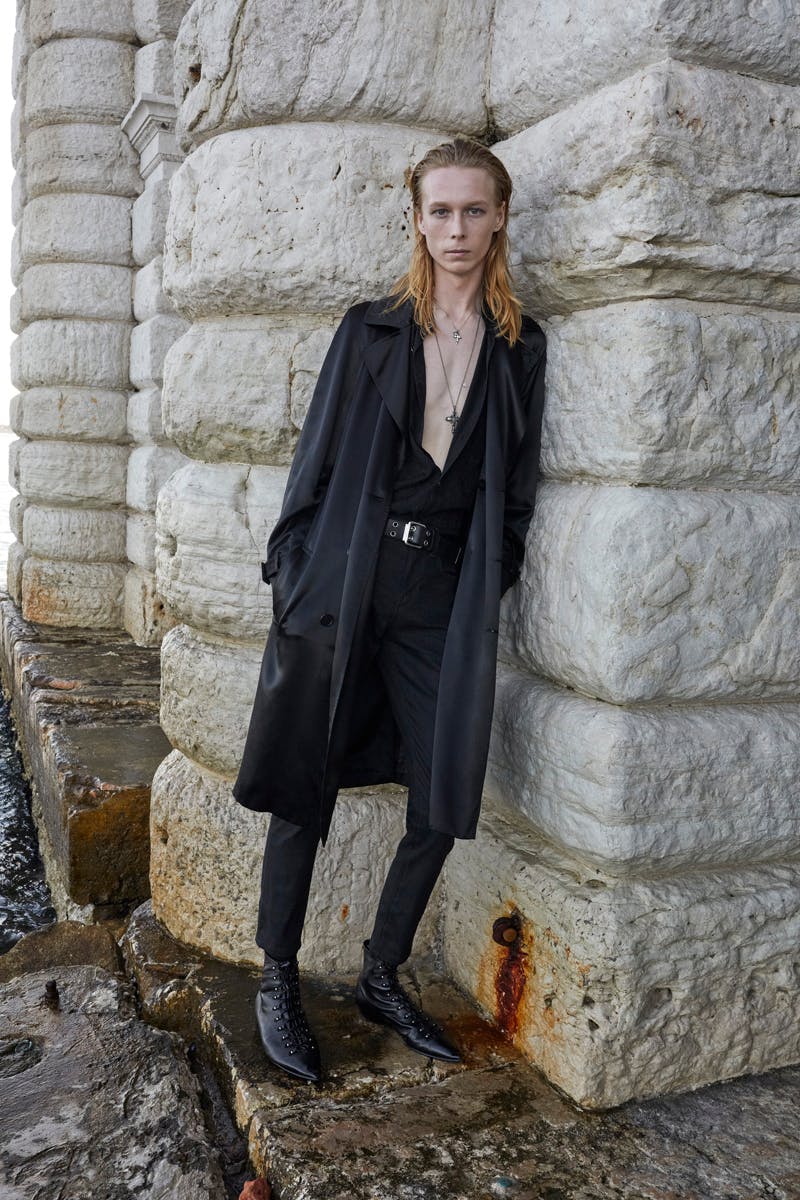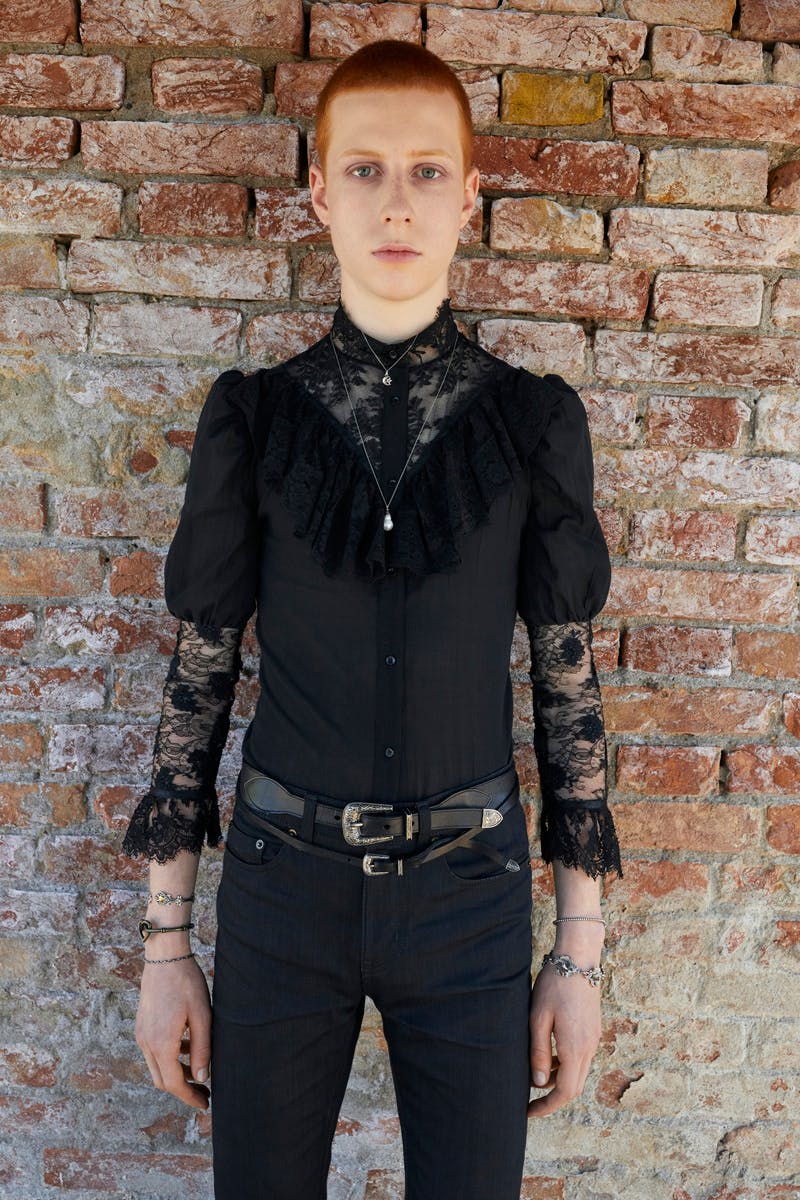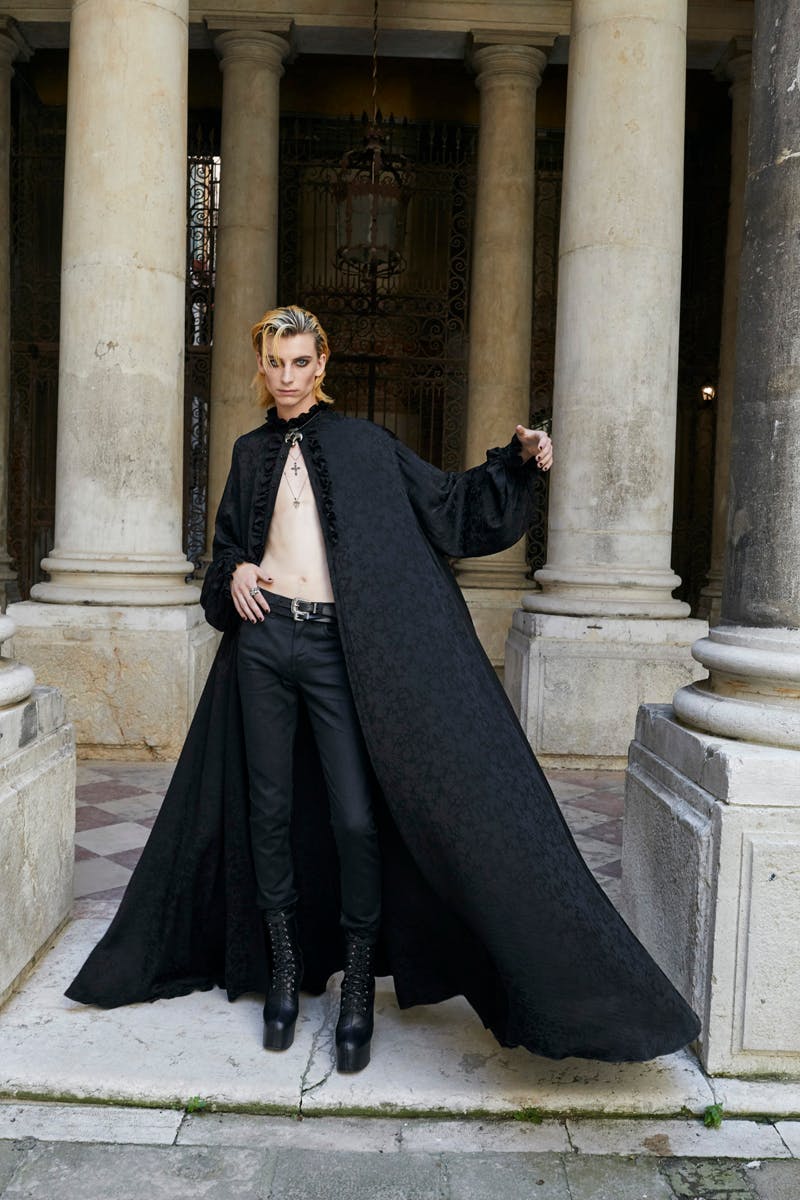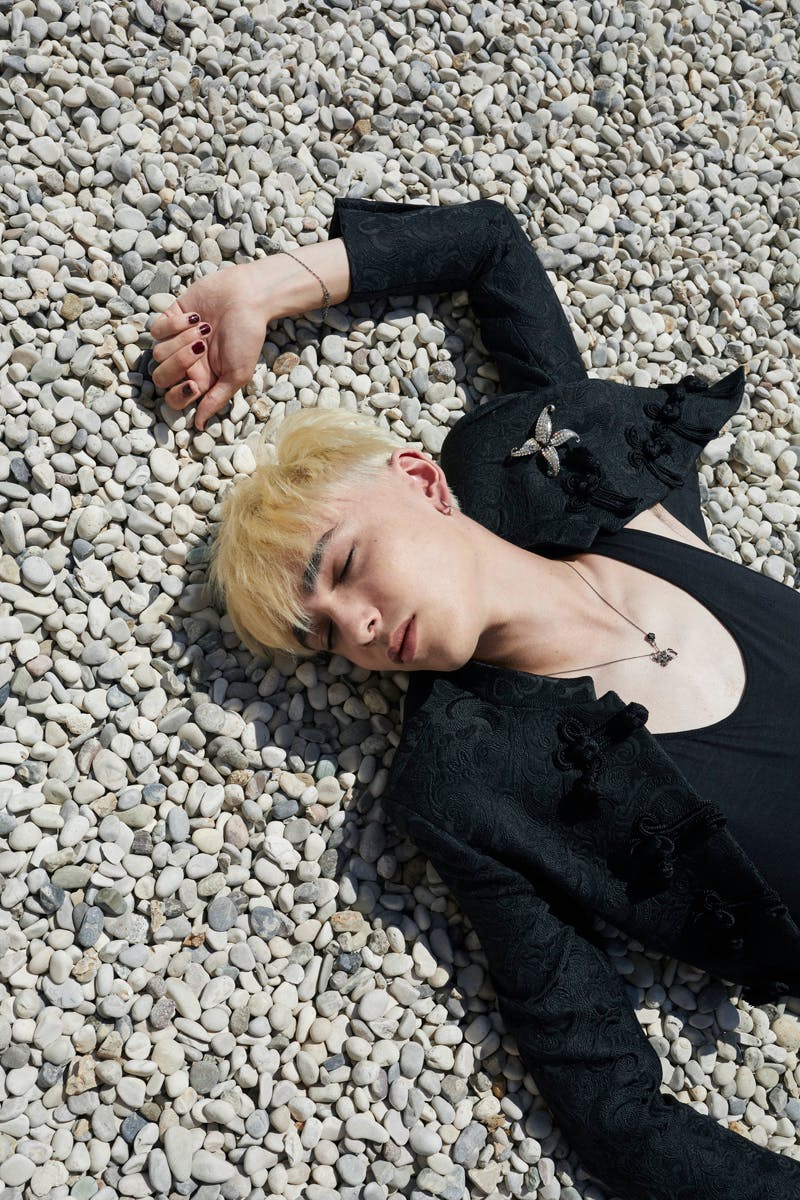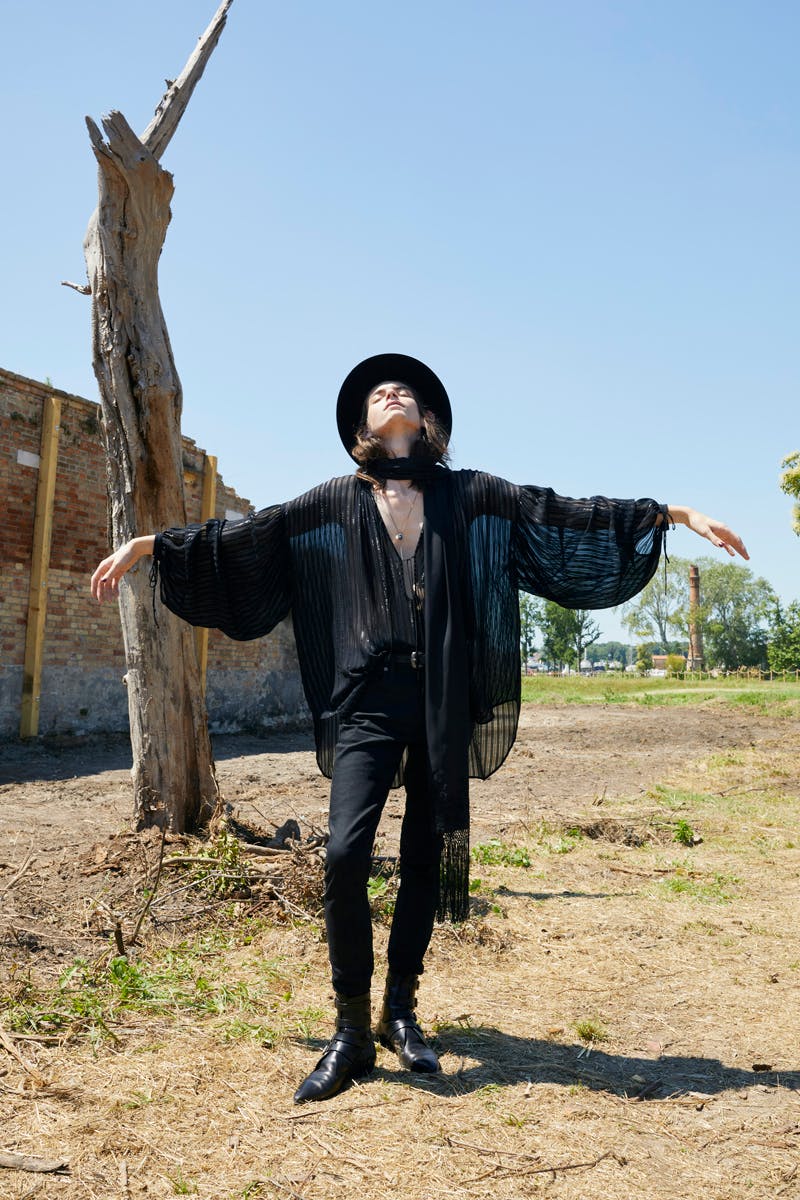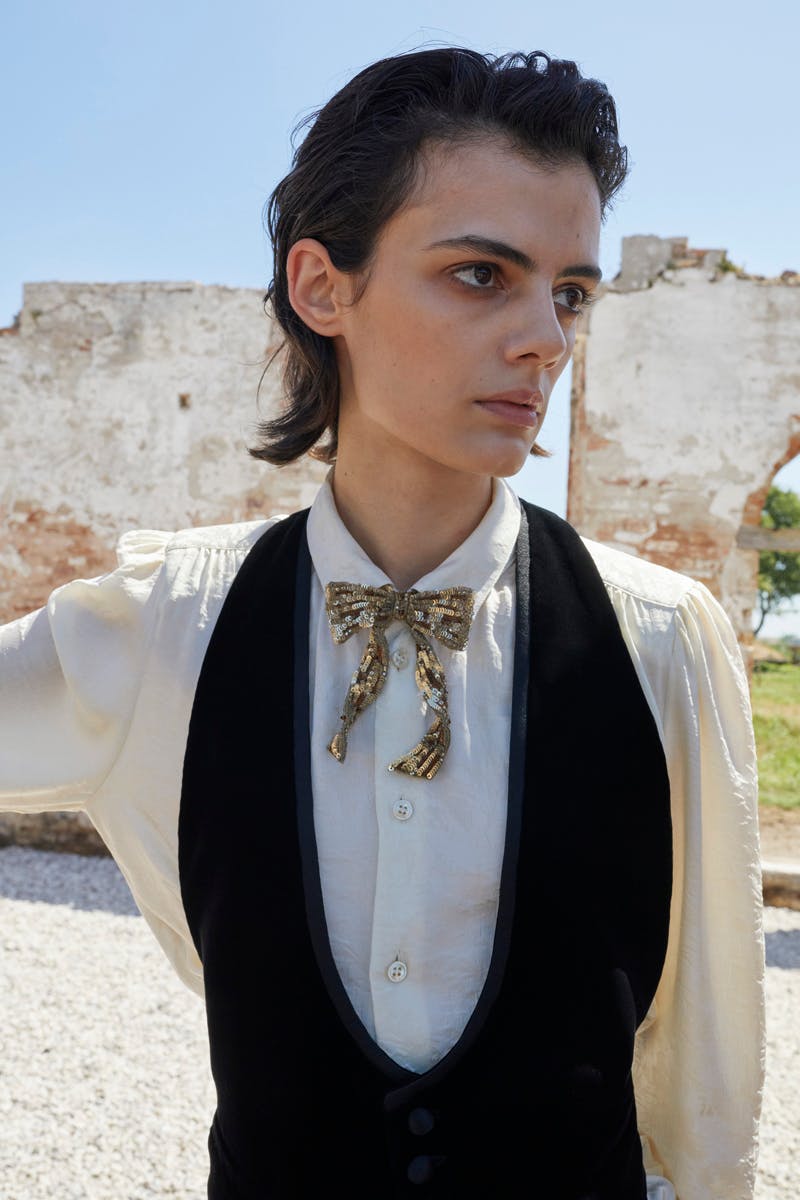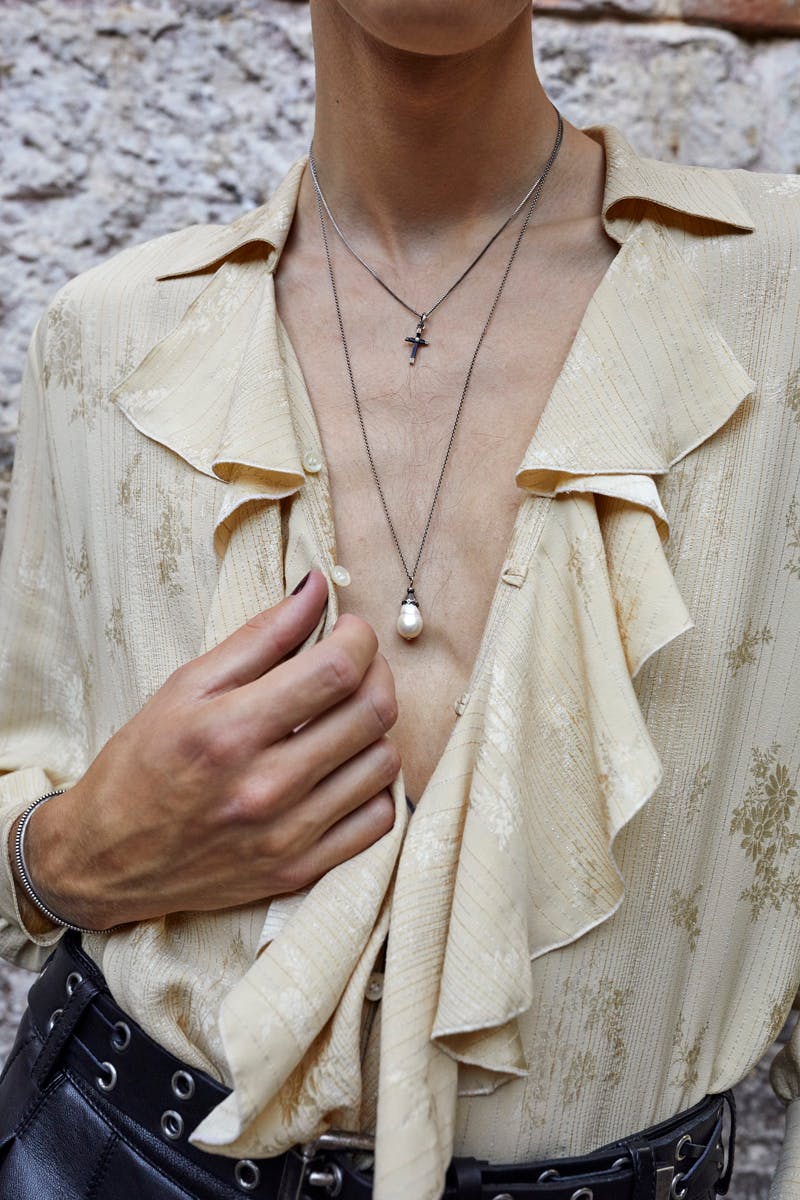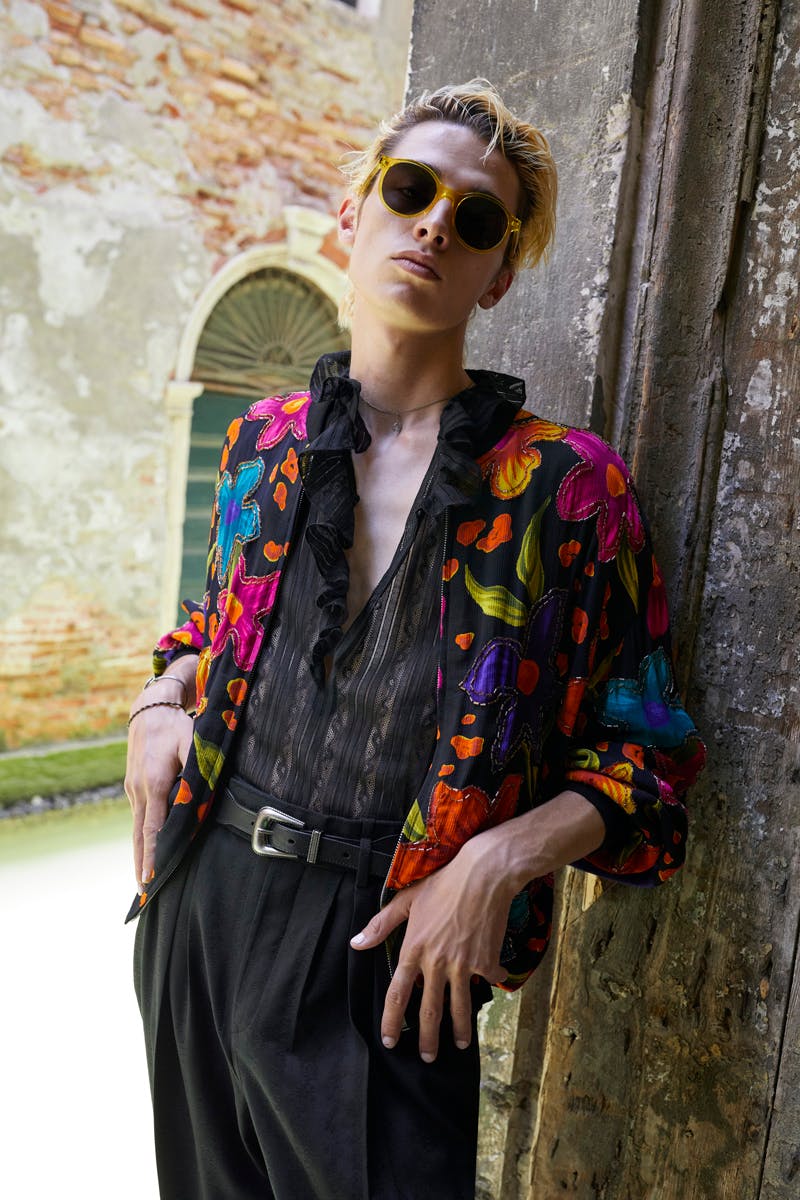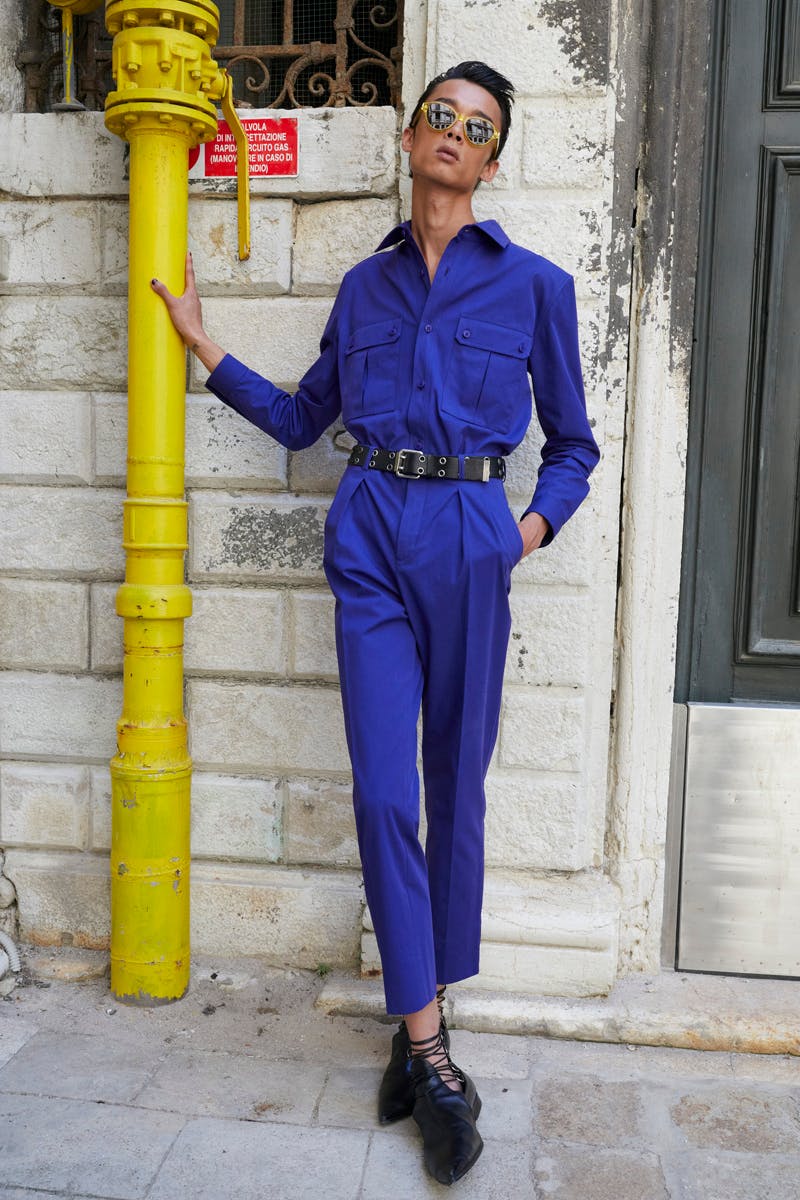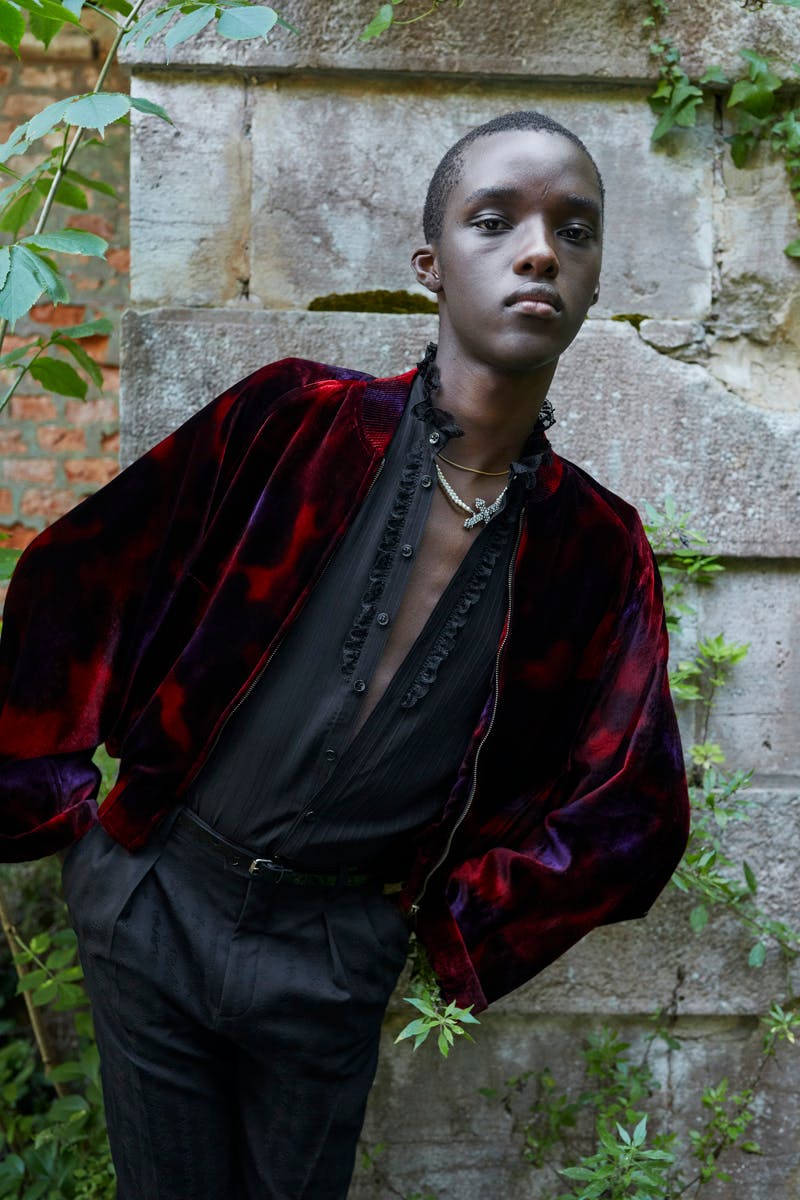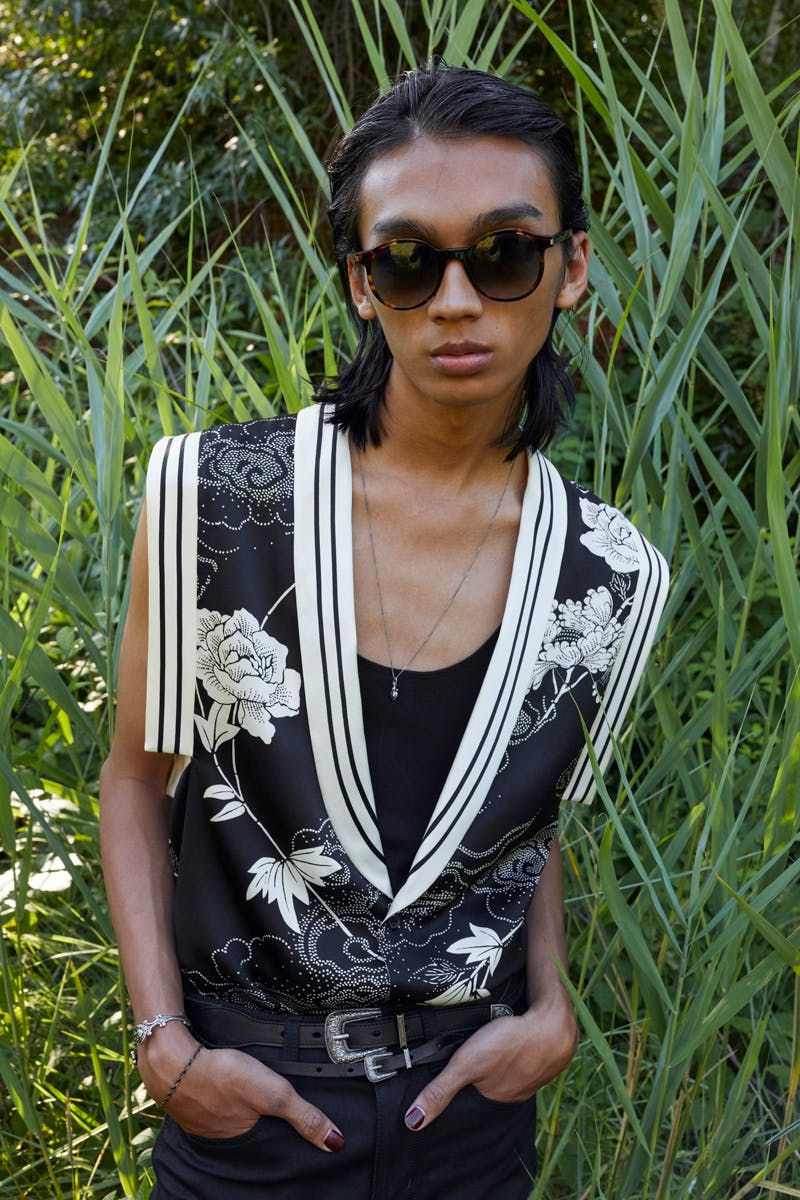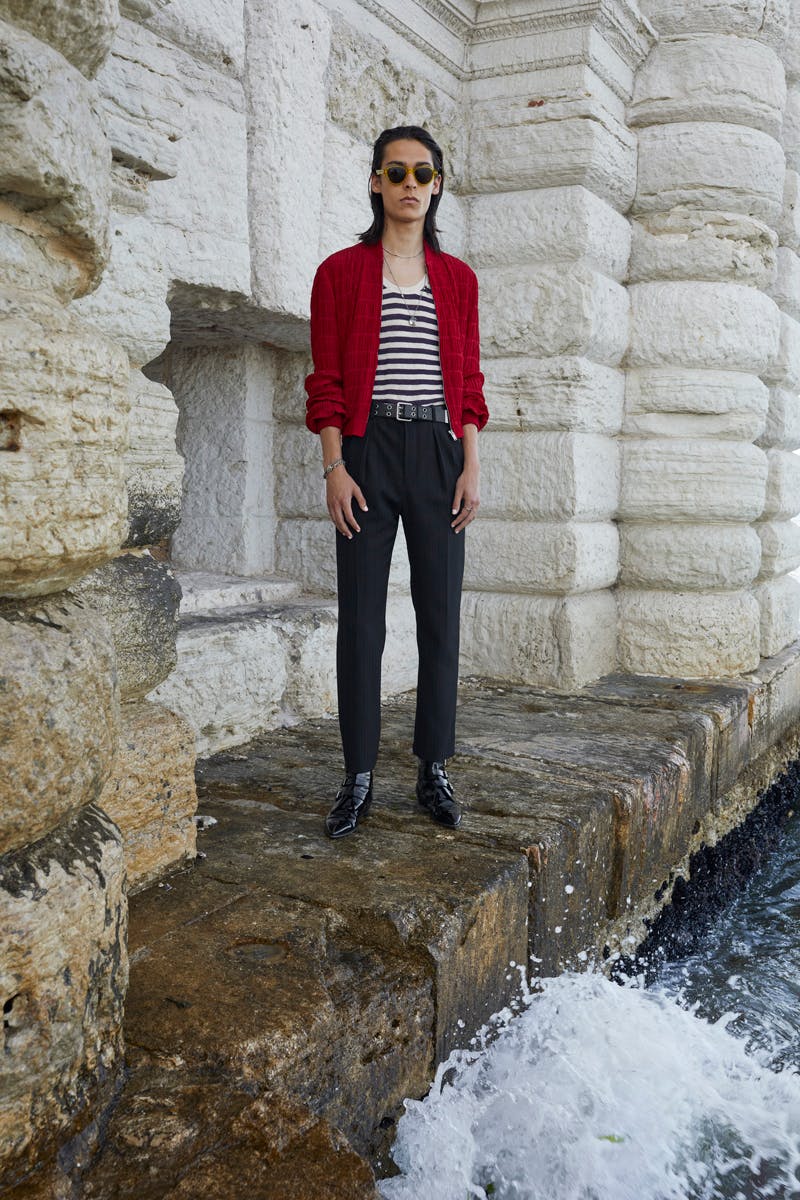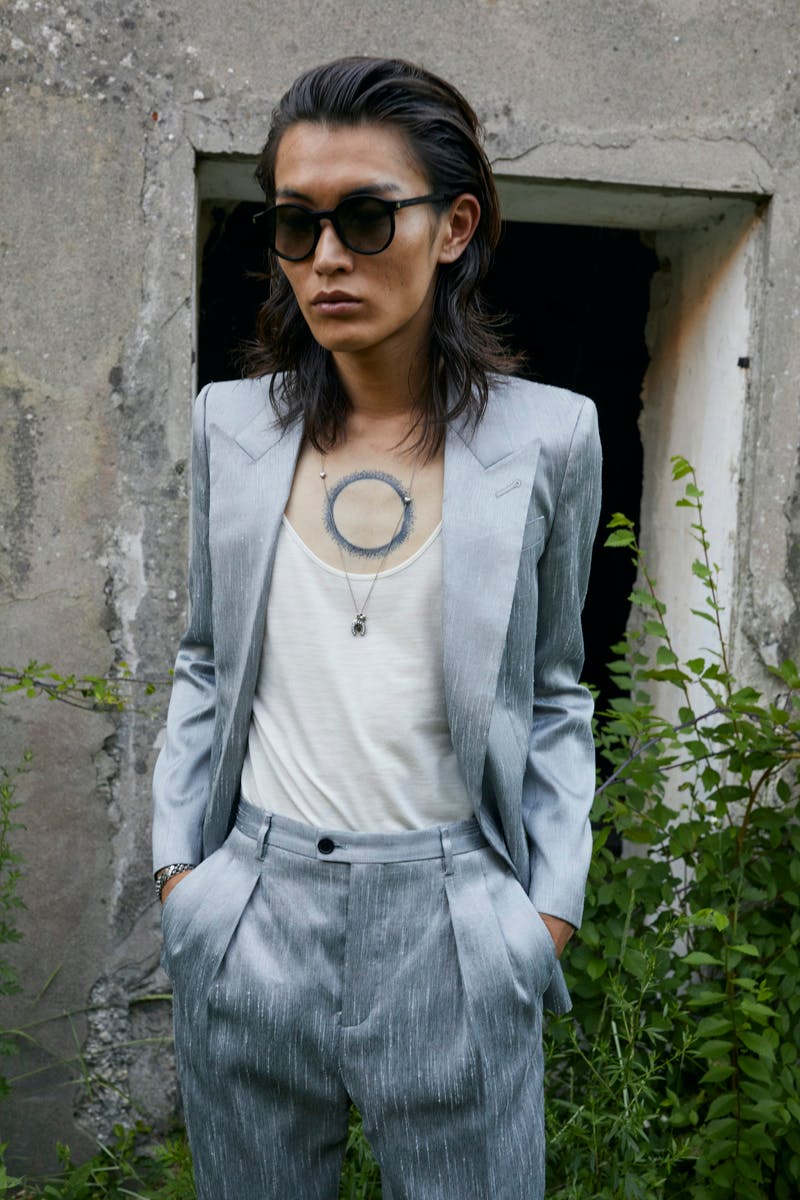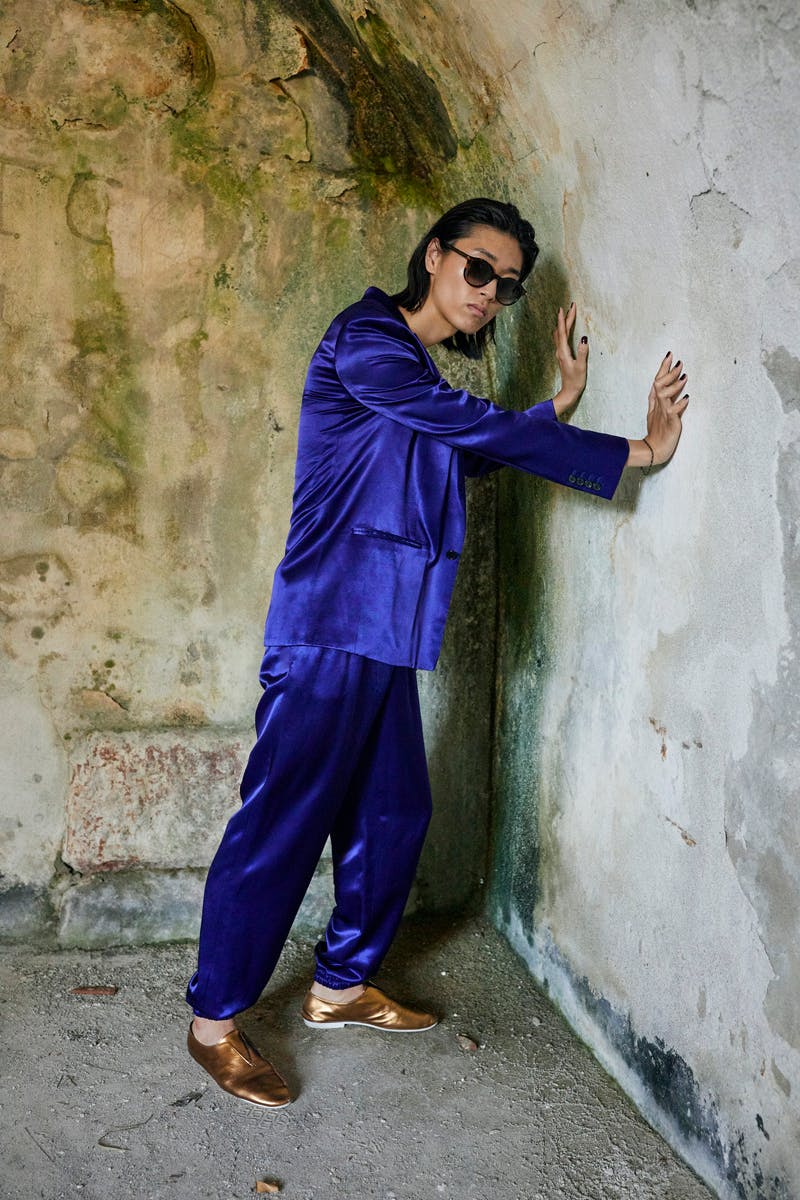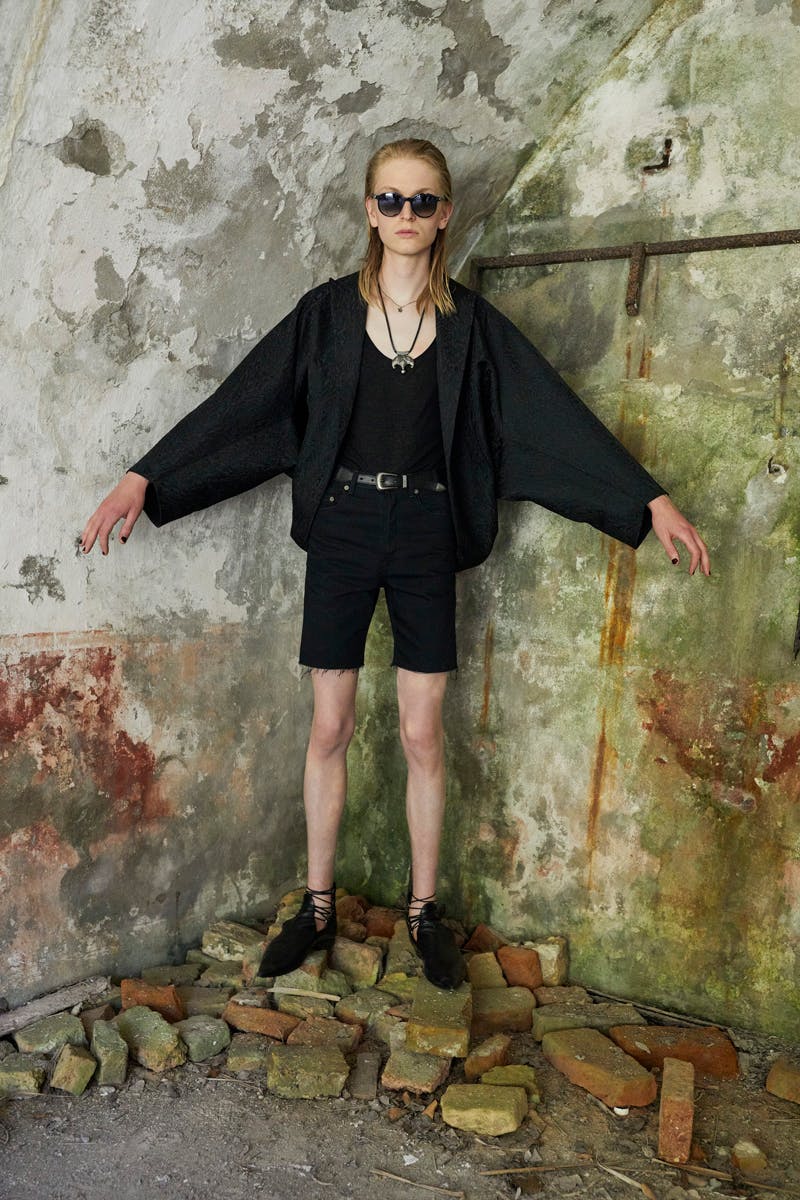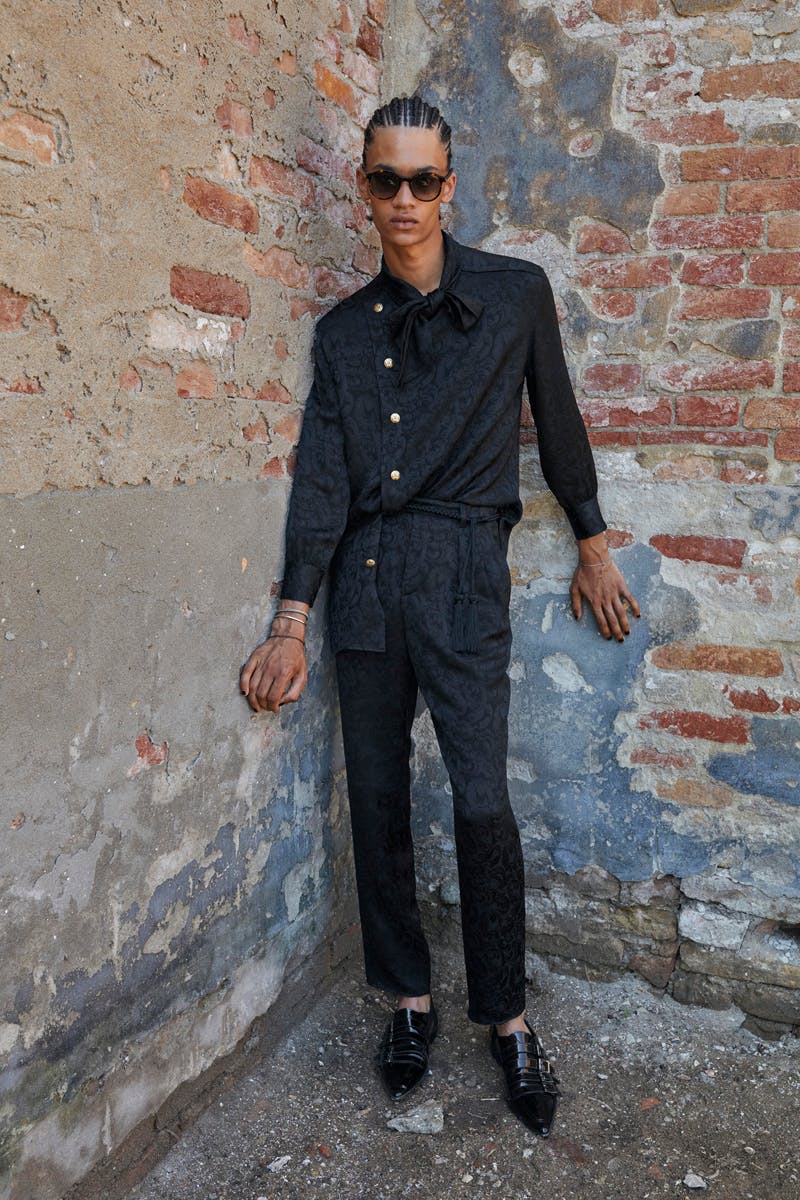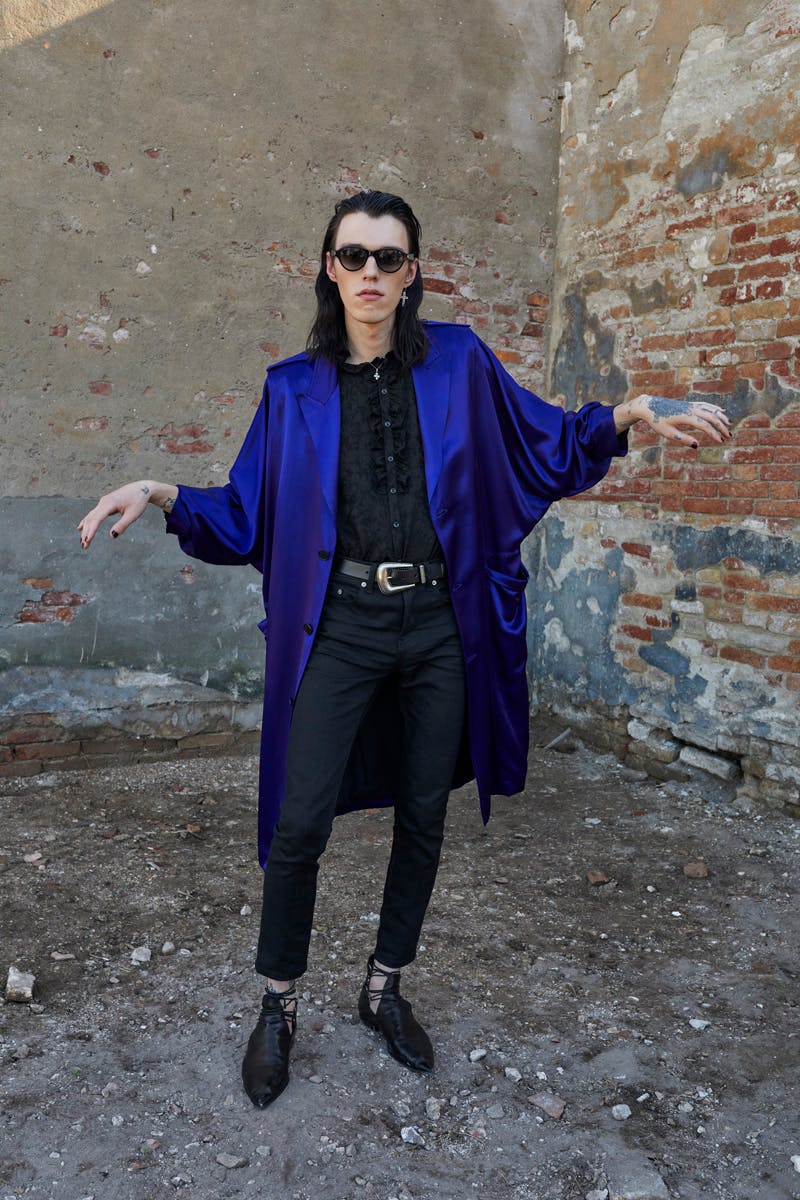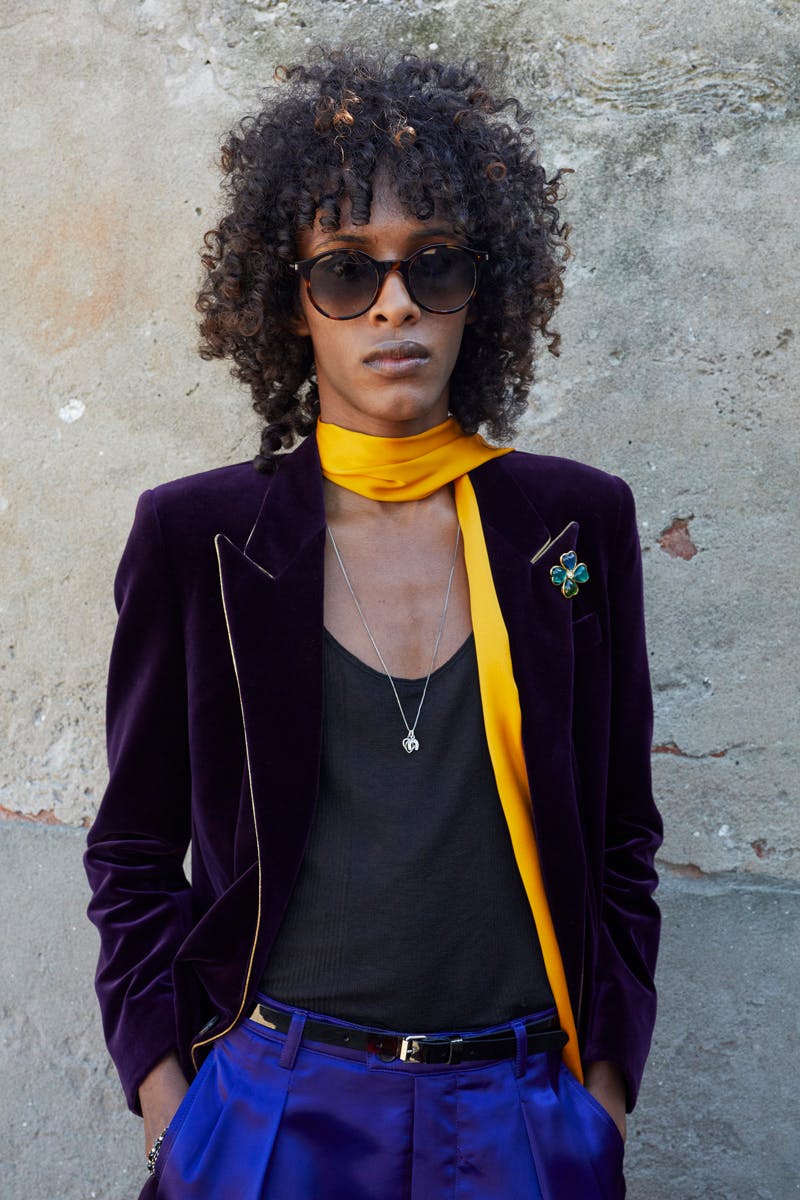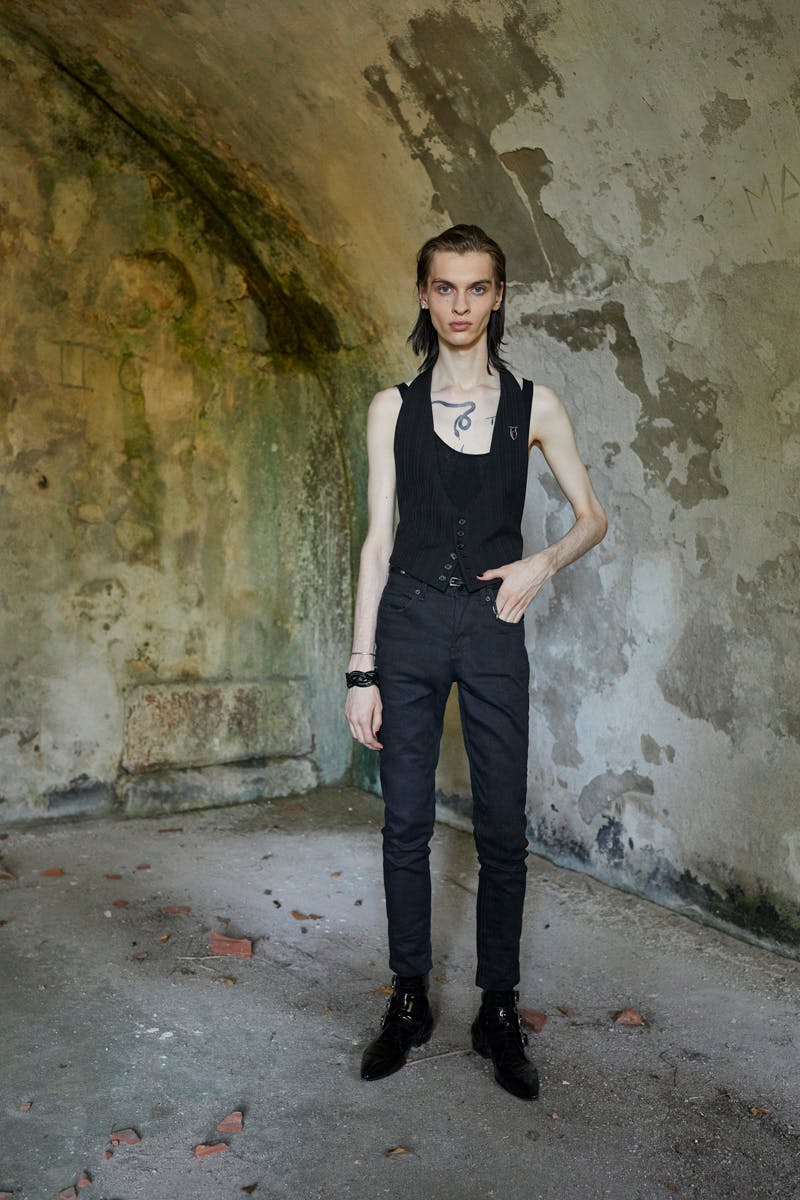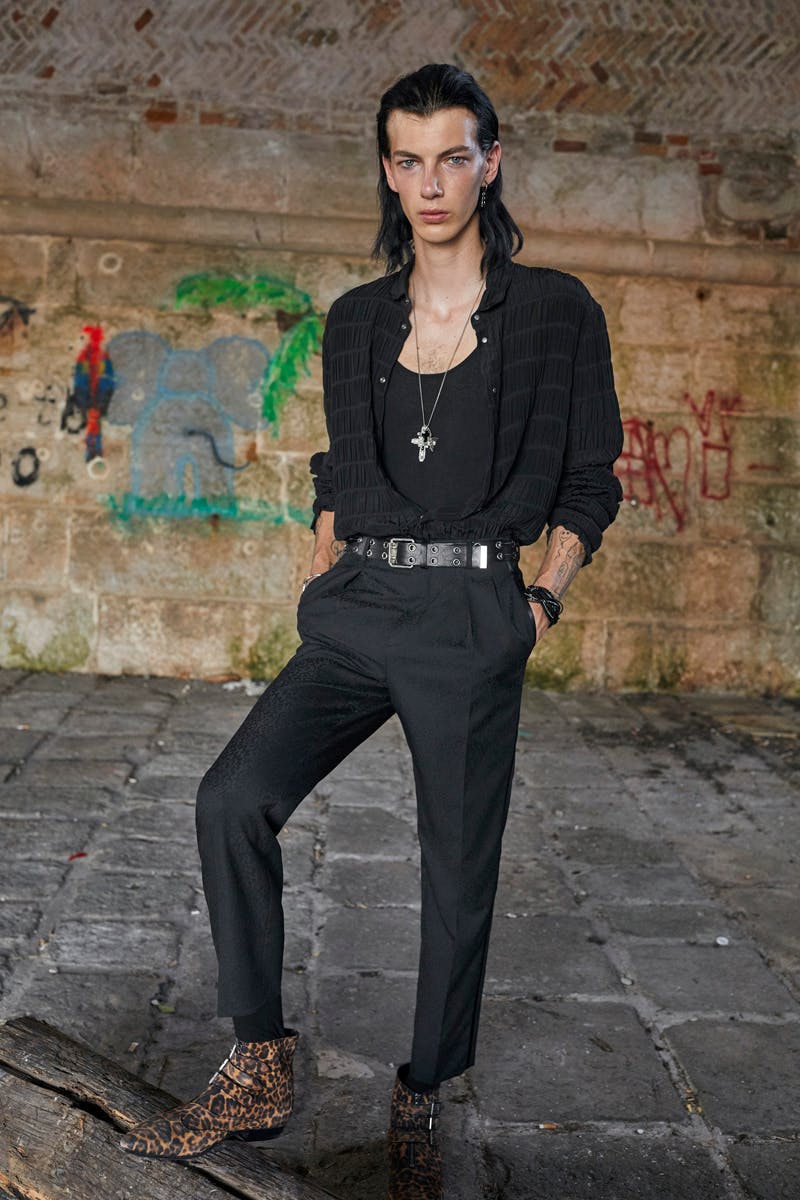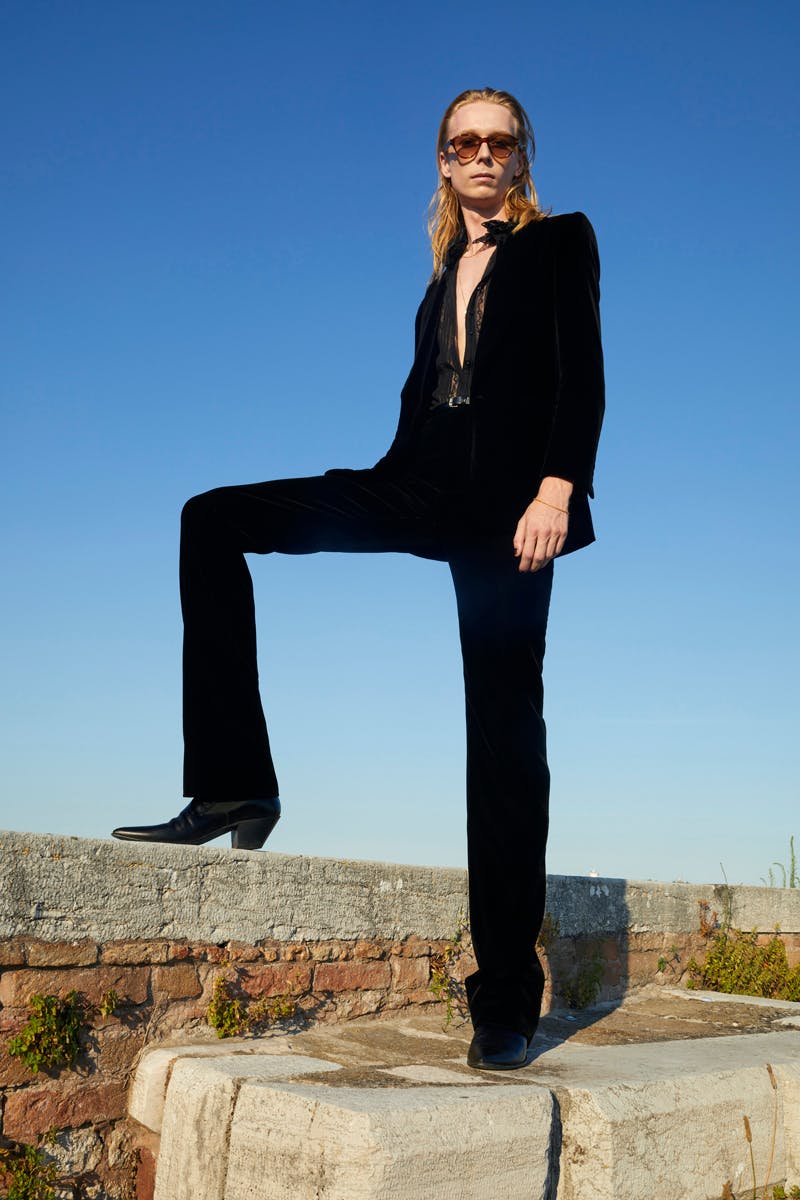 Black and white contrasts are created by pleated trousers worn high waisted with chunky belts and blousy tank tops and shirts.

The idea of the [Doug Aitken structure] is about the desire to look at the future without forgetting the past and the history and same is for the collection which is mixing past and present projecting it into the future. The process is a mutual understanding of each other and that's where the communication becomes very easy and spontaneous.

Anthony Vaccarello
Highsnobiety's Shopping List
Big, crazy cape
The year is 2030, and a Van Helsing reboot has somehow been green-lit. In this spiffy installment, the costumes are made by Saint Laurent and the man himself is played by Brandon Flowers.
Lettuce hem shirt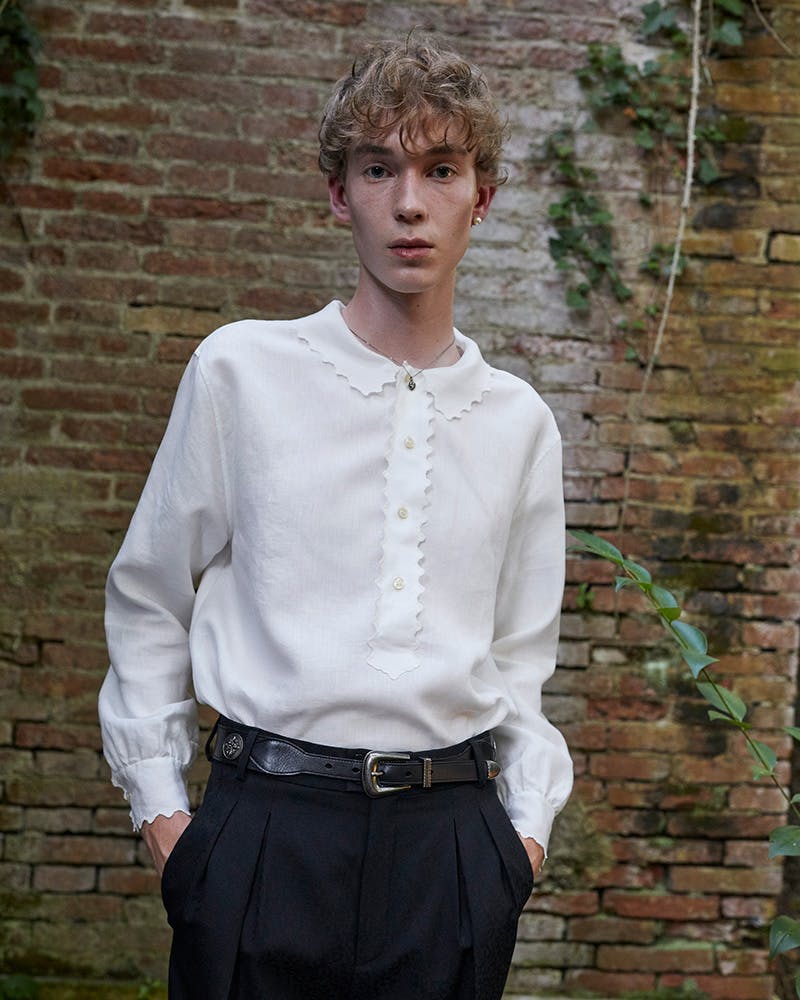 Manic Pixie Dream Boyism is a thing, and it lives inside this delicious Peter Pan collar.
(Deep) purple two-piece
The Joker gave up torturing innocent folk and now hustles as an undeniably well-dressed pool shark down the local. He's looking well these days.
Suit and ruffled shirt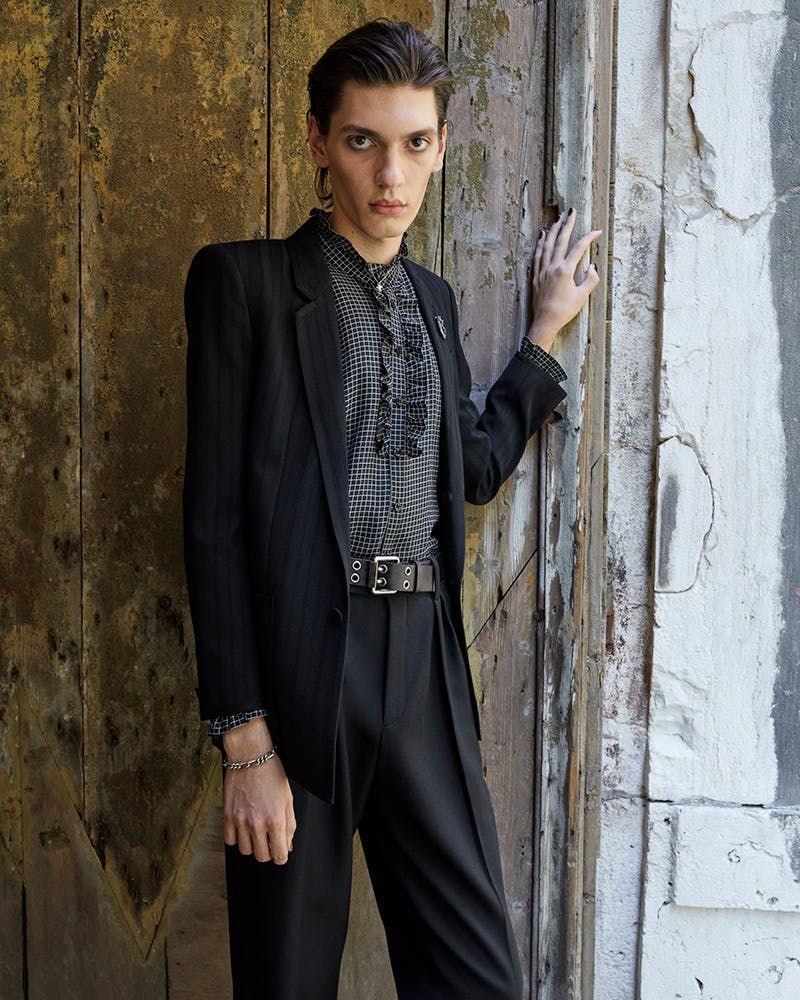 BRB, going on a Huel diet in a desperate bid to fit into this suit by next year.