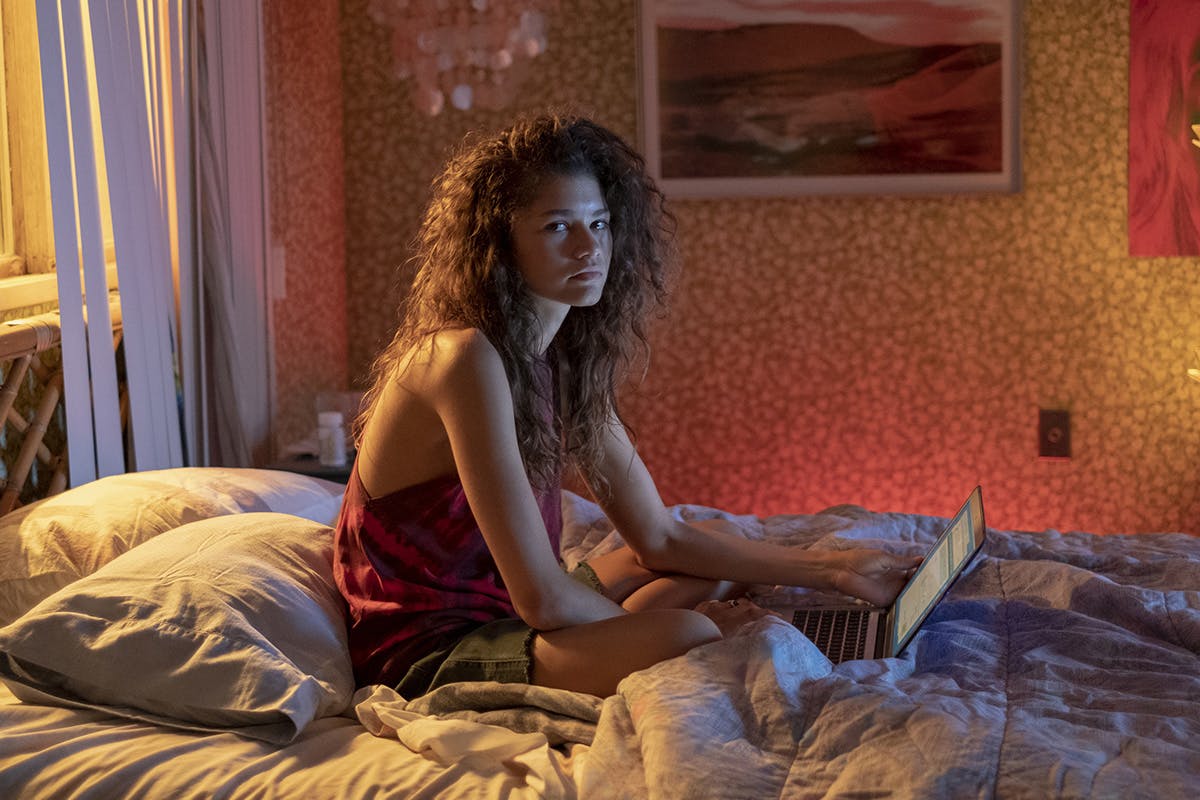 When Euphoria graced our screens last year, it offered a captivating and cliche-free glimpse into contemporary teenage life – placing former Disney child star Zendaya at the center of the show as a teenage drug addict.
The fresh depiction of teen life today as embraced by audiences (of all ages) and critics alike. So the news that we'd be getting two additional episodes this December– delivered by Drake himself– was welcome news to fans who were disappointed about the coronavirus-related delays to season two.
Nevertheless, the world could fall apart between now and December so to fill the Euphoria-sized hole until then, we compiled a list of movies and shows to check out in the meantime. We've opted out of the usual Hollywood depictions of high school life and instead focused on titles that feel realistic in some major way, be it through plot, visual style, or a true reflection of the trials and tribulations of being a teenager.
If you liked Euphoria's no holds barred approach to sex and drugs, check out Skins
Although portrayals of teenage debauchery have become more graphic over time, Euphoria's depictions of sex and drug use still shocked many when it premiered in June. Critics have accused it of using exploitative methods purely for shock value, but Euphoria's creator Sam Levinson maintains that the overall narrative serves to show the many negative effects of extreme adolescent hedonism.
With that in mind, the most obvious reference point for the show is the UK series Skins. Similarly focused on teen sexuality, substance abuse, and mental health issues, the shows share a fair bit in common, including a narrative structure that's loosely centered around a different character each episode, an incredible soundtrack that feels relevant to the characters, and even the odd non-diagetic musical number.
MTV attempted a US remake of Skins back in 2011, but it wasn't well received and only lasted one season. However, fans are hailing Euphoria as the true American version of Skins they always wanted.
See also: Cherrybomb, Thirteen, Baby
If you're a fan of Euphoria's trippy visuals and storytelling style, check out Nowhere
One of the most talked about aspects of Euphoria is its distinctive visual and storytelling style. It revels in atmospheric, drug-fueled hallucinations and innovative cinematography, while also amplifying the strong emotions of adolescence to crushing effect.
Employing similar techniques in his work, director Gregg Araki's oeuvre comes to mind. He's since moved on from depicting teenage and young adult lives but his early work — particularly the film Nowhere from his "Teenage Apocalypse Trilogy" — plays out in a similar hedonistic and emotional way which is framed by off-kilter visuals.
See also: The Doom Generation, Spring Breakers, Kaboom
If you liked Euphoria's killer soundtrack, check out On My Block
Euphoria's music supervisor, Jen Malone (who's also worked on Atlanta), is behind the incredible lineup that mixes everything from trap to yacht rock which exists nicely alongside a score that Levinson wanted to sound like "Danny Elfman meets Yeezus meets gospel."
Tonally, On My Block is a very different show than Euphoria. Whereas Euphoria is a straight drama, On My Block is a dramedy that takes serious topics and subverts expectations — albeit still using a diverse musical soundtrack relying on everything from rap to salsa.
See also: Freaks and Geeks, Dazed and Confused, Palo Alto, The Virgin Suicides (NB: these soundtracks skew more to rock, but are some of the best in the teen genre)
If you liked Euphoria's approach to character development, check out Skam
Euphoria's structure relied on character-centric episodes that gave depth to its ensemble cast. Additionally, its focus on developing each major character's arc allowed for both minor and major action in the plot which added realism to the series.
One show that helped to revolutionize character-driven storytelling was the Norwegian series Skam. Focused on a different character each season, the show tackled relevant teen topics including identity, homosexuality, mental health issues, eating disorders, sexual assault, and religion. It followed a unique distribution format where clips, conversations between characters, or social media posts were released every day, culminating in a weekly episode. Additionally, each character had active social media accounts where fans were able to connect with them. Skam exploded internationally before the original Norwegian series ended, resulting in multiple adaptations produced in various European countries as well as a US version set in Austin.
See also: Skins, Degrassi, Heartbreak High
If you're a fan of how Euphoria depicted social media, check out Eighth Grade
Social media plays a big role in Euphoria with everything from messenger apps to hookup apps featured throughout. But besides some onscreen message popups — now de rigueur in Millennial and Gen Z-focused content — the show sticks to social media as a plot device rather than visual representation.
Bo Burnham's breakout film Eighth Grade made a big impact when it premiered on Netflix last year, not only for its nuanced approach to teenage anxiety, but for its captivating depiction of teen social media use. Protagonist Kayla goes through eighth grade with a social media addiction of sorts while posting YouTube advice videos. The content in Eighth Grade doesn't compare to Euphoria and it's not meant to, Kayla is in Junior High after all, but the film's mature approach to younger teen issues and savvy use of social media makes it worth a watch.
See also: Cyberbully, Disconnect
If you're a fan of creator Sam Levinson's idiosyncratic style, check out Assassination Nation
Sam Levinson has managed to carve out his own unique space in Hollywood at a relatively young age. Incidentally, Euphoria bears a striking resemblance to his second feature film, Assassination Nation. The plot is different but it features similar themes as Euphoria such as transphobia, sexual blackmail, teen sexuality, and abuse of social media. It even stars Euphoria actors Maude Apatow and Lucas Gage. Ultimately it's different than Euphoria, but undoubtedly helped pave the way for Levinson's vision.
See also: Another Happy Day
If you want more of Euphoria's bleak approach to adolescence, check out Kids
The cinematography and soundtrack might present a cool image of what the teens in Euphoria get up to (despite everyone involved vocalizing that the show ultimately warns against such behavior), but the reality is rather dark. Such subject matter has been addressed in film and TV for a long time, ultimately acting as a warning for kids and reminding parents to remain vigilant.
Larry Clark is perhaps the best known filmmaker tackling such issues as they relate to a young adult demographic, and Kids is the OG. Written by Harmony Korine, it depicts the harsh realities of a group of kids in New York City in the mid-90s. Clark has made other films that address similar topics.
See also: Ken Park, Bully, L.I.E., It Felt Like Love
If you're drawn to Euphoria's depiction of addiction, check out The Basketball Diaries
Once again, there's nothing glamorous about Euphoria's depictions of drug use. Sam Levinson based much of the story on his own addiction during his teen years, before he got clean at the young age of 19. His writing is shocking and honest, while Zendaya's portrayal of Rue brings a sensitivity to the material.
There actually aren't that many teen movies about addiction that offer realistic and unfiltered points of view. It's not as gritty as Euphoria's take. but Leonardo Dicaprio's performance as teen heroin addict Jim Carroll in the biographical film The Basketball Diaries is highly regarded.
See also: Christiane F., Traffic
If you liked Euphoria's themes of queer teen sexuality, check out Pariah
Mainstream films about queer sexuality are still few and far between, and depictions of queer teen sexuality are even rarer. The majority that do exist tend to portray an exploitative or chaste version of events, so it's no wonder that Euphoria feels like a breath of fresh air in comparison. Trans actress Hunter Schafer gave input into her character Jules, adding authenticity, while multiple other queer storylines give visibility to an often marginalized group in the teen genre.
Indie film Pariah tackles the intersection of queer and black identity as it follows 17-year-old Alike as she comes to terms with being a lesbian. Director Dee Rees describes the film as semi-autobiographical and that comes through in the film's nuanced and realistic story.
See also: Show Me Love, As You Are, The Way He Looks, Moonlight, Totally Fucked Up
If you want to explore Euphoria's source material, check out My So-Called Life
By now it's clear that there are various influences at play in Euphoria. From the original Israeli series of the same name — which Levinson took and made his own by adding a personal through line — to seminal teen show Degrassi, which changed the teen genre when it first aired in 1979. Drake is an executive producer on Euphoria and incidentally starred in Degrassi: The Next Generation before his music career took off.
However, there's another popular series that's admired to this day that received a specific shoutout in Euphoria; My So-Called Life. Featuring a stellar soundtrack and a young Claire Danes and Jared Leto before they were big, My So-Called Life is well worth checking out before Euphoria returns to our screens next year.
See also: Euphoria (original Israeli version), Degrassi