Those who don't know Olalu Slawn by this point haven't been paying attention. Skater, brand owner, and artist, the Motherlan co-founder is one of the most incendiary talents to come out of London in a long time. Today, you can cop a piece of his work.
Pinning down the Lagos transplant's style of art is no easy task. The lazy man's comparison is to look at it and think Keith Haring, but as he'll tell you himself, beyond the pen work there isn't really much of a similarity. Slawn isn't the type to get hung up on trying to explain his approach period. It's irreverent and a touch trippy, completely unfiltered in a way that reflects his larger-than-life personality (how many other "creatives" do you know who count both Rick Ross and Jim Jones as inspirations?) Virgil Abloh, Skepta, and Angelo Baque were all early fans, as was the team at Supreme, who he's come to regularly model for.
Ahead of a new batch of paintings being made available to the public — which are available to bid on over at Slawn's IG Stories — we caught up with the man himself.
How would you sum up the Motherlan Skate Crew?
Motherlan is just a group of motherfuckers who know how to skate and design some shit from Lagos. The link to London has always been there, we only all moved here [London] proper in 2020. We haven't released the new collection yet, but we've got a skate video coming out soon, part two of our Corteiz collaboration (soon maybe), and a potential Mowa one. But we're still playing around. I might just be chatting shit, I don't know our plans or I don't wanna reveal too much.
What is your background in art?
I have no background in art really. I won't cap and say I was surrounded by it growing up, I have vivid memories of my dad having phone calls and drawing these little faces and houses on pieces of paper so I guess that, and skateboarding, I got into it cause why the fuck not? Then lockdown happened and I needed to occupy my time, and drugs wasn't doing it for me.... ish.
Who were your inspirations growing up?
Rick Ross (my uncle Dayo plugged me from young), my friend Onyedi, Steve Jobs, and Jim Jones.
Can you put your style of art into words?
I can't describe it. I have my best friend Petr (he's the only one that can come close to it, so ask him). It's a lot of cartoons and XXX shit, you feel me?
What were the beginnings of Motherlan?
Me, Leo, and Onyedi used to work at the first skate shop in Nigeria. That was WAFFLESNCREAM owned by Jomi. He's our OG. Thats where Motherlan started.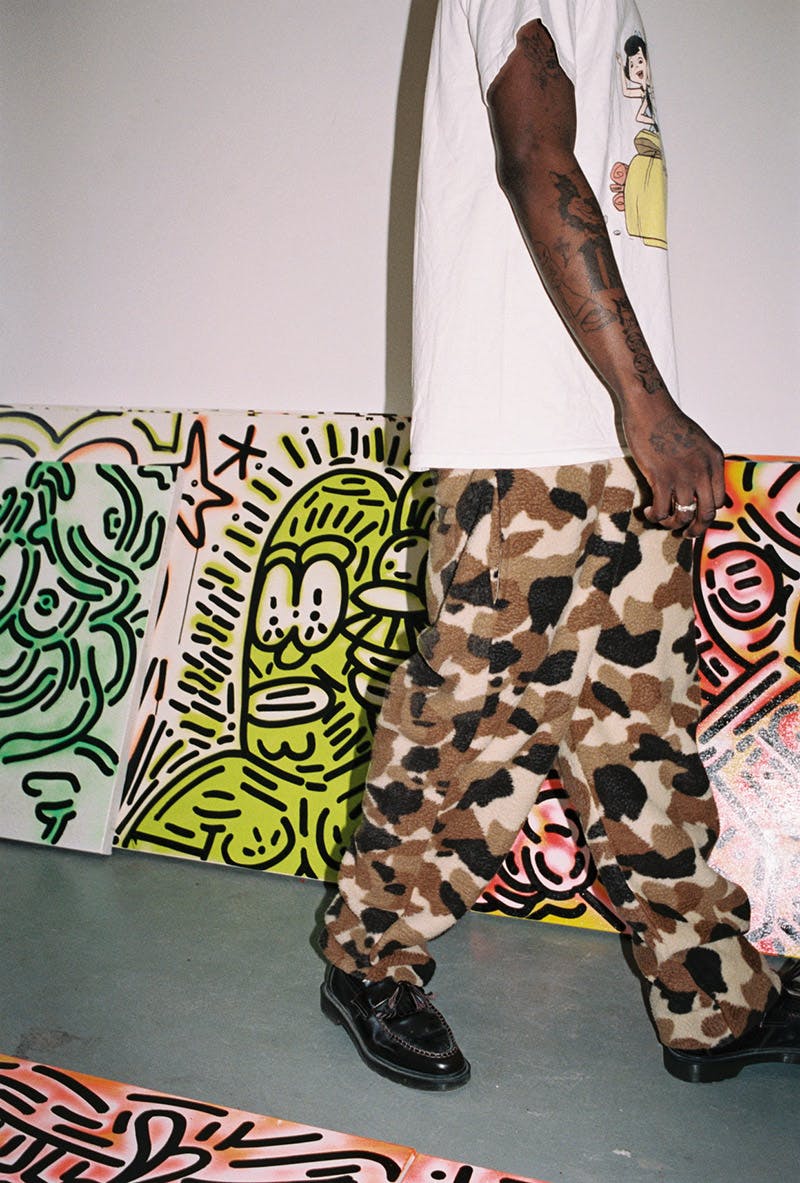 Where do you work out of? I saw on Instagram there were some - unfair - run-ins with the police?
I work out of my studio in East London now. Got a Motherlan office in the same building so it's fucking fun, feels like secondary school. About the police, I wouldn't say it's unfair, but what I would say is I love making pigs feel stupid, they're still on me till today. I don't see myself as that much of a menace to society so I don't get it.
Were you always into fashion? If so, how did you marry that with your art?
Hmm not gonna lie, I'm not into fashion. I don't give a fuck about it. It's cool some of my friends are into it, so I could say I'm surrounded by it. I don't think my art has much to do with fashion, maybe one day I'll do a runway with naked models wearing my canvases like they're protesting my art.
How did your relationship with Supreme come about?
That came about through the amazing Grace Ladoja, she was plugging me with Supreme shit heavy when she came to Lagos and met me. She knew the love I had for the company, then she just kinda introduced me to the brand properly. That's when I started shooting for them with Chris Rhodes and all that. But yeah, that was all Grace.
What was the piece that Virgil commissioned by you?
It's a weird story, Virgil didn't know I was working on that. My friend Chris Rhodes hit me like "Yo, do you wanna do some art for this shoot I'm doing?" And I'm like "Yeah!" I got there and it was Off-White, so it was just a coincidence. I was at the shoot spraying shit up and I told Virgil and he was like "ahahahah oh shit." That nigga is tight as fuck, always down to do fun shit.
What upcoming projects do you want to plug?
I'm starting a fight club with Noah and Waff (but a safe one, nothing dangerous. Just to fuck around with the art world). I really wanna collaborate with a hotel or an airline, an airline would be fucking cool. If you're reading this and you can plug, hit my line.