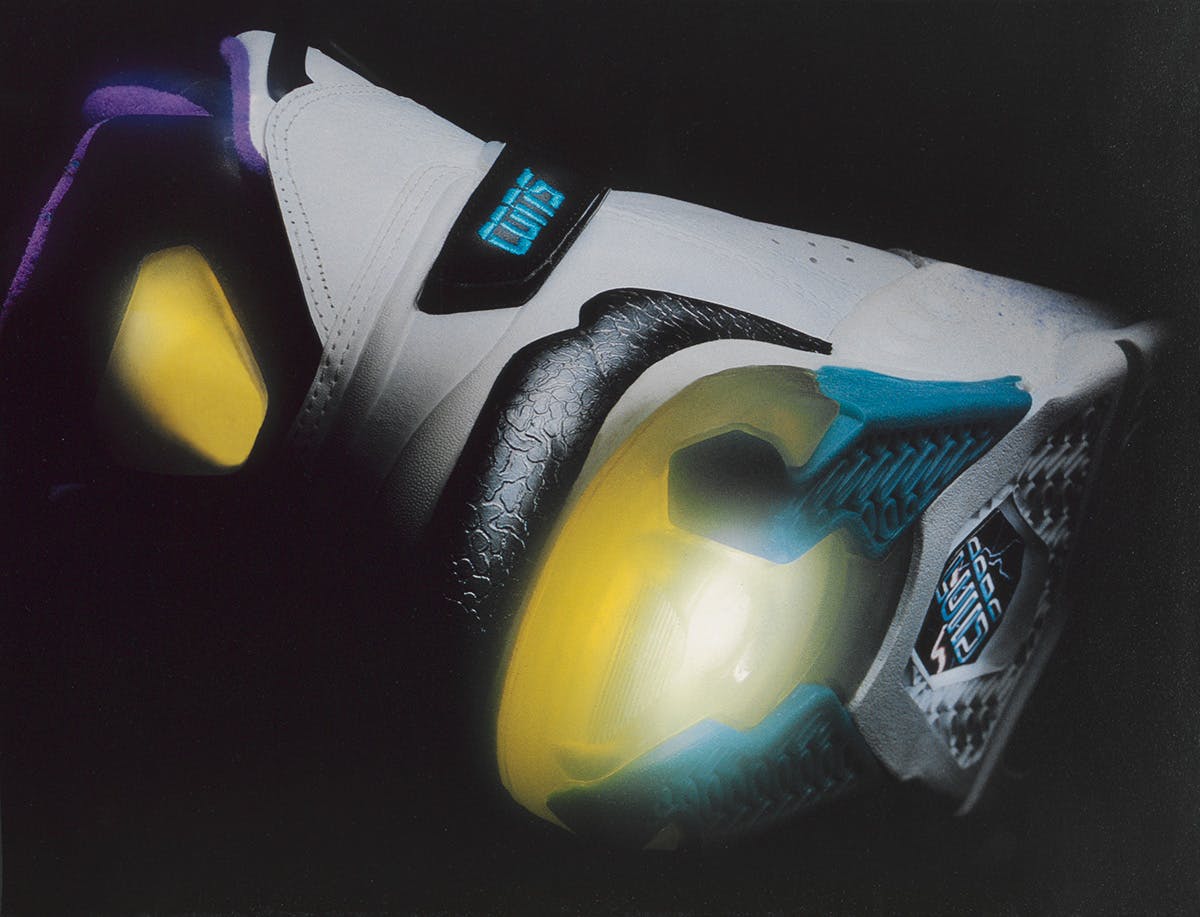 Experience this story and others in HIGHEnergy, a print magazine by Highsnobiety, available from retailers around the world and our online store
Since the 1970s — when running first took off as a mainstream pastime — the sneaker industry has gone through a series of radical transformations. Most of these can be attributed to an endless arms race (or, shall we say, foot race) in the field of cushioning technology. In the intervening decades, the thin layer of material between our feet and the ground has become the object of millions of dollars in R&D. Midsoles have gotten bigger, lighter, softer, cushier, firmer, squishier, and, more often than not, better.
While brands have made advances in every facet of production, it's the midsole that often pushes their product offering forward. These are the 17 biggest cushioning advancements to ever pound the pavement.
Nike Air (1977)
Like most things Nike, the invention of Air technology has interesting beginnings. In 1977, after 23 shoe companies had already rejected him, an aerospace engineer by the name of Marion Franklin Rudy brought his idea of placing tiny air bags in shoes to Nike founder Phil Knight. It sounded simple: put air in between the foot and the ground to create cushioning. Knight and co-founder Bill Bowerman quite literally ran with it, introducing the technology in the Air Tailwind in 1978. Since then, Air has been part of a lot of Nike's firsts, such as the first visible Air in 1987's Air Max 1, or the first full-length Air in the Air Max 97.
adidas APS (1985)
At its time of release, adidas APS (Anti-Pronation and Shock absorption system) was billed as the first shoe with "infinitely adjustable shock absorption." With just the turn of a key, APS allowed runners to adjust the midsole to suit their weight and the ground they were running on, making it incredibly customizable and groundbreaking even now. To adjust the midsole's cushioning, you would insert a small key into the heel of the shoe. By turning it clockwise, you would make the midsole harder, and vice versa to make it softer. It worked by pulling apart and pushing together a TPU layer built into a midsole that was shaped like a folded paper. One side of the TPU wave was harder than the other, so in pulling it apart and folding it back up, you could adjust the firmness of the midsole. A little window by the heel of the shoe would indicate how hard or soft the midsole was.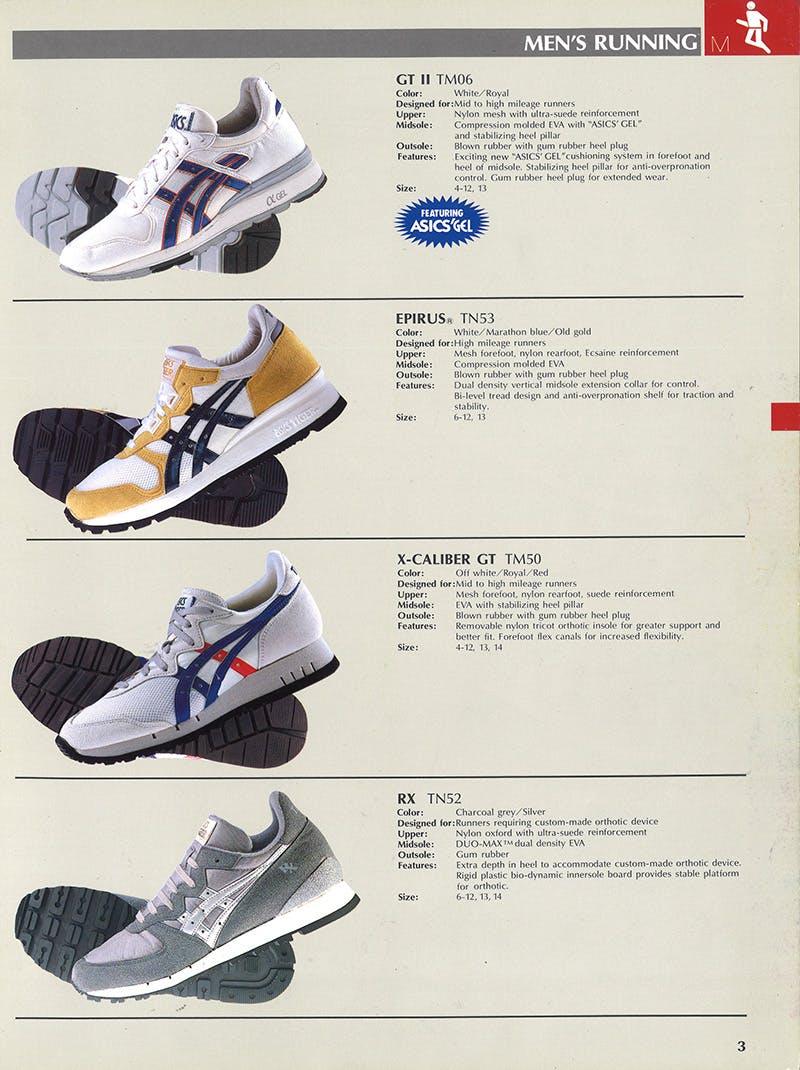 ASICS GEL (1986)
Legend has it the comfort and stability of ASICS GEL was once put to the test in the brand's famous ISS center by dropping an egg on a 30 millimeter GEL pad from a height of 15 meters. Needless to say, the egg survived the fall, and ASICS went all-in on GEL. The technology is exactly what it sounds like — a gel-like, silicone-based substance strategically placed in the midsole of ASICS sneakers to help with shock absorption and reduce the chance of impact injuries. It passed the test of time, too, having been developed and put into the first ASICS shoe (the aptly named Freak) in 1986. Fast-forward four decades and GEL is still ASICS' premier cushioning system and as comfortable as ever. Traditionally encapsulated in pads and placed in the EVA midsole of sneakers, GEL has broken free in recent years. Sneakers such as the GEL-QUANTUM 360 or GEL-NIMBUS 22 now feature exposed GEL at the heel, or even along the entire midsole.
Reebok Hexalite (1990)
EVA is still one of the go-to materials used in midsole and cushioning construction. However, that hasn't stopped brands from experimenting with other materials to try and get an advantage over their competitors. At the height of AirMax fever, Reebok debuted Hexalite, a cushioning technology they claimed was four times stronger than traditional EVA midsoles. The technology was inspired by honeycombs, the strongest and simultaneously lightest shape in the natural world. Due to its unique shape, Hexalite absorbed shock better than traditional EVA by spreading it across a wider area. It was covered in a durable layer of thermoplastic urethane, a highly elastic material which ensured the hexalite maintained its shape. The cushioning technology was most notably seen in Allen Iverson's Question Mid, which left parts of the midsole exposed, through which you could see the signature honeycomb pattern.
Saucony GRID (1991)
With its main contribution to the cushioning race of the early 1990s, Saucony took the feeling that you get when you hit the ball of your foot perfectly and turned it into patented sneaker cushioning. GRID technology, which stands for Ground Reaction Inertia Device, works similarly to the strings on a tennis racket in that it absorbs blows and spreads the shock vibrations across a wider area for maximal cushioning. Saucony's brilliant marketing team at the time sold GRID with the promise that the sweet spot feeling could be felt "every time your foot hits the ground." The technology initially launched in the Saucony GRID SD and was soon the brand's cushioning of choice, enduring to become a mainstay in many of its lifestyle offerings today.
Converse REACT Juice (1992)
You may know Nike's recently released React system, but did you know that Converse had REACT decades earlier? In the 1990s, Converse REACT Juice was a liquid in the heel and ankle of the Massachusetts brand's sneakers, designed to provide increased support and comfort. The innovation came at a time when Converse was trying to break its dependency on classics. The tech's biggest selling point was that REACT Juice was actually a liquid stored in (rather unfortunately named) bladders. It was most famously used in basketball shoes and became the star of a bizarre ad campaign featuring NBA star Larry Johnson as "Grandmama" (it's worth a YouTube search). A lack of innovation as competitors got lighter and faster, and reports of REACT Juice leaking out of shoes and onto courts, meant the technology was shelved soon after.
New Balance ABZORB (1993)
ABZORB consists of a special blend of DuPont Engage isoprene rubber and proprietary foam materials. As was the case with other cushioning technology of the era, ABZORB was designed to be more shock-absorbent and durable than the standard EVA used by many brands at the time. The technology first made an impact when it was included in New Balance's legendary 998 in 1993, and has since gone on to become the cushioning of choice in the majority of New Balance's iconic heritage models, as well as certain older performance models. Following the 998, ABZORB was used in the 999 in 1996, with the first-ever metatarsal pad to cushion the forefoot. The 990v2 took it a step further in 1998, when New Balance placed the material throughout the entire length of the ENCAP sole, with an exposed bubble at the heel, in keeping with the visible tech craze of the '90s.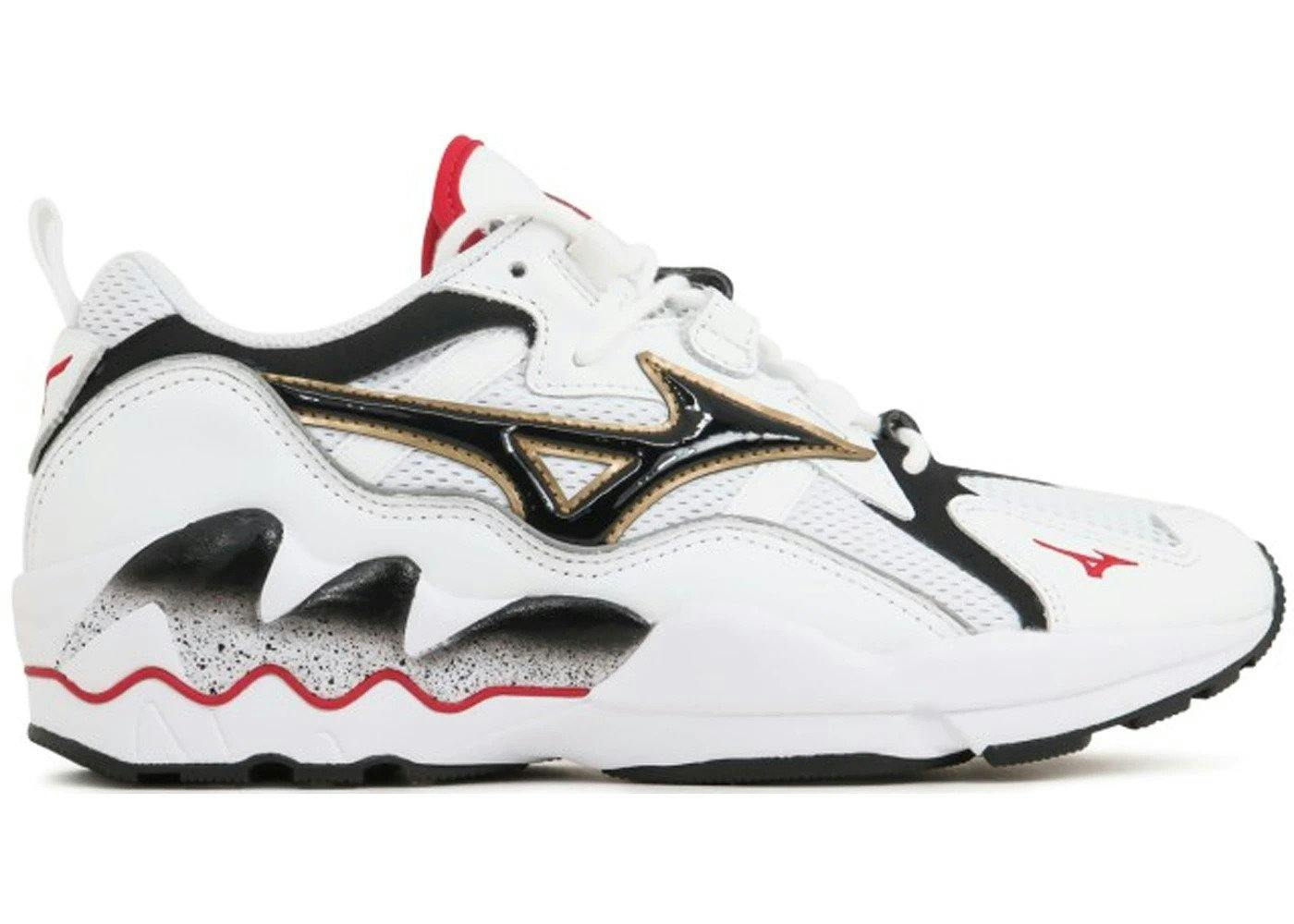 Mizuno Wave (1998)
The creation of Mizuno Wave — the brand's most well-known and successful cushioning technology — came at a time when Mizuno needed to keep the costs (and weight) of its performance shoes down. The result was a consolidation of the brand's previous tech advances into one, compact system. Wave is usually sandwiched between the midsole and the rubber outsole, mostly in the heel of the shoe but sometimes (in high-end runners) running from heel to toe. As the name suggests, the tech is shaped like a wave and stretches out at impact, absorbing shock to cushion the runner but simultaneously stabilizing. Because Wave is a plate, it can be shaped in various ways for specific purposes or running needs, making it a highly flexible cushioning system. Mizuno Wave debuted in the 1998 Wave Rider, which weighed in at 362 grams and retailed for a then-jawdropping $110. The rest, as they say, is history.
PUMA CELL (1998)
Like Reebok's Hexalite, PUMA CELL used the geometric strength of hexagonal shapes to its advantage. The blow-molded process turned TPU into a pattern of hexagonal cells and used combinations of those cells for different running and cushioning needs. At the time, visible cushioning technology was becoming more popular, but it was still relatively new. Consumers weren't sure if so much exposed cushioning could handle rigorous workouts, but PUMA invested a lot into making sure its tech was stronger and more durable than EVA, which ultimately helped seal the deal. PUMA CELL became the German brand's premier running technology and was even brought back — albeit in updated form — as LQD CELL in 2019. Some of PUMA's biggest sneaker hits used CELL tech, including the CELL Endura and CELL Venom.
Nike Shox (2000)
Nike Shox is one of the brand's most divisive technologies, due mostly to its brutal, maximalist aesthetic. The idea was for the pillars to act as coils, or springs, and to launch the athlete forward. It was initially developed as a running technology, but it found the most popularity as the cushioning that powered Vince Carter's physics-defying leaping ability. Shox was developed by Air Force 1 designer Bruce Kilgore in the mid '80s, but it lay dormant for nearly 20 years, as Nike found it difficult to construct pillars that were durable enough to withstand sustained high pressure. When it finally saw the light of day in the early '00s, Nike Shox was quickly supplanted by Nike Free but resurfaced in 2017 as a lifestyle shoe — still looking as futuristic as ever.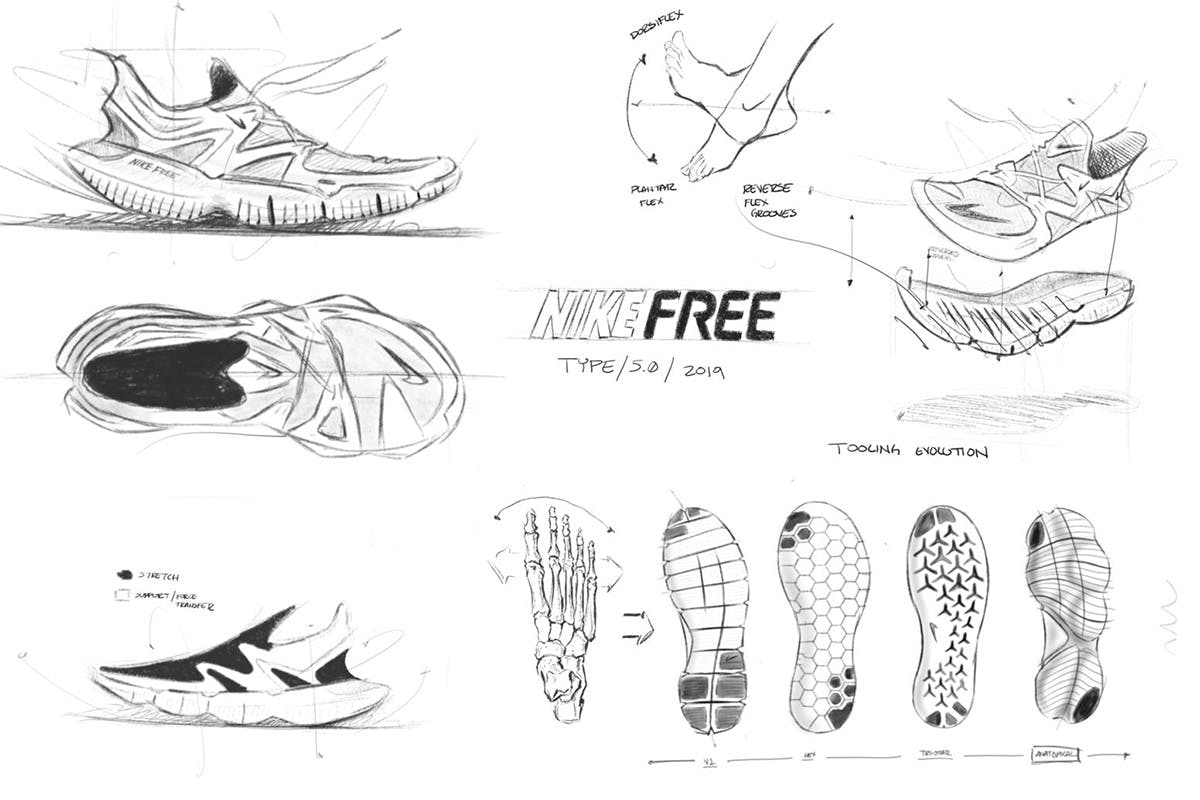 Nike Free (2004)
Upon its launch, Nike Free quickly established itself as the premier running technology of the mid-to-late 2000s. The technology was developed to replicate the flexibility and mobility of natural motion. The result was a sneaker — the Nike Free 5.0 OG — which was touted as "halfway between a bare foot and a regular running shoe." Free was relaunched recently as a performance line, but it has since been adopted by the likes of Matthew M. Williams and Tom Sachs as part of their Nike collaborations, cementing its status as a lifestyle legend.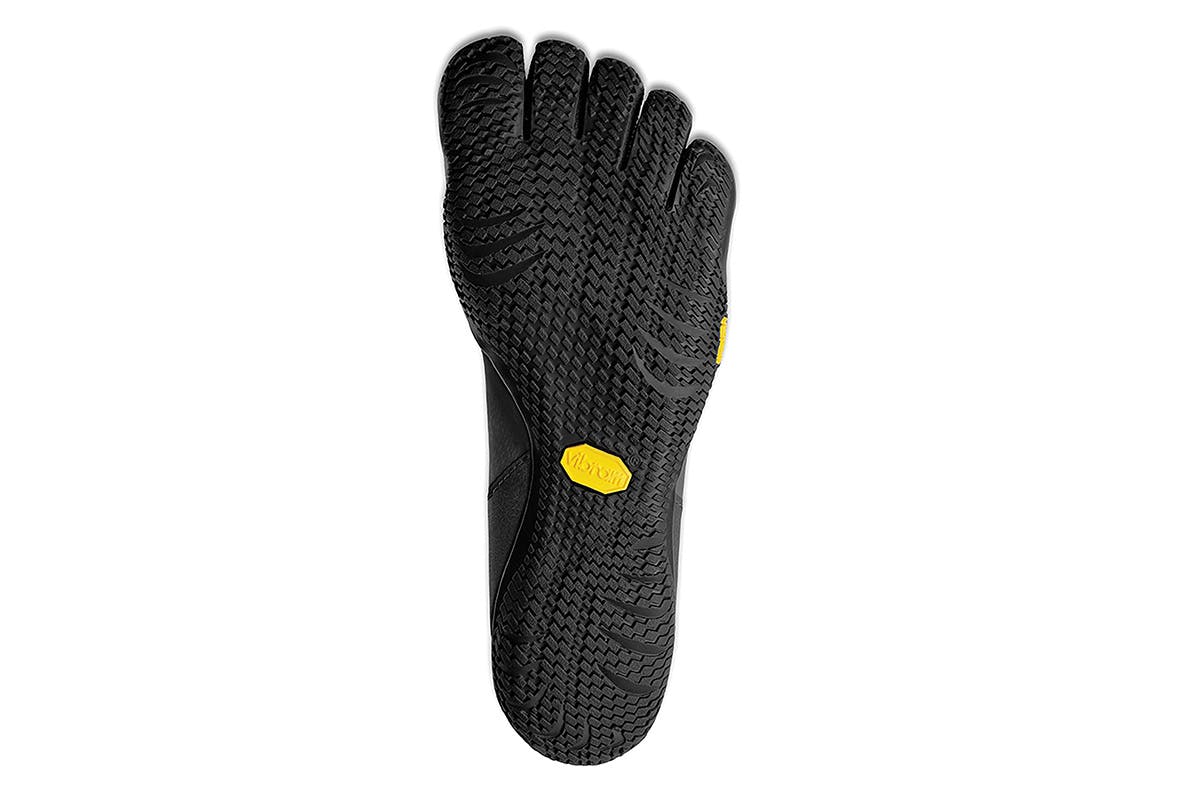 Vibram FiveFingers (2004)
Vibram's FiveFingers technology is about as unconventional as it comes, even though it's about as natural as it comes, as well. Instead of splitting just one toe — as Margiela does with its Tabi footwear — Vibram's tech splits all five toes to give runners the ultimate barefoot experience. The idea came to designer Robert Fliri when he often found himself walking his favorite mountain trails barefoot. On the one hand, it allowed him to feel connected to nature on a deeper level than if he were wearing shoes. On the other, it caused his feet a number of painful problems. Several years later, the FiveFingers shoe was born, equipped with a very thin sole to protect the foot while still allowing for tactile perception and movement of the toes.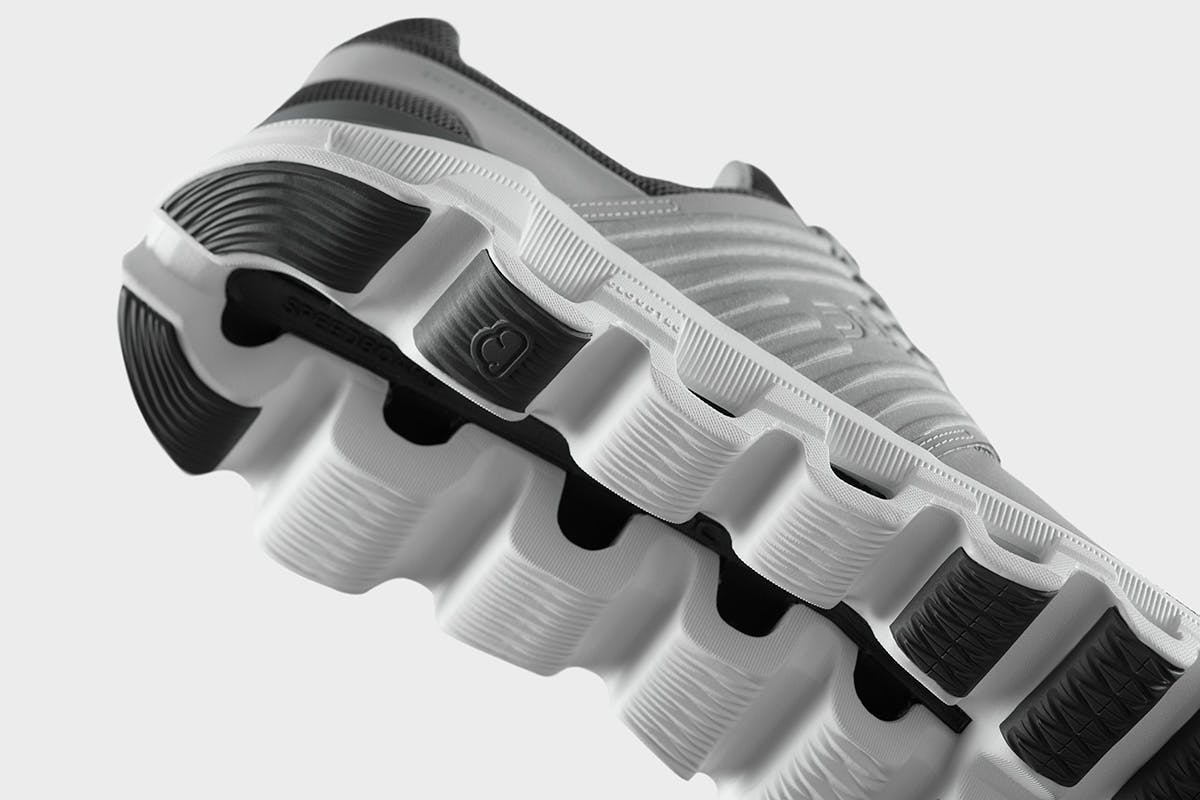 On CloudTec (2012)
On is a relative newcomer to the scene, founded in 2010 by triathlon athlete Olivier Bernhard and runners David Allemann and Caspar Copetti. But the Swiss brand's relative inexperience hasn't stopped them from taking the running and outdoors world by storm. The brand's proprietary cushioning system, CloudTec, is as neck-breaking as it is comfortable. And it plays a large role in the brand's instantly recognizable aesthetic and all-day lifestyle appeal. Interestingly, CloudTec was developed not by taking inspiration from its namesake, but by cutting up a garden hose and sticking it to the bottom of a shoe. Bernhard's Wild West attempt at producing a system that offered runners cushioned landings with firm take-offs was ultimately a success.
adidas Boost (2013)
When it burst onto the scene in 2013, adidas Boost immediately became the sneaker world's equivalent of Tempur-Pedic. To make the material, TPU (thermoplastic polyurethane, a material familiar to sneakerheads) is expanded to form closed cells around tiny pockets of air, creating eTPU. It was developed to replace EVA, the industry standard at the time, and to offer something completely different aesthetically as well. Its progeny, Ultraboost, which debuted in 2015 and was the subject of several high-profile collaborations, became one of the main drivers behind the technology's lifestyle popularity. Kanye West's cosign of the tech in his YEEZY footwear helped cement its status as the hype cushioning of choice in the mid-to-late 2010s.
New Balance Fresh Foam (2014)
New Balance's Fresh Foam cushioning is the New England brand's premier, modern-day performance technology. It is included in all of New Balance's mid to top-level running shoes and, as the name suggests, consists predominantly of proprietary, super-soft foam. Midsoles containing Fresh Foam are precision-engineered, relying on data for its design and construction, which is also reflected in its futuristic, cell-like design. The technology is used on all types of running shoes, ranging from road and racing sneakers to trail-running shoes such as the Hierro series. Fresh Foam also exists in a number of variants, no doubt engineered for different purposes. Fresh Foam X, for example, offers even more energy return than classic Fresh Foam and is used in some of New Balance's fastest shoes. If you're a runner and wear New Balance, there's a good chance you're wearing some form of Fresh Foam as you pound the pavement.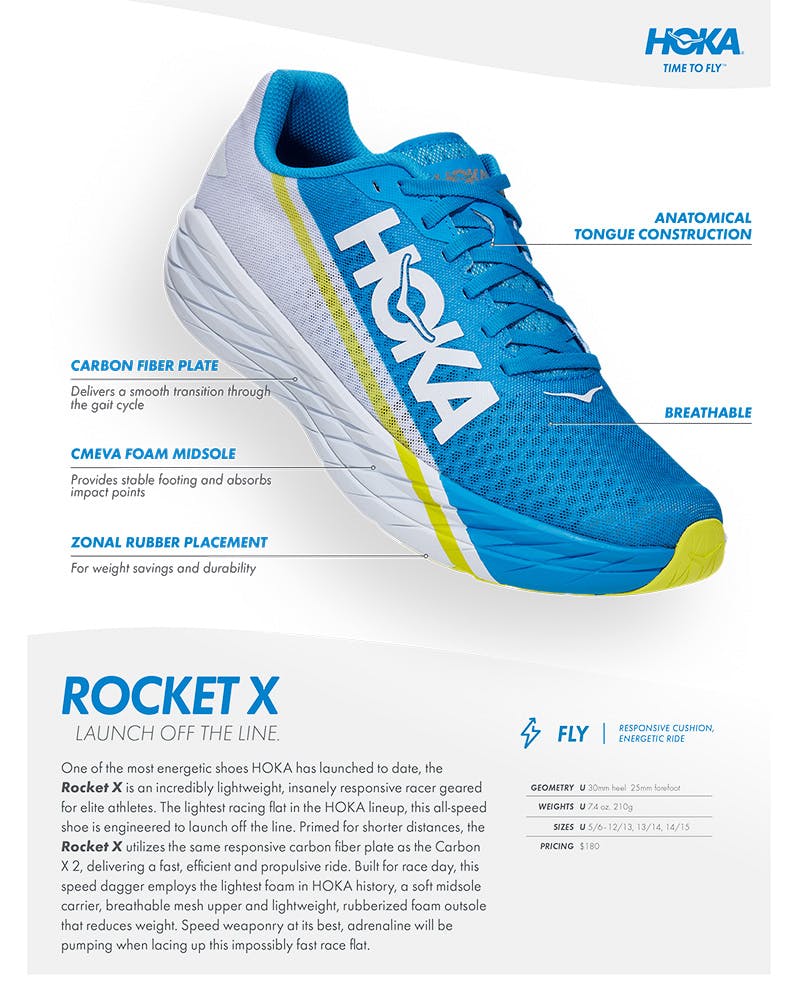 HOKA ONE ONE PROFLY (2016)
If there's one thing HOKA ONE ONE is known for it's badass midsoles and seriously cushioned running shoes. The brand's main cushioning system is called PROFLY foam, which combines soft foam in the heel with firm foam in the forefoot. This split is designed to balance shock absorption in the heel (when landing) and energy return (when taking off). HOKA's marshmallow-soft midsole is offered in varying degrees of thickness, from — to use scientific terms — a wee bit thick to maximal thickness. In addition to PROFLY, HOKA also turns heads thanks to its Meta-Rocker midsole (think Skechers Shape-ups on steroids), which mirrors the natural gait cycle and propels runners forward.
adidas Futurecraft 4D (2017)
adidas Futurecraft 4D is probably the most futuristic-looking technology on the market today. Its "Aero Green" color was chosen to represent the next generation of sneaker cushioning; adidas and its 3D-printing partner, Carbon, claim it is the first sneaker cushioning made using "digital light synthesis." In layman's terms, it's a wildly new way to design and construct midsoles using a vast amount of data. The process of chemical curing — turning something solid by cooling or drying — is used to convert liquid into the spongey, solid 4D midsole we end up with. How it's made can be a little complicated, but the potential of 4D is endless, as the process allows for near-infinite optimization, and quicker and easier sampling rounds and subsequent testing. Oh, and it also looks dope as fuck.
Order HIGHEnergy, a magazine by Highsnobiety, via our online store.