The lines between luxury fashion house and sportswear brand have blurred somewhat over the past few years, especially with regards to footwear design. But make no mistake: this is a recent phenomenon. Not too long ago, there was a time when it was easy to discern a luxury house's design from a lineup of sneakers, due to the almost generic use of materials or shapes.
Of course, there are exceptions to this rule — Prada being one of them. As labels such as Lanvin or Balenciaga have successfully closed the gap to their sportswear competitors, Prada boasts a rich history when it comes to sneaker design, one that stretches back further than the boom in cool luxury sneakers that started around five years ago.
While there was a big gap between the America's Cup sneaker and the house's more contemporary designs, the momentum is on Prada's side, and the brand doesn't look like it's slowing down any time soon.
Read On For Prada's Most Famous & Important Sneakers
Prada America's Cup — 1997
Officially called the Prada Sneaker, the America's Cup (as it's known today) was created for Prada's Luna Rossa sailing team. It was originally a performance shoe, designed ahead of the team's first America's Cup race in 1997 and thus getting its modern-day name. Back in the late '90s, the sneaker's technical mesh fabric construction, leather overlays, and rubber sole were considered the pinnacle of sailing footwear.
Nearly 25 years on, and the Prada America's Cup sneaker has become a style icon in its own right. Consistently sold out whenever it drops and available in many colorways and variations, the America's Cup truly kickstarted Prada's sneaker lineage.
Prada Sneaker — 1998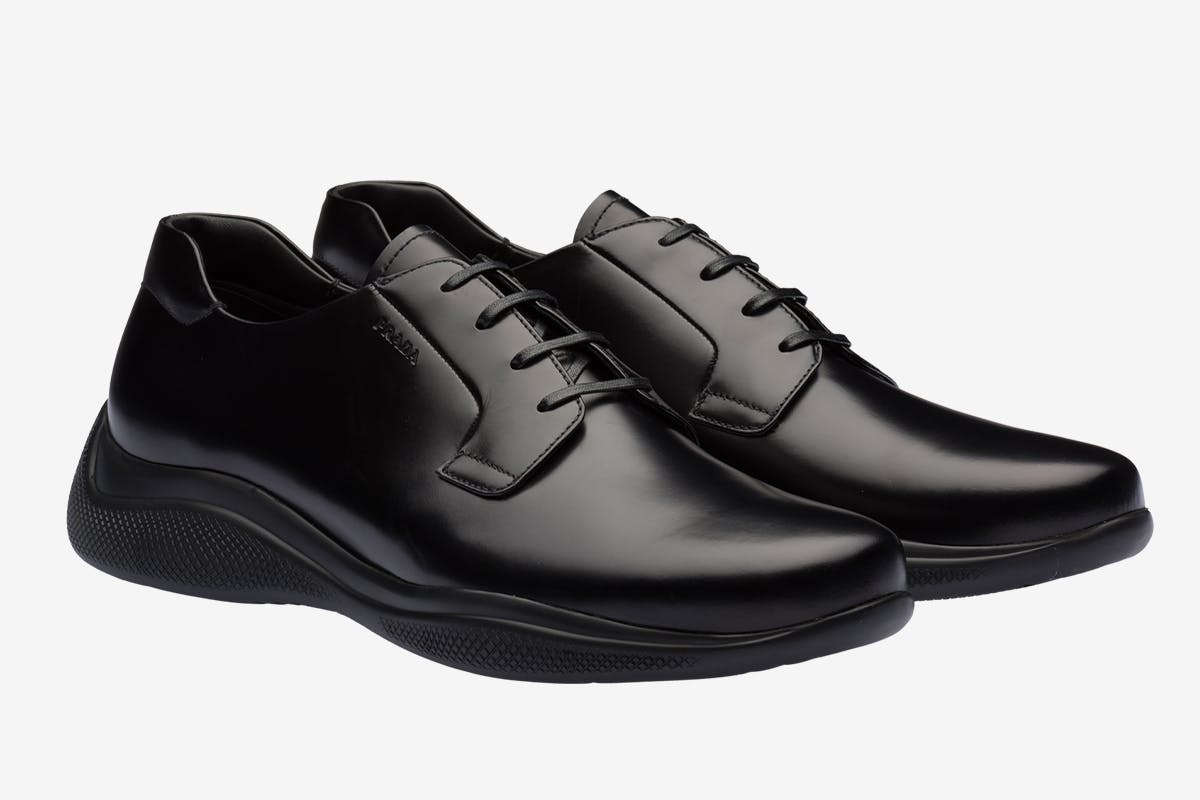 Soon after the original America's Cup sneaker was released, Prada included a hybrid sneaker in its FW98 collection — long before hybrid sneakers were a thing. Again dubbed the Prada Sneaker, albeit the 1998 version, this pair combined the original America's Cup rubber sole with a luxury calf leather upper.
The juxtaposition between the performance-oriented sole and the more formal leather upper looks as fresh and modern today than it must have in 1998. If you're thinking you've seen this aesthetic before, it's because you have — over the past few seasons, most luxury labels have brought out their own version of the formal sneaker shoe, Matthew Williams' 1017 ALYX 9SM Chelsea boot probably being the most recognizable.
Prada Crossection Sneakers — 2018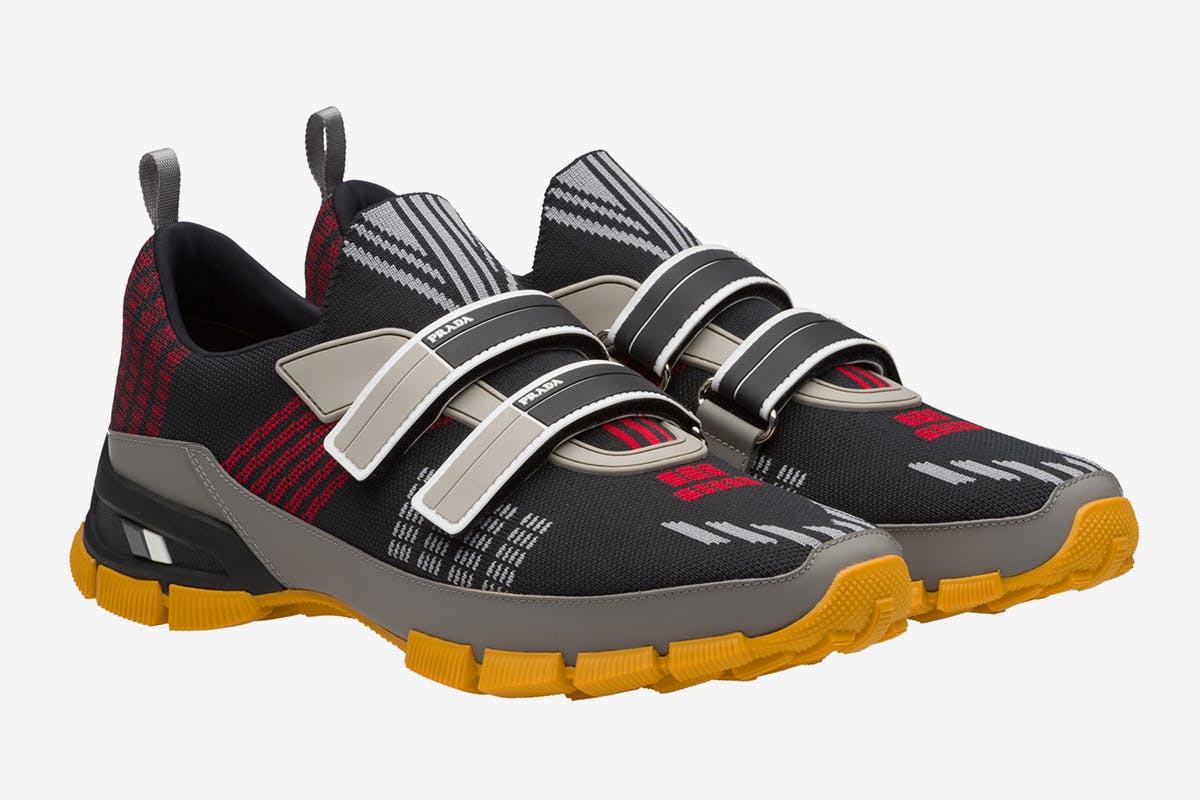 The release of the America's Cup carried Prada's sneaker line for over 20 years, before the SS18 collection brought with it Prada's next revolutionary sneaker. Anyone that was around fashion or sneakers in 2018 will know that that was Prada's year. Whereas 2017 had been Balenciaga's with the Triple S, in 2018, Prada's luxurious technical aesthetic was all anyone wanted to buy — and that extended to Prada's line of sneakers.
The Crossection was debuted in 2018 and is made almost entirely of mesh. Taking the sneaker's technical aesthetic to the extreme, Prada added a slip-on design with hook and loop fasteners, as well as a lugged outsole. While the Crossection was overshadowed slightly by its successor, it was the first that channelled Prada's new design language and set the tone for the past three years.
Prada Cloudbust — 2018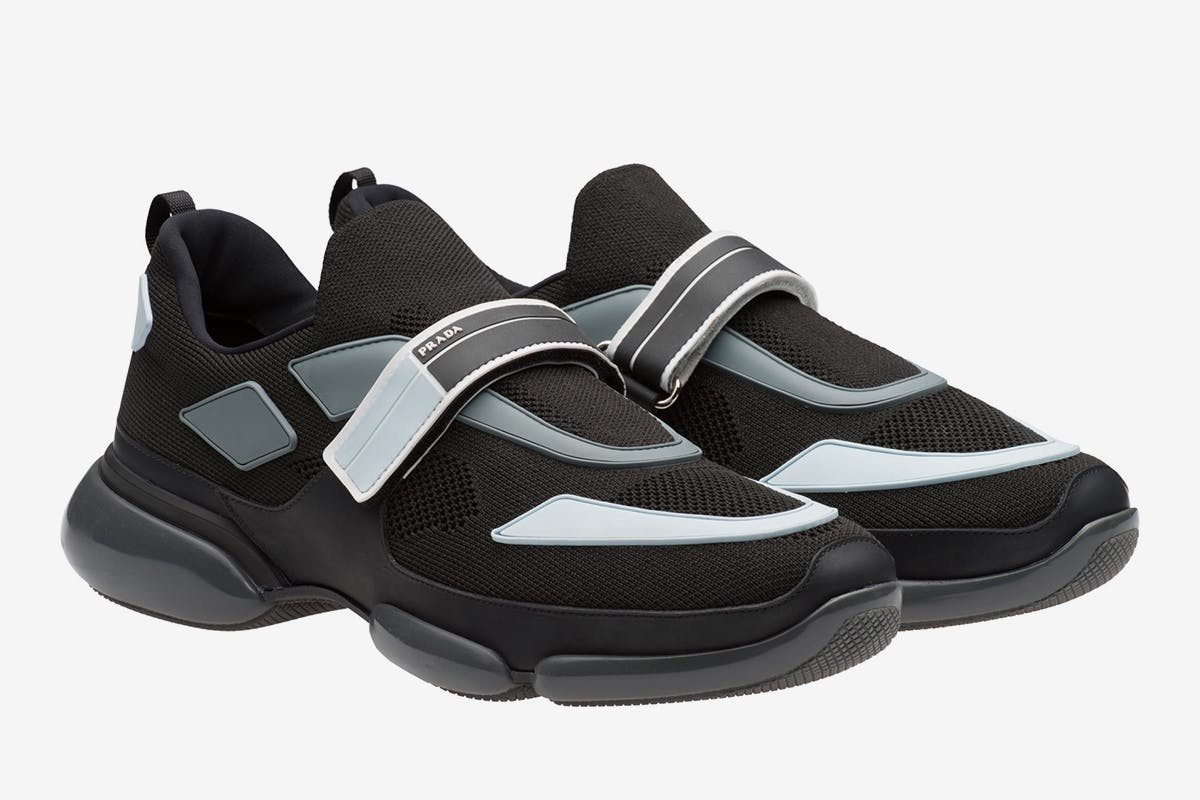 The Cloudbust is Prada's most famous sneaker of the current era and came shortly after the Crossection in SS18. It was first unveiled during Prada Men's Spring/Summer 2018 runway show and ditches its predecessors' aggressive lugs for a more rounded, almost bulbous tooling. The result is a friendlier, cartoony design, that still leans heavily on the technical aesthetic that was so popular at the time.
Around the same time, Prada's popularity in hip-hop began to rise; cosigns from the likes of A$AP Rocky, Pusha-T, and Kanye West cemented the luxury house's status as the must-have brand of the tail end of the decade. That popularity was carried over to Prada's line of Cloudbust sneakers and, by mid to late 2018, were anything anyone could talk about.
Prada Cloudbust Thunder — 2019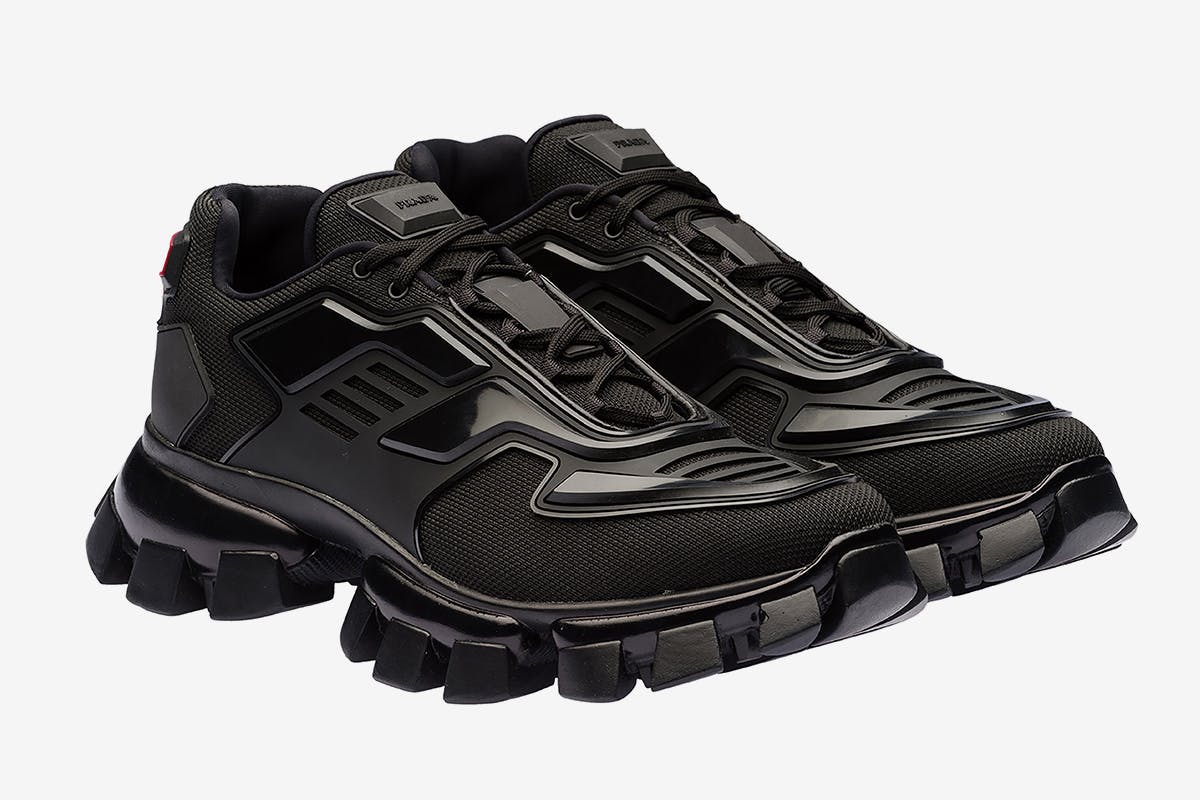 Not satisfied with the celebrity of its original Cloudbust, Prada pushed on with the Prada Cloudbust Thunder, a much more aggressive take on the previously cartoony and playful original. The Cloudbust Thunder changed up the tooling but, perhaps more notably, also injected rubber into the technical upper to create a unique 3D, almost armour-like effect.
Similar to the America's Cup sneakers, Prada's new line was leaning heavily on the house's performance know-how. It channeled a distinctly sporty look and feel through a luxury lens, providing fans of the brand with the best of both worlds.
Prada Techno — 2020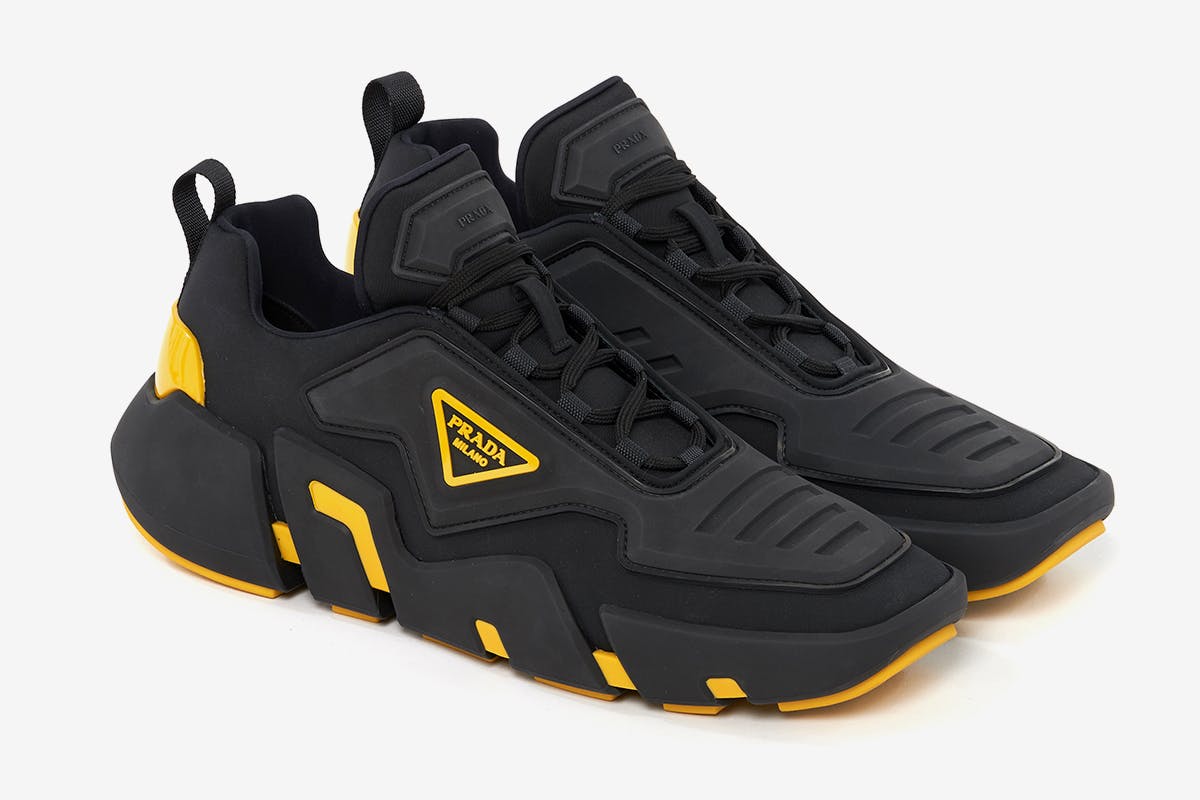 Prada's latest sneaker, the Techno, is also its most aggressive. Unashamedly technical, its three-part tooling features lugs that will have you thinking you'll be able to climb whatever terrain is put in front of you. The stretch fabric upper pulls from both archival models such as the America's Cup, as well as more recent models such as the Cloudbust.
Prada x adidas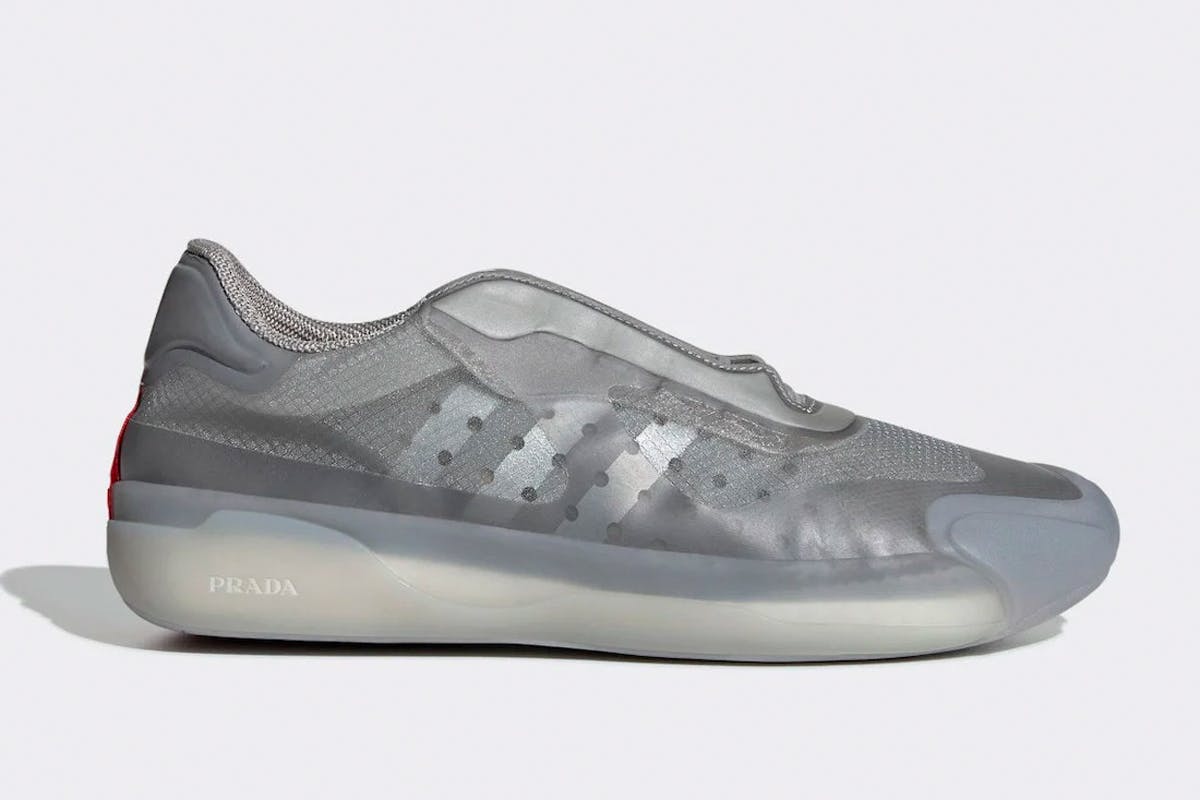 Prada's partnership with adidas represents the fashion house's latest foray into the sneaker world. While the collaboration kicked off with the Superstar and now includes three different silhouettes, it's the Luna Rossa '21 that most embodies Prada's DNA. The sneaker was initially designed for the Pirelli Luna Rossa sailing team, as a contemporary, high=performance version of the America's Cup sneaker. The similarities are instantly clear, however, there. areenough differences for this shoe to warrant a place on this list. One might even say, it's the perfect marriage between both brand's DNA.
Spanning nearly 25 years, Prada's sneaker pedigree is unquestionable. Themes of technical performance materials and a design language that stays true to the original America's Cup sneaker without seeming stale, recur throughout Prada's sneaker lineage.
To stay updated on everything happening in the sneaker world, follow @highsnobietysneakers on Instagram, check our sneaker release date calendar, and subscribe to our sneaker chatbot on Facebook to receive lightning-quick updates to your inbox.