Highsnobiety / Stefan Dotter
Notably, one of the hottest suit connoisseurs in the game, Tiger of Sweden, recently unveiled its FW21 suit iteration from its Life collection - and as expected, it didn't disappoint.
Inspired by the everyday and with a keen focus on functionality, Life is an ode to the different ways of living. Creative Director, Bryan Conway, grasped at the opportunity to pinpoint the different ways in which life unravels around us, highlighting our habitual movements and modes of being through what we wear. With the suit undoubtedly being one of the most worn items of clothing in history, it made sense to zoom in on its symbolic story.
Before honing in on the sartorial details of Tiger of Sweden's FW21 suit, it's important to unpack the cultural connotations behind the suit and understand how the two-piece get-up has developed such a noteworthy status.
Historically we've come to associate suits with wealthy and elite working individuals. Be it businessmen, lawyers, and those in finance, suits symbolized elegance and authority, and in some ways still do. But in fact, there has been a shift in this paradigm over the past few decades as suits have become more and more accessible, shrugging off their fancy label. This is thanks to those who aren't upper class appropriating them in their own way, turning suits into more of a stylistic choice rather than a commodity.
American artist Basquiat was often seen donning a suit with a T-shirt and sneakers, while '70s punk icon Johnny Rotten of the Sex Pistols was known for his eclectic suit rotation. Political figures like Malcolm X wore suits to protests, moving them away from their traditional settings of power, and turning them into the unofficial uniform of the powerless. Women sported suits as a point of protest, fighting for equal rights and fairer working environments. In 1914, the eponymous Coco Chanel designed her first-ever suit, modeled after the same suffragette suit worn by female activists in America, not to mention Eleanor Roosevelt who was officially the first First Lady to wear trousers in the White House. It really was these creatives and individuals who wore the suit best and who paved the way for how we approach and understand suits today.
Nowadays we see everyone wearing suits, no matter what their status or profession. Decommodified and for the masses, suits can represent everything from class and style to casual comfort, not to mention how adaptable they are to different fits. Known for their outstanding quality and design, Tiger of Sweden's suits consistently tick all the boxes. Injecting new energy into the category, its new suit for FW21 stems from the brand's heritage and beliefs of making clothing accessible for all. The brand's founders Marcus Schwarzman and Hjalmar Nordström created the company with Scandinavian principles of equality and fairness at the forefront of its ethos. Tiger of Sweden was one of the first to showcase ready-to-wear tailoring in Sweden, ensuring that garments like the suit were made for everyone.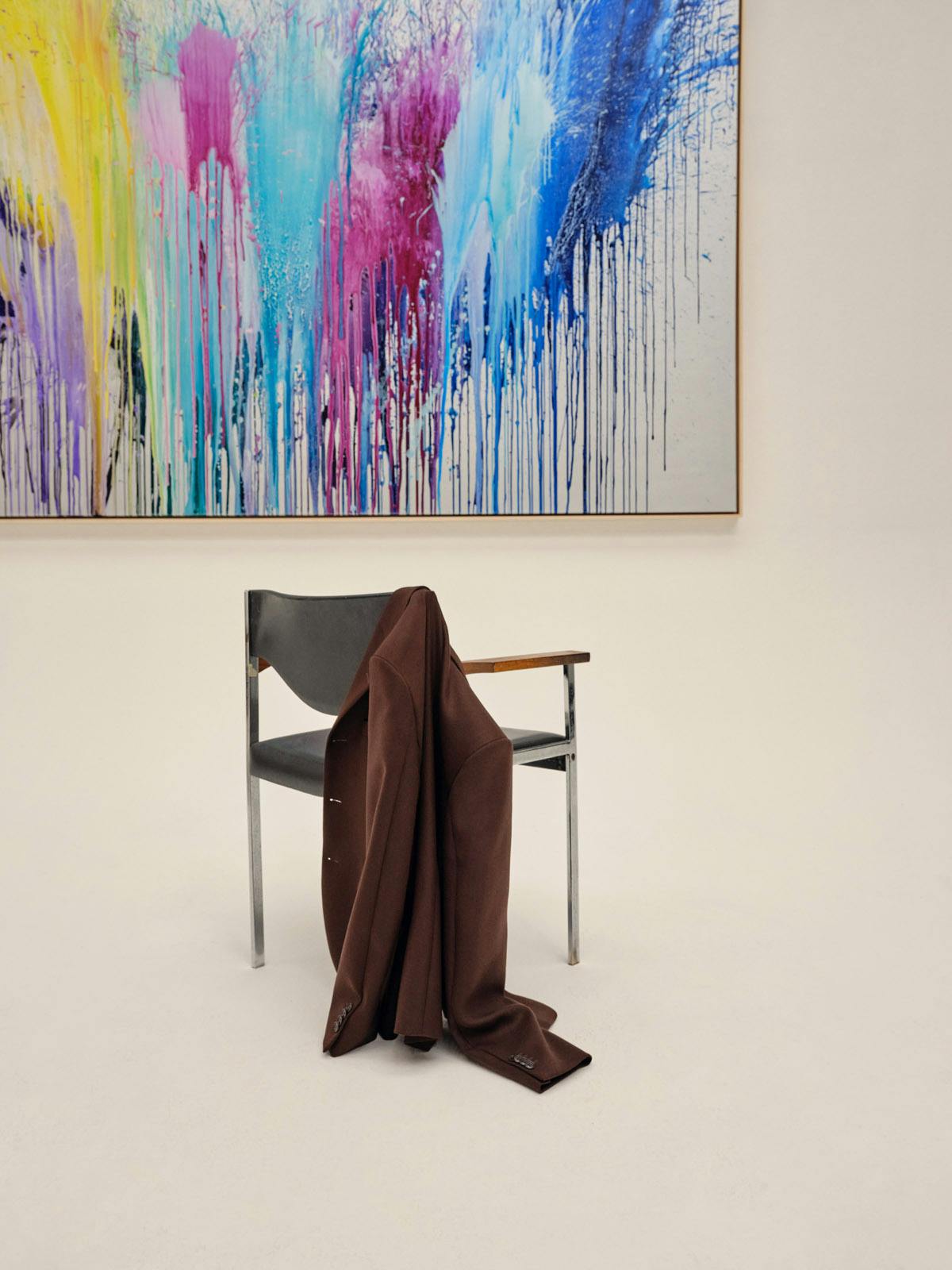 The brand is delving into more casual wear, approaching typical staple garments in a new and more relaxed manner. Made specifically to handle the outdoors, the rugged wool twill of the suit is durable and warm, offering complete comfort while carrying an effortlessly nonchalant aura. The Camryn blazer and Trey trousers are designed to be worn either together or separately as part of Tiger of Sweden's new mix and match program, coming in various colors like burgundy and navy. The blazer is a short, boxy three-button cut, a new silhouette for the brand that it plans on continuing to explore, emphasizing the brand's promise of finding new angles for staple pieces.
To highlight just how versatile the Tiger of Sweden suit is, we spoke to Hamburg-born contemporary artist Paul Schrader to find out how it makes him feel, and why it reflects his artistic vision.
Schrader has been an avid painter since a young age, fascinated by the freedom and intuition it incites daily. His approach on the canvas is dynamic and abstract, allowing his feelings to take control. Before starting his vibrant artistic career, Schrader was a lawyer, so creating his own world with no boundaries was key as he didn't want to feel tied to the limits of his previous monotonous routine. "Art has always been in my life, and while working at the law firm I happened to sell paintings. All of a sudden, I had two jobs and had to choose because the work as a lawyer and as an artist are both so time-consuming," explains Schrader.
As a member of authority in a courtroom, the suit was a vital part of Schrader's appearance, essentially becoming his daily uniform. "A suit is a bit like a piece of armor. It makes you feel a little more unapproachable but also very elegant," he says. However, Schrader comments on how in fact, for him, a suit has started to feel more like freedom, similar to his artistic practice. "I prefer to wear pieces that I feel comfortable in, and I think that's what creates a personal style. The suit is part of the job as a lawyer, but of course, a lawyer doesn't necessarily wear a suit in the evening during his free time. Similarly, an artist may not necessarily need a tie. Artistic and stylistic freedom means that you can wear whatever you want, as long as you feel comfortable."
Schrader's bold, abstract, and drippy nuanced work reiterates his style and his focus on feeling and remaining creatively liberated. "Colors and shapes play an important role in my practice. I think both influence each other, although I love to work with very intense colors and tend to wear more dark colors." When it comes to the crucial elements he looks for in a suit, Schrader puts it bluntly, saying, "the fabric, the cut, and the color are key. A good suit is a rather complicated matter."
"The Tiger of Sweden suits fit right away and were instantly comfortable to wear," commented Schrader. "It's fun to get dressed up properly again and bury my sweatpants deep in the closet, but at the same time, I want to keep that comfortable feeling, and that's why especially the oversized look and materiality of the new burgundy Tiger of Sweden suit fits my current situation quite well."
Shop Tiger of Sweden's suit and the complete Life collection here.