As it continues battling Russia, Ukraine's citizens are paying the ultimate price. Ukrainians are forced to take refuge in shelled cities or flee their homes and country, calling for aid from the rest of the world amidst Russian President Vladimir Putin's military aggression.
You can help Ukraine with direct donations, of course, or join in the efforts of international fashion brands putting their money where their respective mouths are, initiating charitable efforts to support the war-torn nation and spreading a message of Ukrainian solidarity.
Ukrainian creatives, like KSENIASCHNAIDER, Vita Kin, Natasha Kamenska, and Ienki Ienki, have been calling for support since the battle began in late February.
Below, a running list of fashion-aligned projects dedicated to supporting Ukraine.
Creative director Demna, himself hailing from a post-soviet nation, has realigned Balenciaga with its frequent partner, the World Food Programme, for donations after posting a white square with dove emoji on February 28.
Balenciaga promises to "report and relay the information around the situation in Ukraine" on its own channels shortly.
The parent company of Louis Vuitton, Dior, and LOEWE is making a €5m donation to International Committee of the Red Cross and fundraising for more through its employees and 76 brands.
Boston-based retailer Bodega launched a pair of T-shirts on pre-order, for which proceeds will benefit UNICEF.
GANNI
Denmark-based GANNI is freezing all Russian relations and donated 100k Kr. to the Danish Refugee Council.
Jacquemus linked to l'Agence des Nations, a French refugee-supporting organization.
MISBHV
Polish label MISBHV is fundraising for charity through its latest drop and is even offering jobs to Ukrainian refugees.
Xenia Telunts
British-Russian indie designer Xenia Telunts is holding an archive sale and raffle to raise funds for the Ukrainian Humanitarian Fund.
Nanushka
Aligned with the Hungarian Charity Service of the Order of Malta, Nanushka aims to support fleeing Ukrainians.
Eytys
Swedish label Eytys has ceased all business relationships with Russia and is donating to UN refugee agency UNHCR.
ROTATE
Provided links to the Ukrainian Red Cross
LVMH Prize winner Marine Serre is donating to Médecins Sans Frontières through a direct donation and a percentage of sales from an ongoing pop-up.
Serre and her team will also send clothes, blankets and supplies to war victims.
Grand Collection
NYC skate label Grand Collection has partnered with East Village restaurant Veselka on charity T-shirts that'll benefit the restaurant, a local beacon of Ukrainian cuisine and culture.
Cawley Studio
Independent label Cawley is raffling a unique vest to raise funds for the Red Cross, with over £1.5k raised thus far.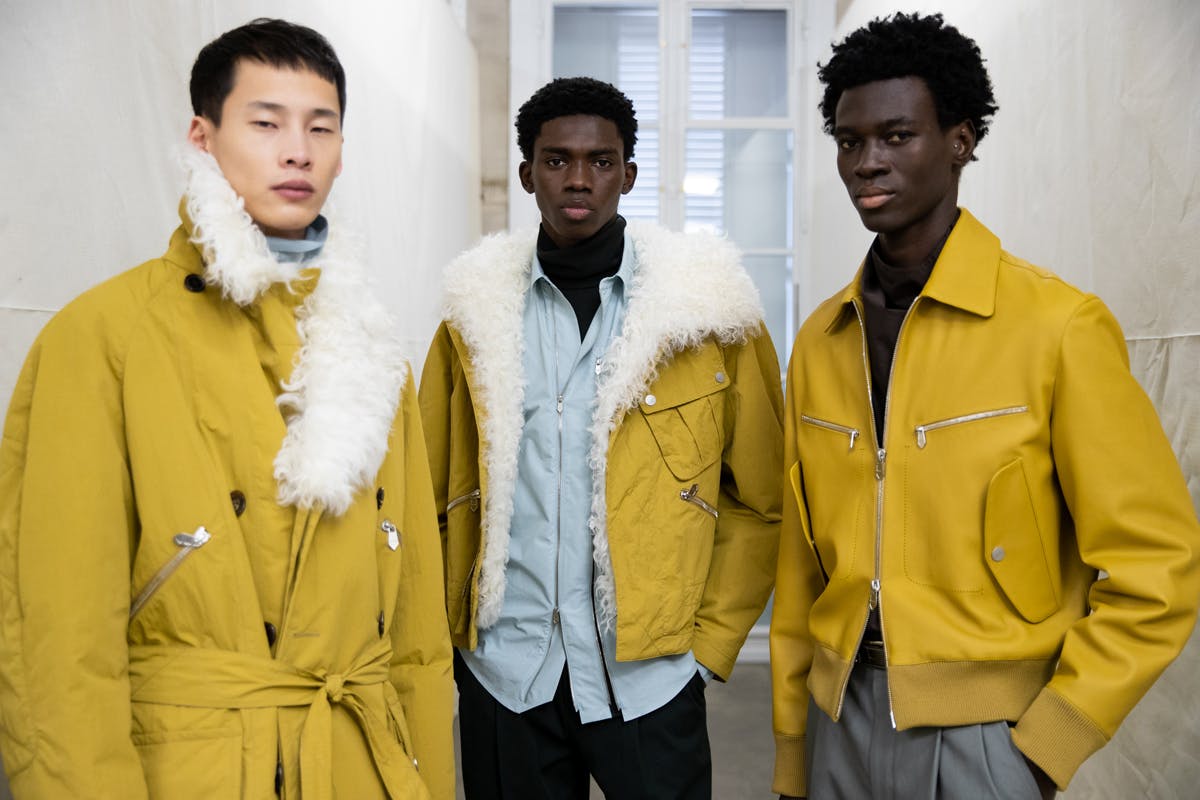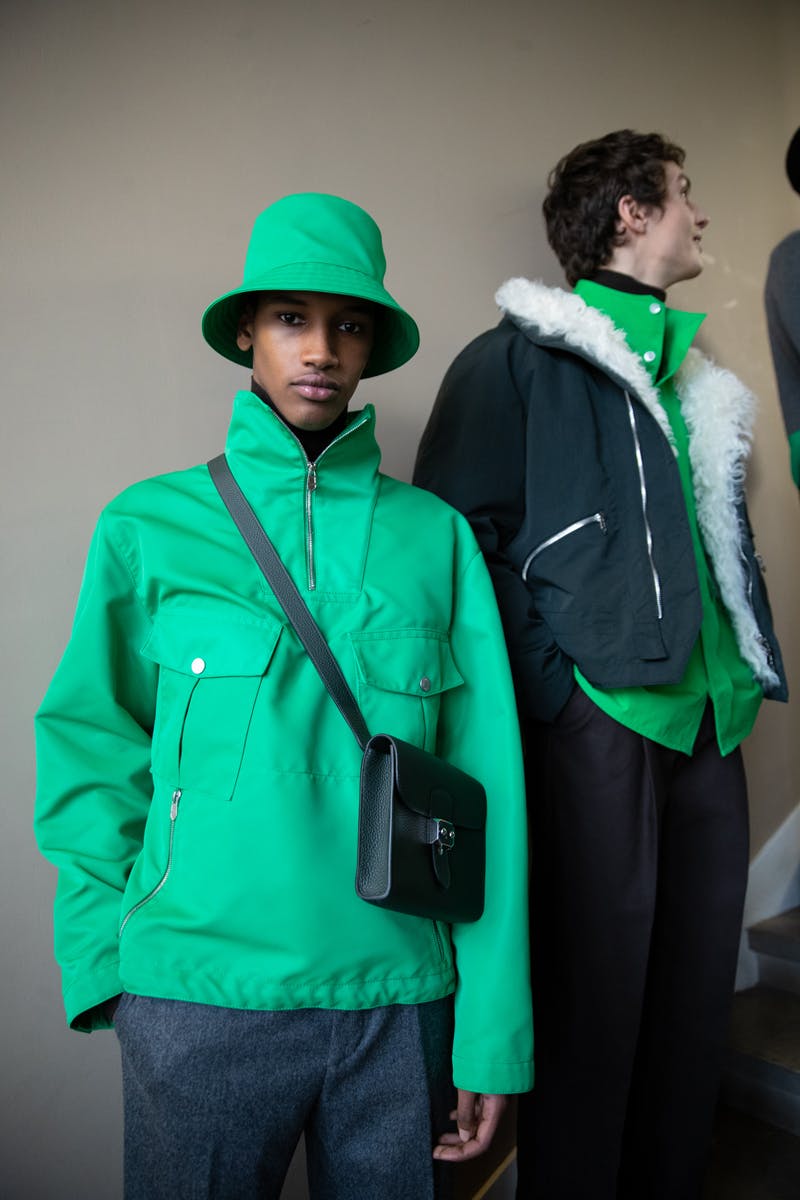 Hermès became the first luxury label to shutter its Russian stores in response to the war, though it hasn't publicly announced the closures or any donations.
Following a 500k donation to UNHCR through Chime for Change, Gucci linked to the UNHCR's donation page.
Camiel Fortgens
Dutch designer Camiel Fortgens, who produces much of his eponymous collection in Ukraine, is selling off pieces from his archive at discounted prices, with all proceeds benefitting Ukrainian charities.
Rowing Blazers
Artist Richard Haines provided a graphic for a Rowing Blazers T-shirt that'll entirely benefit Save the Children's Ukraine Crisis Relief Fund.
Co-founded by a Ukrainian, PLEASURES is fundraising for UNICEF by selling a unique T-shirt designed by the co-founder's uncle, a Ukrainian graphic designer.
032c partnered with Ukrainian artist Anton Belinksy for a charitable T-shirt that'll benefit Deutsches Rotes Kreuz, the German Red Cross.
Prada
Prada is donating an undisclosed amount to the UNHCR.
Collina Strada
Collina Strada is donating all proceeds from sales for the next week to United Help UA.
Heliot Emil
All of the profits generated by Heliot Emil's forthcoming pre-order will benefit UNICEF.
As Swedish fashion label Acne Studios debuted its latest seasonal collection, it announced joint donations to both UNICEF and UNHCR, the United Nations' refugee agency.
Another Swedish label, Our Legacy, has released a charity T-shirt, with 100% of sales to be immediately donated to UNICEF and UNHCR to support Ukraine and those in need. The Akelius Foundation will also be doubling the donations.
SOUVENIR, DUST Magazine
Souvenir and DUST partnered on a "Eunify" hoodie that'll donate all proceeds of its sale to two Ukrainian charities: Kyiv Pride, an LGBTQ+ NGO aiding in relocation and BlackWomenForBlackLives, which is currently also working on on-the-ground relocation.
Civilist
Berlin-based Civilist have created a charity T-shirt, with all proceeds going to Aktion Deutschland Hilft.
Armani
The Armani Group is donating €500k to UNHCR and clothing to refugees through on-the-ground non-profit Comunità di Sant'Egidio