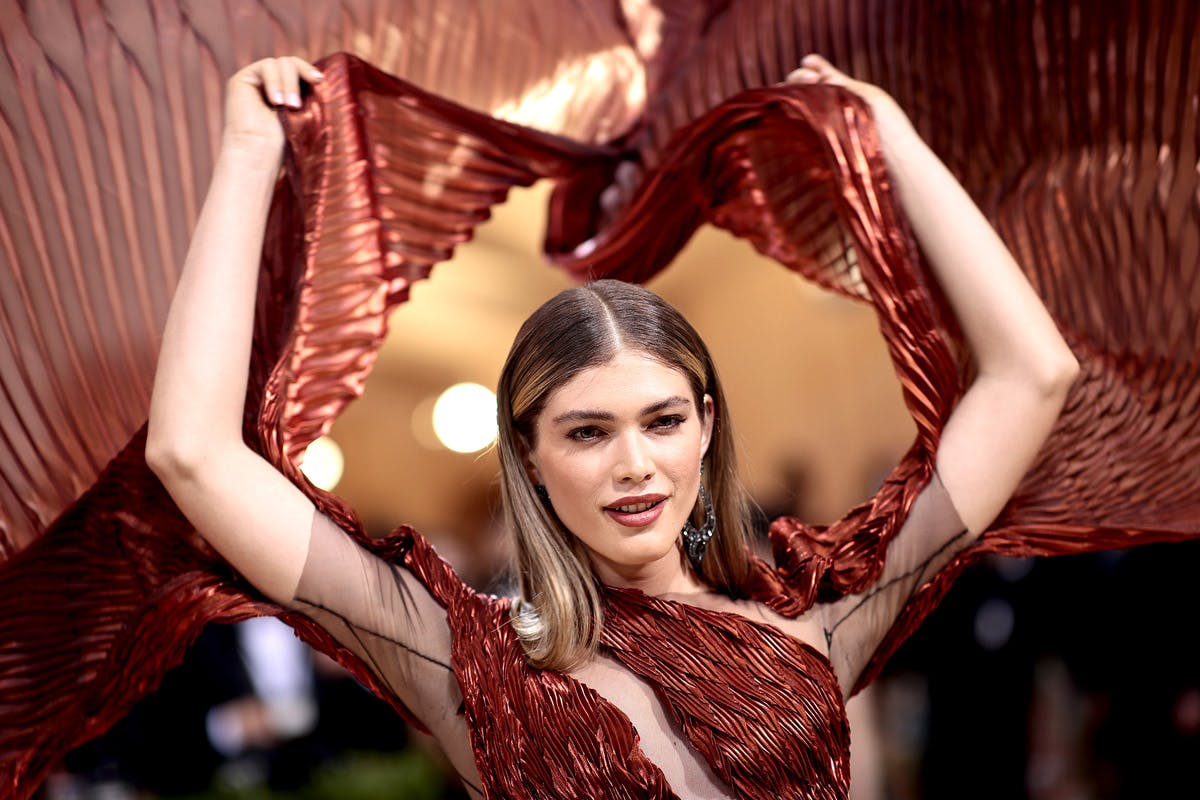 When challenged to meet the theme of "American Independence" for this year's MET Gala, supermodel Valentina Sampaio began thinking earnestly about what it means to be an American in 2021.
For Sampaio, who has already made history several times throughout her career, the question couldn't be answered without considering her own viewpoint as a trans woman born and raised in Brazil, a country with one of the world's highest transgender murder rates. The stats are similarly harrowing across the US, where, according to Human Rights Campaign, at least 35 trans and gender non-conforming people – the vast majority of whom were Black trans women – have been murdered in 2021 so far.
If this homicide rate continues, the death toll will surpass last year's to make 2021 the deadliest on record for trans people in the US.
Determined to make a visual statement highlighting the urgency of anti-trans violence, Sampaio began brainstorming with her co-creators on the project. The result is an arresting, ambitious multimedia project entitled "Lambada Dyed Red White Blue," written and directed by Jesse Ball and Branislav Jankić, and created in collaboration with blockchain leader LUKSO, her agency The Lions, and digital artist NERI (Gia Djahaia). LUKSO's Marjorie Hernandez de Vogelsteller sums up the project nicely: "[It] represents a cultural moment and a convergence of creative technologies, blockchain, the creative power of the authors, and the true spirit of our time."
The beating heart of the project is a breathtaking CGI dress, currently being auctioned as an NFT (the crypto equivalent of a rare work of art) to fundraise for LGBTQ+ charities, whose print takes shape over the course of a two-minute video. As Sampaio recites a passionate monologue and names the victims of anti-trans murder, the dress starts to bleed with their symbolic blood. It's a devastatingly poignant tribute, and one rooted in Sampaio's hope that "art can restore humanity."
A team of close collaborators worked tirelessly to bring the project to life, gathering an all-trans cast to shoot the video on a secluded beach. "I remember one moment where everyone just danced on set, the energy was electrifying," recalled filmmaker Branislav Jankić. "It was so real and magnificent, so innocent. They laughed as if there was no tomorrow, and every one of us behind the camera was drawn in by this magic moment." Writer Jesse Ball – also behind the camera – concurred, describing the happiness on-set as "contagious. I've never been on a set where so many people were smiling shyly in real joy," he added.
Depicting the euphoria that comes with gathering trans communities in safe, welcoming environments is a key step forward in humanizing a community so often treated as an abstract issue, or a collective scapegoat. "There is a true chance, I think, to show America that the trans community need not be controversial," continued Ball. "These loving people are our neighbors and friends."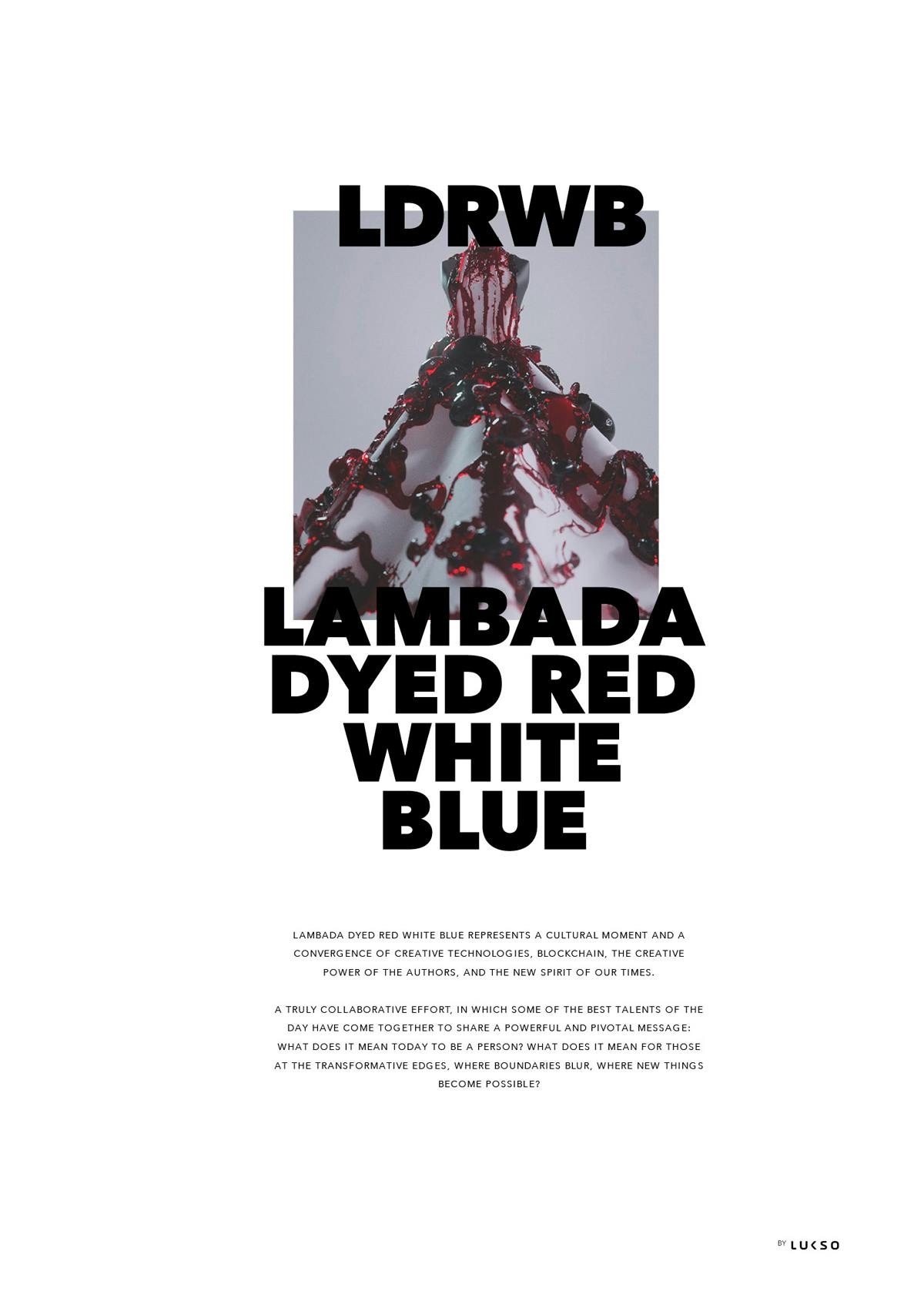 Spotlighting the beauty of trans communities has long been a focus for Sampaio, known for smashing through barriers in the fashion industry – from Vogue and Sports Illustrated covers to her historic signing as a Victoria's Secret ambassador, her career has given hope to trans talent so often excluded from the fantasy worlds of high fashion. "I hope that young trans women can see women like us at the MET Gala and other cultural epicenters and come to know that trans women do belong," she stated.
Crucially, Sampaio has also spent her career drilling down on specific issues rather than relying on broad political messages. In Brazil, she explains that legal rights such as name changes and the "principle of human dignity" often don't translate into genuine protections for trans people. "There is very little tolerance and compassion, and the list of steps and documents required to change your legal name based on your gender identity is a real obstacle," said Sampaio. Earlier this year, she teamed with Starbucks for award-winning campaign "I Am," which transformed local stores into pop-up legal offices where trans people were able to have their names legally changed on official documents, free of charge.
These barriers become even more insurmountable when factors like precarious migrant status and other forms of discrimination, like racism and ableism, are factored in. "Many trans people are rejected by their families," she continued, highlighting the reasons so many trans communities are disproportionately vulnerable. "This rejection leads to homelessness, lack of access to education and measures like sex work as a means for survival."
In the US, emphasis on trans visibility has led to "a broader understanding of the experiences of people who are transgender," said Sampaio. Yet this doesn't necessarily mean the material realities of being trans have improved. "Violence against our communities has continued to rise, and I know that more than 100 anti-trans bills have been proposed this year – that's the most in US history by conservative lawmakers. Thirteen of those bills have passed."
In other words, projects like "Lambada Dyed Red White Blue" are just as urgent, if not more so, than ever. "I'm honored to have had this experience," concluded Sampaio. "I'm speaking my truth and I reflect what's dear to my heart. I try to lead by example and plant seeds of acceptance, but ultimately, I stand for any and everyone who, like me, suffers prejudice for not fitting into society's standards."
To find out more about the project (and bid on the ongoing auction) head here.