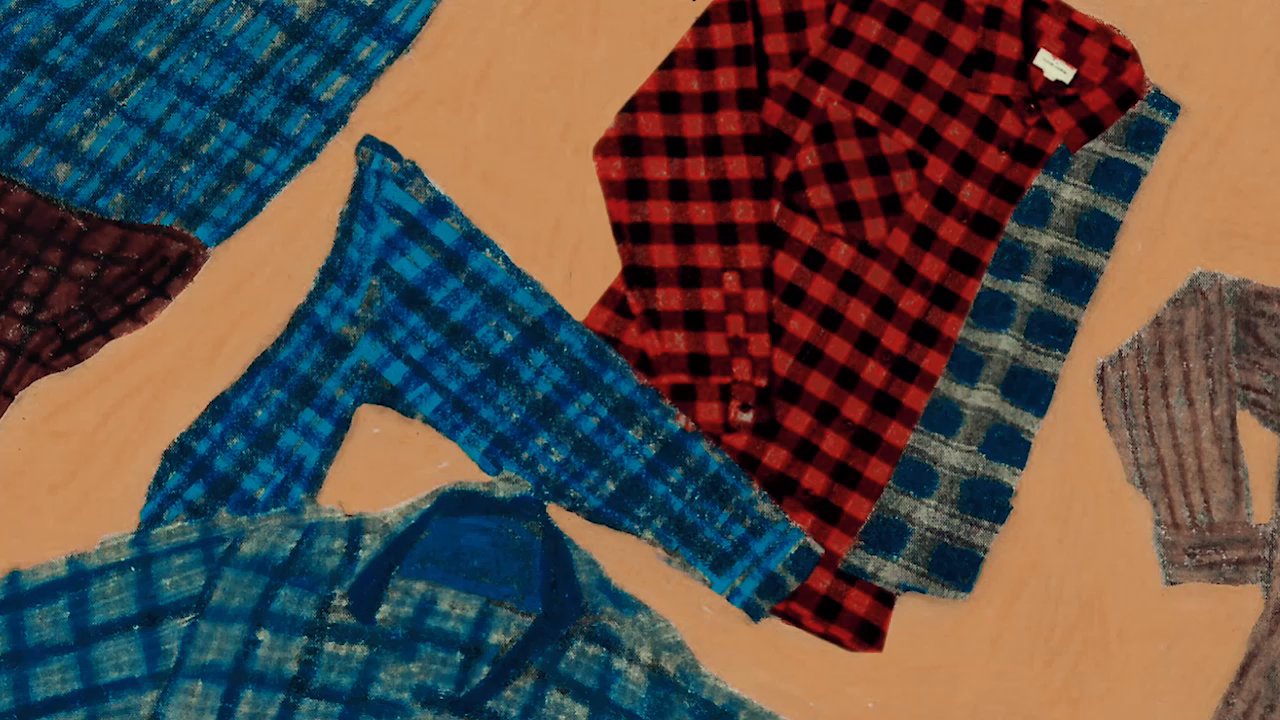 Sam Trotman — or Samutaro, as he is known to his thousands of followers — is the Instagram archivists favorite Instagram archivist. What he doesn't know about culture and style isn't worth knowing, so we asked him to take a look at one of subculture's enduring staples: the Woolrich Buffalo check flannel.
Flannel shirts are one of those wardrobe staples that we all take for granted. Like a pair of jeans or a white T-shirt, the humble flannel is versatile, fashion-proof, and eternally classic; it's no wonder that Woolrich's shirts have been a cornerstone of men's wardrobes for 170 years. But while the cross-hatch pattern might conjure imagery of Wyoming ranchers and Brooklyn hipsters, deer hunters, and rock and hip-hop musicians, the story of the fabric has a rich history that stretches back centuries.
Although it originated in Wales in the 17th century, flannel has become synonymous with American outdoor wear since the 18th century when the first European migrants settled on America's East Coast and made it the uniform of hardworking outdoorsmen. Known for its durability, affordability and warmth, flannel quickly became popular across the mountainous regions, most notably Pennsylvania, which at that point was the nation's leading lumbering state. One of the early settlers at the time was John Rich, the son of a wool weaver, who migrated to America from Liverpool, England in the early 1800s. After initially settling in Philadelphia, Rich moved to the more rural, central sector of Pennsylvania, where he would build his first woolen mill near a small brook called Plum Run and found the Woolrich brand in 1830.
With logging and timber the main source of income in these regions, Pennsylvania and the surrounding mountainous areas were full of lumberjacks, trappers, and huntsmen. Initially, Rich began selling woolen fabrics, socks, and blankets to local outdoorsmen and their families, as his brand goods were ideal for keeping workers warm in the harsh Pennsylvania winters. But it wasn't long until Woolrich branched out to produce its first-ever garment — a flannel shirt. Today, the word "flannel" is used interchangeably with plaid or tartan, although it really deals with the actual fabric, as opposed to its associated pattern. Woolrich's first specific shirt model, The Wool Buffalo Check Shirt (made using a wool flannel fabric) was introduced in 1850.
SHOP WOOLRICH'S BUFFALO CHECK SELECTION
In order to stand out in the market and have customers recognize their quality products, Woolrich developed its signature Buffalo Plaid. Consisting of big checks in two alternating colors, the iconic red and black pattern was born. Using traditional manufacturing methods carried over from the United Kingdom, Rich developed Woolrich's famous "solid scarlet, rich red, and black" squares using special yarn dye techniques and complex weaves to achieve a unique pattern that stood out from the rest. These red and black Buffalo Check Wool shirts were immediately popular and became a staple for the lumberjacks and other outdoor-workmen due to its high visibility, endurance, and warmth. Legend has it that Woolrich's designer of the distinctive style owned a herd of Buffalo, and that's how it got its name.
As anyone who loves one knows, flannel shirts are soft. Since the jump, the brand always prided itself on high durability and luxurious butter-soft quality. Rich marketed Woolrich's superior comfort with descriptions like "Mountain Made" and "soft supple, yet tough as iron" sewn into the labels of their flannel shirts and on promotional advertisements. Woolrich achieved this soft, cozy quality through a finishing process called napping, which treats the soft twilled wool fabric with a mechanical brush process to form a fuzzy nap on one or both sides. Over the next century, the Woolrich Buffalo Check flannel continued to flourish within and beyond both the lumber and railroad industries it originally found its popularity in.
By the 1950s, plaid shirts were commonly used as leisurewear, championed by the heroic tales of American outdoorsmen like folklore legend Paul Bunyan, while real-life icon Marlon Brando cemented the item as a symbol of rebellion and subversive counterculture when he wore a flannel in his 1954 film On the Waterfront. During the 1960s, flannels had also spread to the American middle class. Not only were they a symbol of democratization, but they also put different classes on a level playing field. They were affordable and hard-wearing and looked just as good worn as they did new. Protesting college students began wearing them with their denim overalls and jeans as a token of solidarity with the working class, while Californian surfers donned vibrant versions with their swim shorts as a way to improvise performance wear.
By the time the late-'70s had hit, every youth subculture — from rockabillies to hippies, skaters, and punks — had put their stamp on the flannel; proof that even if you're not an axe-throwing enthusiast with a cabin in the Adirondacks, there's a way to make the Buffalo check your own.
For many though, flannel shirts will always be quintessentially '90s. Hip-hop and grunge might have had totally disparate sounds, but the two musical subcultures were united in their love for the humble check flannel shirt. The shirts that had united America's working class in the 1950s became a symbol of the anti-conformity zeitgeist.
For Pacific northwestern bands like Nirvana, Alice in Chains, and Pearl Jam, vintage flannel shirts provided artists with a utilitarian staple that was both cheap and built strictly for comfort. It's hard to find a photo of grunge icon Kurt Cobain not wearing the effortless fabric during the formative years of Nirvana. Mostly picked up from thrift stores, it is said that necessity dictated the layers of flannels he wore, whether it be about protection from the cold Washington state climate or whether his own inhibitions about his body were overcompensated for.
SHOP WOOLRICH'S BUFFALO CHECK SELECTION
Within hip-hop, the oversized cuts and rugged construction of flannel chimed with the hyper-masculine ideals and aesthetics that underpinned much of mainstream rap at the time. On the West Coast, California rappers like MC Eiht, Snoop Dogg, and members of N.W.A got their check-shirt inspiration from the wardrobes of L.A.'s Chicano subculture who have made flannels a staple of their uniform since the '60s. Meanwhile, on the East Coast, NYC rappers and street hustlers alike looked to the very same properties, which had always seen the shirts favored by lumberjacks and outdoorsmen. The heavy wool designs were bulky and imposing, adding mass and presence to any frame and also providing adequate warmth and durability during nights spent on street corners, for those engaging in more illicit forms of work in urban city settings.
With its status secured as an iconic '90s trend, it's unsurprising that flannel has remained a go-to reference point for future generations of angsty teenagers and fashion designers looking to capitalize on counterculture style. In December 1992, a little more than a year after Nirvana's album Nevermind propelled the meteoric rise of Grunge, Vogue magazine published "Grunge and Glory," an editorial spread aimed at encapsulating the fashion and style that had emerged within the burgeoning alt-rock subculture in and around Seattle. The feature, styled by then-fashion editor Grace Coddington, included a mix of plaid shirts sourced from trendy boutiques and high-end designers — a stark contrast to the original attitudes of lumberjack and grunge culture.
Around the same time in 1992, flannel also appeared as a key reference in Marc Jacobs' then-notorious grunge collection for Perry Ellis. Just like the high-end shirts seen in the Vogue editorial, Jacobs sought to create luxury versions of the workwear staple, famously sending a two-dollar shirt purchased on Manhattan's St. Mark's Place to Italy to be copied in a $300-a-yard plaid silk. It is not surprising that both the editorial and runway collection were slammed for commodifying the newly emerging youth subculture, and the humble plaid flannel shirt.
Nowadays, though, there is a bit of a grunge streak running through our beloved sub-genre of men's clothing. It is normal to see a rapper wearing tees from metal bands (that they may or may not have ever actually listened to), people tearing their jeans to shreds, and upcoming streetwear labels use vintage-inspired flannels to pay tribute to the '90s Seattle scene in all its glory.
In 2016, at the height of the latest grunge revival, Highsnobiety writer Alec Leach called out the movement as "grungewave." At the time, Los Angeles was the epicenter of the look, with Hedi Slimane having just released his Saint Laurent "Sound Surf'' collection, a tribute to contemporary So-Cal style via the wardrobe of Kurt Cobain, while designer Jerry Lorenzo's Fear of God label was capturing a global audience with its take on '80s metal staples, with ripped jeans, flannels, and denim jackets. Lorenzo and Slimane's high-low sensibilities quickly became the go-to for all sorts of trend-setting mega-celebs, including Kanye West, Travis Scott, and Justin Bieber (the latter who Lorenzo designed the "Purpose Tour" merch that year for). The collection, which was based on the theme of "modernized grunge," included everything from the kilts on Axl Rose to grunge plaid pants and sleeveless flannel shirts.
The skateboarding scene has also been a major cornerstone in keeping the plaid trend alive over the past 50 years. Jürgen Blümlein of @skateboardmuseum and author of "Skateboarding is Not a Fashion" cites the earliest adoption of plaid in skating to OG Dogtown skate crew the Z-Boys from the late '70s, where a young Jay Adams can be seen shredding in hills in a plaid shirt. Blümlein also credits the Bones Brigade rider Ray Barbee as one of the early adopters of flannel, as captured in his various Powell Peralta ads, but he says it was So-Cal label Vision Basic from the early '90s that had the first flannels in their collections with skaters like Cardiel and Wade Speyer being famous for the Hesher style. This look was best captured in Speyer's Thrasher cover from 1998, where he wore a worn-out plaid shirt and a trucker hat. Throughout the '90s, workwear brands also helped propel the look in a more rugged direction, while scenes from Larry Clark's Kids cemented the plaids positions as a '90s skate icon forever.
Courtesy of Woolrich, Courtesy of Woolrich
Since then, the material has enjoyed steady use, although the once rugged wool fabrics have transitioned almost exclusively to lighter cotton and more affordable synthetic fabrics. Streetwear labels like Billionaire Boys Club, Billy Los Angeles, and Off-White™ have found creative ways to implement the fabric in their lines, while designer labels like Balenciaga and Faith Connexion have created elevated versions favored by rappers like A$AP Rocky and Playboi Carti.
While many brands have tried to replicate the original look and feel of vintage flannel, nothing compares to the real deal. In 2013, Virgil Abloh famously upcycled vintage flannels and sold them at a 700 percent mark-up for his then debut streetwear label Pyrex Vision. This obsession with vintage Americana has been followed up by designers like Greg Lauren and Keizo Shimizu of Needles Japan, both of whom are known for their upcycling design approach which rebuilds new garments out of vintage fabrics, with flannel being one of the main ingredients.
Now, 190 years later, Woolrich remains a sturdy staple and an ever-reborn product of cyclical fashion. Its popularity transcended decades, social gaps, genders, and generations — and never seems to stagnate. Today, Woolrich's Original Buffalo Check finds new relevance and reach through creative collaborations with the likes of OVO, Awake Ny, Griffin Studio, and Converse, with whom Woolrich have created special edition products over the years. Although the material may never reach the same level of popularity it enjoyed at the beginnings of the '90s, it certainly shows no sign of slowing down either. With fall season arriving soon, make sure to stay warm by welcoming some flannel into your wardrobe.
SHOP WOOLRICH'S BUFFALO CHECK SELECTION
Shop Woolrich's latest FW20 collection here.