44 LABEL GROUP / Matt Lambert
The signs of urban gentrification are usually telltale: insufferably pretentious organic bakeries; sans serif fonts; dad-cap wearing outsiders dressed like a Mac DeMarco support act. All this is true of Neukölln, Berlin, yet despite its relatively recent crowning as the city's "hip corner," it's a place that still retains a charming rough-and-tumble flavor. If you find yourself in the German capital and in need of dubious drugs, cheap döner, or, erm, a Blockbuster rental store, hop on the U8 line and head for Hermannstraße.
If anyone is well versed in the changing face of Neukölln, it's Max Kobosil. A child of die Wende, the techno producer grew up in the neighborhood and still calls it home. These days, the former Berghain resident is big time, playing shows from Miami to Madrid on any given month. It's a notoriously taxing lifestyle, but one that has led him to make acquaintances with people across the globe – Italian fashion entrepreneur Claudio Antonioli being one of them.
High fashion brands have been trying their hand at the whole clubwear schtick for a while now, albeit with varying degrees of success. What they often lack is authenticity; can you really transfer the spirt of Panorama Bar into clothing if you've never stood there, bleary-eyed and chewing your face off at close on a Sunday night? Or, to paraphrase Bane in The Dark Knight Rises, some people merely adopted techno, Kobosil was born it.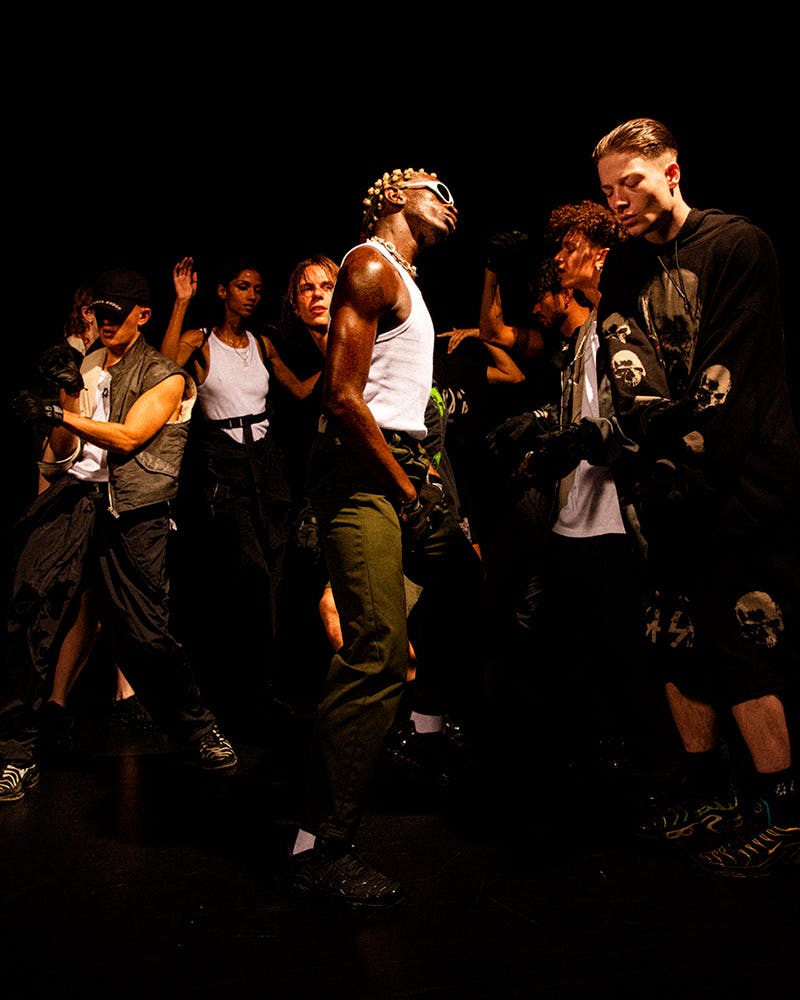 It's this realness that attracted the nightlife-loving Antonioli to sign Kobosil's 44 LABEL GROUP merchandise label to his Dreamers Factory incubator. The idea is to make the kind of rave gear that has never been seen before. Stuff that can withstand a weekend of hardcore partying, but constructed with the type of fabrics you'd find on the Paris runway. Theirs is a mutual bond: one forged from both a love of electronic music and equally cool clothes.
Ahead of the wide-ranging Spring-Summer 22 release, featuring images and video shot by the inimitable Matt Lambert, I caught up with Kobosil to find out more about the project so far. Read below, and shop the collection here.
When did you first start DJ'ing at Berghain?
I became a resident there at 22. The fashion part was a happy accident. I started to release my merchandise in 2018 because I wanted the community to have something that bound us together on the dance floor. We sold so much stuff each release that my friends and I were constantly working at my mother's place to pack and ship the orders on a weekly basis.
Around that same time I met Claudio [Antonioli] and we immediately clicked. We had the same taste in music but also in art.
So it was almost like a DIY merch project in the beginning?
Yeah, but I really obsessed with the quality. It wasn't your typical run-of-the-mill merch that comes printed on generic shirts. I went to many suppliers before I found the quality I liked and would want to wear myself. This process actually never ended, and for every drop I strived to upgrade and change things in term of shapes and quality. It's noticeable in the T-shirts if you got one from every drop.
At the core, I wanted to create a T-shirt that would last "forever," but that also ages. I found a technique called "discharge printing" where you bleach out the fabric instead of just printing over it. Doing that, the print won't peel or naturally fade, only the black T-shirt fabric it's printed on. I think of it like a scar. The body changes but the scar stays forever.
So you were thinking of all those things even before meeting Claudio?
Exactly. Now I'm able to produce advanced stuff like cargo pants, bombers, coats, bags, etc., which wouldn't have been possible before. I needed a bigger and professional team for it to become a fully-fledged fashion brand.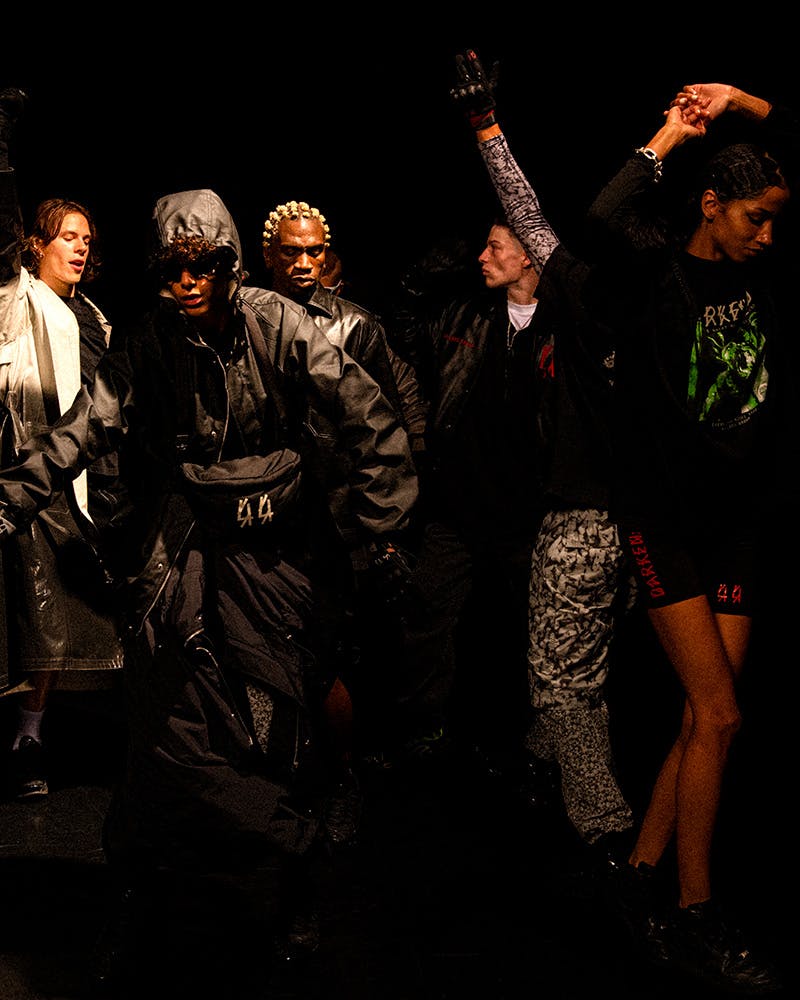 I'm really interested in the term "clubwear" because it's constantly evolving and changing; how would you define it in 2021?
For me, clubwear is gender fluid, sweaty, sexy, rough, and functional. I had my first club experience when I was 14 and since then specifically dressed up just for the nightlife. A lot of brands are using this subculture just as an inspiration, but the difference is that I natively come from within it. There is nothing else I know better than techno, clubs, and nightlife. It's my first true love.
How has the Berlin club scene changed for you in recent years?
Berlin, in general, changed a lot, especially the district [Neukölln] where I was born, grew up, and still live in. In the beginning, there weren't as many visitors, the vibe was tenser. It was multicultural and I loved it. That a lot people are coming and moving to Berlin is a good thing, even if there are some noticeable downsides: the higher rents, for example.
If I would imagine a club full of real Berliners, it would be boring. Its great to have people from all over the world meeting at these places, because there are so many interesting stories and so many unique ideas being exchanged.
Were you always a fan of luxury fashion?
I spent a lot of my initial DJ fees on clothes. I loved fashion and always thought about what I wanted to wear. When I look back, I think it was almost like an investment. I got to explore and know about materials and construction, which country it came from, etc. I also compared different garments from different labels and figured out what I liked more. It really opened up my eyes to the art of fashion.
Today I see a lot of big, traditional fashion brands being inspired and influenced by rave culture or clubbing. What we are doing is flipping the game. I grew up in this culture and want to show my vision of it mixed with growing up in Berlin to the fashion scene and the world.
Your graphics are wild!
I do them myself. I work with graphic designers on the execution level to help finalize the artwork into print-ready files, but the creative direction and output come from me. Both for 44 LABEL GROUP and my record label, R Label Group.
I work a lot with my hands. My sister is a dentist and I got inspired to do something with teeth, so I asked her to collect real human teeth and bring them to me. When I got them I arranged them as a smiley on a black cloth and made pictures. I also made a unique pattern for an all-over print. You can see the result in our recent SS22 Collection. For FW22, I again used my hands to create motifs.
How was it working with Matt Lambert?
It was super enjoyable. Matt is grounded and a true artist. It's a big honor for sure. He's close-connected to the club scene, and has a lot of experience; the perfect partner for visually conveying the spirit of 44 LABEL GROUP. The cast of the video is 100 percent authentic. It was important for me that we included real ravers, friends, and other techno artists. One of them, Aiden, is releasing an EP on my label next year. She is an incredibly talented producer and professional model.
Another talent seen in the video is Raven who I discovered through mutual friends. She released an EP on the label of Amelie Lens, a close friend of mine for over 10 years.
What's next then?
We just released the capsule with our exclusive partner in Berlin GATE194. Everything sold out in just two days. We did not expect that! 70 percent was gone already at the release event in Berlin, which really made me proud.
Right now, we're already working in full force on our FW22 collection. In terms of distribution, the brand is now more established. We are in key stores in global key markets and we're also going to do also another presentation at Milan Fashion Week in January 2022. I'm looking forward to that.
What's more fun, being a DJ or designer?
Both worlds have their pros and cons. It's equally important for me as I get a lot of inspiration from visiting different clubs and countries. I travel all over the world, and its a never-ending source of inspiration I use for my fashion label.
One day I'm in New York, checking out stores during the day and DJing at night. The next day I'm already somewhere else and dragged into that metropole's energy. It really goes hand in hand.
What I underestimated a bit was that I also have a double workload. When I used to have time off during the week, I am now in Milan and work daytime in my design office. I had 17 shows last month and sometimes I don't come back to Berlin for weeks. But I'm not complaining. I get to do what I love and I have my family, friends and health, and on the weekends nowadays I'm not testing only new music, but also new clothes!