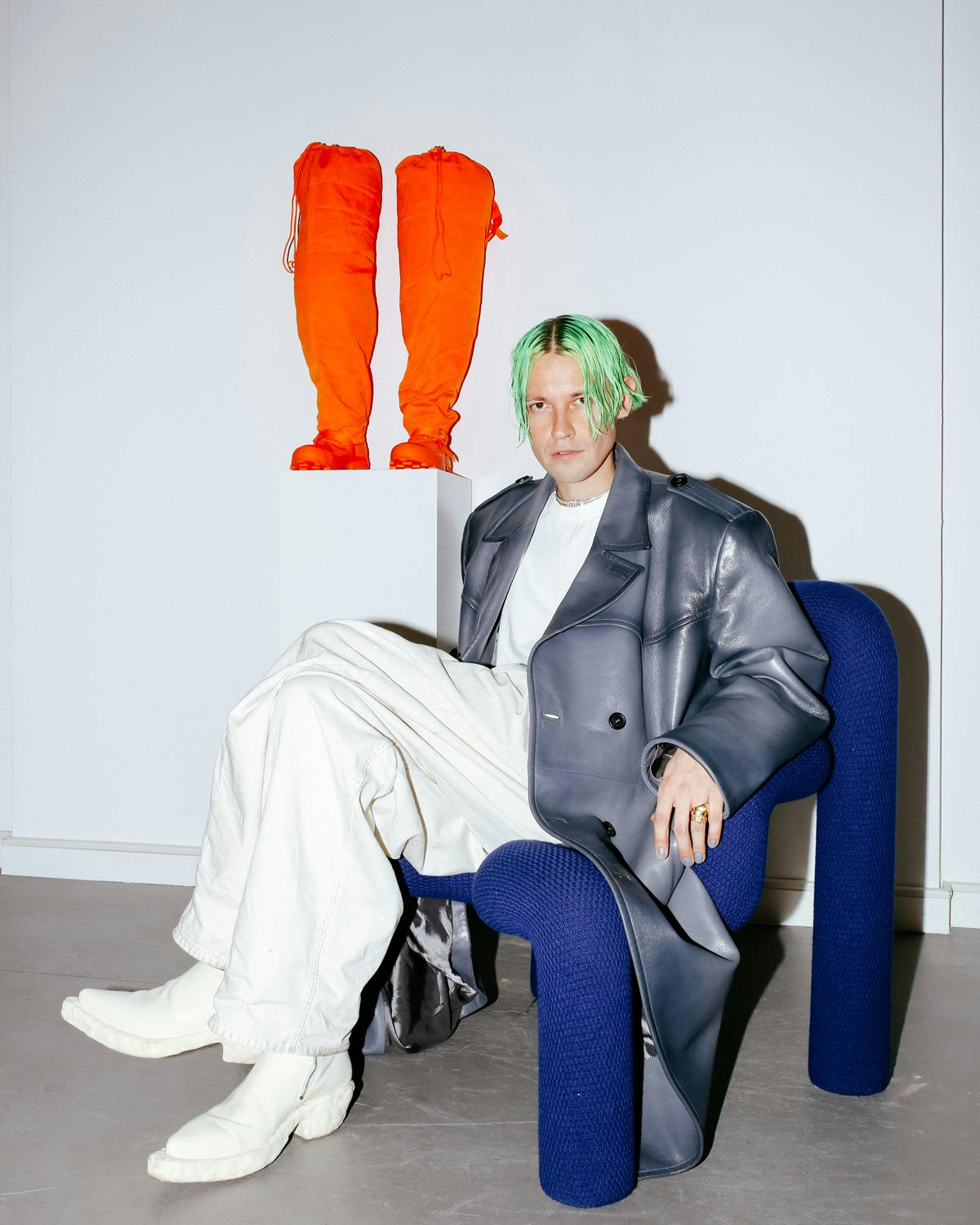 When Achilles Ion Gabriel spoke to us in the first-ever interview as the creative director of CAMPERLAB, he admitted to changing everything at the label except for the name — although even that was given a refresh through a new logo. Now, two years later, he has brought more of his creative vision to life under the brand's experimental sub-label.
With every in-your-face colorway and unorthodox fabric choice, CAMPERLAB has become increasingly surrealist, experimental, and (for lack of a better word) fun. Its latest collection is a testament to this, the unisex range includes everything from hairy lime green cow-print loafers to a pair of over-the-knee neon orange boots that sit somewhere between an astronaut suit, workwear, and club attire.
Of course, this isn't without its risks, not only are his elevated designs decisively bold but getting the right fabrics has meant increasing prices. He admits that at first: "I was a bit scared that we were going to lose all the customers." However, all the risks seem to be paying off.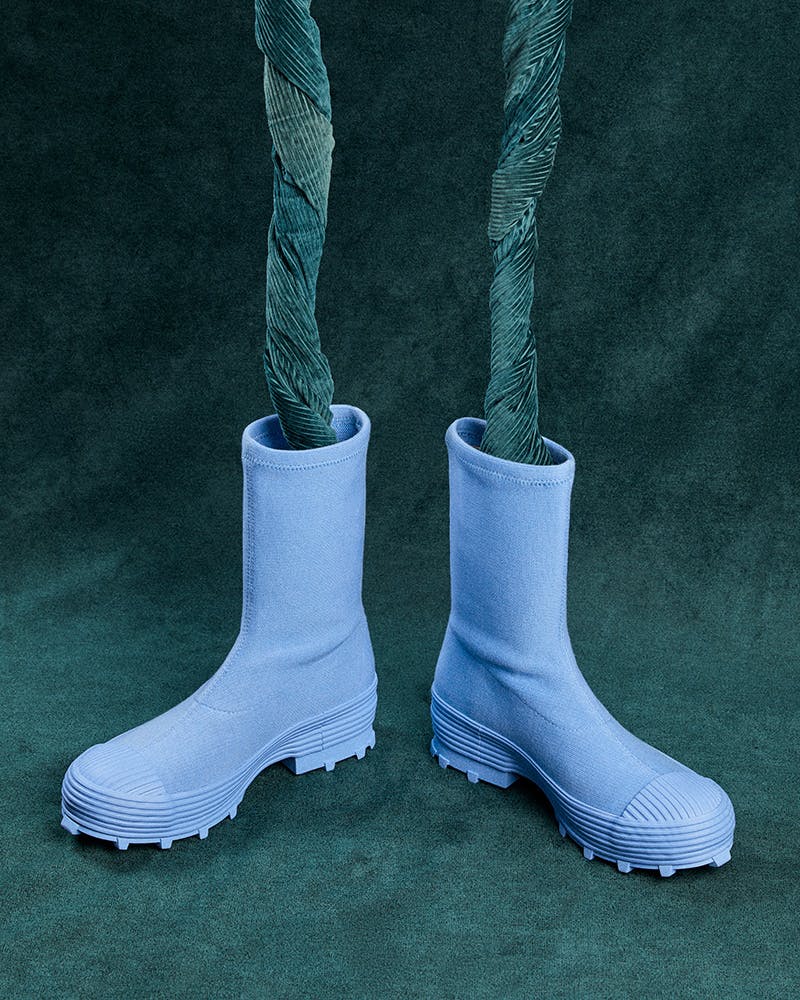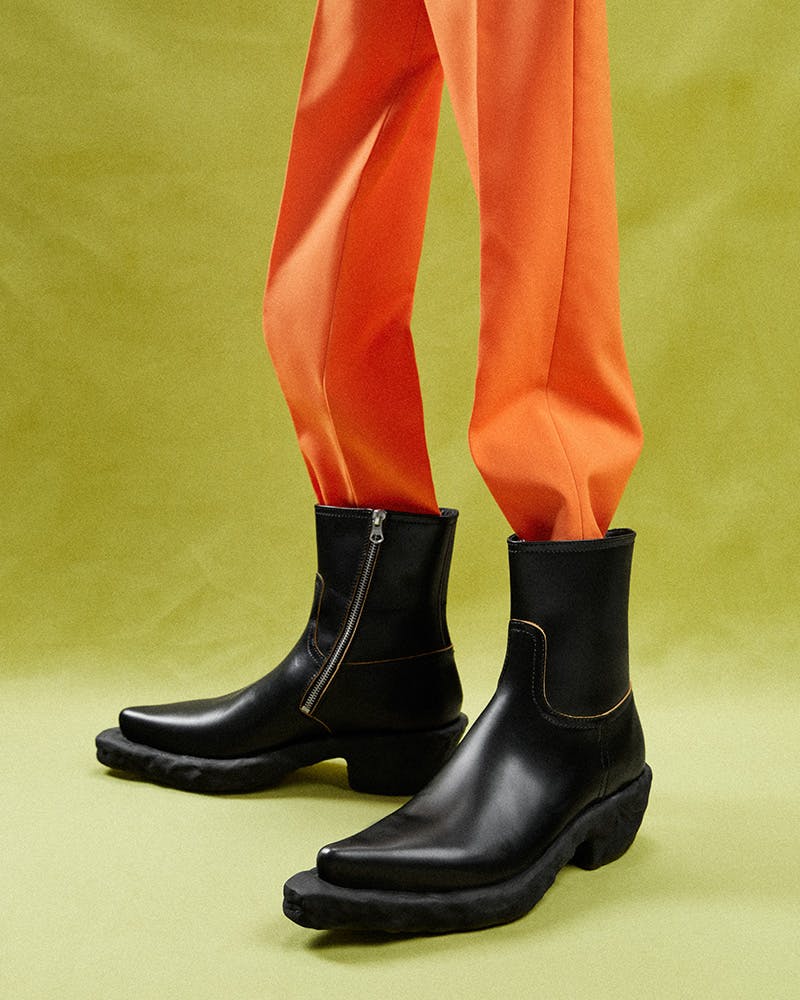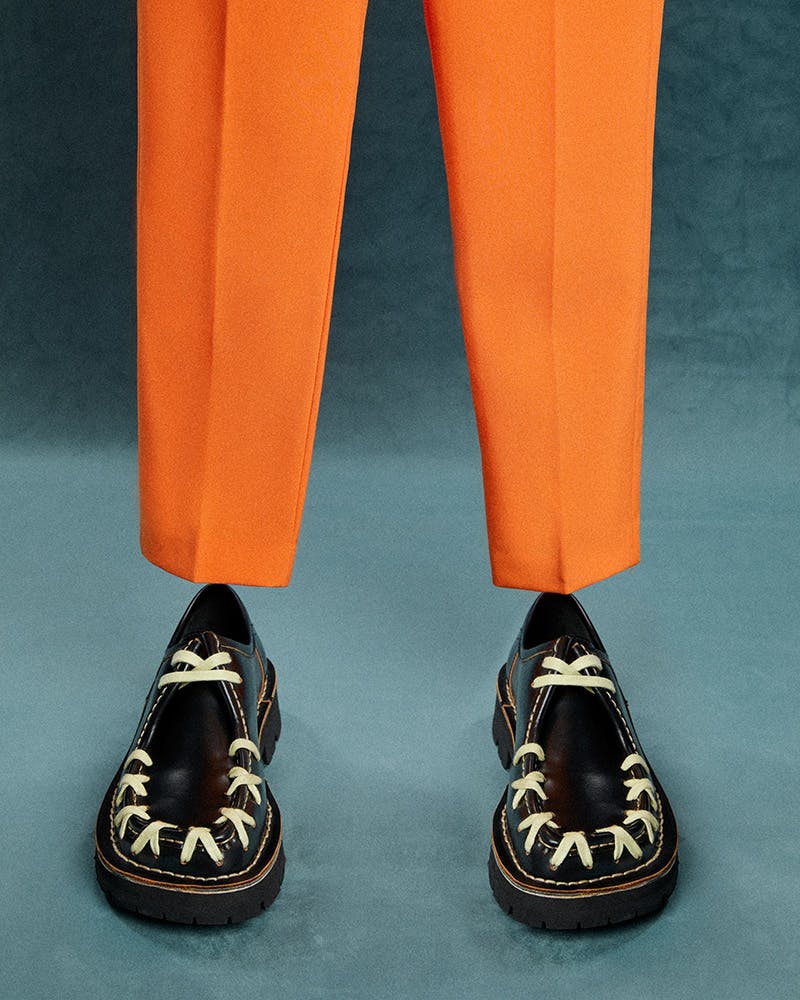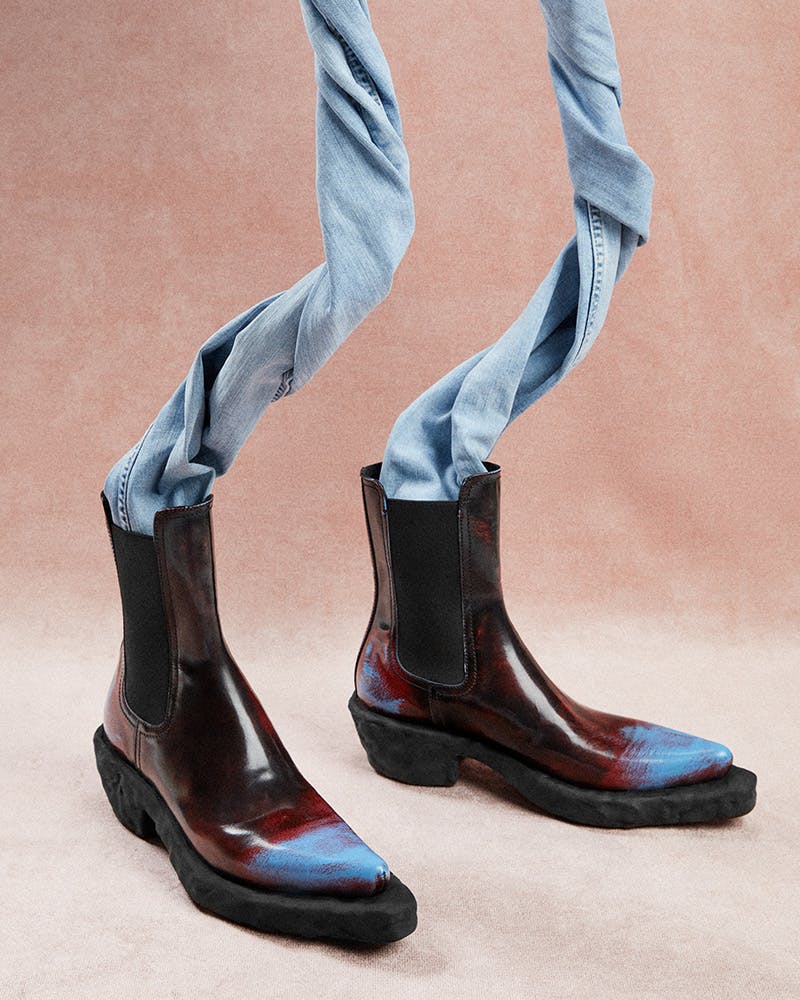 Sales have increased and when we meet he is in Berlin opening the latest in a string of worldwide CAMPERLAB pop-up shops to meet the demand, and the quick growth of CAMPERLAB no doubt influenced his swift hiring as the creative director of its mainline brand: Camper.
"During the pandemic, Miguel Fluxà, the CEO, called me one day. I was at my mom's place and I'm like, oh fuck why is the CEO calling? Am I fired? And then he asked if I want to take over Camper," says Ion Gabriel. "I didn't even think about it, I just said: 'of course I want to do it.'"
From running his award-winning label, he suddenly found himself at the helm of a huge international business — "with Camper, in the beginning, I was focused on understanding how it works. It's a huge machine which means it's not easy to change things. But once you learn the system, it's easier to play with it. Now that I understand how it works, I can do more things with the company than when I was fresh out of the blocks," he says.
Those changes have included making the line more unisex, such as expanding its Kobarah sandal's sizing so it goes up to US 14, as well as a focus on bolder color choices and editing down the selection.
The designer treats CAMPERLAB and Camper as completely separate labels — something he compares to the relationship between Prada and Miu Miu — because "otherwise, what's the point of having different logos?" But one big change he has been able to integrate across the board is a focus on environmental responsibility.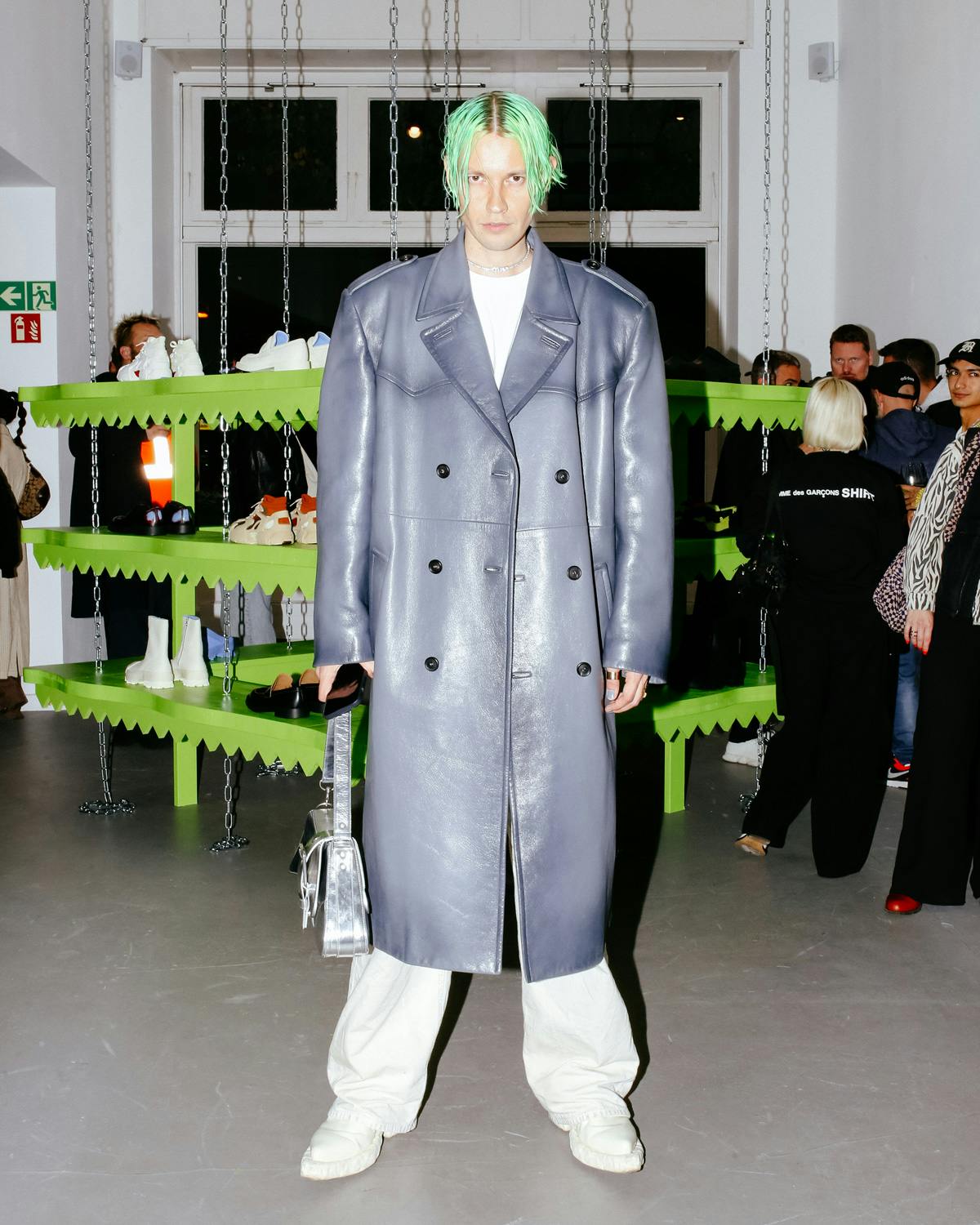 It isn't an approach that he is first introducing to the label — he remembers finding a 90s campaign in the archive: a plain red background with white writing reading "if you don't need it, don't buy it"— but reducing environmental impact has become a priority for the designer.
So far, he's brought the number of responsible materials (such as recycled or organically produced natural fabrics) used for Camper above the 90% mark and reworked models so that they are more easily recyclable. Making sure that everything is made as environmentally friendly as possible of course creates limitations, but that only helps to form the ambitious designs that end up on shop shelves.
"I love restrictions. You start thinking more when you have certain restrictions and need to work out how to break them without going beyond the line," he says. "That's how Tossu was formed."
Tossu is CAMPERLAB's latest model, and the first project undertaken by SlimplicityWorks using its patented 3D bonding technology. The shoe's design eliminates the need for glue, stitching, and eyelets — which makes recycling a heck of a lot easier.
"With shoes, it's really difficult to try to do something that there is zero waste," says Ion Gabriel. "That's why I'm constructing shoes in a way that they can be taken apart. But with the Tossu it doesn't even have to be taken apart, because it can be recycled as it is and there is no waste."
This new futuristic sneaker shows CAMPERLAB stepping into new territory, expanding beyond the highly experimental takes on loafers and boots which have created such a buzz around the sublabel. However, that doesn't mean that it's losing its roots, and its Spanish heritage is something Ion Gabriel has put a big emphasis on since day one.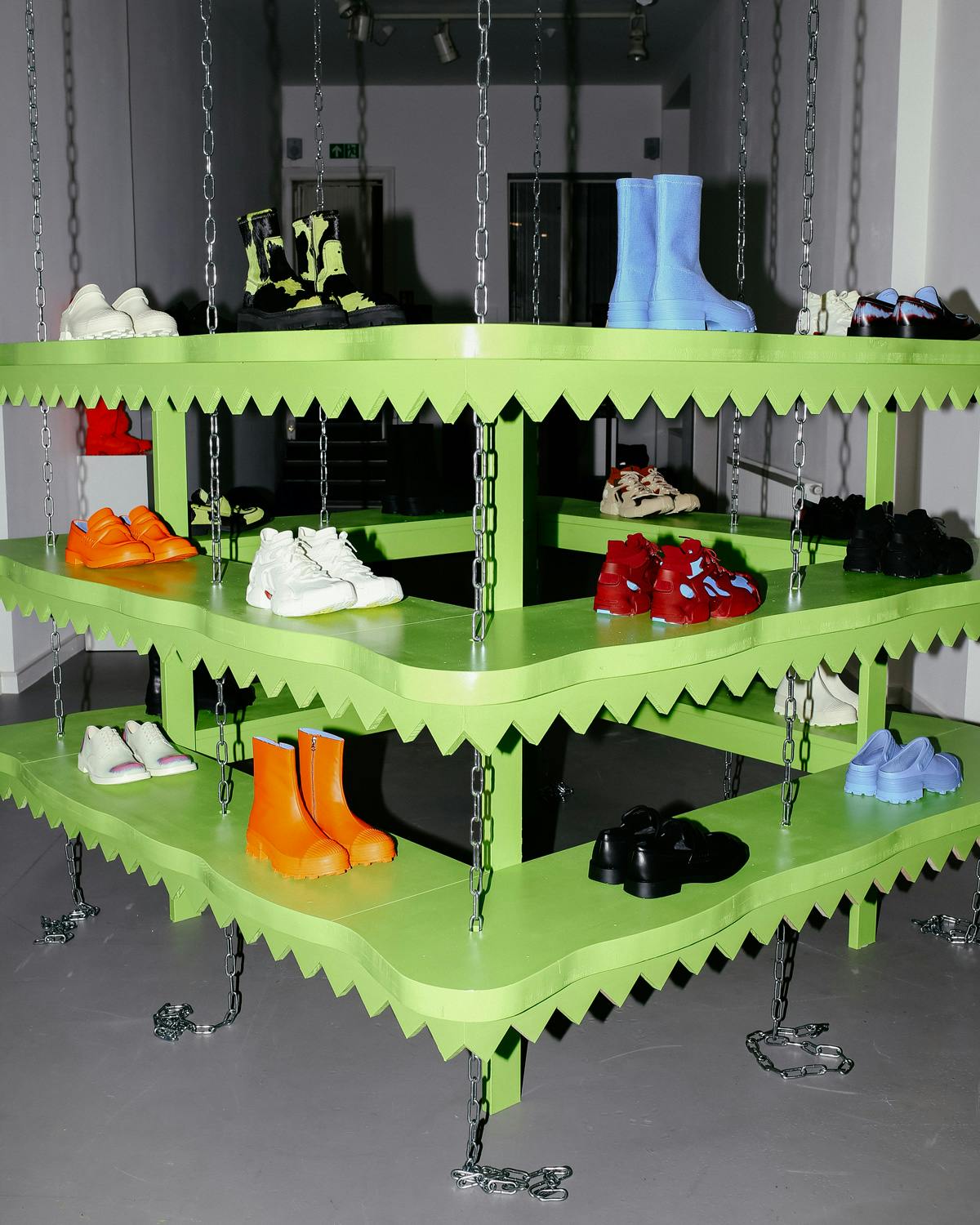 "For Camper, the DNA is super important, but it doesn't have to be in a really evident way," he says. "Sometimes I don't know how to describe how it's there. Even me living in Majorca, it's affecting how the shoes have to be countryside-proof."
He relocated from Paris after a 10-year stint in the French capital and moved closer to the company's headquarters in Majorca soon after landing the job. There, he resides a 45-minute walk from the nearest bus stop, somewhere he describes as: "the middle of nowhere."
"I'm way more focused (in Majorca) and I'm less influenced by people around me," he says. "Of course, I'm influenced when I travel but I think I'm more focused on what the product should be. It's almost like being in isolation."
If the last two years are anything to go by, then this new-found focus will result in more explorations in the unknown for Camper and CAMPERLAB. It's something that he hints at in our conversation: "when the brand is growing, it makes sense that the collection grows as well. Maybe one day it will be more than shoes, who knows?"
The CAMPERLAB Pop-up is open until 30.10.2022 at Torstraße 114, 10115 Berlin.