"I'm in my feelings like woah," Tommy Genesis purrs on the first verse of "God Sent," the opening track off her debut self-titled album. The line implies a common ordeal, but her delivery is charged with a sense of pride that makes it come across as a symbol of strength rather than weakness. Before she is ready to speak with me following a quick soundcheck at Lot 45 for the first Highsnobiety Soundsystem event, Genesis orders a whiskey ginger to calm her nerves.
It seems strange that someone who is so comfortable with herself and unapologetically speaks her mind with salacious lyrics like "look at my face/ only thing more perfect is my pussy" (as heard on the reggae-tinted tune "Lucky") would be anxious about doing interviews, but it's something that the Vancouver artist attributes to mood.
"If I was someone who rapped about my day-to-day real life I think it would be important for me to tell you things, but I make anthems," she says. "I make art rap. I make songs that don't even necessarily relate back to real life situations, it's just how I'm feeling... I'm moody, I'll just make moods. Sometimes I'm writing about myself, sometimes I write about my friends, sometimes I'm writing about someone I don't even fucking know. For me to sit down and be like 'Here's my entire life,' it just doesn't, in my mind, relate yet. Until I make music that's so closely involved, I don't feel the need."
Later on, Genesis will disclose that she's a Leo with both a rising and moon sign in Cancer, which could be the reason she evokes a high level of confidence. Genesis admits that she has her selfish moments, but for the most part she's compliant and gives off an easygoing demeanor. Even while wearing sunglasses indoors, she maintains direct eye contact throughout our entire conversation. For some, this might feel intimidating, but it shows her willingness to be an active participant.
Discussing the impact of the next generation sparks a passionate response from her – Genesis immediately gushes about how she is deeply inspired by her 15-year-old sister because "the way she perceives the world is so much different than the way I see it." Despite the fact that today's youth have more opportunities to be themselves, Genesis reminds me that they are also up against so many obstacles every step of the way.
"The world's legs are spread wide open," she says. "Everything good can come at you, but everything bad can come at you. You can put everything good out, but you can also put everything bad out really fast."
Genesis suddenly goes on a tangent about how not being popular in school never phased her as a teen because she knew that it didn't matter in the grand scheme of life. She recalls how other girls weren't nice to her for reasons she'll never understand. This is why she pays extra attention and takes the time to communicate directly with her fans on Twitter, sending them encouraging messages that spread positivity.
"I really only care about the kids," she says. "I know I should care about what people older than me think, but if my music can be the soundtrack to your life that helps you be okay or helps you get through anything... I think more and more, it's important to be there for the growing generation."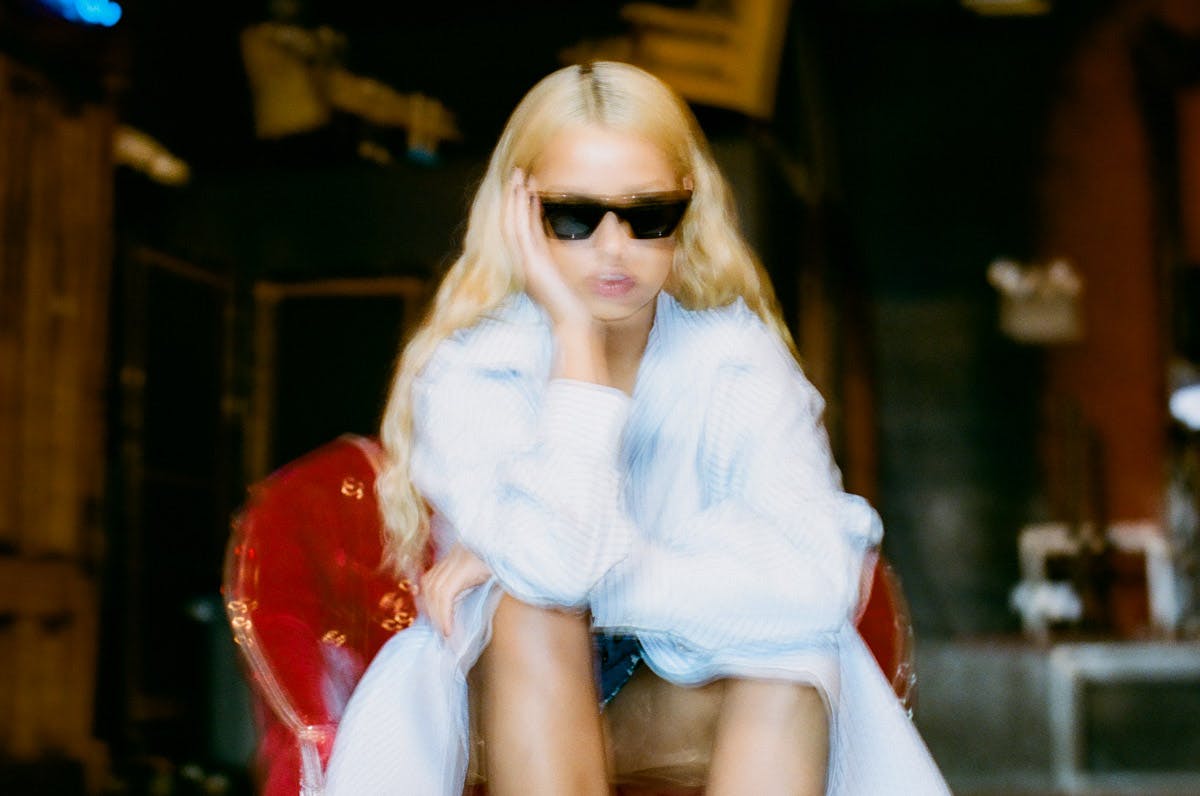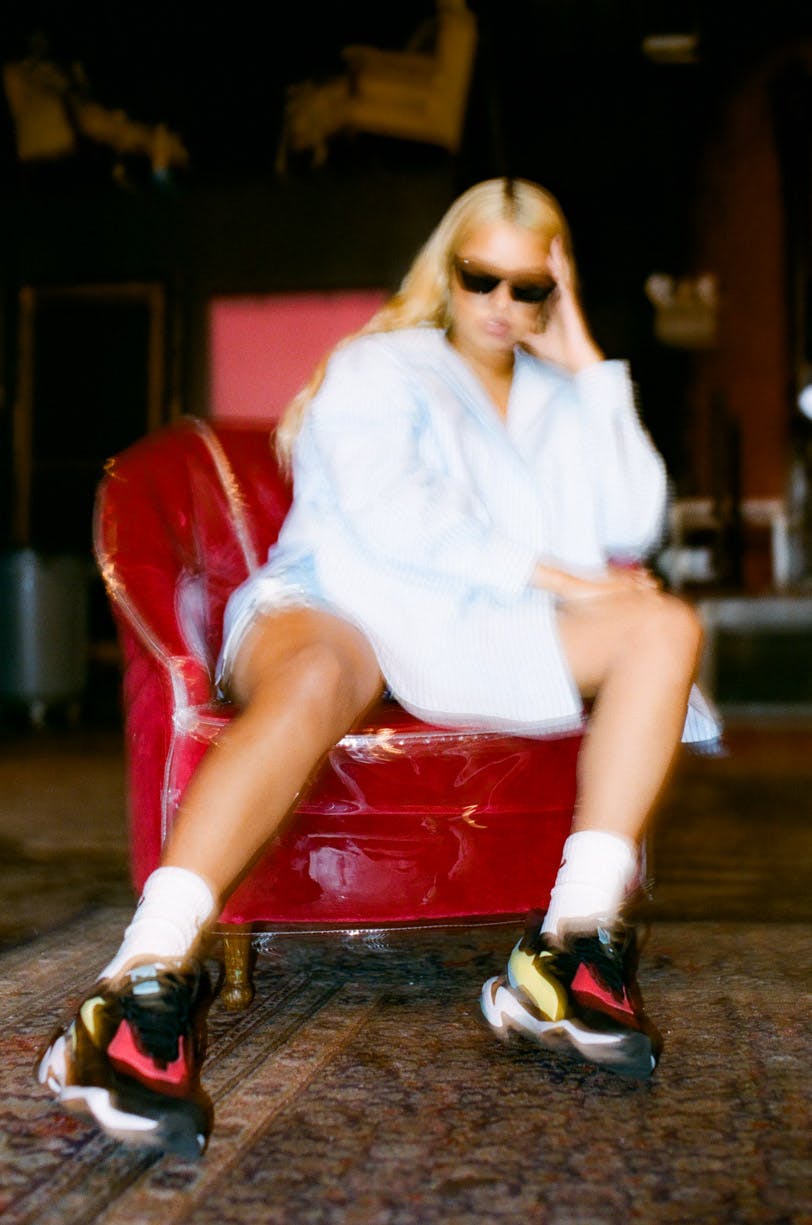 While Genesis has no interest in putting her private life on blast, she does see the value of breaking down the wall of celebrity and presenting the most honest version of herself. "I just know that whatever you think of my life, whatever it looks like, my life's not perfect and I'm not perfect. I'm not always cute, I'm not always on my shit, I'm not always nice. Sometimes I'll fuck up," she says. "Some days, I don't feel good and I still have to do an interview, or some shit happened in my life but I still have to play a show... It doesn't always fall where I want it to."
She adds, "The reason why I believe in [music] so much and I do it is 'cause for those people, for those kids who feel that way, you really feel powerless for a minute. Because, when you're young everyone's telling you what they think you should do… I'm really not talking about love, I'm talking about identity. I'm not talking about relationships, I'm talking about the way the world will or will not accept you."
Acceptance is something that visibly strikes a chord with Genesis. From the beginning, she has always been open about her sexuality and identifying as a bisexual woman. Growing up, she was a wild child who experienced a multitude of identity issues – Genesis is half Swedish and half Tamil – but she continues to evolve from those experiences.
"I believe that to be happy you have to treat other people good," she says. "The most important thing to remember is that you should treat others the way you want to be treated and you should always choose love first before you choose hate or aggression, because that's how you keep yourself good."
It may not be obvious from an external point of view, but Genesis' religious upbringing also taught her good morals that still guide her to this day. Though there's no telling if her involvement in a church group named God's Girls as a child set her up for where she is today, the subject of religion subtly finds its way into her music – there are songs where you can catch her talking to God and questioning the worthiness of others. Furthermore, that foundation seems to have fostered her positive outlook on life. Despite some of the darkness that Genesis endured throughout her youth, she found a way to prevent it from killing her spirit. She is fully aware of her worth and nobody can ever take that away from her.
"You can't make them love you, you can't make them accept you, whoever they are who don't. You have to stop trying," she adds. "Make sure you're good, make sure you don't have hate in your heart. Make sure you've forgiven those and make sure you're working toward a better you. Make sure that's what you're doing because then the reason you don't connect is 'cause you're meant for something else and you gotta just keep it moving."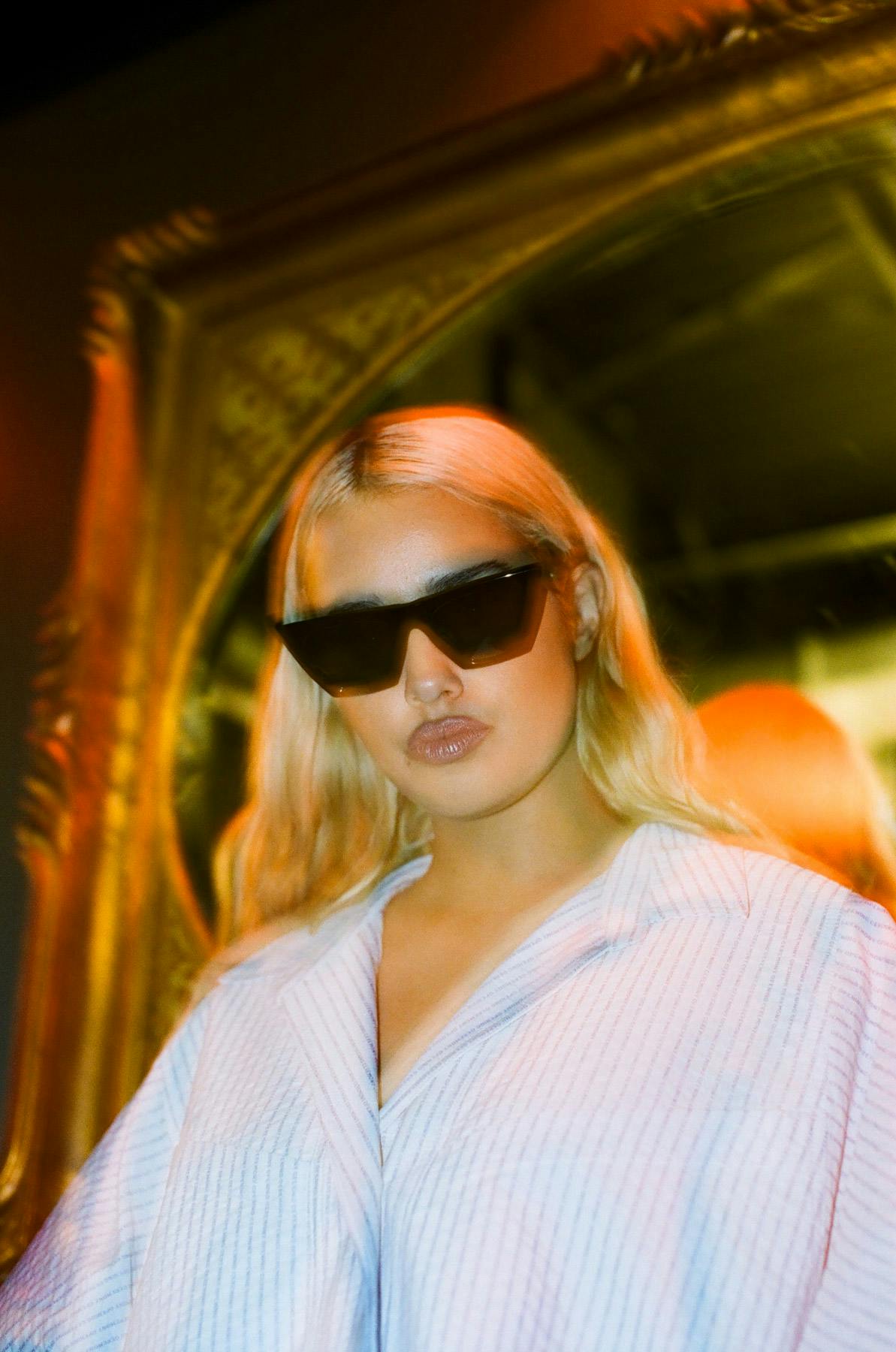 Through her various mediums of art, Genesis aggressively challenges the male gaze without a flinch. This can be witnessed in the self-directed visual for her Charli XCX-assisted single "100 Bad" when she casually ejaculates a bottle of champagne alongside references to the work of Kelis and Tracey Emin. She's not being explicit for the sake of getting attention though; Genesis tells me about how she has always been outspoken despite the constant instruction from other people on how to behave, an expectation that caused a disturbing amount of inner discomfort.
"That's been the hardest thing in my entire life, learning to behave normal. When I was younger I dealt so much with my identity, my sexuality and growing up," she says. "I was comfortable with who I was, but I was... confused."
Genesis isn't embarrassed by any of her faults. If anything, they have made her more at peace with herself. "I can't really place it, but I don't have the feeling of uncomfortableness with myself—I have the feeling of uncomfortableness when I meet other people," she says. "I spend a lot of time alone and I like it. I'm so comfortable with myself, but I'll get uncomfortableness with someone's 'Hey, you're crazy.' And I'm like 'No, I'm not crazy. Why do you think I'm crazy?' I was only uncomfortable with the way I was expected to behave."
She goes on to elaborate how she was a late bloomer in many ways, that it wasn't until she met a specific group of friends while attending Emily Carr University of Art and Design when she finally felt accepted for her true self.
"I come from a very supportive family. My parents, my family support me to this day – they wear my merch and stuff, they're really amazing," she says. "But as far as friends go, I was always trying to understand what it was, who it was they wanted me to be because I was never fitting in."
Genesis gets quiet for a moment and takes a long sip from her glass before leaning in closer. "You know how hard it is to try to understand someone else's expectation of you when you just don't fit in? You just don't fucking fit in so you just have to be disassociated for a while." She shakes her head and leans back in the leather chair. "I never blame myself. I was never like 'Oh, that's on me.' I was always like 'I don't understand why you don't think I'm powerful.' I always thought I was powerful 'cause I'm normally me."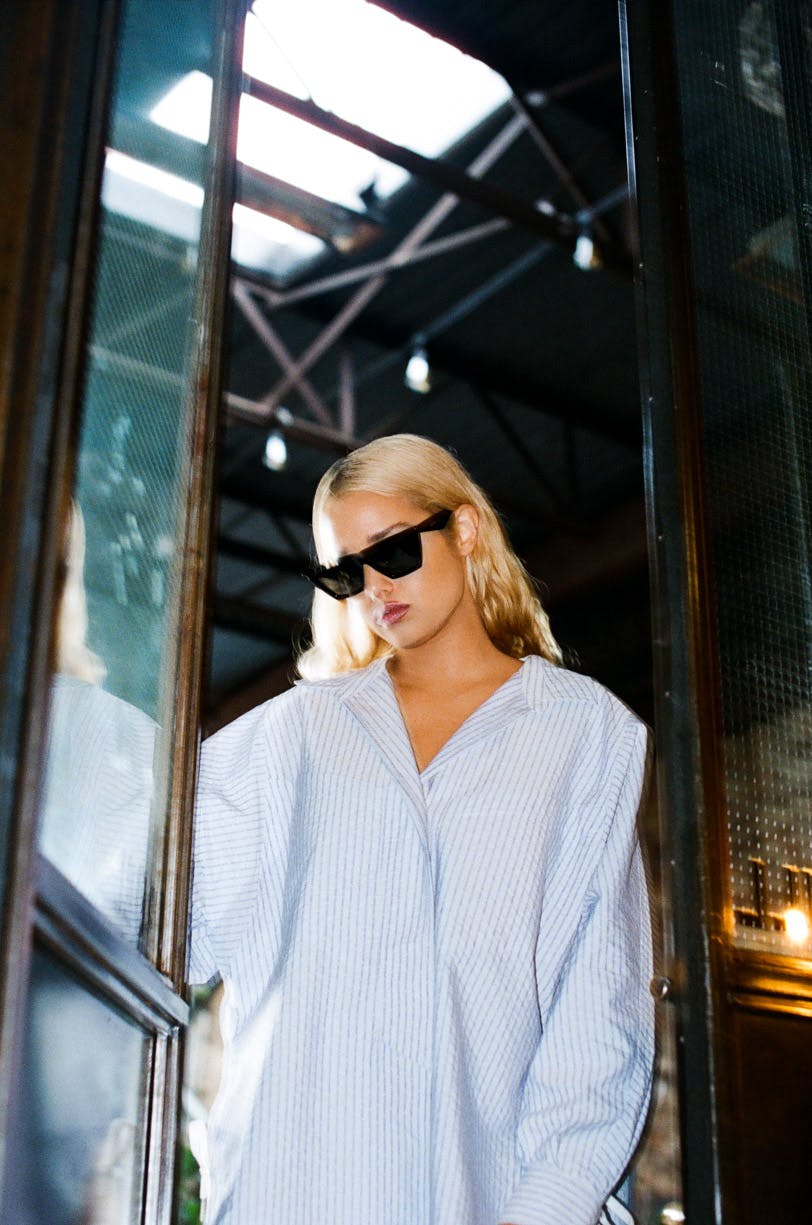 Genesis' background in art stems from studying sculpture and film. During her college years, she was also involved in DIY punk bands before joining the experimental rap duo Moan, which would serve as a vessel for her as a performance artist. Genesis recounts how "insane" she used to be when participating in plays or performing on street corners with strangers. "I was just really into pushing boundaries," she grins. Even then, she never suffered from stage fright, viewing it as the ideal platform for engagement. Genesis adds, "I'm not even like 'You can't fuck with me.' I'm like, 'Please, come and fuck with me.'"
The one thing that was always consistent was that Genesis' rapping had more of a poetic, spoken word flow with a cadence, and she would imagine the beat in her head. For a long time, she considered music to be a separate entity outside of the art world because of how differently she approaches them.
"For art, I'm so conceptual and fixated on all the references and with music, it's a liberating thing for me," she explains. With that said, Genesis believes that anyone is capable of making music if they set their mind to it. "It's an open-ended concept," she adds. "Music, just like art, it actually doesn't differentiate you from anyone else. Anyone can be a musician."
In 2015, Genesis firmly made her mark in the music world with World Vision. The trilogy was birthed out of Atlanta when she was in a "dark, brat art" mindset and out of tune with her feelings. That numbness seeps in on tracks like "Empty" and "They Cum They Go." During that stage of development, she was still somewhat reliant on "other people to dictate who I was in a way," but being recruited into Awful Records was more or less a blessing. Not only did Father and his collective show her how to collaborate within a creative community, but they also shifted her submissive attitude and taught her how to take control by making decisions based on what she wanted instead of it "doing what someone else tells me to do."
She adds, "As much as we respect the opinions of our peers and friends, to make art you have to know your own opinion. I made a lot of mistakes just doing shit that I didn't believe in, that I didn't fuck with and whatnot."
There was also her brief stint in the trio baby.daddi with Ye Ali and Wes Period. The following year they released a five-track EP that channels a brighter burst of energy that might have provided the catalyst for Genesis' most recent work. Although she can't quite put into words a definition or description of her debut full-length, Genesis insists that "if there's a color, I would say the color of the album is rainbow."
She outlines the tracks as moods with their own distinct energies. They harness multiple feelings to embody "a different mood, a different phase, a different session." The first half of the record contains bangers that are meant for hitting the club whereas the second portion slows it down with some unfiltered ballads, a representation of the duality of Genesis herself and a balance of the angel and demon within.
"I do say shit, but it doesn't feel like this deep, disturbed turmoil where I'm bearing my soul," she says. "The mood for me is just sexual liberation, harnessing my identity. If I'm petty, I'm gonna be petty. If I'm happy, I'm gonna be fucking happy. If I'm flirty, I'm gonna take it nasty. It's really just a feeling."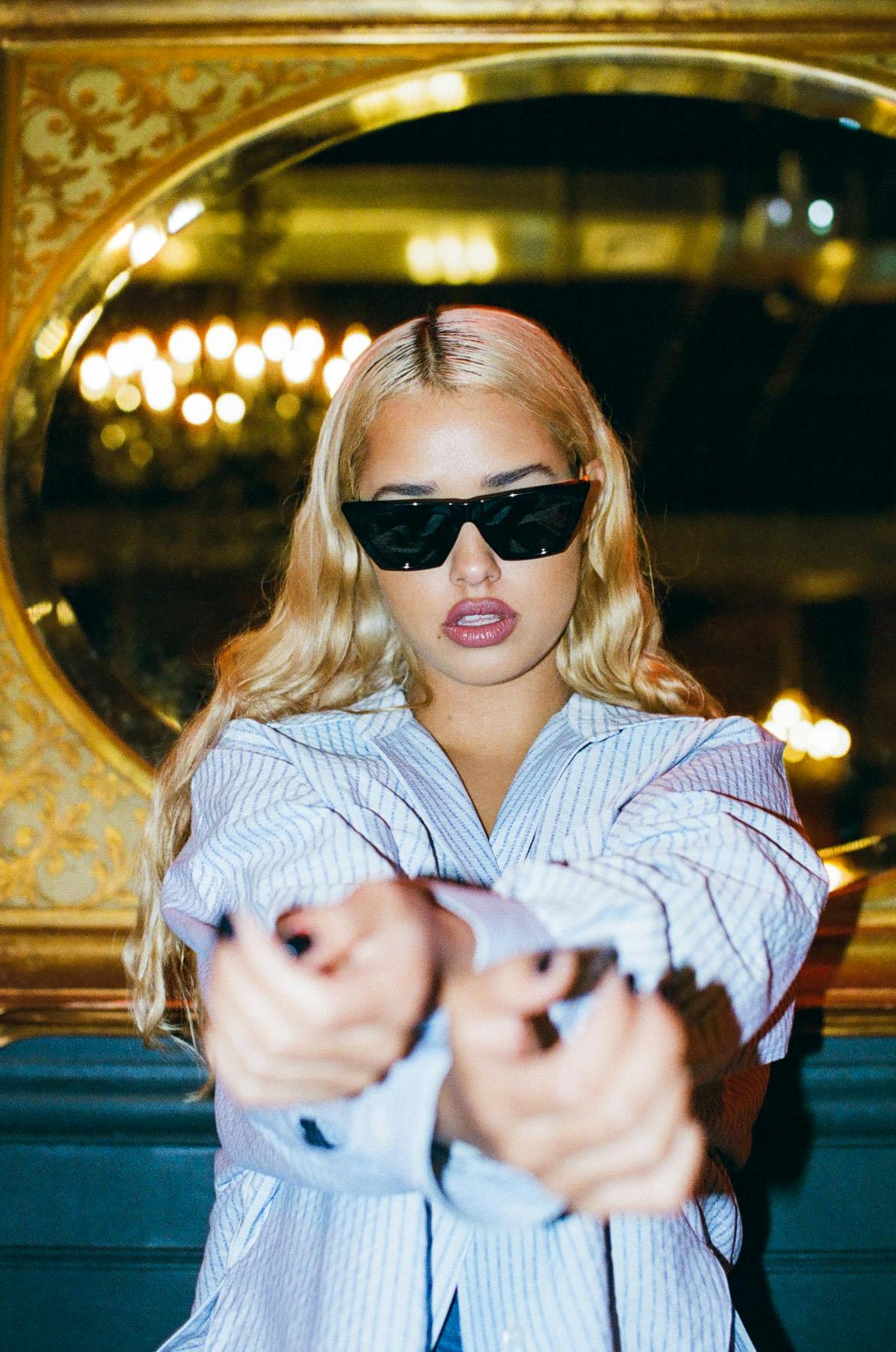 Genesis seductively moans on beat for the first 15 seconds of "Daddy," a self-empowering banger that celebrates effortless beauty. "Rainbow" will be your new theme song for pay day and "Play With It" hits as hard as Teyana Taylor's voguealicious anthem "WTP." Even though she claims that these songs aren't particularly deep, anyone that has experienced the complications of situationships will find all of the messages painfully relatable.
An immediate favorite is "Drive," a slow jam about being fully invested when it comes to pure love. Genesis also switches gears on the gushy, guitar-driven "It's OK," which rings like a deep cut from Princess Nokia's emo-inspired mixtape A Girl Cried Red, but the sentiment feels authentic given Genesis' past life in emo bands.
There are a small selection of collaborations on the records as well. Empress Of is featured on "Naughty," an emotional love song for fuccbois that won't commit because the arrangement is bound by sex. "I like this boy, he's full of shit/ He knows I know that it's not love/ I won't look back, I'll keep on walking/ Boy, I know that it's not enough," they chant in unison like a lullaby. Needless to say that there are levels to this shit.
"I think we put a lot of pressure on ourselves to be the perfect version of who we think we should be. At the end of the day, it's not about being the end result – it's about working toward where you wanna go. For me, this album is working toward where I wanna go," she says. "I'm not trying to be like, 'This album represents exactly who I am as an artist.' I'm just trying to get to the next step of my evolution."
"When I want my truth out, then you'll know more about me," she adds. "But right now, for sure my album isn't like that... It's not that deep."
'Tommy Genesis' is out on November 9 via Downton Records. For more like this, read our interview and editorial with Empress Of.