Experience this story and others in the new issue of Highsnobiety Magazine, available from retailers around the world and our online store.
For the last two decades, Art Basel in Miami Beach has set up shop in the Miami Beach Convention Center each December. Since its first edition in 2002, the fair has ballooned into one of the biggest art weeks in the world and perhaps North America's premier global art fair, with myriad satellite fairs, brand activations, art exhibitions, and, of course, parties. Nowadays, the circus surrounding Art Basel and Miami Art Week attracts not only the wealthiest art collectors, but practically every luxury brand and big-name celebrity who can get down to Florida for the week.
Lavish parties, fashionable looks, and celebrity gossip aside, Art Basel's Miami edition remains a launching pad for many artists. Kim Jones famously discovered Amoako Boafo's work at the Rubell Museum opening during Miami Art Week in December 2019 and subsequently offered him a Dior Men collaboration. As the 2022 fair gets underway, Highsnobiety selected 11 emerging artists to watch who will be exhibited at Art Basel in Miami Beach this December.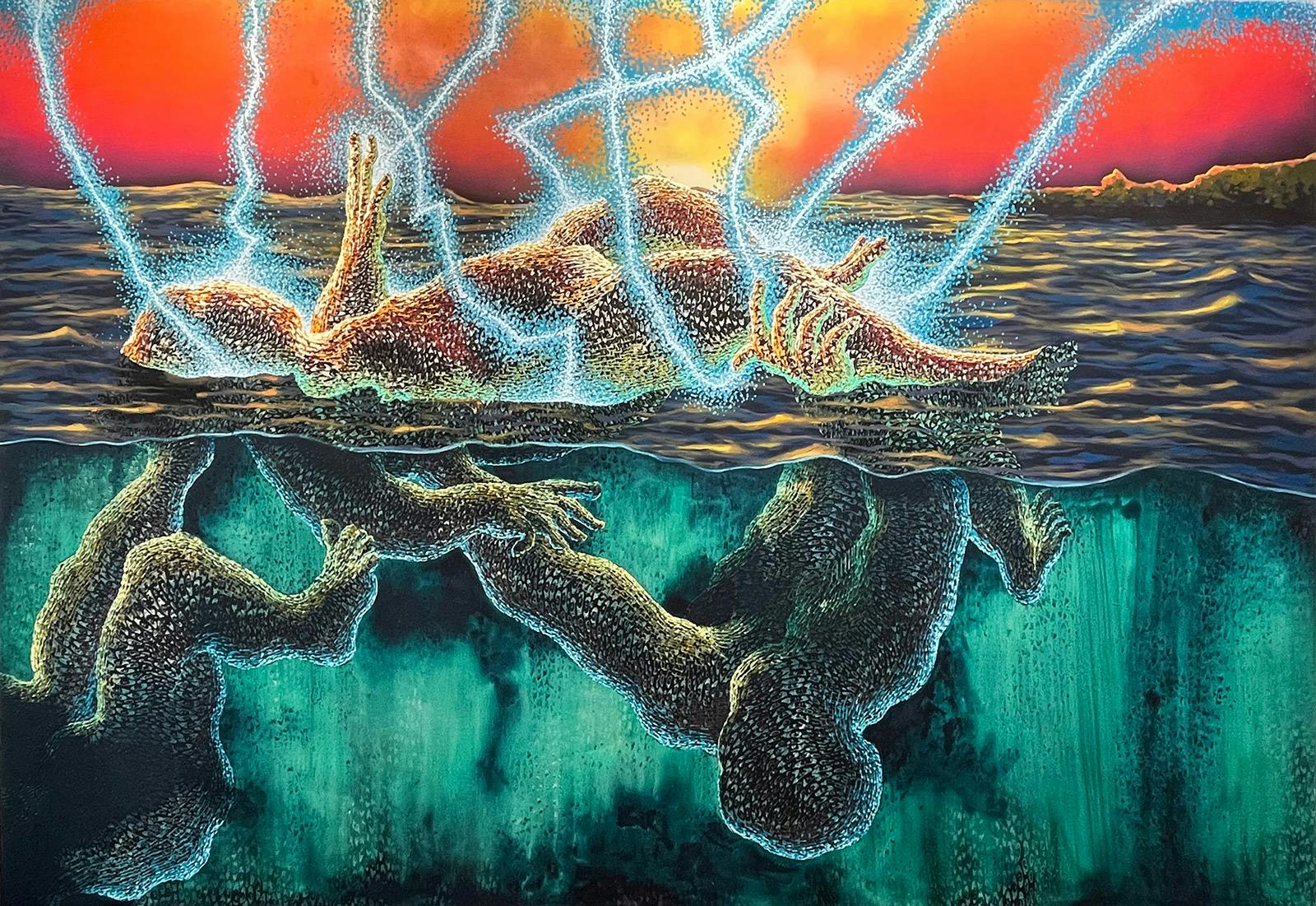 Didier William
Didier William was only seven when he left his native Port-au-Prince, Haiti, with his family to move to Miami for a better life. "Miami is a city of cultural overlaps and intersections," says William. "As a kid growing up there, much of this was lost on me, I think. But looking back now, the Latin American corridor that is South Florida was hugely influential in shaping what I now know to be the inherent and maybe even necessary untidiness of representation, especially when we're talking about the histories of Black and Brown people."
William's experience immigrating to the United States, as well as the South Florida landscape, are predominant themes within his work, often showing up in his paintings. "Much like many South Florida homes, my parents' house has a very lush backyard with mango trees, papaya trees, sugar cane, and avocado," says William. "These lush scenes have now shown up in my paintings, claiming not only the space of the work, but also establishing a geography of memory."
Now on faculty at Rutgers University, William returns to Miami for Art Basel, with work exhibited at two galleries' stands: James Fuentes and Altman Siegel. One of those works is a painting that looks at the power of the waters between Florida and the Caribbean islands. "Many families have had to traverse the Caribbean Sea, on unstable, insecure boats and rafts, praying to make it to Miami alive," says the artist. "This painting is part of a series of paintings that reflect on the lives that trusted this body of water to carry them to safety. The lives that didn't make it are forever bonded with this body of water. The lives that could only hope to be lucky enough to realize the impossibility of their endeavor and turn around. And perhaps even my own experience swimming in it from the comfortable shores of Miami Beach."
Ilana Savdie
Ilana Savdie's vibrant, highly saturated, large-scale canvases are like a dose of caffeine for the mind. Primarily abstract, yet imbued with hints of figuration — a curved torso there, a bare breast here — her work features different textures and hues to create compositions that are otherworldly and biomorphic, bursting with color and movement that reference body politics and Savdie's queer identity. Savdie grew up in Barranquilla, Colombia, before moving to Miami as a teenager, and the annual Carnival celebrations in Barranquilla often inform her practice.
"I pull from motifs present in the Carnival — the exaggeration of the body as a form of mockery and protest, the inversion of social norms as a radical act," says Savdie. "I like to imagine a world where that contained space of theatricality leaks out, where social norms stay inverted, bodies stay in their states of elasticity and exaggeration. What can be revealed through inversion as a permanent impermanence?"
Savdie will show work that is currently in progress at two gallery stands in Art Basel in Miami Beach: Los Angeles–based Kohn Gallery and the multi-national gallery White Cube. "In a general sense, I've been thinking through the idea of pageantry, the pose, and the offering. I'm beginning to elaborate on questions around what it means to take a position and how that relates back to the body as a stage," she explains.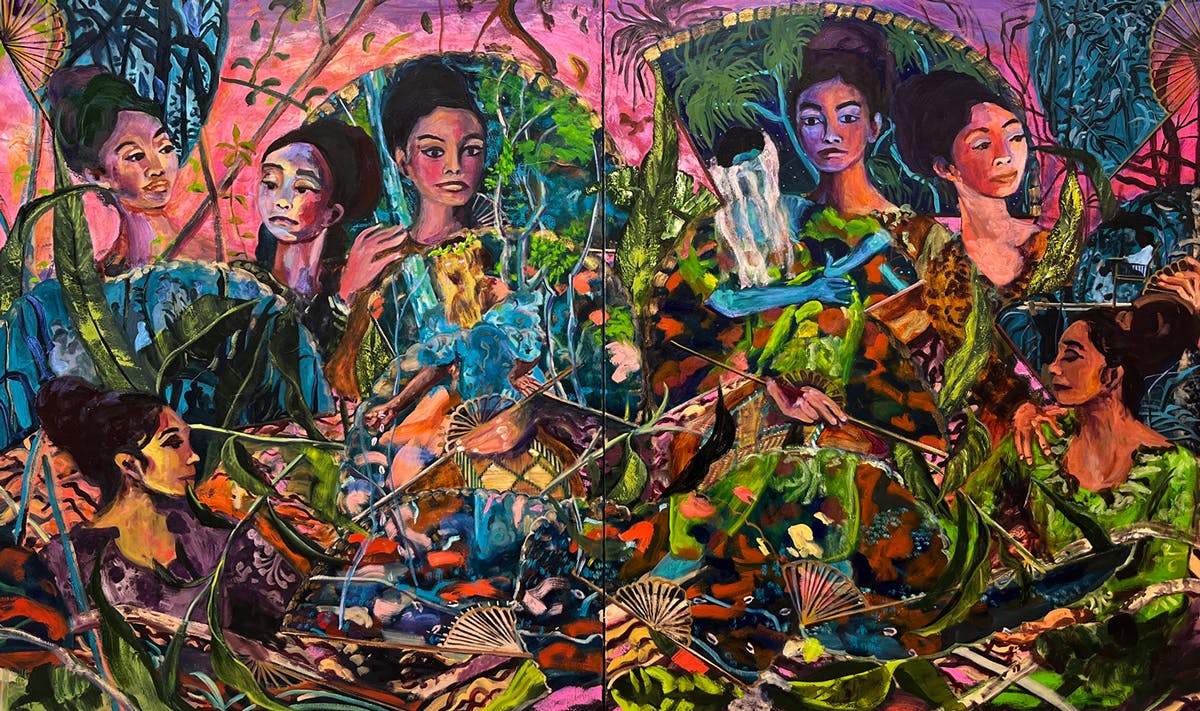 Maia Cruz Palileo
Last spring, the Chicago-born, New York–based artist Maia Cruz Palileo spent two weeks researching their Filipinx heritage at the University of Michigan. The institution holds a large collection of manuscripts, photographs, and other paraphernalia that documents the colonialism from which the Philippines emerged in the early 1900s, and the vastness and materiality of those records is a major influence for Palileo.
"I'm thinking about the ways being immersed in colonial archives affects the body — bodies of descendants of those who did not do the 'collecting' but were 'collected' from, and what happens to our bodies when engaging with archival collections," Palileo explains. "What vast spaces and worlds, energies — known and unknown — remain within these objects, letters, images, journals, mammals, reptiles, birds, mollusks, school records, and human remains?"
At Monique Meloche's booth in Miami, the artist will show two large-scale paintings influenced by their family history and research done in Michigan. After only learning about places in their family's origins through oral history, Palileo discovered physical representations of their past in the university's archives: photographs of Mount Makiling and Mount Banahaw in Laguna, their paternal family's home province in the Philippines. "Seeing photographs of these mountains in the University of Michigan archive has provided an entry point into making vibrant, full-color, large-scale paintings that imagine these places, stories, spirits, myths, and pilgrimages."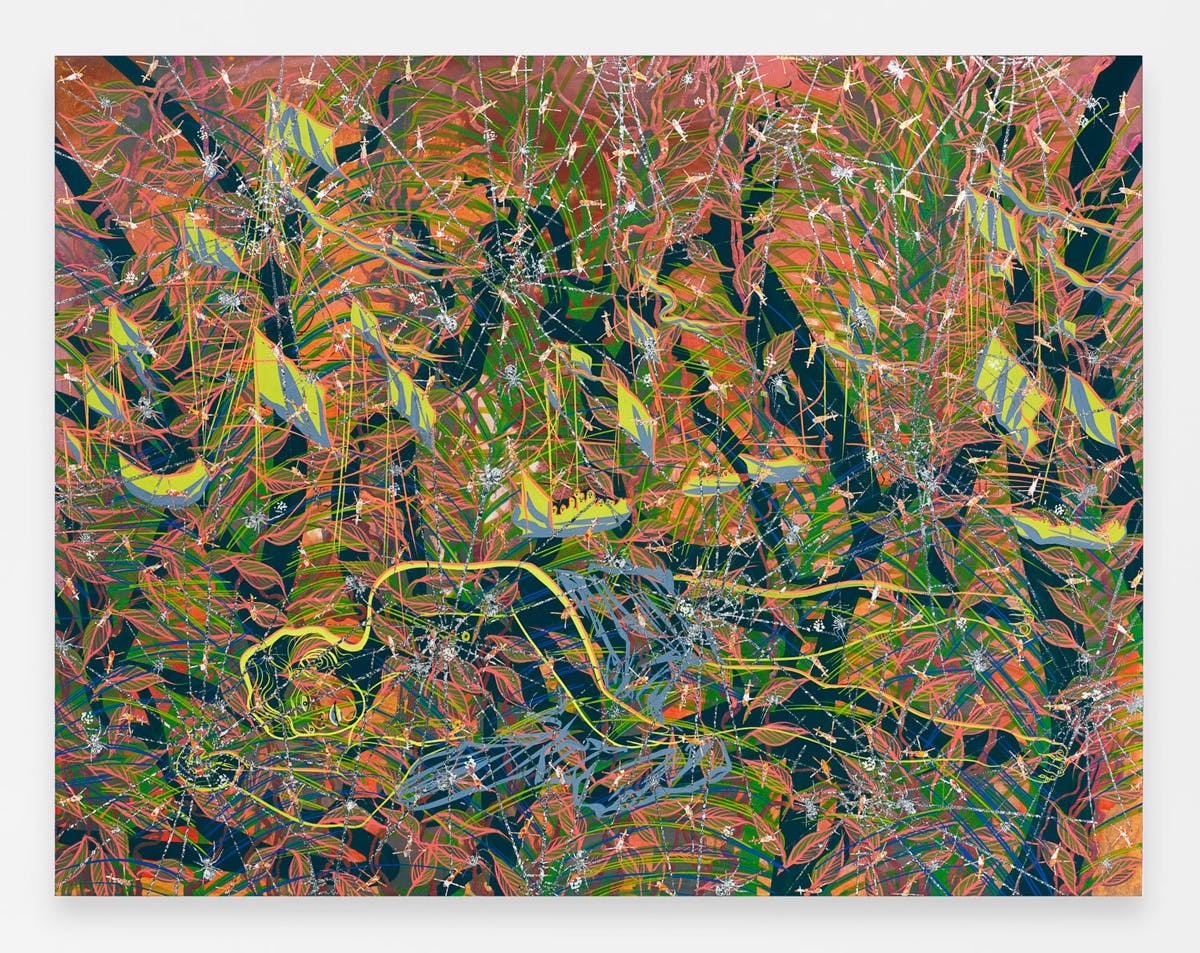 Tammy Nguyen
Tammy Nguyen often brings figures that history forgot to the forefront. That includes Trung Trac and Trung Nhi, known collectively as Hai Ba Trung, two sisters who fought for Vietnam's independence in the year 40 AD. Though highly revered in Vietnam, they are relatively unknown in Western culture.
Nguyen, who was born in San Francisco and currently resides in Connecticut, works across printmaking, bookmaking, painting, and drawing, remixing references to make historical figures like Hai Ba Trung into something entirely her own. Currently, the artist is thinking about Christianity and its expansion into Southeast Asia, particularly how tropical societies adapt to the religion. "I am compelled by how Christianity adapts and transforms into new manifestations depending on the locale," says Nguyen. "After it becomes a new culture, I am intrigued by how it can then change the ethos of an entire region."
For Art Basel in Miami Beach, Nguyen will exhibit four new paintings of the Four Horsemen of the Apocalypse at Lehmann Maupin's booth, with her work largely culled from an 1809 drawing of the horsemen by Italian artist Luigi Sabatelli. "I have cropped and zoomed in and out of Sabatelli's rendering so that the four paintings are somewhat distorted but still appear like they originate from one whole image," explains Nguyen. "I am placing these horsemen into a tropical setting where wildlife will further obscure the horsemen. Throughout the environment, there will be playing cards flailing all around, suggesting relationships between fate, desire, and capitalism."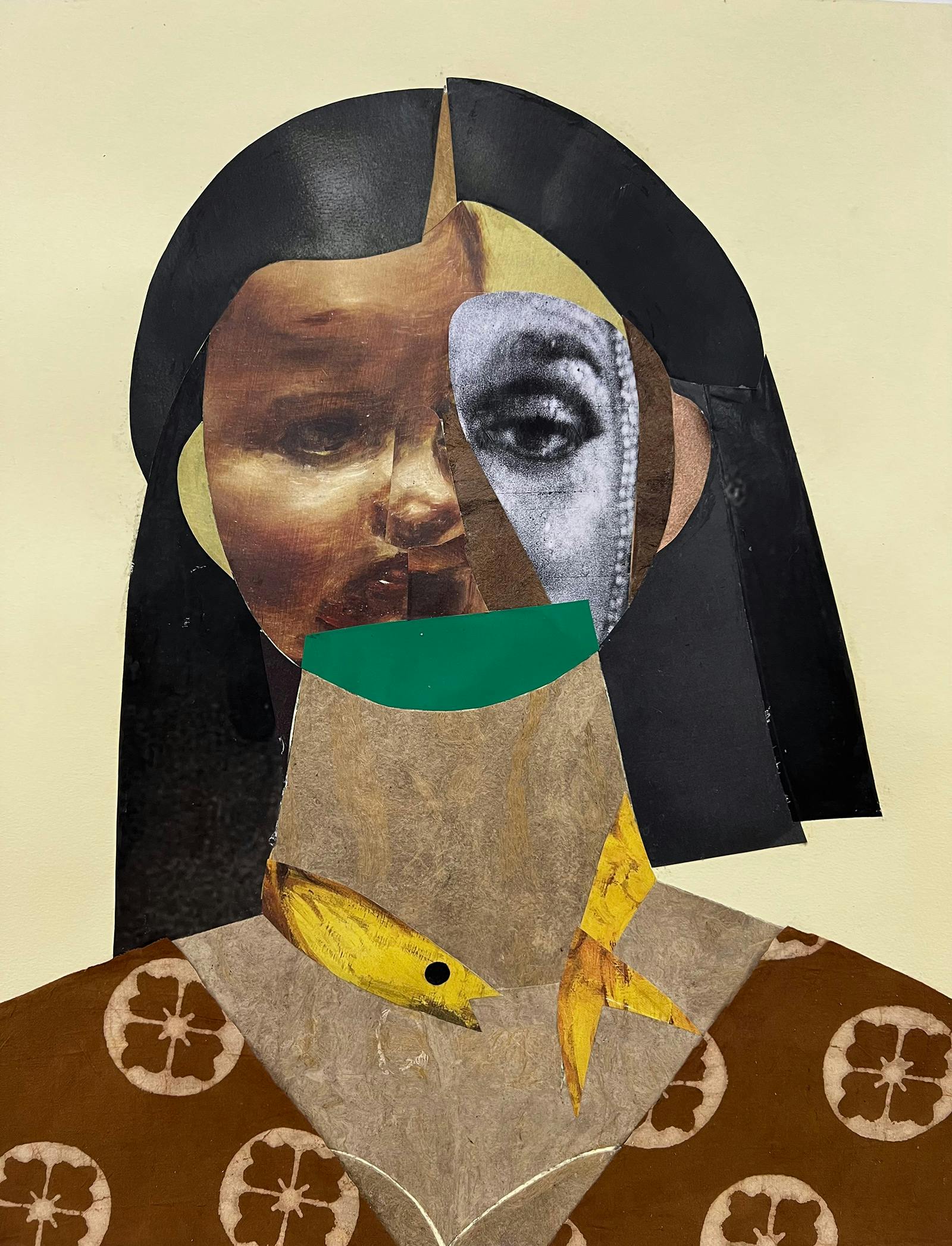 Clotilde Jiménez
Materiality has always been a strong aspect of Clotilde Jiménez's work. The Honolulu-born, Mexico City–based artist gathers often-overlooked everyday materials such as wallpaper, magazine pages, and kitchen towels to create collages that explore themes of identity, ranging from race and gender to sexuality. Lately, Jiménez's focus has been around family and, as he puts it, "a sense of communion." "I hadn't realized how important some of my relationships were until I lost some during the pandemic," explains Jiménez. "So building a strong family base is important to me. Fellowship and closeness to people are new themes in my practice now."
Earlier this year, Jiménez celebrated his first European solo show at Mariane Ibrahim's Paris gallery on the tony Avenue Matignon. At Mariane Ibrahim's booth at Art Basel in Miami Beach, Jiménez will show smaller works on paper and ceramics with people close to him as his subjects, including portraits of his wife, their daughter, and his art dealer. "What inspired me?" asks the artist. "Love."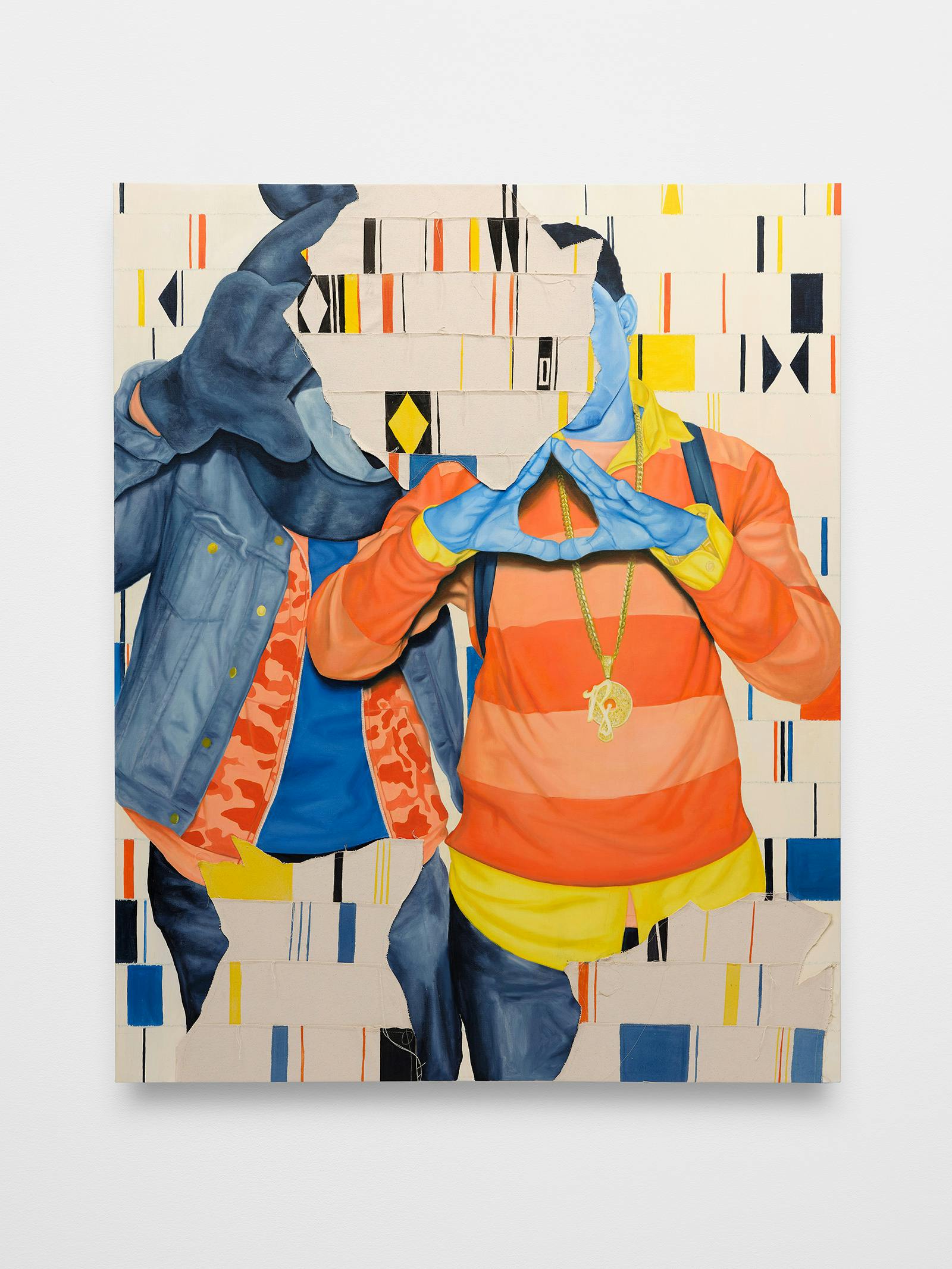 Troy Lamarr Chew II
Troy Lamarr Chew II was just starting school in Los Angeles in the late '90s when two of hip-hop's greatest legends — Tupac Shakur and Notorious B.I.G. — lost their lives. Although they weren't around as Chew came of age, their impact on music and culture stayed with the young artist, who portrayed Tupac and Biggie in his Out the Mud series.
"While making this work I was thinking about the subconscious connection Black people have with their ancestry when it comes to creation and everyday living," says Chew. "Using these textiles as a symbol of the Black cultural fabric, my Out the Mud series seeks to mend the rips in my cultural history, creating a cohesion between current and past Black societies. These specific kpoikpoi cloths were often made for kings, which led me to depicting Tupac and Biggie."
Chew fuses classical techniques with contemporary imagery — Bart Simpson, Roger Rabbit, and Spongebob Squarepants have also been subjects in his work — as he bridges the connection between historical and contemporary Black life. In one work exhibited at The Armory Show, he uses oil and dye on canvas for a portrait of JAY-Z pouring D'Ussé (JAY-Z is a partner of the cognac brand) into a Grammy trophy, with African textile patterns as the background. San Francisco–based gallery Altman Siegel will exhibit Chew's work at Art Basel in Miami Beach after holding his first solo show with the gallery this January.
Anna Park
Anna Park uses charcoal to create large-scale, black-and-white drawings that blur the line between abstraction and figuration, resulting in highly energetic works that provoke the viewer to consider the interior world of her subjects. The artist left her native South Korea with her family at a young age, moving to Southern California before settling in Utah. She moved to New York for art school, and KAWS became once of her first supporters after he noticed her work in an exhibition at the New York Academy of Art while she was receiving her MFA there. That led to an opportunity to create the artwork for the poster of the Academy Award-winning film Mank.
Currently based in Bushwick, Park is drawn to themes like celebrity, politics, and gender — enmeshing figures within chaotic gestural shapes that evoke the movement and complexity of the subjects. Following her first two museum shows at the Aldrich in Connecticut and the SCAD Museum of Art in Savannah, as well as her first exhibition with Blum & Poe in Lose Angeles, Park will be showing her new style of figuration at Art Basel in Miami Beach with the gallery, which also has spaces in Tokyo, and New York.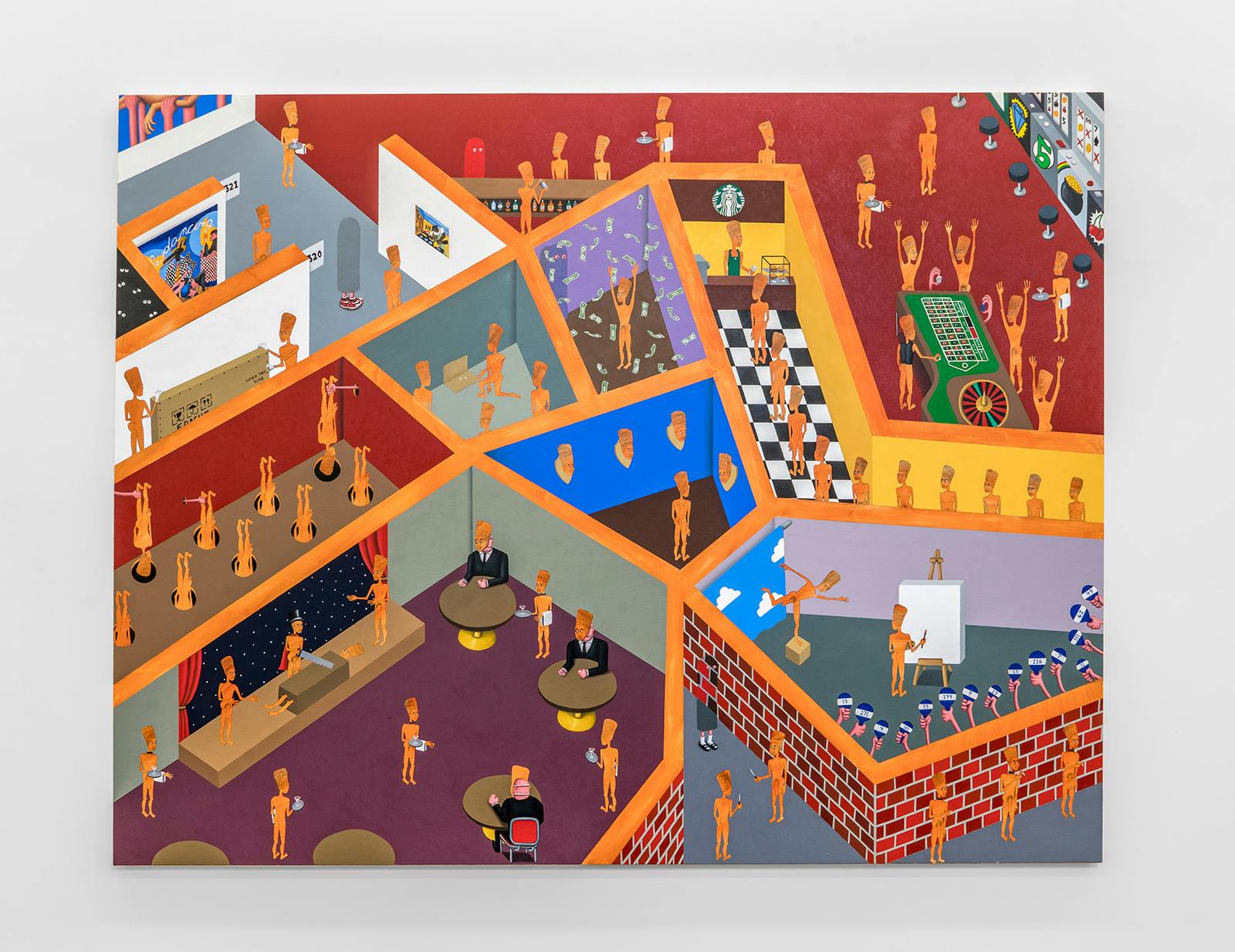 Jake Troyli
Using classical techniques developed during the High Renaissance, Chicago artist Jake Troyli often uses his own likeness as the subject, placing himself in situations that are humorous and provocative in how they depict the way Brown and Black bodies negotiate their existence. In one painting he sits naked, albeit for a pair of Off-White™ x Air Jordan I sneakers, as he paints a landscape en plein air.
"I think a lot about spectacle, and what it means to be on display with the expectation of performance," says Troyli. "The dynamic between a subject and its audience is complex — further complicated when you add variables like race and gender — and the line between subject and object can easily blur, so I like to think of my figures as walking that line with an impassive resignation to their role within the compositions, and the expectations that come with the spotlight."
At Chicago gallery Monique Meloche's Art Basel booth, Troyli will show Fair Game, a painting that questions the class discrepancies between the haves and have-nots. "I wanted to create a Casino-like space, with empty promises of money and success dangling like bait in the faces of the central repeated figures, while they tirelessly work to keep the entire operation running smoothly, but for someone else's benefit," he says.
Alexandria Smith
Alexandria Smith looks deep into her own memories and history to investigate the multilayered experience of Black identity, particularly its connection to the body. Smith, who was born in the Bronx and splits her time between New York and London, where she's head of painting at the Royal College of Art, crafts a world filled with mysticism and magical realism. Her work's cast of characters embodies the complex range of emotions found in personal journeys; it's easy to imagine the inner challenges her subjects face. "My current work oscillates between figures sitting with and being present with themselves, to navigating a landscape that is a manifestation of their own fears, hopes, and dreams," says Smith. "I think of these works as mystical and spiritual reimaginings or mirrors of our own world."
Smith will present work at international blue-chip gallery Gagosian's stand during Art Basel in Miami Beach. The dimensional assemblage paintings and drawings complete with custom frames reflect Smith's research at the moment. "The inspiration behind the works are current fiction and theory that I'm reading about utopias, queerness, and magical realism — specifically the work of Jayna Brown, Akwaeke Emezi, and Bernice McFadden," says Smith.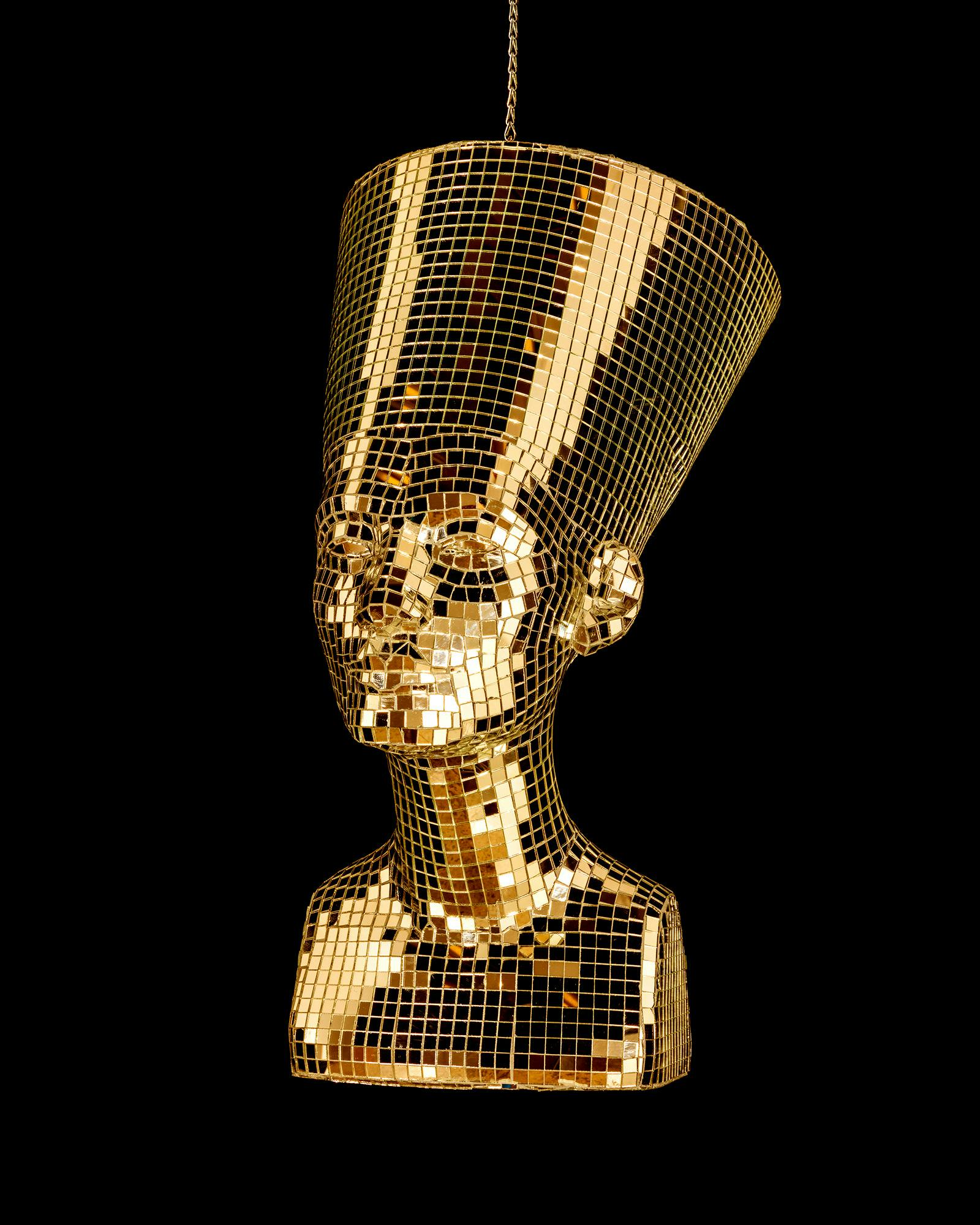 Awol Erizku
You may not know it, but chances are that you've already seen one of Awol Erizku's photographs. When pregnant with her twins, Sir and Rumi, Beyoncé tapped the artist to shoot her now-famous maternity portrait before a backdrop of flowers dressed in only a bra and panties with a veil draped over her head.
The Los Angeles-based artist's work spans through film, photography, painting, sculpture, and performance, is known for his provocative work that connects African-American and African culture. He updated Johannes Vermeer's "Girl with a Pearl Earring" with "Girl with a Bamboo Earring," replacing the white subject with a pearl earring with a Black sitter wearing a heart-shaped bamboo earring. In a recent exhibition at Gagosian curated by Antwaun Sargent, in which he investigated the cross-cultural lore of the sphinx, Erizku hung a Nerfetiti bust-shaped disco ball from the center of the ceiling. In February 2021, the artist photographed a portrait of poet Amanda Gorman for the cover of Time magazine.
Erizku, who recently signed with New York- and Los Angeles-based Sean Kelly Gallery, will show a series of new works with the gallery at Art Basel in Miami Beach.

MSCHF
It would be hard to miss MSCHF's many viral projects. You may have heard about the human blood-filled "Satan Shoes" created for Lil Nas X (made from a pair of Air Max 97s, the shoes resulted in a lawsuit from Nike), or the Vinyl Blade made with The Weeknd, or that time they made Grimes a sword for the Met Gala. The collective even bought a Damien Hirst work and sliced it up into 88 individual dots, selling each piece for $480 a pop.
Now, the Brooklyn-based collective's irreverent, satirical works are being compared to Maurizio Cattelan. MSCHF will make their Art Basel debut at Perrotin's Miami booth, where Cattelan famously duct taped a real banana in 2019, following their debut exhibition at the gallery's New York space (it also has spaces in Paris, Hong Kong, Tokyo, Seoul, Shanghai, and Dubai) that opened in November. At press time, all we know is that MSCHF will show an immersive work that will involve a playful commentary on the connection between money and the art world.
Head here to get a copy of the new issue of Highsnobiety Magazine.