Megan Thee Stallion may have been the herald of Hot Girl Summer 2K19, but hardly anyone came closer to fully embodying the ideals of the lifestyle this summer than Bad Gyal. The Queen of Reggaeton continually effuses the sort of effortless, drop-dead Glamazon glamor that the ethos mandates, but the back-to-back release of singles "Santa Maria" and "Hookah" in July truly catapulted her to new heights of Hot Girl-supremacy; the former's amazingly filthy second verse must be Google-translated to be believed, while the latter positions her as the most vital spokesperson for the smoking instrument since the Caterpillar from Alice in Wonderland (or at least since Drake's Instagram).
All brevity aside, Bad Gyal is seriously on top of her game in "Hookah." The visual for the track finds her operating on God(dess)-level stunning, opening a window into the opulent world of her nightlife lewks. It got us to thinking... how does one pull this sort of ensemble together? Does she wake up like this? Can we look like this too?
We caught up with Bad Gyal for an in-depth overview of her routines, from getting up in the morning to prepping for the studio to the cure-all power of a great lip liner.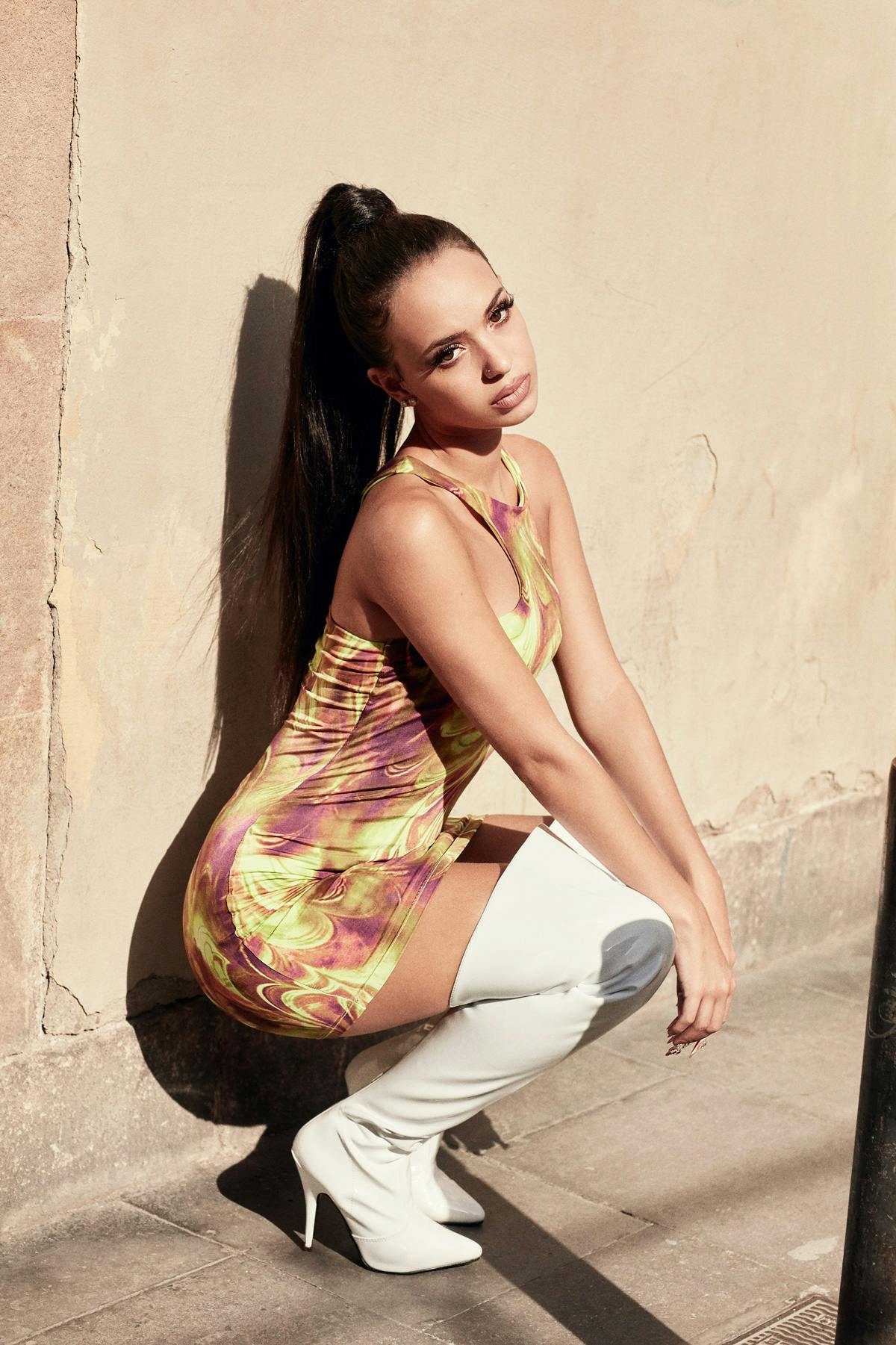 Waking Up
A regular day for me on a free day is still a labor day. So I wake up, and I don't have a specific time because I don't have specific time tables, between nine and ten. Maybe after 10:00 AM sometimes, but usually I wake up early.
It is kind of difficult for me to wake up. I like to have a coffee, but I am not the type that has a lot of it. I always have a latte with oat milk.
Getting Ready
I like to sing in the shower, but I'm not singing my own songs, I am singing whatever Spanish song is popping right now.
If it's a promo day, I will dress up, but if it's a regular day with my team and doing meetings and stuff like that, I just wear comfortable clothes. I always like to wear tracksuits, super easy. Maybe they are not the coziest, but it's something that I use a lot: I have my cheetah leggings, and I have a lot of them. My cheetah leggings are something that I use when I don't know what I want to wear, I just pick that and a sweater or a coat and I'm ready.
Beauty Routine
A normal beauty routine would be, of course, using cream. For a regular day I wouldn't do a lot of makeup. I would use a little bit of concealer and a little bit of bronzer, and I would use a lot of like powder. I like to use a lot of powder to make my skin look really like tight. And basically that's all, and lashes because usually I'm wearing lashes - I like to wear lashes. It's an easy routine. If there's one thing I can't go without it's my lip liner, which I always like to be brown.
I always like to look for a lot of inspiration for my makeup, and me and my makeup artist are always thinking about ideas together. I like to look a lot of beauty influencers on Instagram who post pictures of their eyes or of the makeup. Even though I'm not doing the same thing look, those pages are good for inspiration.
Club Lewks
To perform or if I'm going out, I like to wear crazy colors on the eyes and make my eyes look really big. I'm not scared to wear big lashes, like I love getting crazy with makeup. The makeup at the end of the day I like to match with the hair and with the outfit, but one thing I love to do is the cut-crease and fill the eye in one color. For example, we filled one eye in gold and then we did a bigger liner in pink, a really shiny pink. So we just like to try different, crazy colors, and that's all basically. We also like to play with stones. I like to have crystals on my eye, maybe do a line of colored crystals. Crazy stuff like that.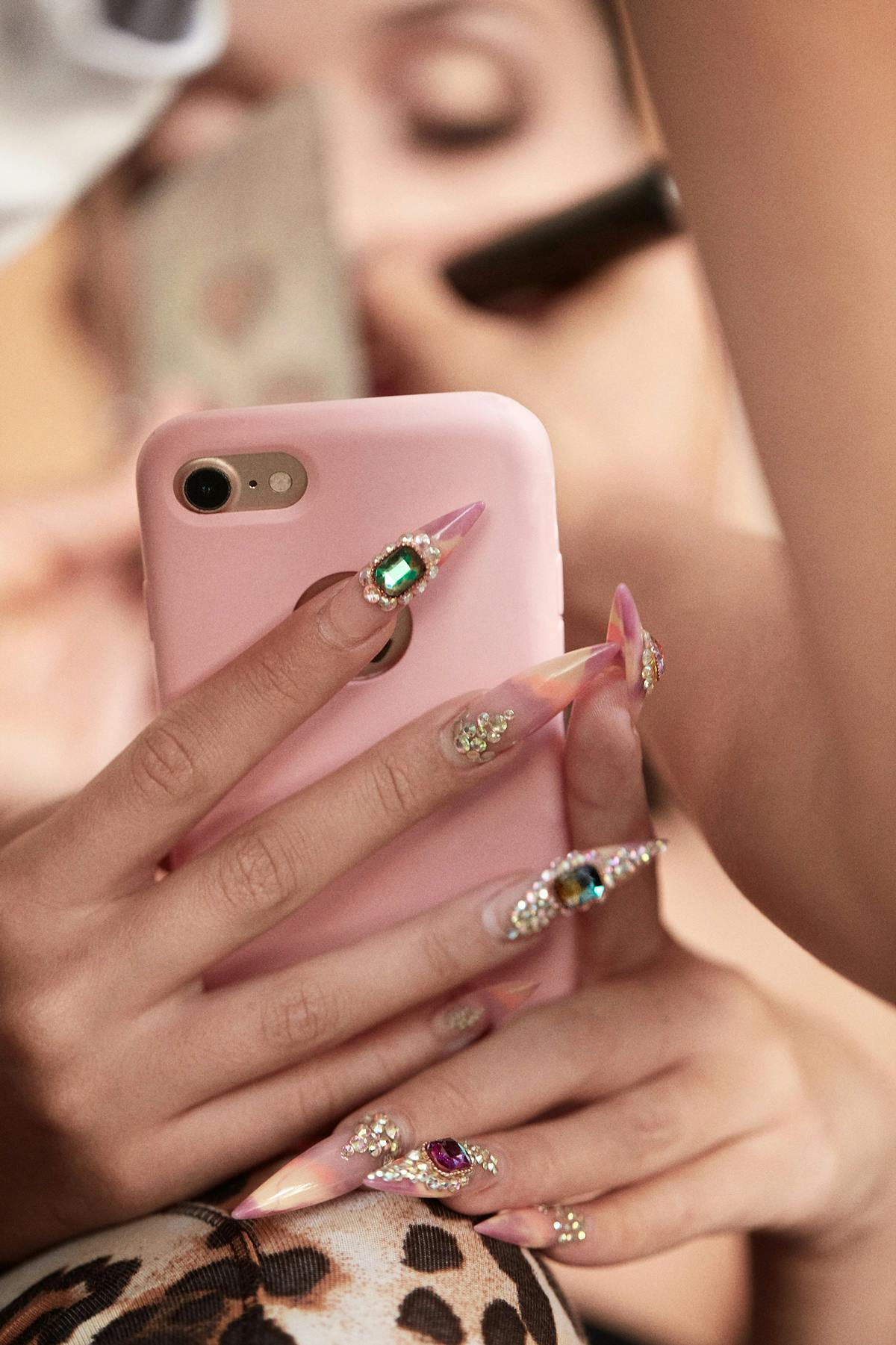 In the Studio
I don't really have a routine for the studio. Not at all. I'm actually the type of artist that likes to free myself in the studio, you know? I don't get ready for studio. I don't write my lyrics or anything like that. It's just that when I'm at the studio, that's where I feel like I can fully take everything out of myself and create songs with the stuff that I've been experiencing, and stuff that has happened to me in my life, experiences that I've had. In the studio, that's where I feel like I can free myself.
I spend a lot of hours there, because in the studio time goes so fast. Maybe I'm in the studio 1pm until 9pm, at the earliest. Usually I stay there for the whole day. You never know when you will leave, because maybe you are so inspired and your friends will stay until 4am because you have two songs in mind that you want to finish. When I'm there, I need to have my phone, a Coca Cola, and everything to be, like, comfortable. I need to feel like I have energy in the studio. Usually we end up eating a lot, because when you feel like you're all losing your energy, you like to eat.
At Home
If I have a free day, I like to walk around my neighborhood. I like to fix stuff around the house, you know? Because when you're not at home most of the time, there's always something that you want to do. I like to cook a lot of stuff. I wasn't cooking a lot before, but I like to cook now. In Spain, we eat a lot of pasta with tomato sauce. We like to cook our own tomato sauce.
I like to chill but I don't watch TV. Well I have TV, but I like to watch documentaries. One of the last ones I watched was really scary, I don't know why I watched it. It was about a crime that happened here in Spain. People were killed and it was like an investigation about it. It was interesting but I don't know, not the best vibration... Usually I won't watch scary stuff.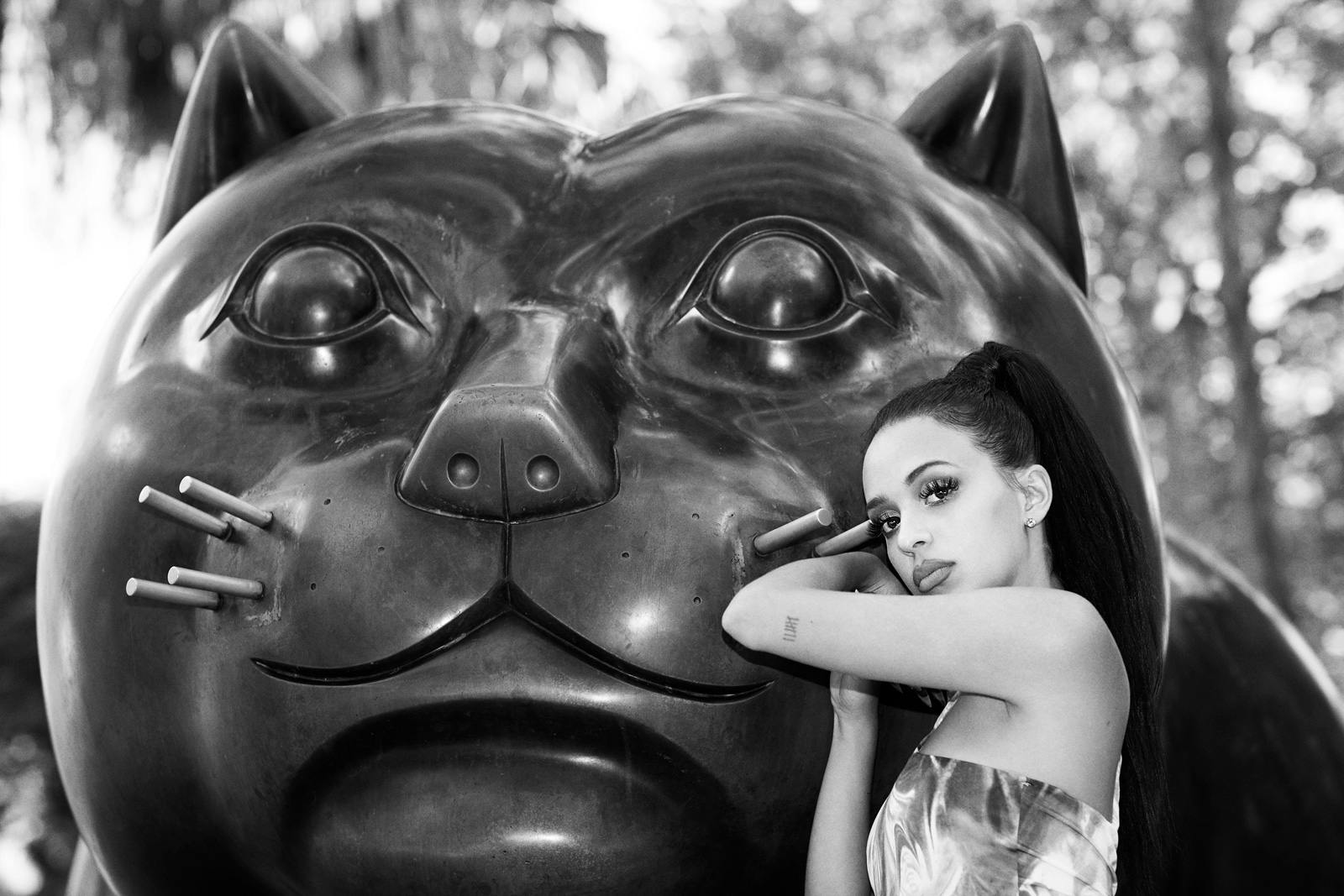 Going Out
The earliest, earliest, earliest that you can get to a club is 12. But nobody gets to the club at 12. The earliest that you will see someone going to a club is 1am, and that's not regular. We get to the club at 2:30 or 3am, and I'm the person to stay until six or seven. The music where I like to go clubbing is kind of similar [to my music], but I like to go to the Latin club, where they play cha cha and bachata.
Party Favors
What I'm drinking depends… it depends on who you're with, because I'm easy. You know? I like Hennessy. I like gin. I like whisky, rum, I don't care. I like different stuff but there are some people that only drink one thing, you know?
All my fan base, and the people that have been following me, they know that I like to smoke. And they know I like to smoke my weed. Here in Spain, it's kind of different because we smoke it mixed with tobacco. We mix it. We do like a spliff.