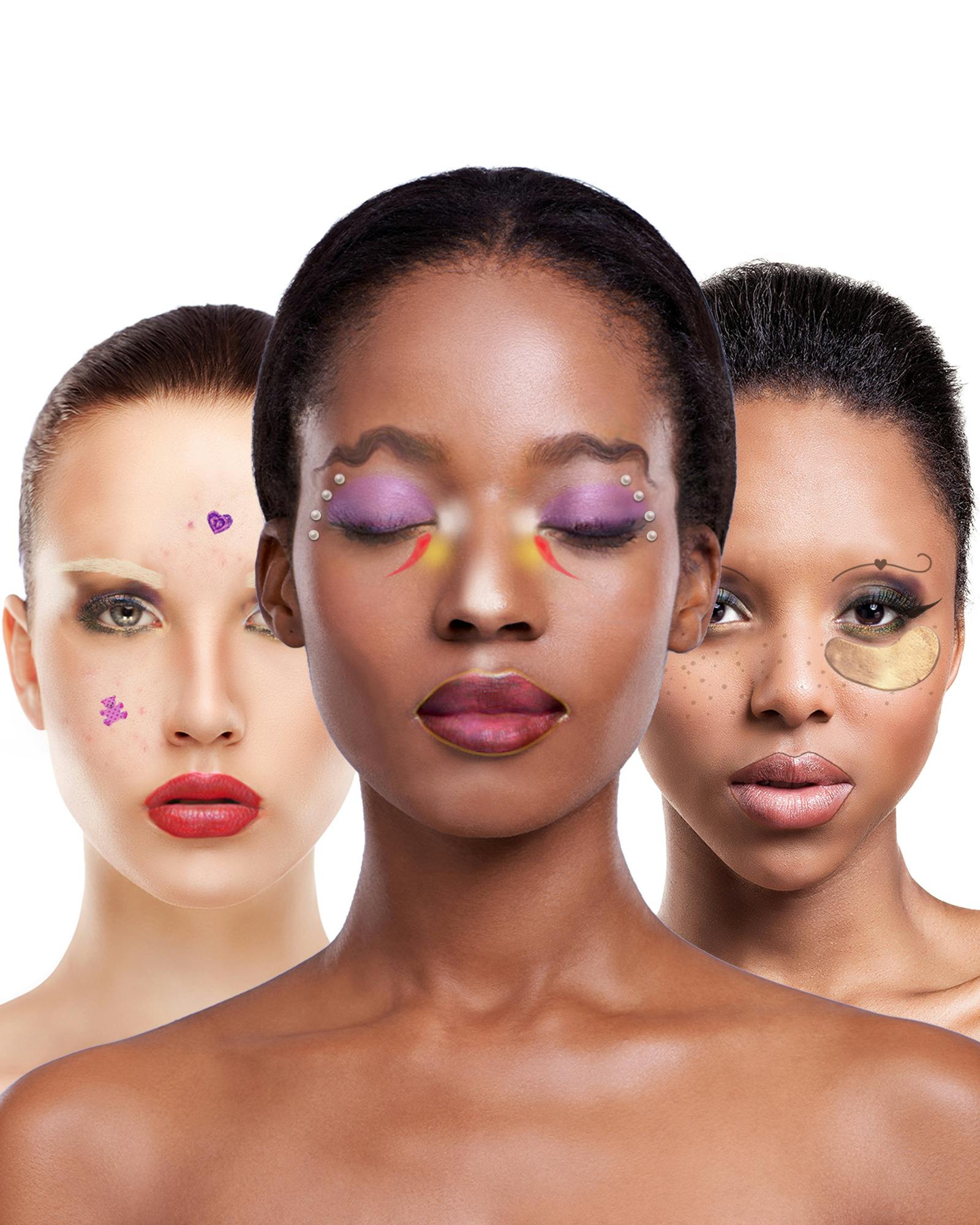 Welcome to Highsnobiety Beauty, our new digital vertical. Join us here.
A makeup look has never stolen the thunder of a celebrity appearance quite like Julia Fox's blacked-out skeleton eyes, a dramatic look that overshadowed her presence at last year's Paris Couture Week. It was the kind of sooty eye makeup you'd envision Bruce Wayne painting underneath his Batman headgear. The Black Swan-swooshes encircling Fox's icy blue eyes – designed by Pat "Mother Makeup" McGrath and executed by Daniel Kolaric – had an unexpected impact on the cultural zeitgeist: Suddenly, there were Julia Fox eye makeup filters; media outlets pointed to the bold look as evidence that party makeup and smokey eyes are back; TikTok heralded the "Fox Eye" as the beginning of a general vibe shift towards makeup in motion – the kind of self-decoration that's not intended to be perfect but to perform. Beauty's always held a mirror to our shifting cultural interests. Our obsession with the Kardashians fueled the lip filler and BBL boom; the growth of "clean" beauty reflected growing consumer interest in sustainability; wellness products became a balm for the shortcomings of the American healthcare system. Today, beauty is symptomatic of a new phenomenon, the pressure to constantly perform ourselves online. Now that anybody can become a micro-influencer, go viral, and ostensibly jump-start a career by posting on apps, everyday exhibitionism has become a way to validate one's existence, not to mention secure economic success. The casual voyeurism that TikTok and Instagram encourage is stoking our visual appetites, leaving our eyeballs hungry for more bedazzled, bizarre, and beauteous imagery – prime territory for cosmetic drama to intervene.
I have to remind myself that the digital realm is a relatively recent development in our social world, let alone in the beauty sphere. In my early days as a beauty editor at a mainstream American publication, I was shocked to learn that the top beauty-related Google searches included such phrases as "How to wear red lipstick" (you just put it on your mouth?) and "Does concealer or foundation go on first?" (How far we've come from the days of "How do I makeup?") The concept of beauty rules was still very much in place, something that editors took every opportunity to establish. But working for magazines in the late 2010s made one thing very clear: Interest in editorial authority was waning and a younger, chronically online generation was looking to social media for beauty inspiration. Instagram quickly became the place where beauty thrived, for better or worse.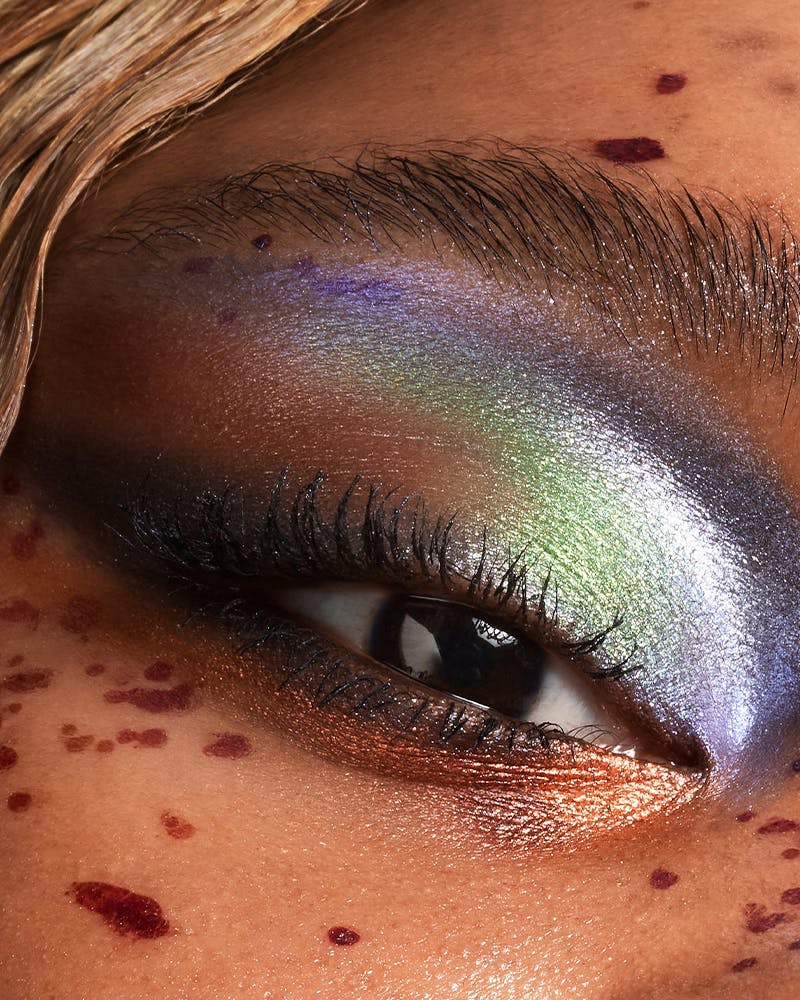 Blurring the line between what is "authentic" and what is postured, the app grabbed our self-worth by the throat, pitting the antics of stunt-y contouring tutorials against the covert tyranny of no-makeup makeup. According to the algorithm, makeup-wearers fell into two camps: one that used baking, contouring, and other drag-inspired techniques to reengineer their features, and one that rolled out of bed and dabbed on sheer, tinted balms for an effortless model-off-duty visage. Beauty during this era spawned a funhouse of endless inspiration — feathered brows, unconventional ways to contour, e-girl makeup, movie-inspired makeup looks — and a cacophonous echo chamber of filter-driven beauty aspirations like glass skin and plump lips.
While Instagram continues to fuel beauty discourse, the conversation has spread to a number of newer platforms: TikTok, Supergreat, and Newness, for example. As the power of social media grows, influencers-turned-celebrities are supplanting the unrealistic beauty standards that editorial magazines once supplied, paving the way for individual creativity to take off – and opening a Pandora's box of newfangled aesthetic anxieties. As we continue to look at ourselves through various screens (Instagram, TikTok, Zoom), our beauty cup runneth over, leading us to wonder if we should remove the buccal fat from our cheeks, and whether our torsos are adequately defined. Being in a body has never been as fraught as it is now, so it's natural that we're looking to alternative avenues for beauty. The language of beauty is evolving in real-time on apps like TikTok to encompass more expressive and emotive aesthetics – siren eyes, sleepy eyes, "I'm cold," glazed donut nails, Euphoria-makeup – which allow us to channel our moods, rather than live up to unattainable standards.
Consumers aren't the only ones getting creative. Beauty pros are growing their own empires based on their singular styles. Makeup artist Isamaya Ffrench, known for her theatrical beauty campaigns (plus stints as creative and beauty director for Byredo makeup, Burberry, and Christian Louboutin) brought her imaginative sense of alt-glam to the market with Isamaya Beauty, which launched in 2022 with a BDSM-themed collection. Euphoria makeup department head Donni Davy's Half Magic Beauty offers a collection of gems, studs, and glittery paints to embellish your features with — just like the show's main characters, who all normalized bedazzling your face for third period. Halsey's makeup line about-face launched in early 2021 with saturated pigments and glittery, slick textures reflective of the singer and former makeup artist's beauty approach.
The concept of play extends to more facets of beauty than just makeup. For those less interested in neon eyeshadow and glitter eyeliner, there's no shortage of ways to decorate your zits with stars, flowers, and Hello Kitty patches, thanks to brands like Starface and Squish Beauty (for someone who never mastered the art of concealing acne, this is a great relief. ). Seeing people run errands with stars on their faces or hasty swoops of color crowning their eyelid creases gives me a momentary Ah ha! of appreciation. These are my people, casually arty weirdos who aren't afraid to embellish their faces as a form of visual communication — a way to connect to people, which is something we've all been craving, especially over the past three years).
While youth and celebrity culture have always been strong determiners of what's cool in beauty, we're all coming around to the notion that cosmetics don't have to be about looking young and fresh. Even celebrities are no longer content to stick to conventional scripts of glam. Fox's "man-repelling" bleached brows have entered the chat as another alternative look veering into the cultural matrix of what's cool. Doja Cat also ditched her brows, shaving them off during an Instagram Live last summer ("I just do not like to have hair," she said), and has since taken to drawing on elaborate patterns in lieu.
That's not to say that eyebrow erasure is likely to become a mainstream beauty trend, but it's one of many radical reactions to the pressures of hyper-conventional beauty standards — it's a subversion that rejects the old narratives of pretty for pretty's sake in favor of something original. (Part of what makes an absence of eyebrows look so uncanny is that they're – fun fact – the main facial recognition feature on a face.) Less alienating but similarly bold, trends such as "rebel streaks" and "celestial eyes" have also been making the rounds online.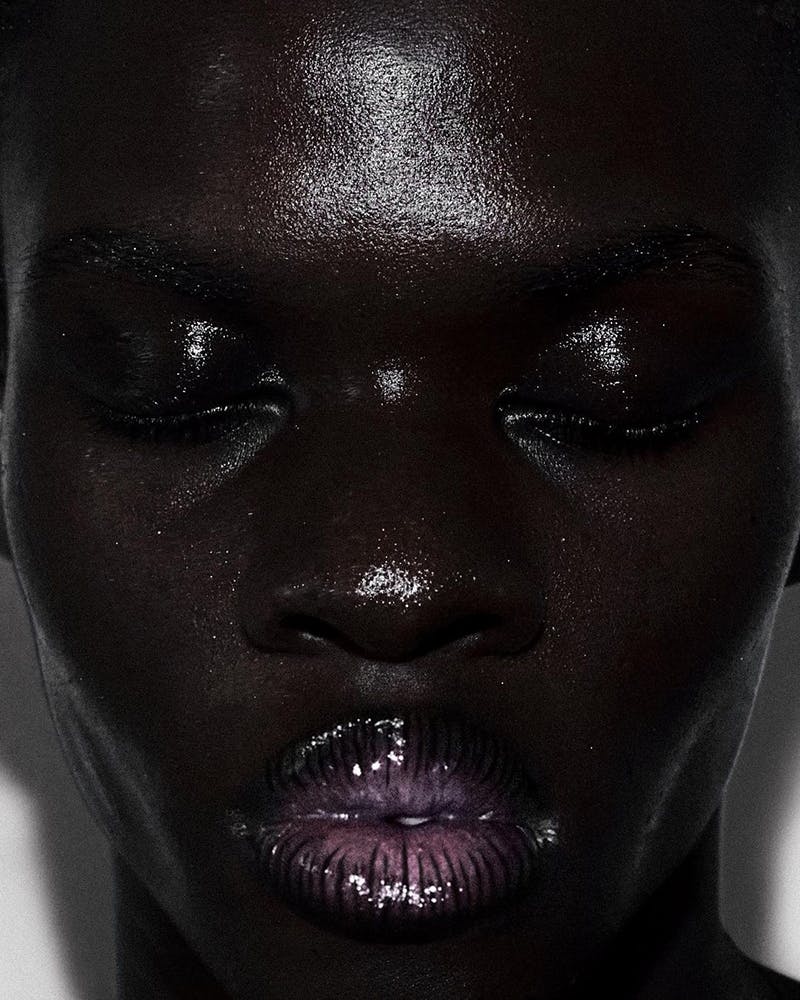 Beauty beyond beautiful allows us to explore and experiment with our appearance beyond the bounds of looking conventionally attractive. Our exterior is our primary point of connection with the outside world — it's the first thing people tend to base their judgments and assumptions on. Getting weird with your looks is one way to buck those preconceived notions in favor of crafting your own identity, on your own terms. When I was in my teens and twenties, there weren't nearly as many beauty brands, let alone shades of makeup. Now, we have the entire spectrum (and then some) to flesh out our most creatively authentic ambitions. There's nothing wrong with pretty, but it's not the be-all-end-all of beauty – especially when you can define (and redefine) beauty in a language of your own creation. If you're not sure where to start, do like Julia Fox and go to town with your favorite black eyeliner.