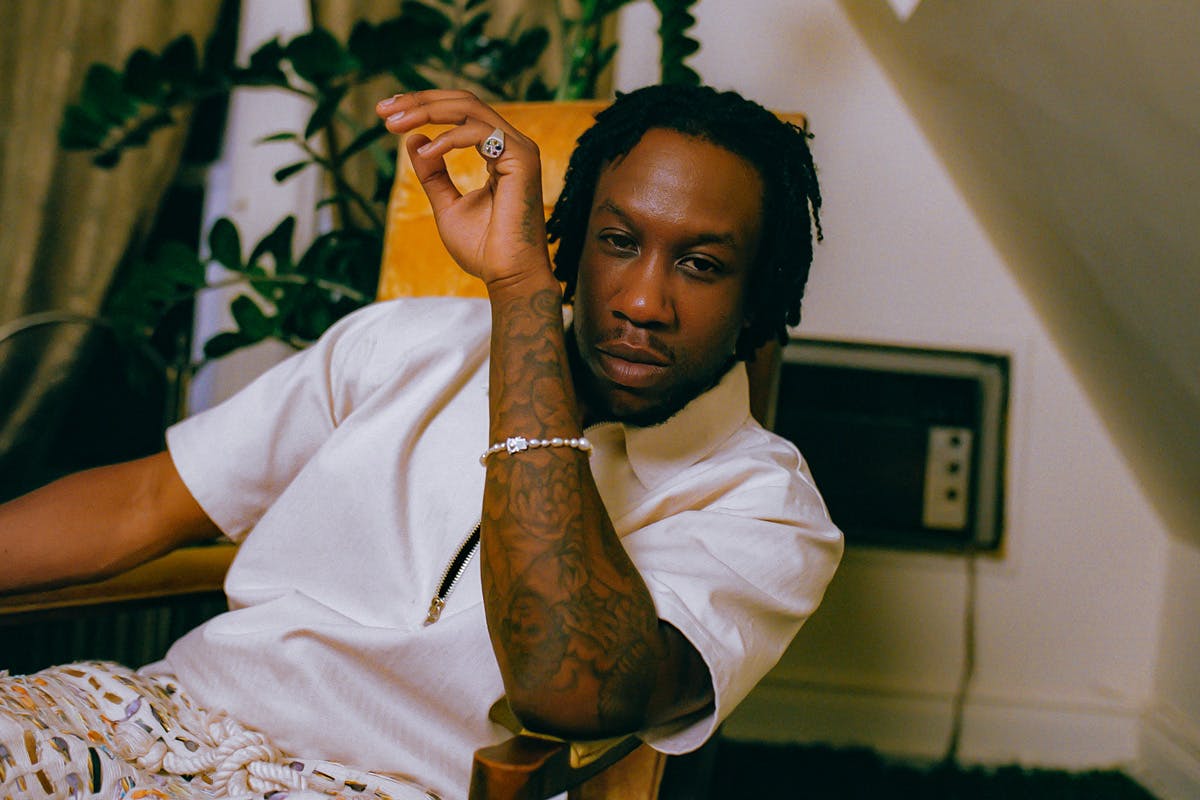 New Music Friday. Release Radar. New Music Daily. Weekly Chart… Choice overload in the digital era is real. In music especially, getting us to pay attention has never been more of an art. Putting out the music that people want to hear isn't enough anymore; artists need even more creativity to stand out. After visual albums, hologram rappers, and NFT drops have all been done, what's left?
Well, there's this: "Imagine you're walking and you notice someone's 'fit, they tell you to scan the back of their jumper, and it goes right to this album, in a second you're discovering new music [...] That's such an experience, connecting to music like that just as you're going about your day," BenjiFlow tells Highsnobiety. The multi-talented singer-songwriter is one of the rising artists behind the hybrid project The Wearable Album. It's a four-piece capsule collaboration from BACARDÍ, Grammy-winning producer Boi-1da, and Los Angeles-based brand Nahmias – that's, curiously, also an album. Beyond making music discoverable in an interesting way for listeners, in its essence, the collection is about giving up-and-coming artists much-needed fan support. Every time someone scans the QR code-embedded clothing, the wearer unlocks future live music rewards from Live Nation. And all net profits from this collection will go to support rising artists. "It's the first time that a 'traditional' piece of artist merch is being used this way. The way that fans discover new music has never been more inventive," Benji continues. "So you're literally investing in the music you love and professing that love through your style. It isn't so much about consuming music. This way people get to have a connection with the artist."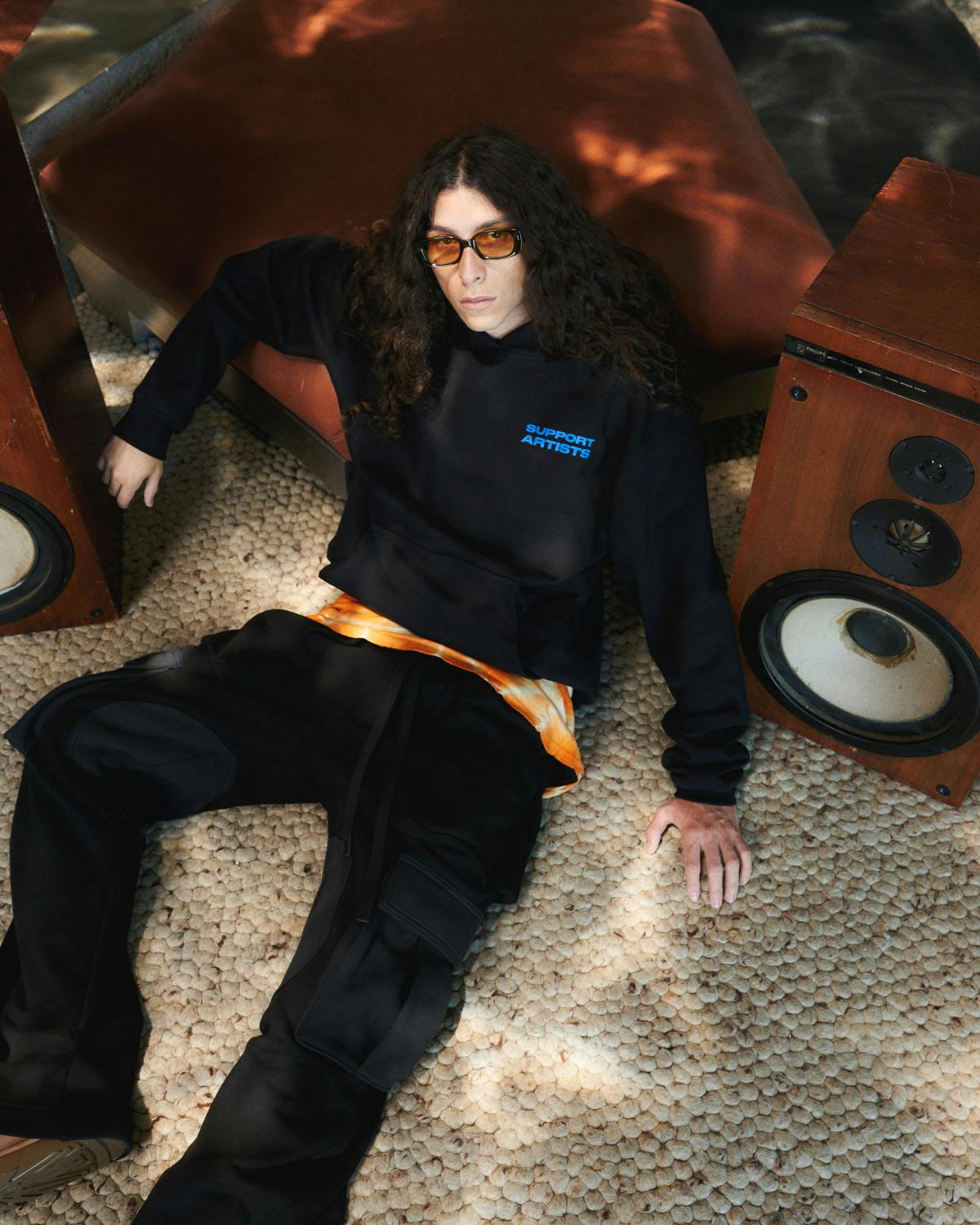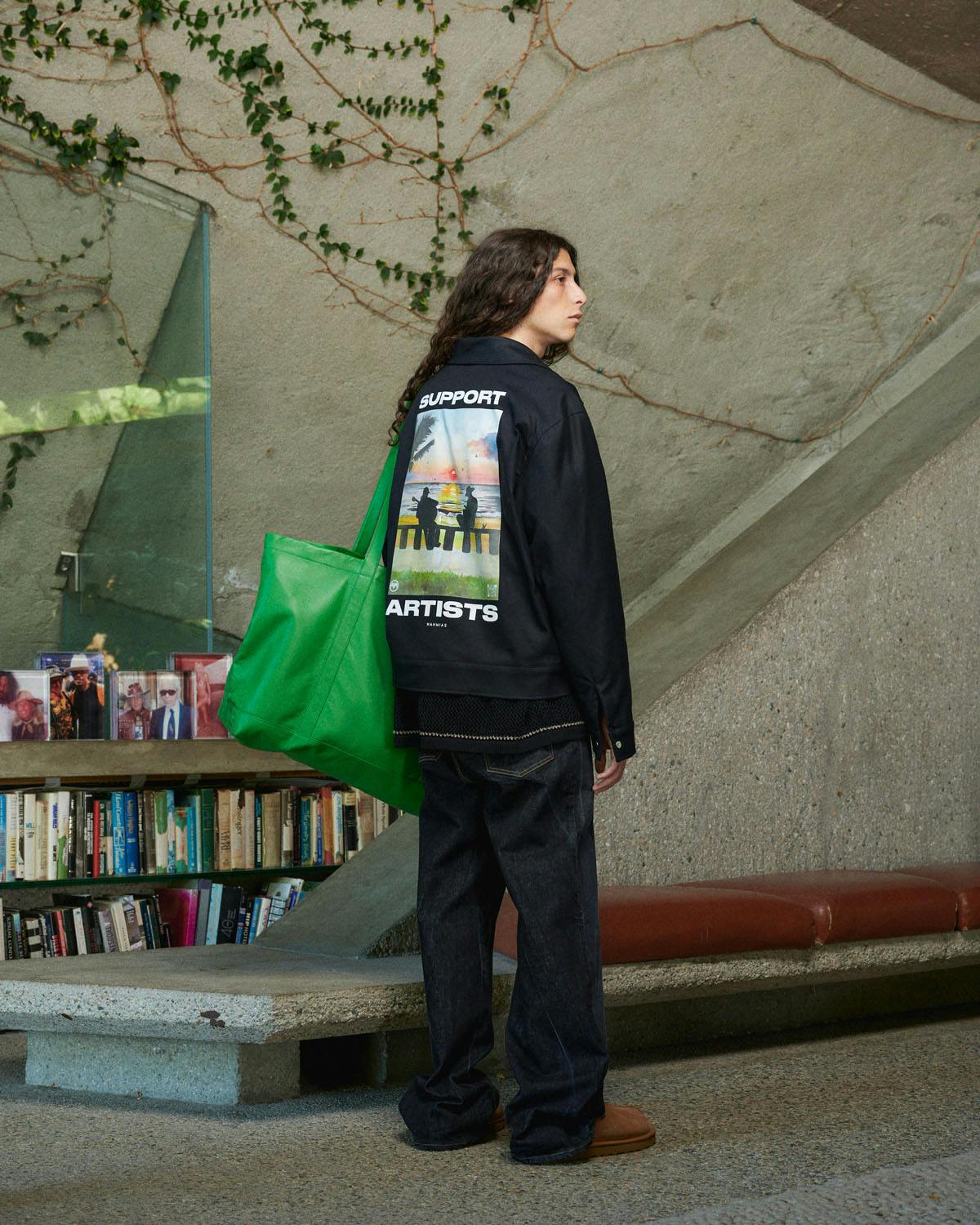 That said, this move won't surprise those who've followed BenjiFlow closely over the years: "It's so fitting to me because I've always tried to do things differently in my career." A gifted multi-instrumentalist, producer, songwriter, and vocalist, the North Londoner has become a shining example of the UK's genre-bending contemporary music scene. In just three minutes, a BenjiFlow song can pack Afro-Caribbean inflections (he's British-Jamaican), Brazilian samba rhythms, West-African highlife, and cool, jazzy R&B. But Benji put himself on the map with his experiential activations. When he released his first single, the cascading "Deep End" in 2018, Benji marked the occasion by hosting a Boiler Room in lieu of an ordinary release party. For his sophomore single he rented out a London club, outfitted it with live percussionists and a brass band and performed new music for a crowd of friends, family, and fans. "My approach to music has always been like this. Because of streaming and how things are now, there's an instant way to connect with the listener, which is beautiful."
BenjiFlow's trajectory has been marked by these experimentations and out-of-the-box interactions with his audience. He seems to understand people's longing for a long-term artist-fan relationship instead of the short-term flings with new music that are so common now. In that sense, BenjiFlow has always been a curator as well. Being a talented artist alone doesn't seem to cut it anymore. "It's so hard for artists to get noticed these days," he agrees. "And we really need those eyes on us – or let me say, ears – to help us grow." And for that reason, this project was especially refreshing. In his solo career and as part of the collective Mini Kingz, alongside Oscar #Worldpeace and Ragz Originale, BenjiFlow is involved in every part of creating his songs from production to performance. In a 2020 interview about his debut EP, which was entirely self-produced, Benji spoke about his desire to not always have to be the artist-slash-producer. On The Wearable Album, he got to be BenjiFlow, the artist.
The album is produced by Boi-1da, the force behind hits by the likes of Kendrick Lamar, Drake, Rihanna, and Kanye West. The Jamaican-Canadian superproducer hand-picked BenjiFlow for the project. "It's crazy to think that he had been a fan of my music and he'd been watching the journey silently. And it was just such a perfect, organic match." Benji sounds at home on the Boi-1da production. Their joint track "Ruby" features a winding and lively production, and Benji's signature storytelling about the subtexts of a doomed love story. Inspired by his friend's romantic dilemma, Benji explains, "It's about when you're finishing with somebody, but you both know that you want to go back." You can tell that Boi-1da has been listening to BenjiFlow and knew exactly what to give him. "I didn't really have to take [production] upon myself to try and find that feeling because I can count on him and his incredible worldwide knowledge. And he already knows what the combination between that and BenjiFlow should feel like." He describes the release of "having the space" to create without having to do everything himself. "I think when you are working with incredible people, I feel like it's easier to drop your shoulders, be vulnerable, and just let everything flow."
This is what The Wearable Album is all about. BACARDÍ x Nahmias' innovative collaboration shows what experiential music releases can look like. Not just as a marketing strategy to break through the competition and get noticed by fans, but as a way for artists to connect and create on their own terms. It bandaids some of the difficulties that come with the shifting landscape of the music industry. Flipping the script on the idea that modern audiences tend to forego physical releases by giving them back that material access to music through fashion. "I hope it inspires people to still think outside of the box whenever they're approaching putting out music. And just think of different ways that you can get the art to people. And I hope for the artists and creatives listening that something as beautiful as this [collaboration] can happen for them too."
You can shop The Wearable Album capsule collection here. 100% of net profits will directly benefit the rising talent. And listen to "Ruby" by BenjiFlow and more new music from BACARDÍ's rising artists below.