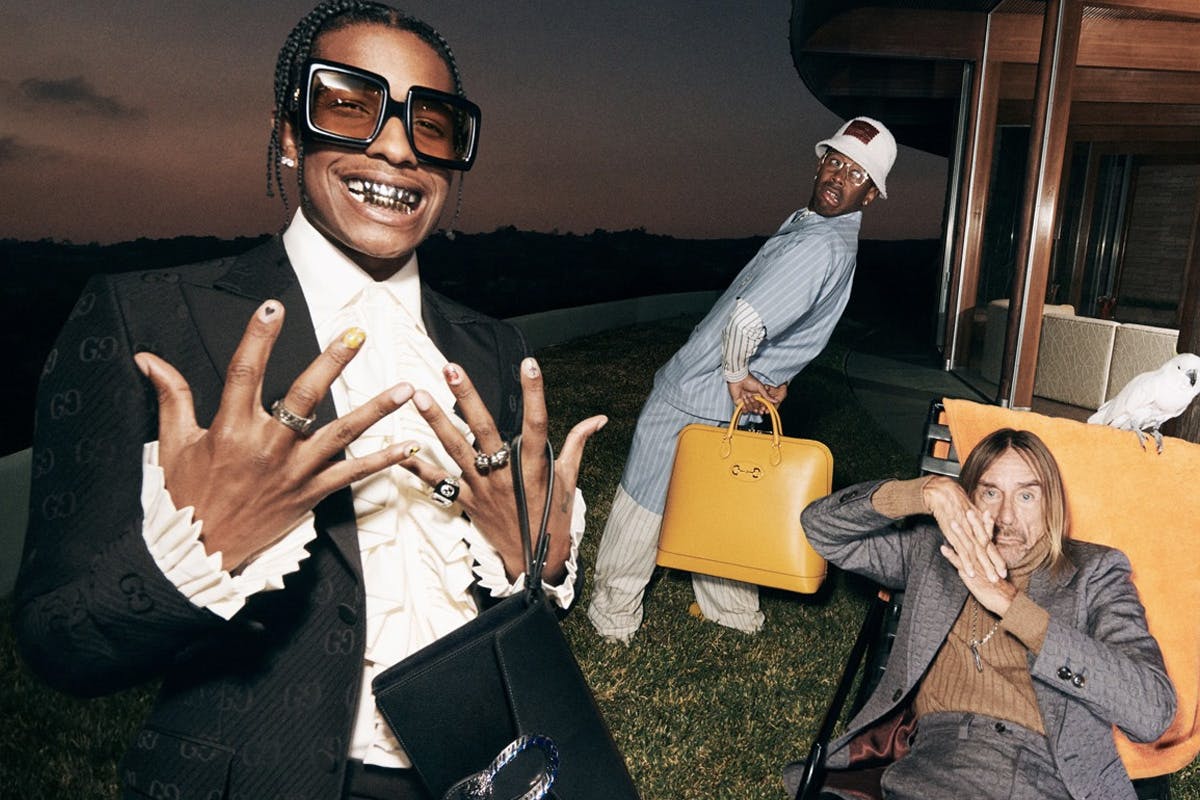 Gucci's recent, and viral, "Life of a Rockstar" campaign sees A$AP Rocky, Tyler, the Creator, and Iggy Pop get together in a mid-century Los Angeles home while they sport pieces from the label's new and supremely tailored collection. Shot by Gummo and Kids director Harmony Korine, the campaign is a retro-fuelled, bright-color blowout characterized by velveteen and checked materials alongside golden-era LA cuts.
The tailoring is not the only focus here, though. And we're not talking about a feature from Iggy's real-life Cockatoo Biggy Pop, either. We're talking about the big-time accessory game on display in the vid. From manbags to textured socks, headwear, and the unmissable chunky rings, the three stars are decked out in masterfully curated extra details.
The category that really caught our collective eye, though, was the huge eyewear, with sunglasses popping up that you simply couldn't miss. We're ready to don a similarly loud pair for fall and winter, and we've picked out several options that fit the bill below.
Shop some of the best big sunglasses around right now.
Gucci Web-Stripe Aviator Sunglasses
Made in Japan from high-quality acetate, this pair of transparent Aviators from Gucci turns the clock back a few decades. Brown-tinted lenses are unmistakably '70s and mirror the tortoiseshell arm ends. A Gucci monogram is embossed to the silver-tone temples and leads into the label's signature Web-stripe motif.
Dior Diorultra Aviator-Style Sunglasses
Dior's Diorultra Aviator Sunglasses are perfect for fall and winter thanks to the blue-tinted lenses. With a lens to the bridge, your eyes are fully UV-protected against the (still harmful) seasonal sunshine and you'll look cool as hell, too.
Jacques Marie Mage Windsor Shield Acetate Sunglasses
Japanese laminated acetate works in tandem with 18kt gold detailing to give this pair of limited-edition sunglasses from Jacques Marie Mage a serious sense of L.A. luxury.
Loewe Flat-Top Acetate Sunglasses
Loewe takes an angular approach for these flat-top sunnies. Tortoiseshell arms meet the tinted lenses and black acetate frames in a clash of vintage and futuristic style.
Celine Hexagon Acetate Sunglasses
Celine's self-restraint shines through on this pair of hexagonal sunglasses thanks to a subtle gradient to the lens and no superfluous detailing.
Gucci Pilot Mask Acetate Sunglasses
Alessandro Michele's Gucci has put forward a strong case for being the master of the aviator frame. This pair of seemingly upside-down shades boasts an all-black build save for a tiny tortoiseshell inset to the bridge which, although small, becomes the characterizing feature.
Saturnino Eyewear Mordecai 4 B Squared Sunglasses
Made in Italy, Saturnino's Mordecai Sunglasses are a no-fuss, job-done style. Polarized lenses protect against UV rays while the punchy, angular frames make a mark.
Rick Owens Shield Sunglasses
Rick takes oversized to another level with the Shield Sunglasses. This pair features a tinted visor lens that steals the show.
Dior Homme DIORB24.1 Sunglasses

(Available at 3 Merchants)
(Available at 3 Merchants)
Keep it classic with Dior's DIORB24.1 Sunglasses which, aside from the empty space to the top corner of the lenses, feature little overt detailing for a pared-back aesthetic.
Kuboraum Square C2 BL Sunglasses
Berlin-based Kuboraum has a history of pretty out-there sunglasses designs. The C2 BL model is, in comparison, very understated. The navy blue frame is partly transparent which gives it an eye-catching hue, especially in the sunshine.
Gucci Aviator Sunglasses
If you needed any more proof that Michele's Gucci aviators will go down in history, this pair is it. Orange lenses marry the bone-color acetate frames perfectly.
Gucci Tortoiseshell Square Sunglasses
If you're going to go big, then go BIG. Gucci's Tortoiseshell Square Sunglasses are a trip back to the golden age of massive sunglasses.
Oakley Sutro Aviator Sunglasses

(Available at 2 Merchants)
(Available at 2 Merchants)
Oakley is loved by extreme athletes and fashion aficionados alike. The highly technical design is hard not to be fascinated by, and this pair's sharp angles make for an impactful addition to the wardrobe.
Gucci Tortoise Sunglasses


(Available at 6 Merchants)
(Available at 6 Merchants)
There's something about Gucci's tinted lenses that brings West-Coast golden hour to mind. This tortoiseshell pair features the Italian House's Web-stripe logo to the temples as a final touch.
Our designated Selects section features products that we love and want to share with you. Highsnobiety has affiliate marketing partnerships, which means we may receive a commission from your purchase.