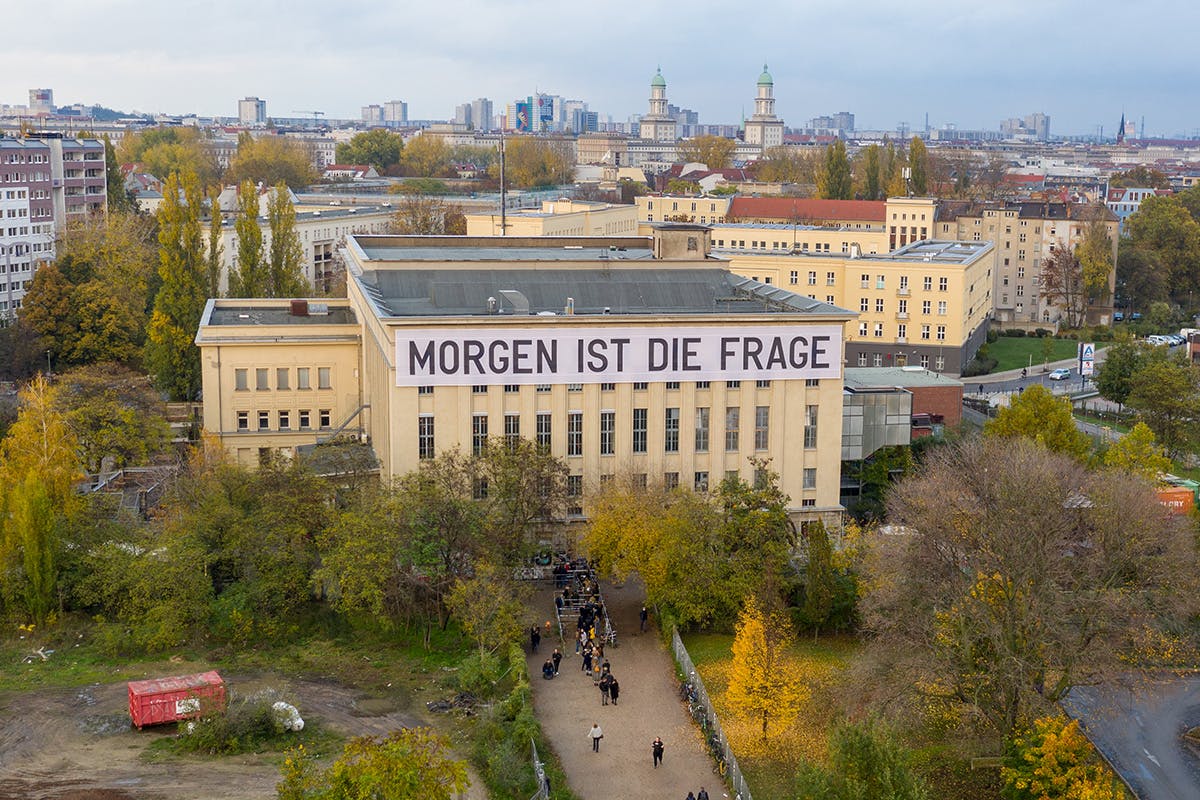 On Friday, April 9, as Berlin reported 1,019 new cases of coronavirus, the city's highest daily number since October, a stream of celebrities were photographed outside of Berghain. But it wasn't a party they were attending. The legendary club in the heart of the city had been chosen by Bottega Veneta creative director Daniel Lee as the locale for their new runway show, titled Salon 02. It was the second iteration of a new concept that had begun in London in October, an attempt to inject some mystery into fashion via secret, super-exclusive shows that show off collections that aren't unveiled publicly until months later.
In theory, it was a perfect pairing: a nightclub renowned for its secrecy, exclusivity, and hedonism, hosting a fashion show for one of the world's biggest brands three months after Lee made headlines for deleting the label's social media accounts. The only proof that anything had happened — at least at first — were the paparazzi photos of the guests invited to the event, walking outside of the venue. While the actual show took place in the Halle am Berghain, a massive hall that can be rented out to brands, the secrecy of the entire production cloaked this detail in the clout of staging a show at one of the world's most famous nightclubs.
In attendance were Berlin-based artists — including DJ Honey Dijon, Random Identities designer Stefano Pilati, and 032c's Marc Goehring, Maria Koch, and Joerg Koch — but also an international crowd. Rappers Skepta, Slowthai, Burna Boy, and Tricky joined designer Virgil Abloh and Italian dancer Roberto Bolle. Insulated by the thick, concrete walls, the guests filed into the Halle am Berghain and were filmed for a new video that Bottega will use to officially unveil the collection in June. As with any good fashion event, it also included an after-party that evening at Soho House Berlin, the exclusive members-only club in the neighboring Mitte district.
In normal times, it would've become a legendary anecdote in Berlin's history of inspiring the fashion world; but these are not normal times. For over a year, Berlin's nightlife scene has been ravaged by the pandemic, and since November, the city has been under some form of lockdown. While the show involved a corona-compliant hygiene concept that included PCR and rapid tests, sources who worked on the production spoke of worrying behavior by Lee in the lead-up to the event. According to sources I spoke with, as well as an account by a freelancer shared by Disruptive Berlin founder Brenda Weischer on her Instagram, not only did Lee not wear a mask from the start, Veneta's head of heritage, Daisy Butler, also went without a mask while on set. According to a source on set, after the owner of Berghain refused to open the dancefloor to Lee, the photographer for the event, Tyrone Lebon, was reportedly forced to stage a fake rave scene of models without masks on. While this reportedly happened at the upper level of the production, all freelancers, including craftsmen and cleaners, wore masks and were tested every day, which is a stark reminder of the power divide between those in power and those on the payroll.
The instances of flouting Covid regulations weren't just happening at Berghain, either. According to anonymous reports from Soho House staff members shared by Weischer on Instagram, hygiene concepts were entirely disregarded for guests, as staff feared for their health. For weeks prior to the event, staff weren't offered Covid tests, and it was "only on the last Friday [two] days before everyone was leaving" that tests were administered. While the staff was forced to work for minimum wage and not given bonuses or tips, there were "no rules whatsoever" for guests, and, according to an estimate from a staff member, Soho House was paid over €700,000 to rent out the venue. On Friday, as the Berghain show finished, a sound system was set up at Soho House, and as the sun went down, a party began that, inevitably, leaked to social media.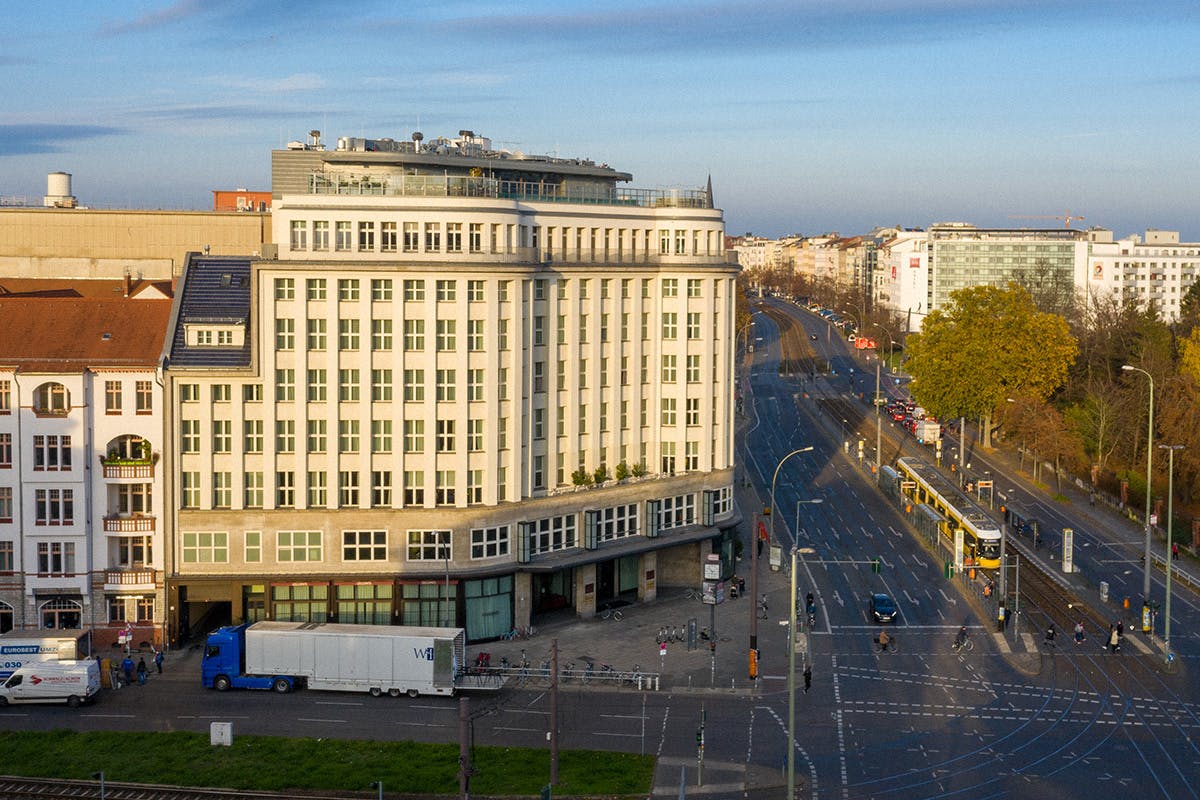 As all Covid regulations were left at the door, the models and guests from the show partied through the night to DJ sets by Virgil Abloh, Burna Boy, and others. By the end of the weekend, the scandal had spread from @berlinclubmemes all the way to fashion watchdog @dietprada, helped by a steady stream of anonymous reports from sources at both the Berghain and Soho House events. By Monday, a dedicated account, @bottegno, had appeared to chronicle it, police had begun an investigation, and the Soho House manager had explained he was in Mykonos and had no idea what happened. Publications have jumped on the story but, in the absence of a detailed statement explaining what happened from those in power, the blame has begun to shift, with one newspaper alluding that it was the invitees at fault.
This lack of clarity from the upper management of Soho House, Bottega Veneta, and Berghain, has created a vacuum of responsibility. It reduces the entire incident as a case of wealthy elites playing by a different set of rules than normal people. Simplifying the situation down to this narrative isn't just a grave disservice to those who have been thrown under the bus, it also removes what happened from a critique that is long overdue: Elitist institutions like Berghain have been commodifying the city's culture into clout for years.
The nightclub helped to literally set the stage for Bottega Veneta's show because they have cultural capital and international acclaim. They are the Amazon warehouse of Berlin nightclubs; an elite institution profiting off of a culture that their existence perpetually threatens. It was only seven months ago, on September 9, that Berghain reopened its doors for a massive art exhibition called "Studio Berlin." The sprawling show featured work from 118 artists and came about via a group text with Christian Boros, the millionaire art collector and owner of the Boros Collection art gallery, and Klaus Lederer, Berlin's culture senator. The exhibition was given €250,000 by the government, charged between €18 and €20 per ticket, and gave each artist a one-time payment of €150 and the "platform to present their work." The outrageously low sum prompted a spokesperson from the city's professional association of visual artists, the bbk berlin, to speak out: "It is extremely problematic to pay artists such low fees in an exhibition with so much funding and of such large scale."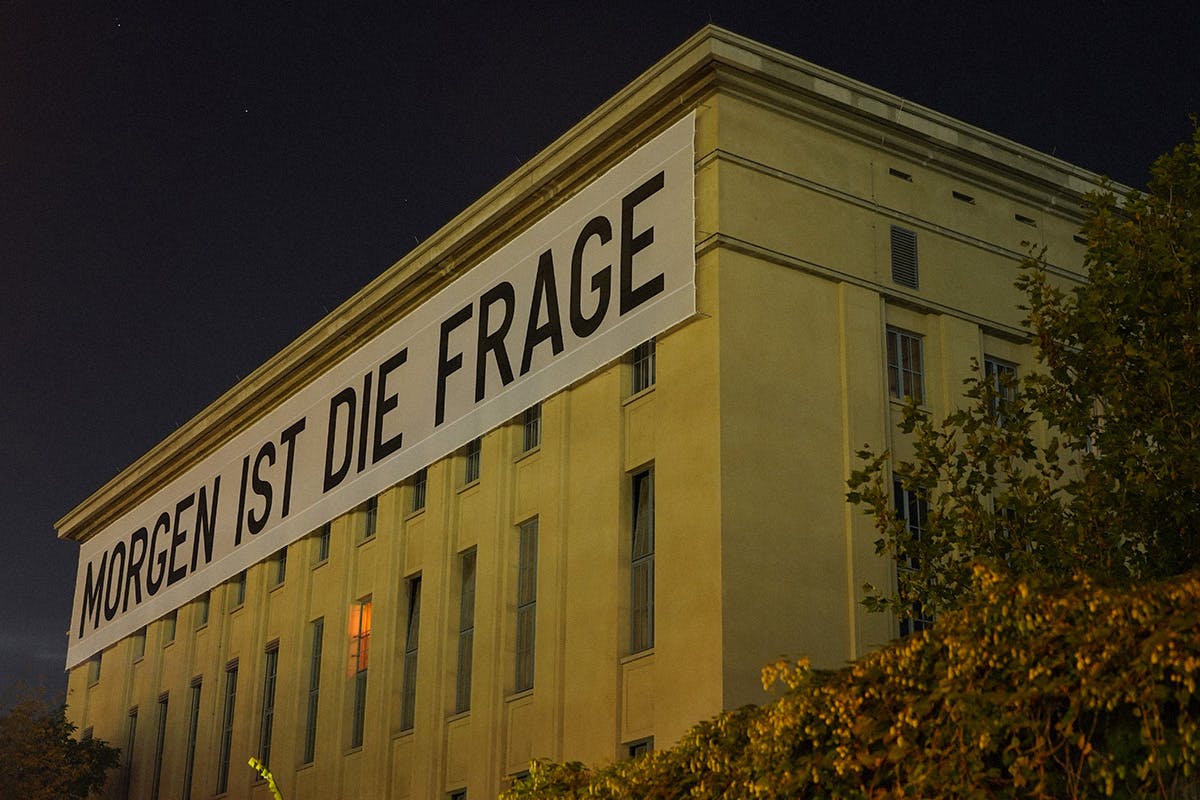 It was especially egregious given Berghain's historically close ties with the Berlin government and financial stability. The owners of the club, Michael Teufele and Norbert Thormann, have owned the building outright for years, and in 2016, successfully argued in court to have their tax rate lowered from 19 percent to 7 percent on the basis that Berghain is a "high art" institution. During the pandemic, their employees were put on Kurzarbeit (short-term work leave), further lowering their overhead costs. As Berghain hosted a massive art exhibition while paying artists peanuts, a constellation of smaller party collectives around Berlin struggled to raise money to stay alive as the clubs that hosted them shut their doors. The result was Berlin Collective Action, a nightlife emergency fund designed to provide nightlife workers impacted by the Covid-19 pandemic with financial aid.
The narrative of smaller clubs and nightlife spaces struggling to survive in the shadow of Berghain isn't just a pandemic-era problem. In conversations with over a half dozen party organizers, DJs, and club owners, the consensus was that Berghain has long ceased being supportive of the clubs, promoters, and parties that exist in its shadow. Instead, the club has become infamous for its exclusionary policies, financial dominance, and the steady stream of racist, misogynistic, homophobic, and transphobic incidents that have happened there. "They've made it clear, particularly in the past five or so years, that they have little to no interest in the queer community, queer politics, or Berlin's club scene at large because they have been an exception for so long," explains former nightlife promoter and DJ Eliot Gardepe. "In a way, it's become a brutalist Ibiza for the jet-setting class of rich white gays, celebrities, and clout chasers." In the past five years, several clubs have either shut down or been threatened with closure, including about blank and Salon zur Wilden Renate, two venues that regularly hosted queer nightlife parties and may close because of an expansion of a highway.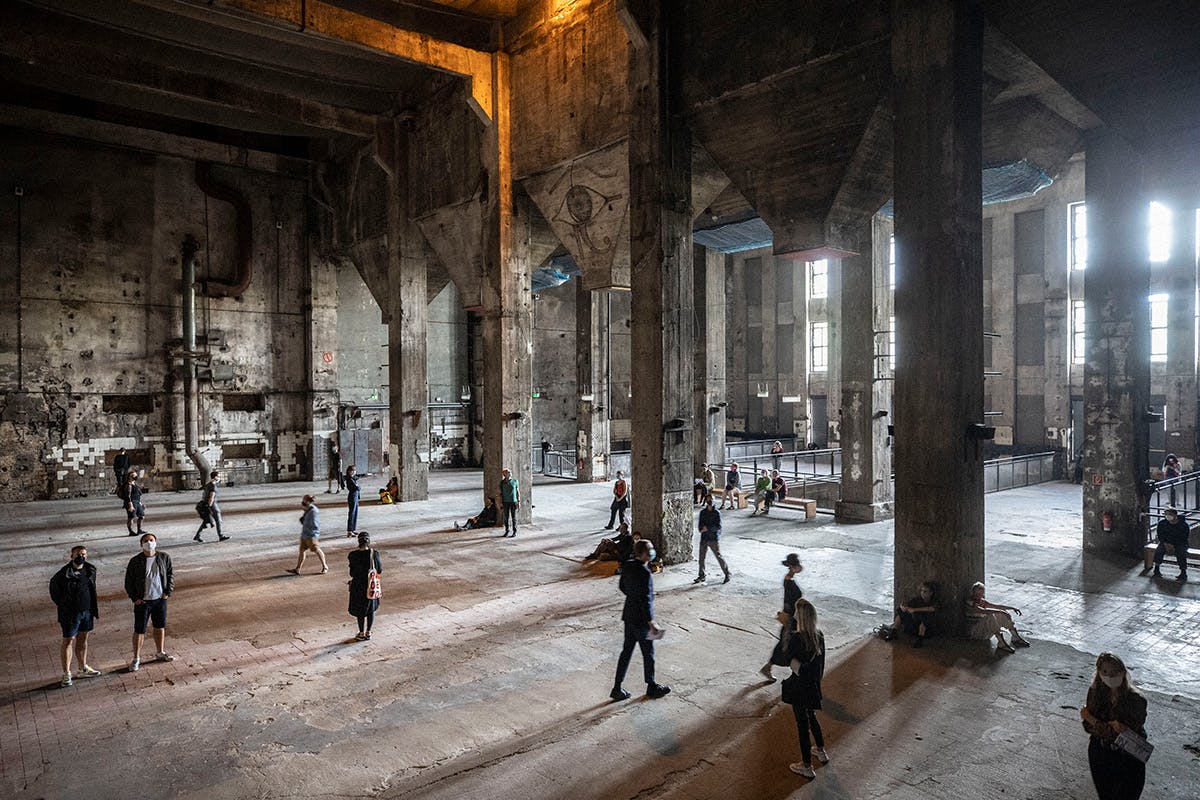 While Berghain has marketed itself as a queer space and profited off of this false reputation, the venue has a history of brutal, physical assaults and intimidation carried out by both their security team and staff. For Nico Limo, a nonbinary nightlife organizer whose Berghain assault prompted a New York Times report, the club's ability to use queerness to make bank while also causing trauma to members of the queer nightlife community: "We queer nightlife organizers want to create a safe and healthy party ecosystem, and I see Berghain as this thorn preying on our nightlife."
With nightlife now shut down for over a year and lockdown measures restricting daily life, seeing Berghain willingly open their doors to a fashion label that has no ties to Berlin nightlife has stung especially hard. "We have no idea what the scene will look like or how many clubs will even survive," says a DJ who wishes to remain anonymous. "There's no excuse for them to be the ones doing crazy things to try and make some money when they're getting substantial government funding. Berghain had, to some extent, contributed before the pandemic to clubs closing and clubs not being able to succeed. Whatever is happening right now, for me, is parallel to this practice of centralizing and commercializing a feeling of rave and liberation into something that you can consume and buy."
Strip away all of the branding and reputation they've amassed, and Berghain is simply a business, and, this past weekend, their customer was Bottega Veneta. As Instagram meme account @berlinclubmemes explains over DM: "People who usually relate to nightlife as a safe space and also a space to generate income outside of the usual societal norms are hit the hardest by all this, while fashion brands use parties and nightlife as cheap gimmicks and cater to a select rich few, creating the illusion of inclusiveness by tokenizing and selling out LGBTQ culture." While some venue bookers in the city vow to continue "calling out people who forget that techno and rave are political and try to turn it into McDonald's for the soul," there's only so much to be done when the city's largest club shows no signs of supporting small clubs that can't get €250,000 from a group chat with the government. For Gardepe, the situation we're witnessing with Bottega Veneta this week "exemplifies the exclusionary, anti-queer commodification of nightlife in service of luxury capitalism and the wealthy." When (or if) the pandemic ends, what will Berlin's famed club scene look like if the only way to survive is through attracting art collectors and fashion brands? It certainly won't be the queer haven it once was.
As the news cycle on what happened when Bottega Veneta came to town shifts to Soho House Berlin, it's worth remembering that this incident isn't isolated. It's the direct result of the commodification of a cultural scene on the brink of collapse — assuming it hasn't been buried by the pandemic already. What happened this past weekend will continue to happen when we continue to allow our city's cultural capital to be poured into a club as elitist as the brand it allowed through its doors.