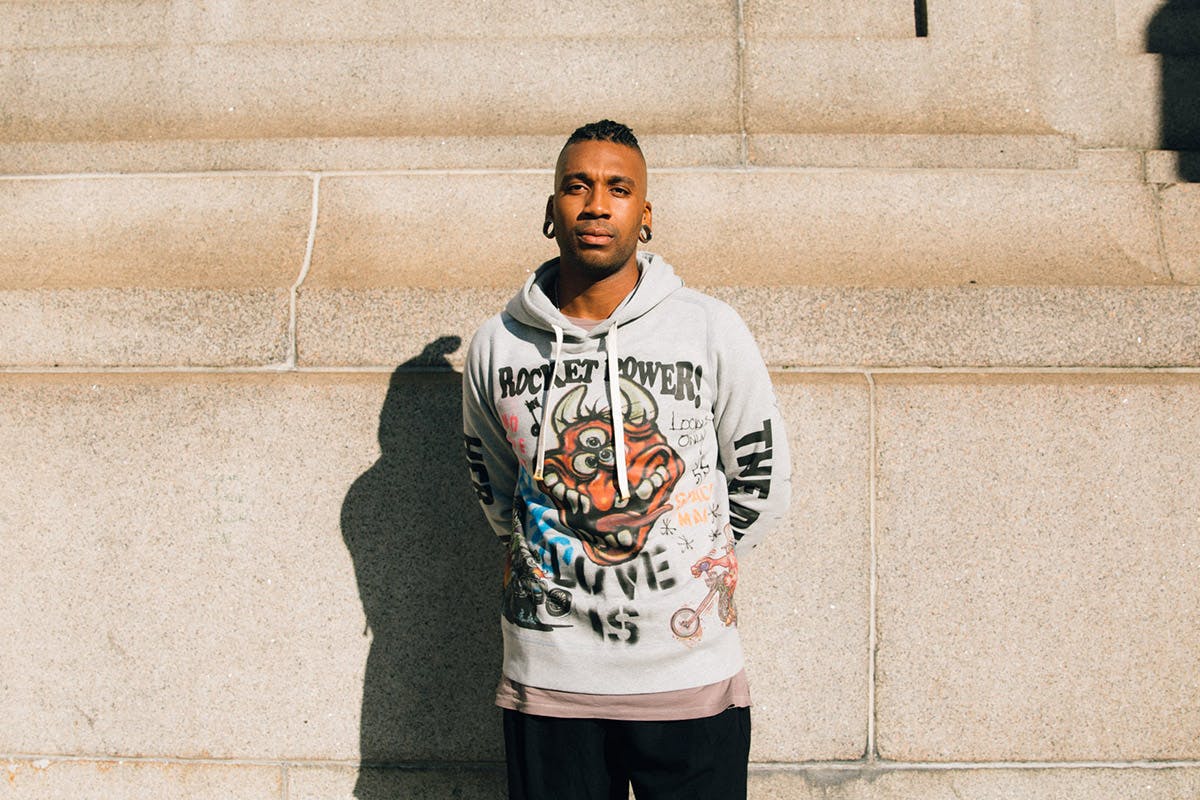 Mastering anything in life is no easy feat, especially your career. The road is often paved with uncertainty, and even the most accomplished will tell you that. For Kristopher Edelen, better known as Chef KPE, his journey in the culinary arts is one that dates back to the first grade and is still a work in progress. "I would say to become an expert it will take time and I may never reach the status of expert, as I'm always learning from other chefs, personalities, foodies, and self," the chef shares with us.
Still, Chef KPE, the man behind HOTPANnyc, a collective that explores native postmodern cuisine that includes activities such as foraging and hunting to develop dishes, is excelling in the field. His is a unique take on dinning, so much so that he's been credited with reinventing the American dinning experience. Highsnobiety witnessed this first-hand when we tagged along on a foraging trip in Inwood, New York, and watched him prepare a flavorful duck dish with everything from wild greens to Hennessy V.S.O.P.
We decided to survey him on what he thinks it takes to master one's craft. Read on for some inspiring words.
At what point did you realize you had an interest in the culinary arts?
A fond memory that I have is when my first-grade teacher played the 1971 version of Willy Wonka & the Chocolate Factory. The imagination, the inventiveness, and, of course, the candy! It was all sensory overload and I loved it. Since that day, I channel the fantasy and imagination of the fictional mastermind Willy Wonka. This is what started my admiration of food at a very young age.
My fascination with everything in the confectionary world then started. I would crave the artificial richness of candies at such a young age where I would begin writing detailed letters at the age of 10 to the addresses of the candy factories on the colorful wrappers. This was hilarious to think back on. I didn't just write the letters for the candy, I wanted to know the day and life of the workers at the factory and how the candies were produced. My mom would mail these letters for me the next day. Weeks later, as I would write these letters, I would be surprised my gigantic packages waiting on my doorsteps in Fishers, IN. These packages would include thank-you letters from the CEOs of the factories, along with some fun facts of the confection brands. This goes to show how persistent I was with my interest in food at an early age.
I would begin watching cooking shows on Food Network and always be in awe by the chef personalities and their shows. My favorite was Alton Brown on Good Eats. I loved the way he would break down the science and use U.S. history reenactments on each episode making a very immersive show for a kid. I actually was a Kids Radio disk jockey in Nobleville, IN, where I talked about food, interviewed local chefs and candy makers, I wrote and filmed a homemade TV show... My past quite reflects on my present and future. My passion for food, entrepreneurship, and being a personality all started in my past as a young boy and it has definitely molded who I am today in the culinary world.
What did you do to turn your passion into a career?
It all started in high school with my sophomore guidance counselor. Initially, I mentioned I wanted to go to culinary school and from that day on he would show me options of culinary colleges. It wasn't until I went to driving school where I met two friends who mentioned The Culinary Institute of America, which is the No. 1 culinary school in America. I just knew from talking with them I had to go to this school. After graduating high school, I was accepted into the CIA after a rigorous application process.
I began to pursue the culinary arts professionally and graduated from the CIA in 2011. Before graduating, I had to complete my 18-week externship in Washington, DC, at Charlie Palmer Steak. There, Chef Jeff introduced the ropes of fine dining to me. I ended up passing my externship with 100%, something I am still very proud of. I then began working at Jean George in D.C. where I stayed a year. I landed my next job at GILT, from tweeting the chef of the 2 Michelin restaurant I wanted to do my externship at when I was still in school. I was a cook tournant for a year, until the restaurant was bought out from a big-named restaurateur. I was very young still at this age and left fine dining to became a sous chef at the Rockefeller University. I was the chef for the president and his staff where I made personal lunches. This was quite a challenge at 23, but it was something I knew I would be able to do with the guidance of the executive chef.
I moved on from Rockefeller and landed an executive sous chef job at Splashlight where I was introduced to some people in the industry. This is where I really turned my passion into a career. I quit my salary paid chef job in NYC to launch my brand, HOTPANnyc. At this time, I didn't even know what this name meant until a year later. I had to trust my judgment on the choice I made to start this boutique dinner collective. It was all worth it with all the trials and tribulations that come with owning your own business at such a young age and living in a state where you literally have to work to live.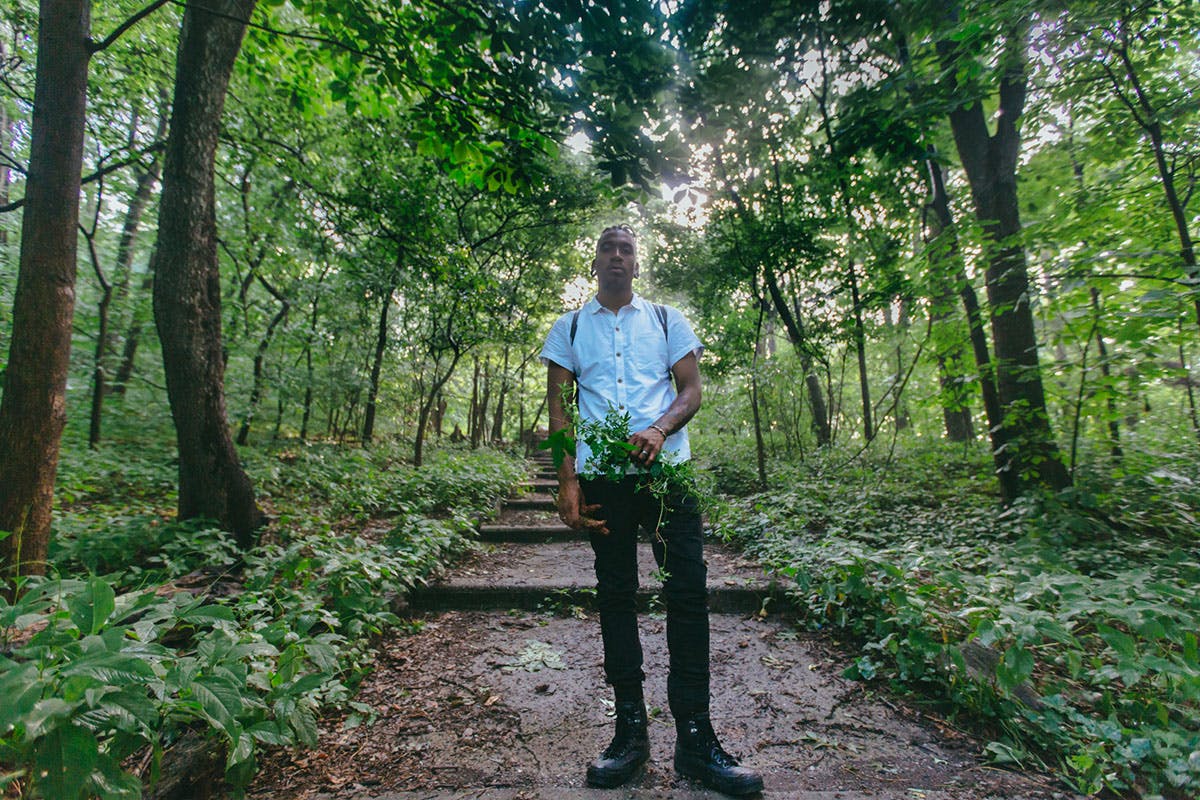 What are some of the most memorable learning experiences in your career arc?
Learning when is the right time to begin, but the truth is there is never a right time and, sometimes, you just have to go with your heart. Although, sometimes the heart can steer you in the wrong direction, but you have to know when you are making the right decision. I'm happy I left my job when I did because I never would have been in the place I am now in my career if I didn't.
Listening has been very imperative in my career. There was a time when I thought I was right, but it was when I started to listen to the advice from friends, colleagues, and family when my career flourished. I can say the most memorable experience is when I became friends with Chuck Close, an artist I admired since middle school, due to his perseverance of being paralyzed from the neck down from an accident. He has conquered—and still to this day conquers in the art worlds—producing extraordinary photorealism paintings. I learned something the day I met him, but I almost feel like I knew this all along: never listen to the negative energy or you won't be able to do this or amount to anything because of a certain trait you may have.
I can definitely relate to how Chuck probably felt when people were saying he would never be able to paint again, but he kept on doing it. The same for me occurred when my school said I had a learning disability and a behavioral problem growing up, but with determination I ended up being ahead of my class in high school. Chuck is a true testament of a genius in his craft, as a name and as a businessman of his craft. Being able to cook for him and receive some mentoring advice, I know I'll achieve much more greatness. They never should have judged this book by its cover.
When you reflect on your career, at what point did you feel like you became a master at your craft?
It all started with a strong understanding of who I was as an individual. I stepped out into the woods in NYC one morning in 2014, where I had an unexpected wakeup call. It was not a normal day and I felt I needed to be surrounded by nature. I was in search of my cuisine, what that actually meant to me. I asked myself many questions I needed answers to. One of those questions being, that I later answered, was all of my ancestors were one with nature. They were the natural foragers, hunters, fishers, survivors, and doctors for their families. My ancestors knew how to live off their land especially on the days they were not given food nor water to survive. I took this all in; it was quite an emotional day out in the woods for me. I picked up some wild plants and ate some still with the dirt on them. I asked myself: "What is native to the land we now walk on? What are the postmodern ways my ancestors used to survive? How did they cook? What resources did they have and how the hell did they manage to know so many different types of wild plants, fruits, nuts, and game?"
There it was right in front of me. My cuisine was born as "native postmodern cuisine" to help our world rebuild itself by using methods of the prehistoric diet, the modernism. This has a role through my past, present, and future through the story I tell by using many scientific disciplines and technical innovations.
In your opinion, what does it take for someone to become an expert in their field?
This is a hard question for me to answer because I feel I haven't yet become an expert in my field. There is far way too much to learn from technique, cuisine, agriculture, and more. I would say to become an expert it will take time and I may never reach the status of expert, as I'm always learning from other chefs, personalities, foodies, and self.
What advice do you have for others on how to master their crafts?
Mastering a craft is taking a leap in faith, knowing when the time is right, but is it ever right? I believe it's important to learn how to master your craft by having role models, taking the time to travel, and doing things you would never do. I've been in the countryside of Tuscany, Italy, studying the agriculture and food background of this region at an artist villa for three months. Spending my time here has taught me the importance of learning my trade by actually completing the job of hosting pasta workshops, foraging, and gardening workshops, and having chef-in-residence dinners.
There, I have been able to pick ingredients from a different part of the world and create a menu through research and development and serve these guests who provide feedback on whether they liked or disliked the meal. I've been able to have this hands-on experience and have the opportunity to apply my skills immediately. This has also helped me once again build practical skills I apply to my own business.
Tell us more about HOTPANnyc and your unique approach to recipe development. Do you feel like having a niche helps you nurture your passion and master your craft?
My unique approach is doing what I love, as cliché as this sounds: being in nature and taking it within my hands. Foraging, hunting, small family farmers, and fishing. Going into the wild for wild plants takes me out of the home and makes me active in open places where I'm meant to roam. The act of searching for plants and wild game is a relaxing activity that takes the mind away from the trials and tribulations of fast-paced living, especially living in the concrete jungle, which definitely slows down primal functions, like using the senses to find food and raw materials.
It helps people become more aware and learn about the world around them. Each item of activity, nutrition, and observation that people partake in enriches their lives and promotes health and self-sufficiency. By studying foraging and nature we enjoy our renewable resources and reaffirm our commitment to preserving and rebuilding our ecological riches. Staying on top of seasonality of what's in the garden, what's at the market, what's in the woods, and a lot of experiments and testing—getting back to the basics. This is my niche and it has definitely helped me continue to master my craft.
Is there anything else you'd like to share about your personal story that may help others in their pursuit of excellence and mastery in their lives and lines of work?
Excellence is a gradual result of striving to do better and to not only work on the days when you feel good, but on the days you feel bad as well.