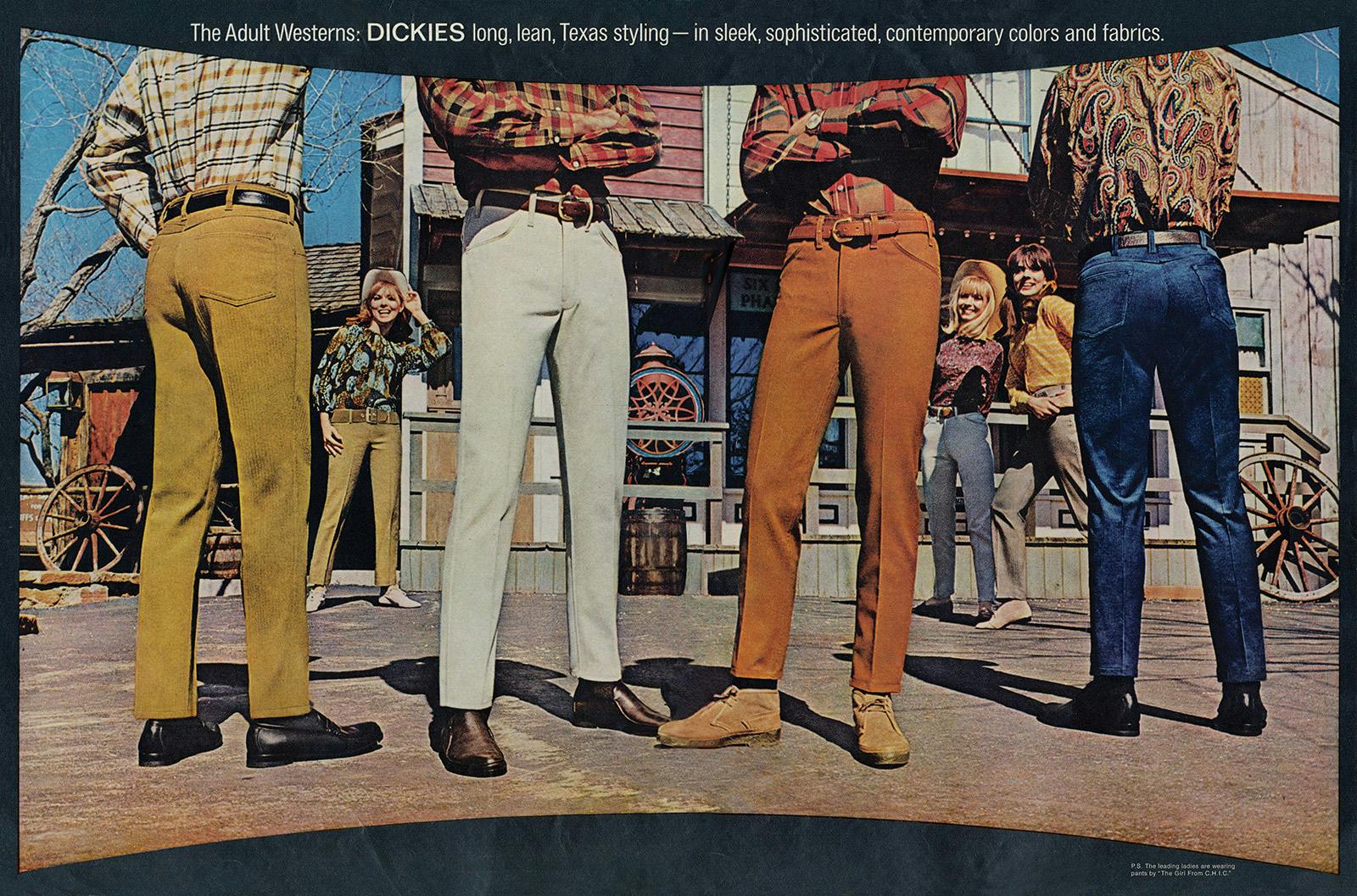 Experience this story and others in the new issue of Highsnobiety Magazine, available from retailers around the world and our online store.
At first glance, Dickies comes across as an unremarkable clothing brand. For decades, the company has been known for producing cotton polyester slacks and shirts in beige and black. But behind these seemingly nondescript items is a wealth of reference points, subculture capital, and innovative design, which has, over the last 100 years, helped construct a brand that epitomizes smart, utilitarian staples. From a work uniform to an ideological outfit to a mainstream entity, the products created by this all-American brand have not changed much along the way, but they gain significance in who wears them at any given time.
To mark its centenary, we explore how Dickies has perfected a few classic pieces and how a handful of key cultural moments have influenced the evolution of the brand.
Overalls and Coveralls (1922)
The foundation of Dickies is deeply rooted in workwear. The company began its life in Fort Worth, Texas, as an overall and coverall maker for farm and ranch workers — part of a growing blue-collar workforce building the increasingly industrialized America. With the aim of perfecting a garment as hardworking (and as long-lasting) as the person wearing it, some of Dickies' enduring design features are still present today, such as triple-stitched seams and bar-tacking. The durability of their materials — including indigo denim, hickory stripe canvas, and boat sail drill — was also key to Dickies' early success.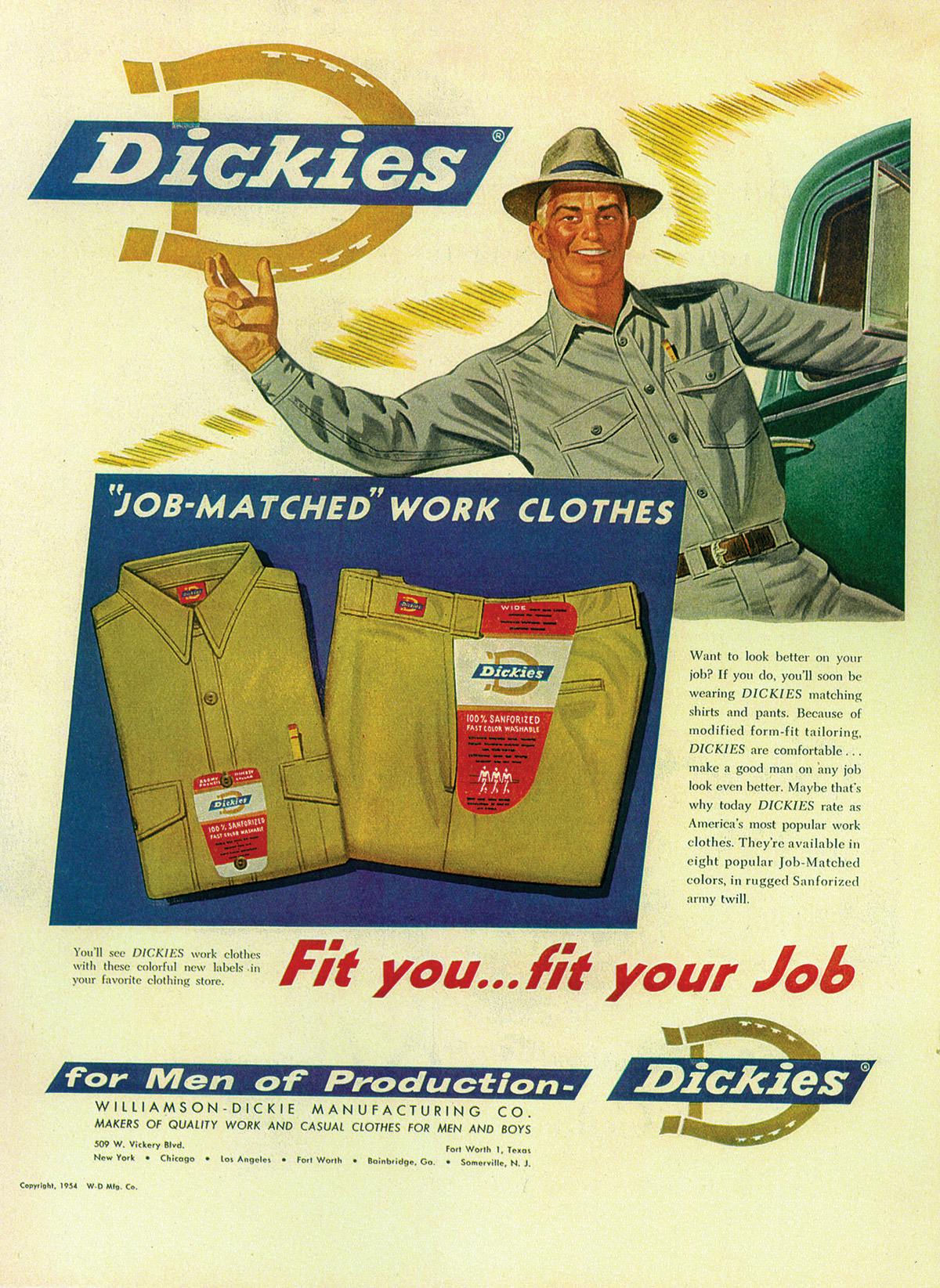 "Job-Matched Work Clothes" (1955)
"Wear-approved by millions, for better looks, for longer wear, for neater fit, for easier action" declared a 1955 Dickies ad. Consumers in the '50s were inclined to agree with the company's claims, as they flocked toward a product that legitimized and celebrated sophistication in blue-collar America. This boom can be traced to the end of World War II, when men returning home were keen to swap their Army uniforms for work uniforms. It is no coincidence that the matching khaki sets sold by Dickies mirrored those worn by the Army while projecting the utilitarian image of a work overall. Of course, it was also Dickies who produced some of the military uniforms of the '40s.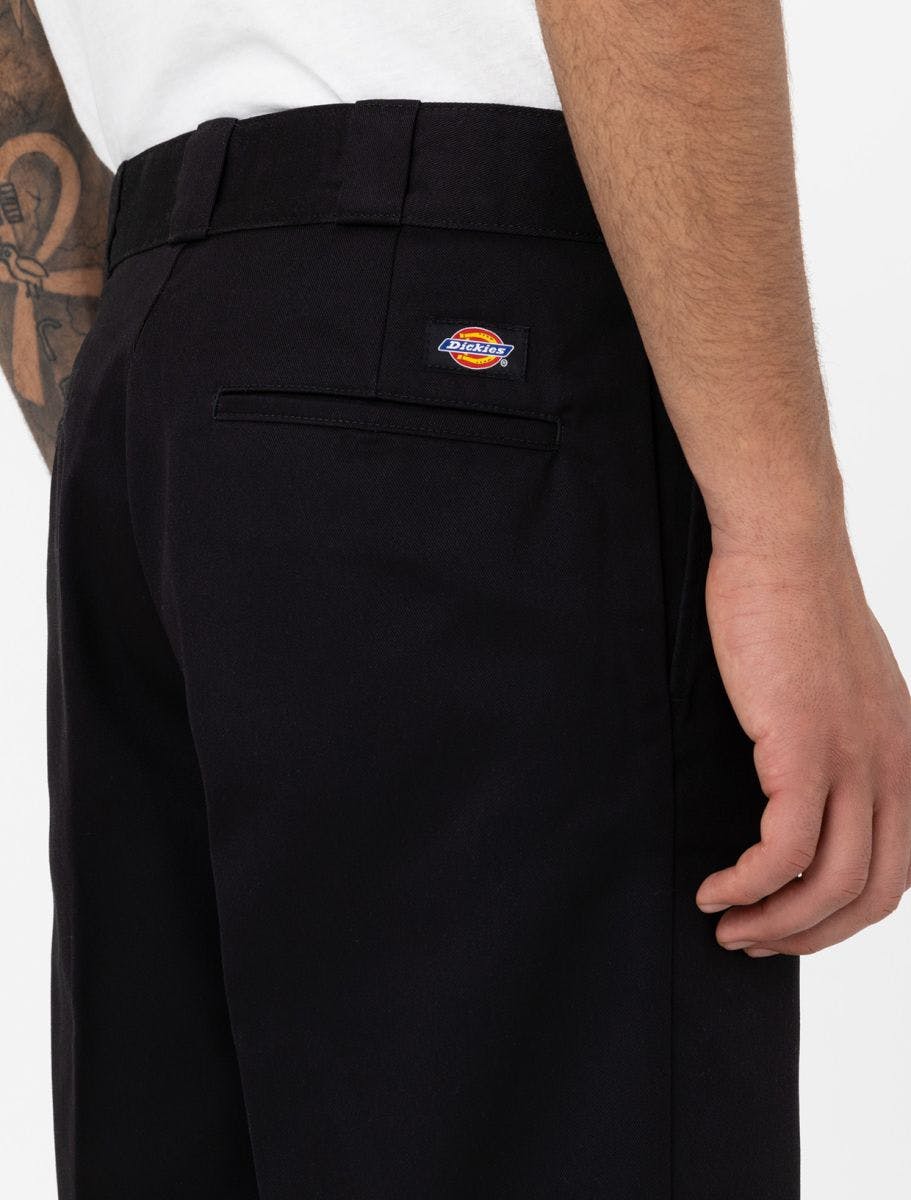 The 874 Work Pants: The Start of a Classic (1967)
Evenly distributed, wide tunnel belt loops, wrinkle and fade resistant fabric, stain-release finishing, a permanent center crease, and a money-back guarantee: What more could you need from a pair of trousers? Perhaps the best known product created by Dickies is its iconic 874 Work Pants. The garment's final shape and details came together in the late 1960s, following the previously released 872 and 873 iterations. Durable, accessible, and smart, the qualities that originally attracted the American workforce to these pants are the very same ones that skaters — a few decades later — would come to appreciate.
Straight Outta Compton (1988)
In the late '70s, Dickies started to gain traction outside its original audience when Black and Latinx communities in Southern California adopted the brand. Wearing Dickies with clean, oversized button-up work shirts or white T-shirts, these new consumers fully transitioned the brand from workwear classic to streetwear staple by the 1980s. At the same time, the birth of the West Coast hip-hop scene saw formative groups like N.W.A regularly wearing Dickies. No doubt, the influence of MTV was crucial in helping this new style spread via music videos, such as the group's "Express Yourself," which began to shift the image of the brand away from its predominantly white associations.
Thug Life (1993)
In 1993, Tupac Shakur formed a group called Thug Life with Tyruss "Big Syke" Himes, Diron "Macadoshis" Rivers, Walter "Rated R" Burns, and his stepbrother Mopreme Shakur. In an interview, he explained the group's name was an acronym that stood for "The Hate U Gave Little Infants Fucks Everybody." He also famously had the acronym tattooed across his stomach and embroidered on a customized pair of Dickies' denim bib overalls in exactly the same position. For Tupac, his overalls were a powerful symbol rooted in the history of his community — but for many across the world, overalls began to filter down to become a pop fashion moment of the '90s, worn by both teen idols and their adoring fans.
Welcome to Hell (1996)
While skaters have been wearing Dickies since the '80s, it wasn't until the '90s that skateboarding hit the mainstream. In the same way that MTV helped spread fashion through music videos, VHS contributed to the spread of skateboarding. Skate videos such as Welcome to Hell featured notable riders like Donny Barley, Ed Templeton, Elissa Steamer, Mike Maldonado, Brian Anderson, and Jamie Thomas, who would come to signify skater style. If the "wear-approved by millions" message resonated with the all-American workforce of the 1950s, it was these same qualities of durability, looser fit, and low cost that made Dickies the uniform for skaters — an association the brand now capitalizes on by sponsoring skate teams.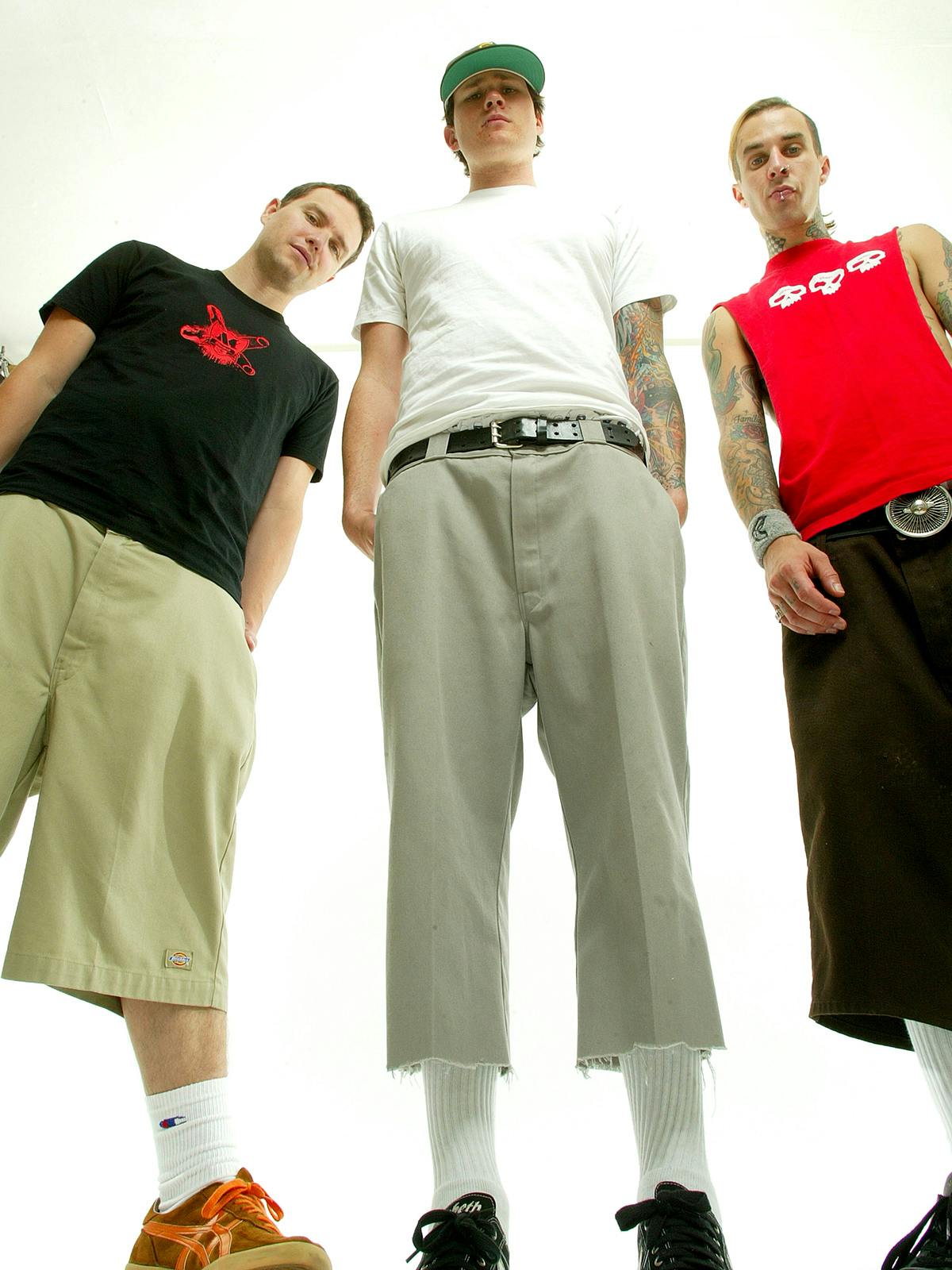 The Urethra Chronicles (1999)
Nothing says American teen angst and commercial skate punk more than Blink-182. By the late 1990s, when the band came to create their reality TV documentary The Urethra Chronicles, their look was synonymous with a style that consisted of Dickies 15-inch shorts, a graphic T-shirt, pulled-up white socks, and skater shoes. It built on the legacy of the skate scene and hip-hop culture, further inspiring a look that reached millions of teenagers across the world.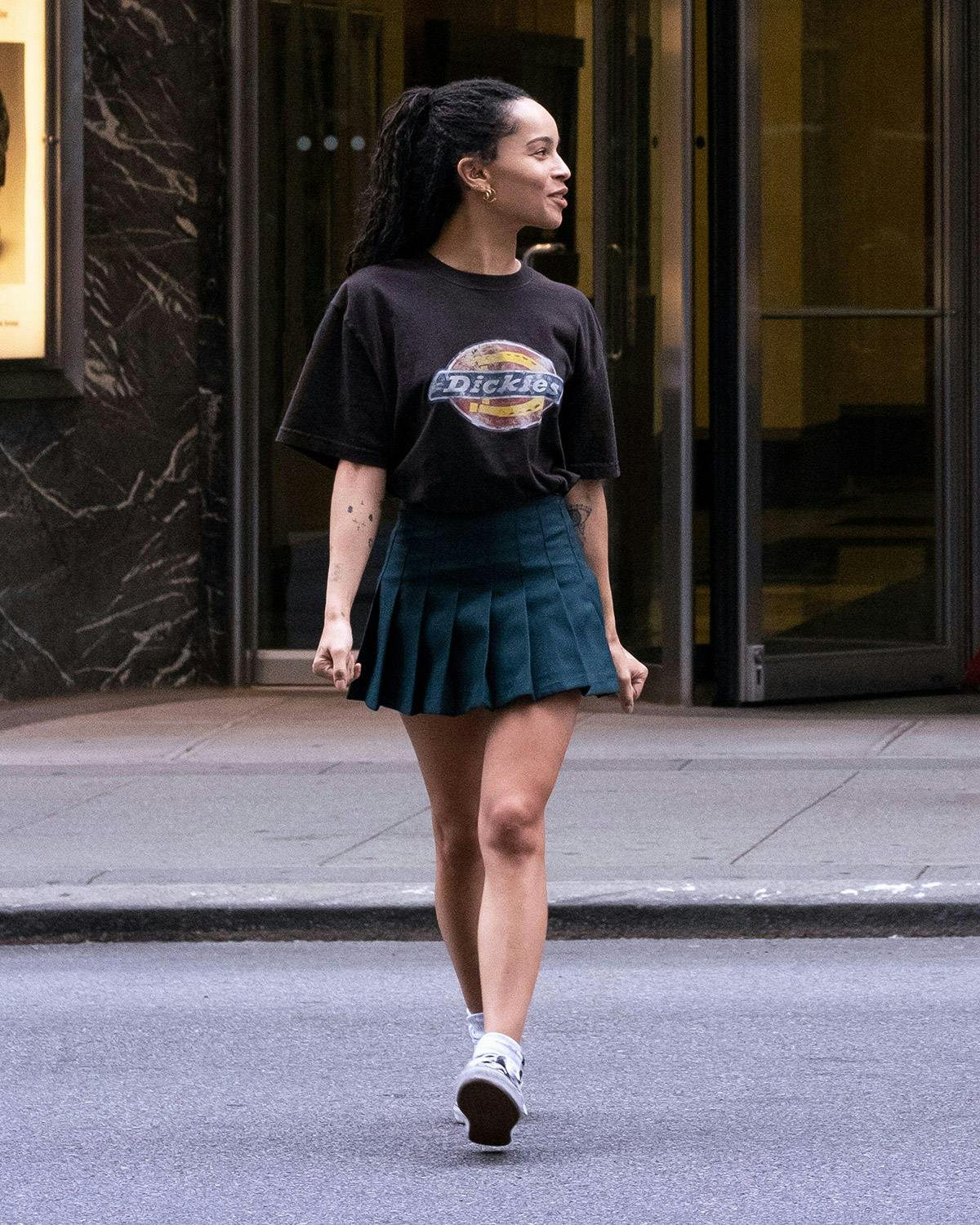 High Fidelity (2000)
In many ways, Rob Gordon does not care much for fashion. Played by John Cusack in the beloved 2000 film High Fidelity, the music-loving man who works in a record shop wears ordinary clothing, from sloppy knits to plain shirts and graphic tees (one of which features a big Dickies logo). In contrast, when High Fidelity was reimagined as a series in 2020 starring Zoë Kravitz, the fashion press went wild over Kravitz's wardrobe based directly on Cusack's original threads — Dickies logo shirt included. One glossy write-up declared, "Buy your own Dickies shirt on eBay to stay ahead of the assured trend," while another enthused, "Classic. Classic. Classic. And affordable." The instant trendiness of Kravitz's look illustrated that Dickies' popularity, like with all clothing, is subject to fickle fluctuations in style. Hello and welcome, Y2K nostalgia.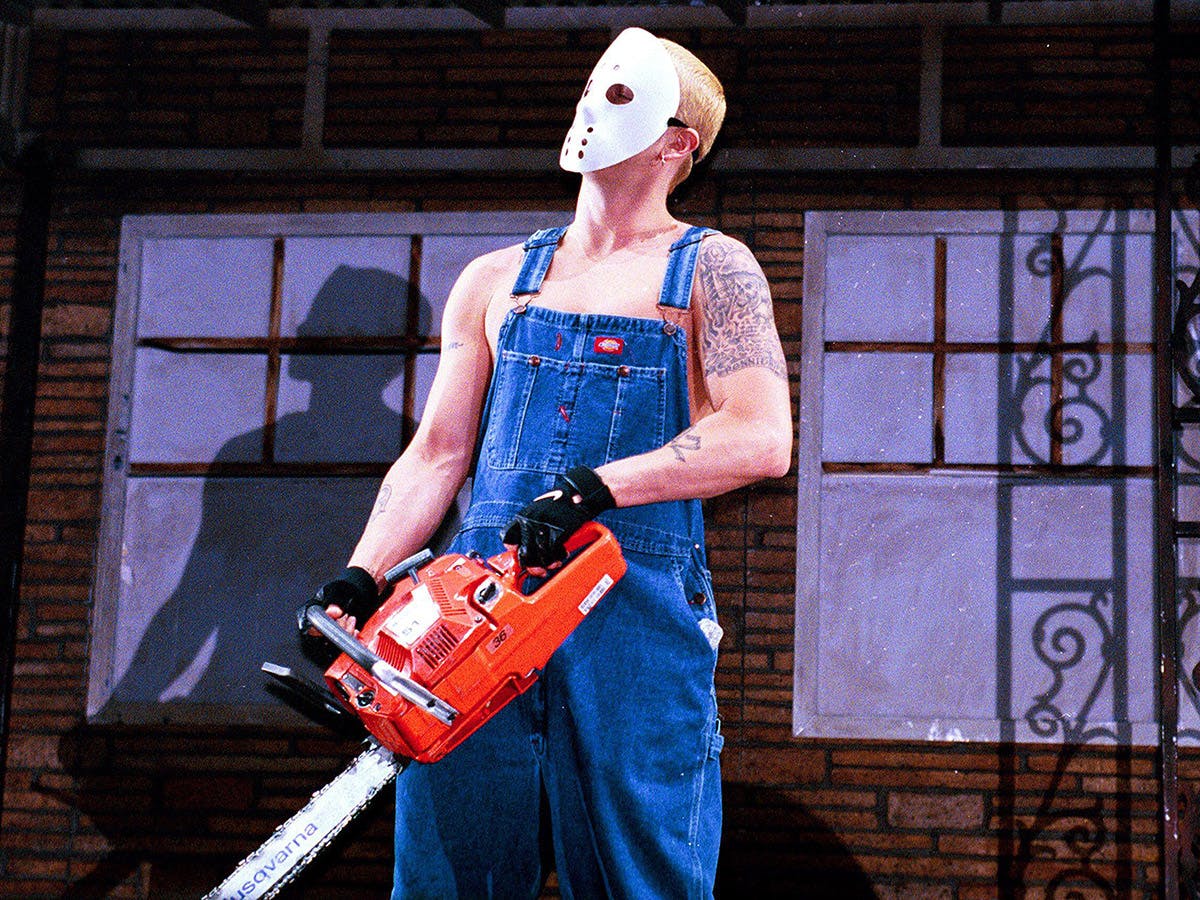 Eminem's Jason Moment (2001)
Eminem is no stranger to cultivating blue-collar clothing references while drawing on the rich visual history of hip-hop style. For the BRIT Awards in 2001, the rapper opted for a pair of Dickies denim bib overalls, fingerless gloves, an ice hockey mask, and a chainsaw accessory, clearly referencing supernatural slasher film icon Jason of the Friday the 13th series. Em has acknowledged his admiration for Tupac as the greatest songwriter of all time, and it is clear that he also built on the style legacy left by the late rapper.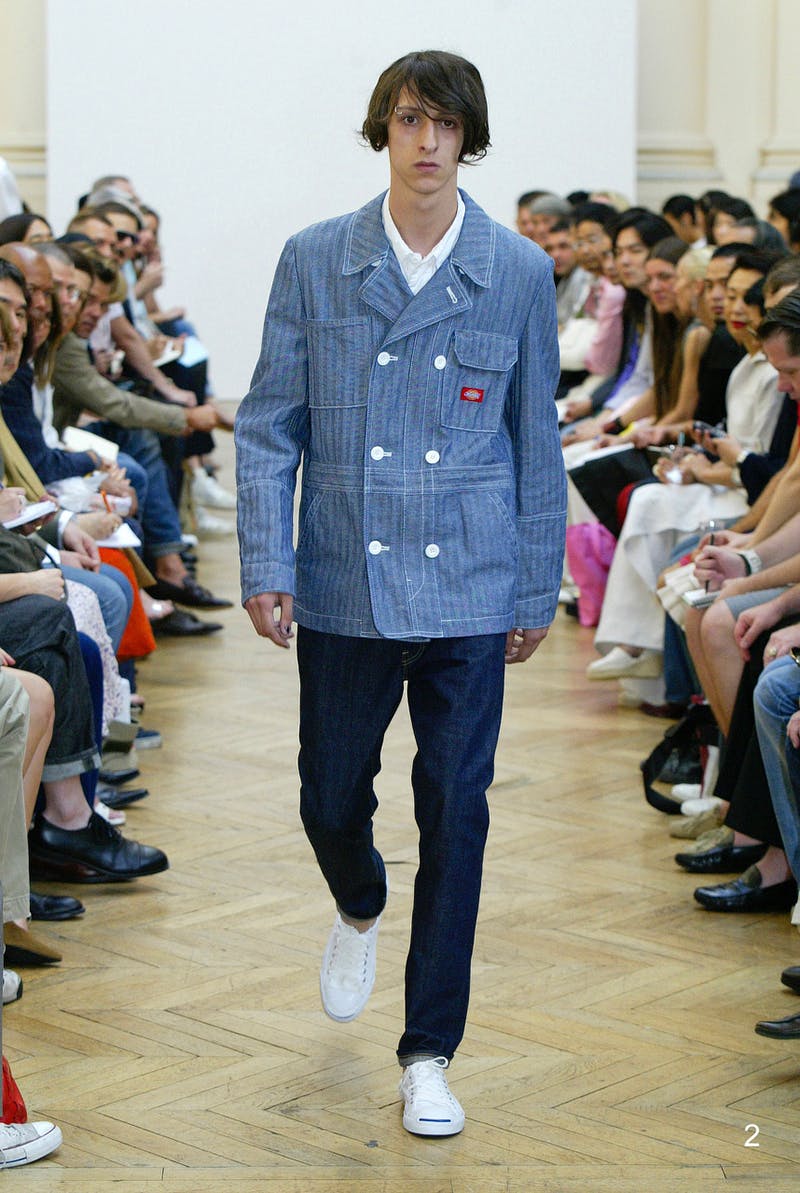 Junya Watanabe (2006)
Long before a partnership between two seemingly disparate high and low brands was released every other day, collabs like this felt a little more novel. So when Japanese fashion designer Junya Watanabe sent a number of outfits down his Spring/Summer 2006 runway in collaboration with Dickies, he brought blue-collar aesthetics to the catwalks of Paris. Workwear has long been fetishized by high-end fashion designers, particularly in menswear, but by making references to carpenters, farmers, gardeners, and tradesmen, Watanabe's show stood in stark contrast to the "smart" suit styles offered by his peers. It was, in many ways, a seminal menswear fashion moment — but it was also a misstep in acknowledging the rich makeup of the blue-collar workforce and pop culture idols who helped build Dickies into a clothing juggernaut, as all 49 looks in the show were modeled by an undiversified group of men.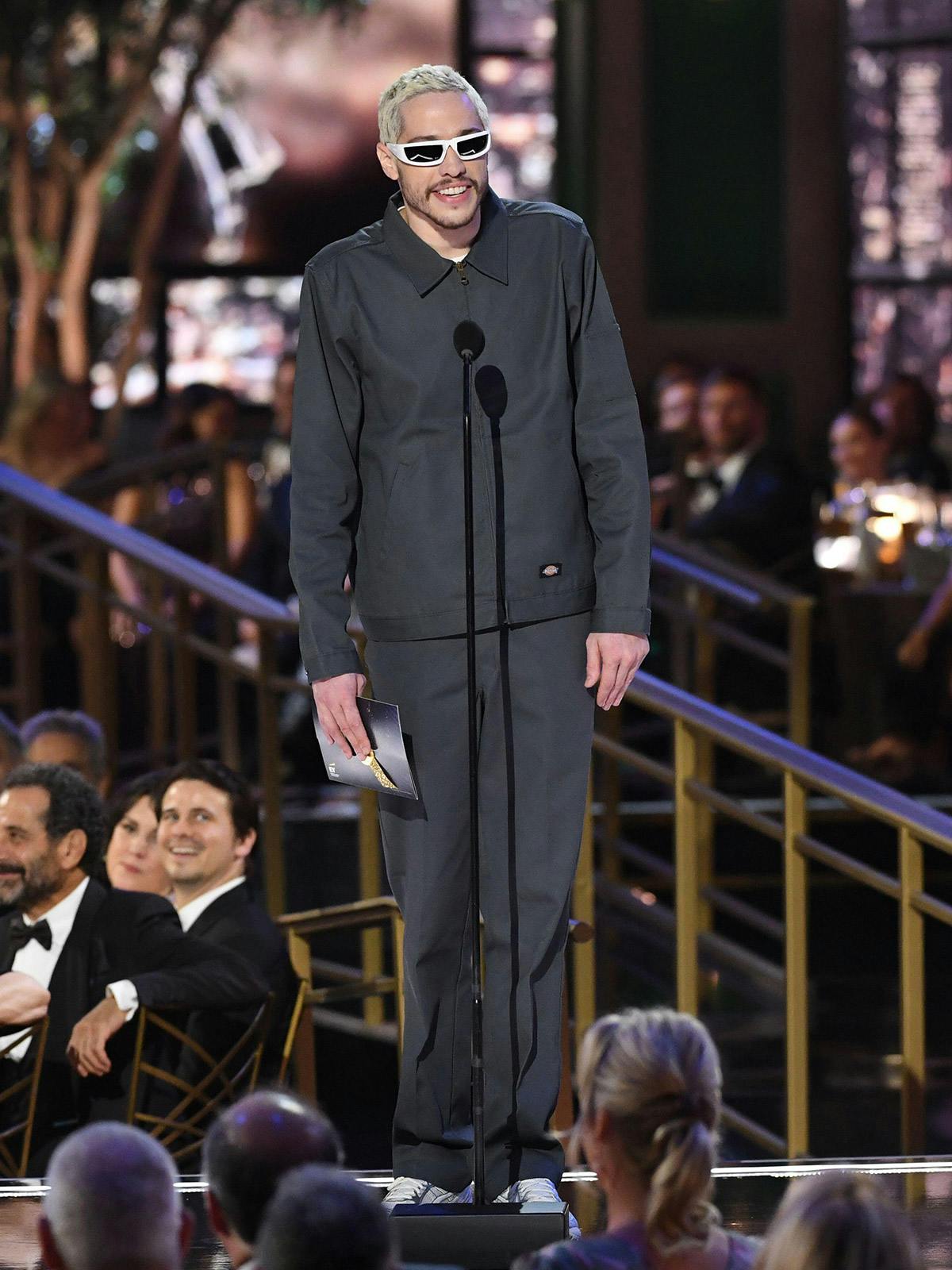 Pete Davidson at the Emmys (2022)
Known for his casual (and sometimes polarizing) sense of fashion, it came as no surprise that Pete Davidson turned up to the 2022 Emmy Awards in full-on workwear. Onstage to present an award, the comedian wore Dickies' famous Eisenhower jacket, originally developed by Dwight D. Eisenhower during WW2. Worn with matching gray trousers, sporty sunglasses, and a pair of ASICS sneakers, Davidson cemented his status as the king of casual. Unsurprisingly, the Internet went wild. Davidson's choice to reject dressing up for an event where we're used to seeing haute couture gowns and well-ironed tuxedos on the red carpet was celebrated all over social media. It was also his first appearance since his short-lived romance with Kim Kardashian, so it was bound to turn into a media spectacle — not least because of the comparison that were being drawn over the outfit he was wearing.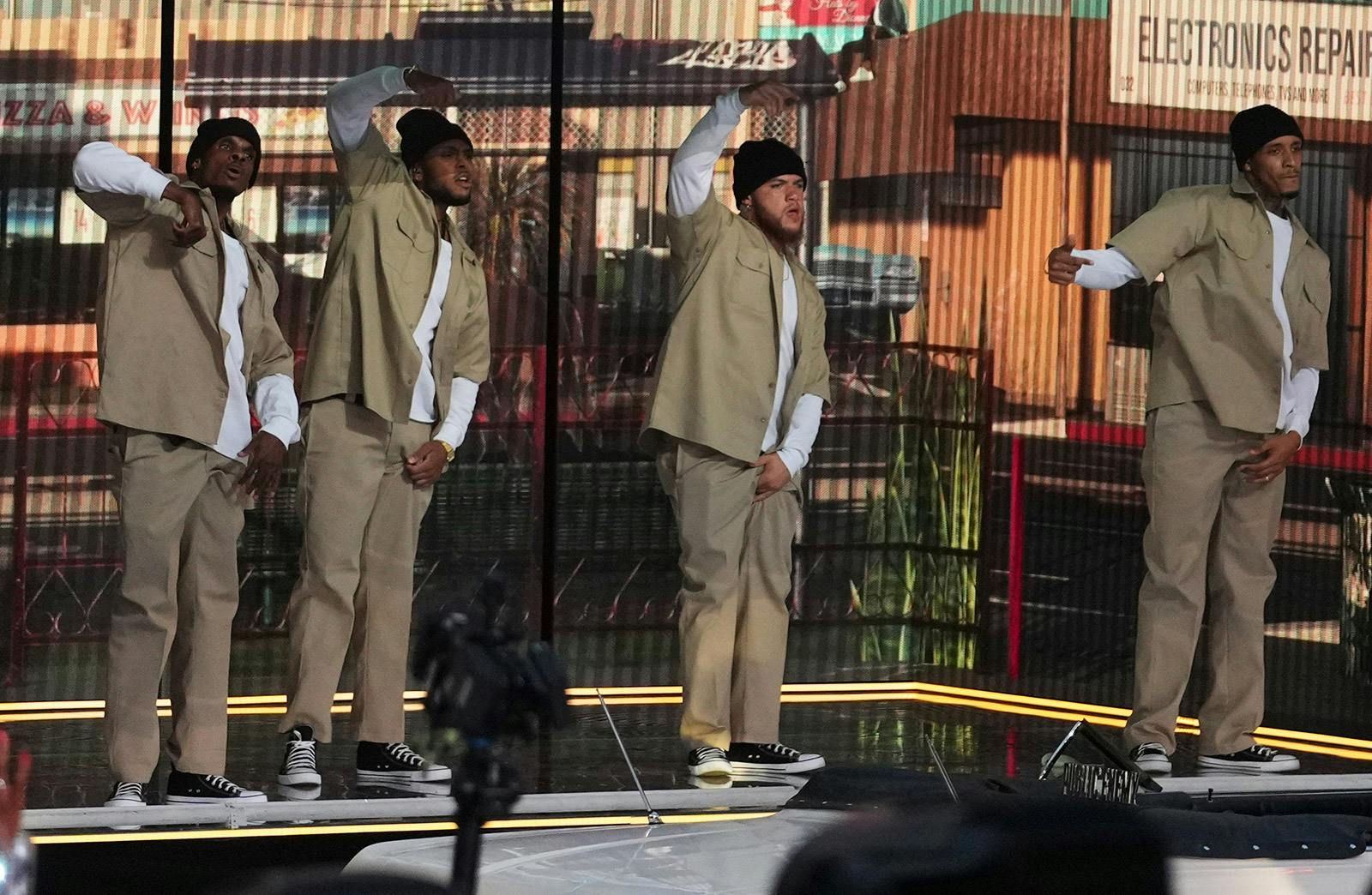 The Hip-Hop Halftime (2022)
Watched by approximately 100 million viewers across the world, the Super Bowl Halftime Show has a formula: a big pop star (or a handful of them), a medley of past crowd-pleasers, and an army of backup dancers. So it was only fitting that in Dickies' centenary year, a group of dancers wearing beige Dickies suits would contrast the five polished millionaire stars on the 2022 stage. In many ways, this moment culminated all the built-up reference points for the brand, from its humble workwear origins to chart-topping hip-hop. Unlike many companies who pivot according to the latest trends, Dickies has remained consistent throughout its history. Though cultural associations have altered the way in which the brand is seen and understood, Dickies has continued what it started many years ago, with finesse and unparalleled craftsmanship.
Head here to get a copy of the new issue of Highsnobiety Magazine.