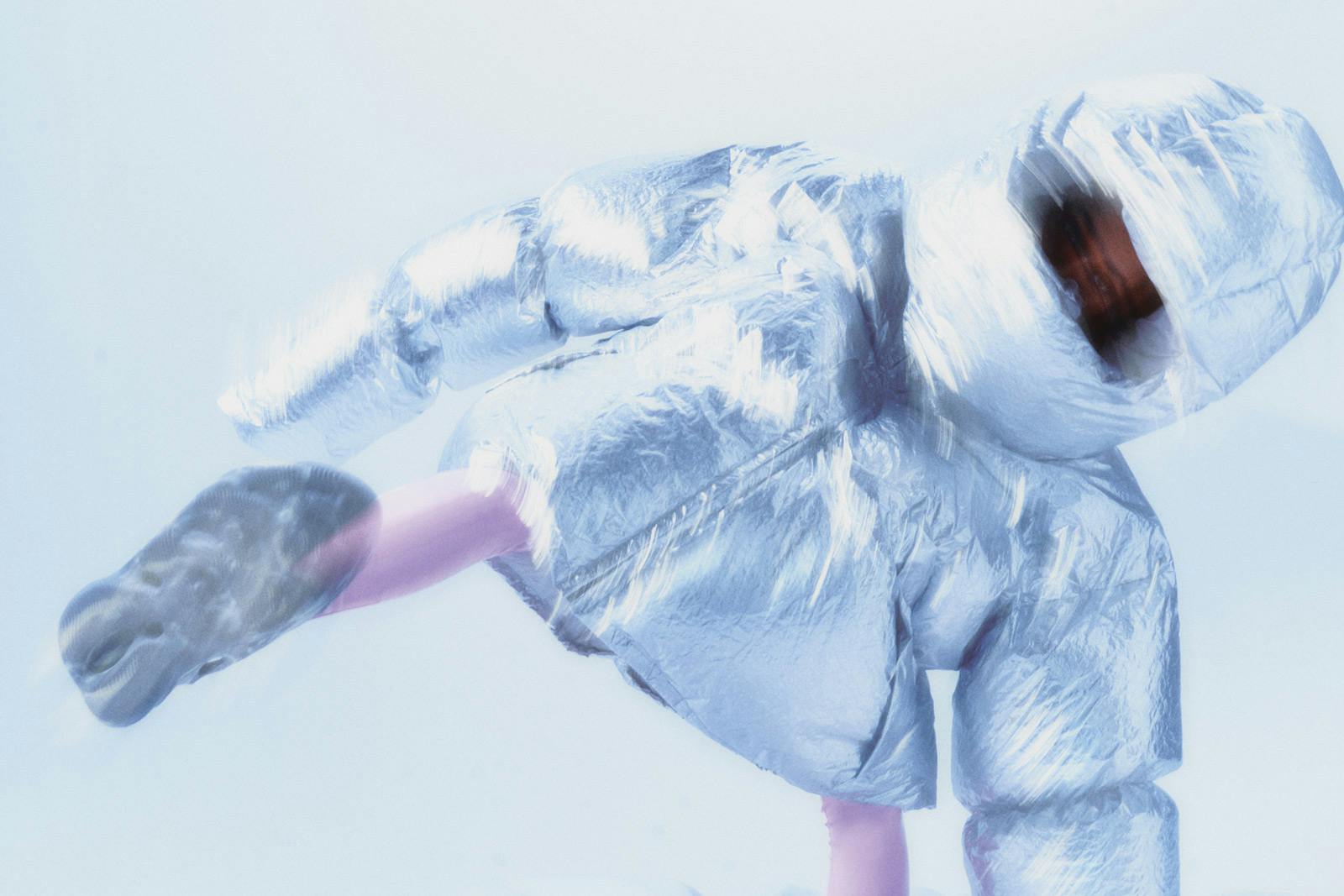 Highsnobiety / Aidan Zamiri
This story appears in HIGHTech, A Magazine by Highsnobiety. Our new issue, presented by Samsung, includes exclusive pages of interviews, shoots, merch, gadgets, technical gear and more. Order a copy here.
We just dropped our own collaboration with Moncler, shop the drop here
A$AP Nast, Daniel Arsham, and Tremaine Emory follow him. So do Sean Wotherspoon, A$AP Ferg, and Jerry Lorenzo. Same with the publications 032c and Dazed; the curation accounts Hidden.ny, Samuturo, and LilJupiter; and his YEEZY colleagues Mowalola, Kitty Shukman, and sneaker legend Steven Smith. All are among the 40,000 Instagram accounts who follow the 25-year-old Chinese designer Dingyun Zhang. And yet, he has never sold a single product. "Social media has helped so much, because right now the promotion is free, it's fast, and big accounts reposting your stuff let the whole world see your product," says Zhang, sitting with me in an empty hotel lobby in East London, a stone's throw away from his apartment and Central Saint Martins, the prestigious fashion school he graduated from earlier this year.
After reposts came the flood of direct messages. "I don't receive emails anymore from stylists and editors, they book looks directly through Instagram DM," he says. It's how the stylist of South Korean pop star CL got in contact, requesting multiple of Zhang's signature oversized puffers for the singer's video "Post Up." It's also how Vogue Italia, V Magazine, and SZ Magazin got in touch. I hit up Zhang this way myself. We all want a piece of the designer's highly distinctive bright-and-bold Instagram aesthetic that — together with his association with Kanye West's YEEZY line, where he works on footwear — has given us editors the egotistical urgency to herald him as the next big thing.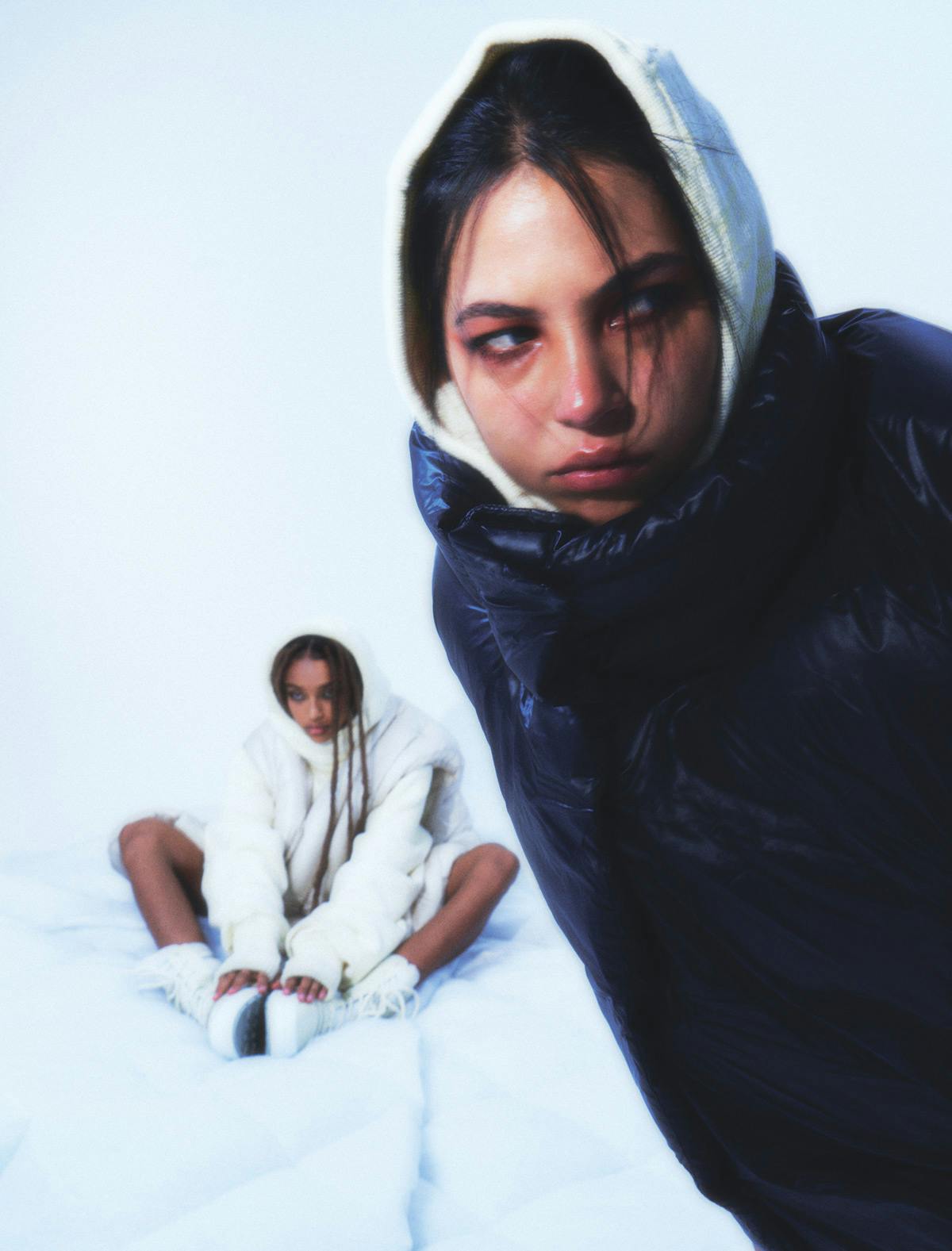 While comfortable gargantuan puffers, exaggerated track pants in sporty nylon, and elongated sweatshirts created from dead stock — in colors so perfectly fitting with the rest of the ensemble — make up Zhang's characteristic functional aesthetic, his first touchpoints with fashion came through footwear. Born in Nei Mongol, Zhang grew up in Beijing, where he remembers basketball being incredibly popular. At age 10, his attention was frequently directed to NBA games. "If you wanted to be cool, you played basketball," he says. "I wasn't quite into fashion yet, but I was really interested in Kobe and Jordan sneakers."
During his daily trek to school, he would pass by Beijing's flagship Nike store, where a new advertisement featuring Kobe Bryant, LeBron James, or Allen Iverson would cover the entire façade of the shop. Inside were rare editions of their iconic sneakers on display in glass boxes. Zhang had to wait. Not only did his parents refuse to buy him a pair, at the time, he didn't fit into the shoes he desired. "I wanted the real ones, not the simplified kid's versions. They felt fake because all of those crazy details and fabrics were gone, since shoes for adults are built differently."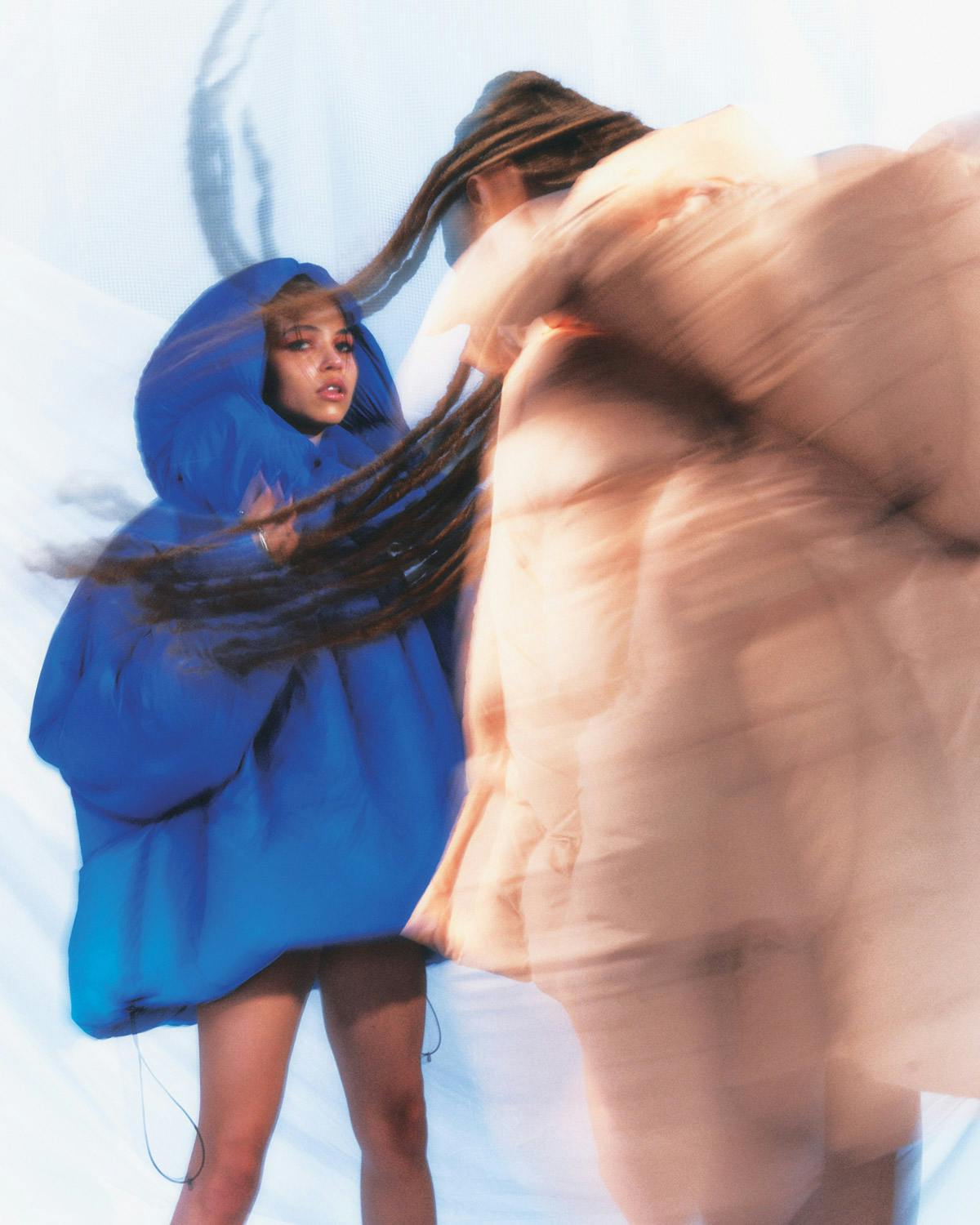 With the sneakers being unattainable, Zhang would take photos of them, focusing on every detail. He saved up to buy the Chinese footwear magazine SIZE and started sketching the shoes. "On the empty edges of my English and math books, I would re-sketch sneakers. I would also make these Pokémon-esque cards that had the different strengths and abilities of each sneaker and sell them to friends."
Shop Our Favorite Puffer Jackets
At age 16, inspired by the painters Robert Rauschenberg and David Hockney, Zhang moved to Somerset, United Kingdom, to study fine art. "I would experiment with cutting up magazines and photography, to distort pictures and produce new imagery," he explains — a multimedia process that, to this day, has replaced traditional fashion drawings as the starting point for his designs.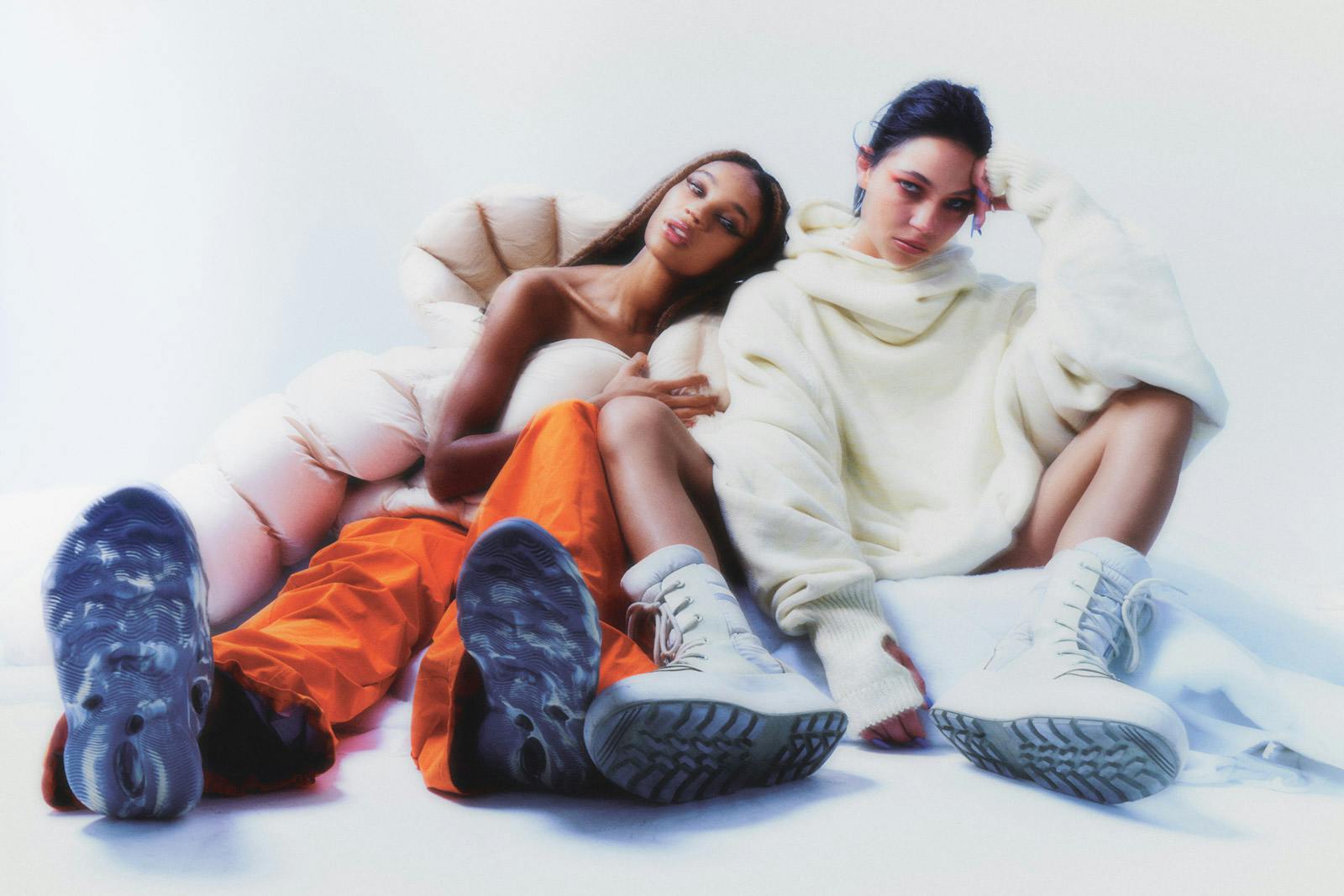 Highsnobiety / Aidan Zamiri
Then came Central Saint Martins, the London school that once upon a time trained the greats such as Lee Alexander McQueen, John Galliano, Stella McCartney, Hussein Chalayan, Craig Green, Riccardo Tisci, and Phoebe Philo, each of whom have disrupted fashion at different times. "My time at CSM really pushed me to my creative limits. It really forces you to think outside the box and find yourself without being influenced or copying what already exists, because the tutors will immediately be able to tell."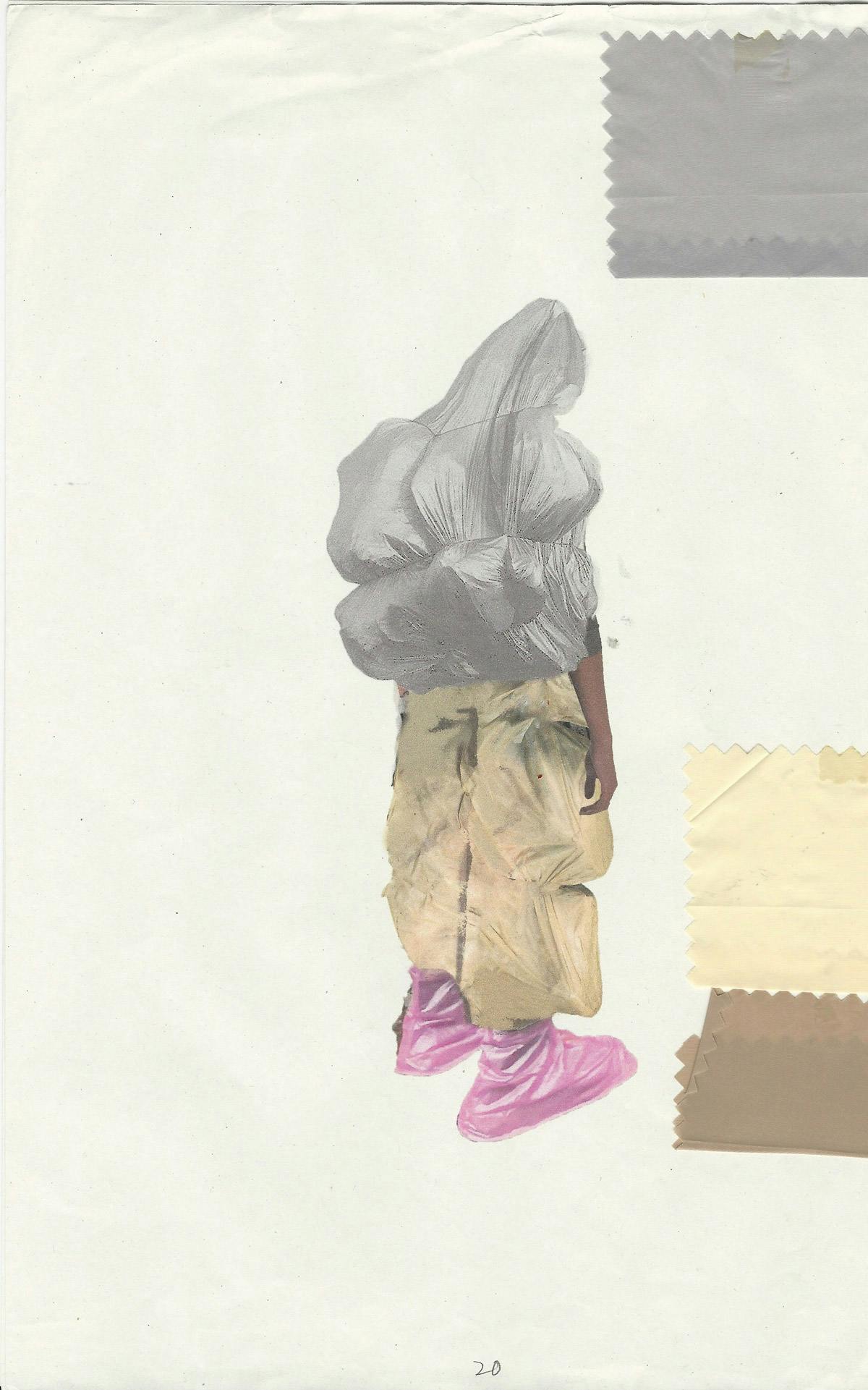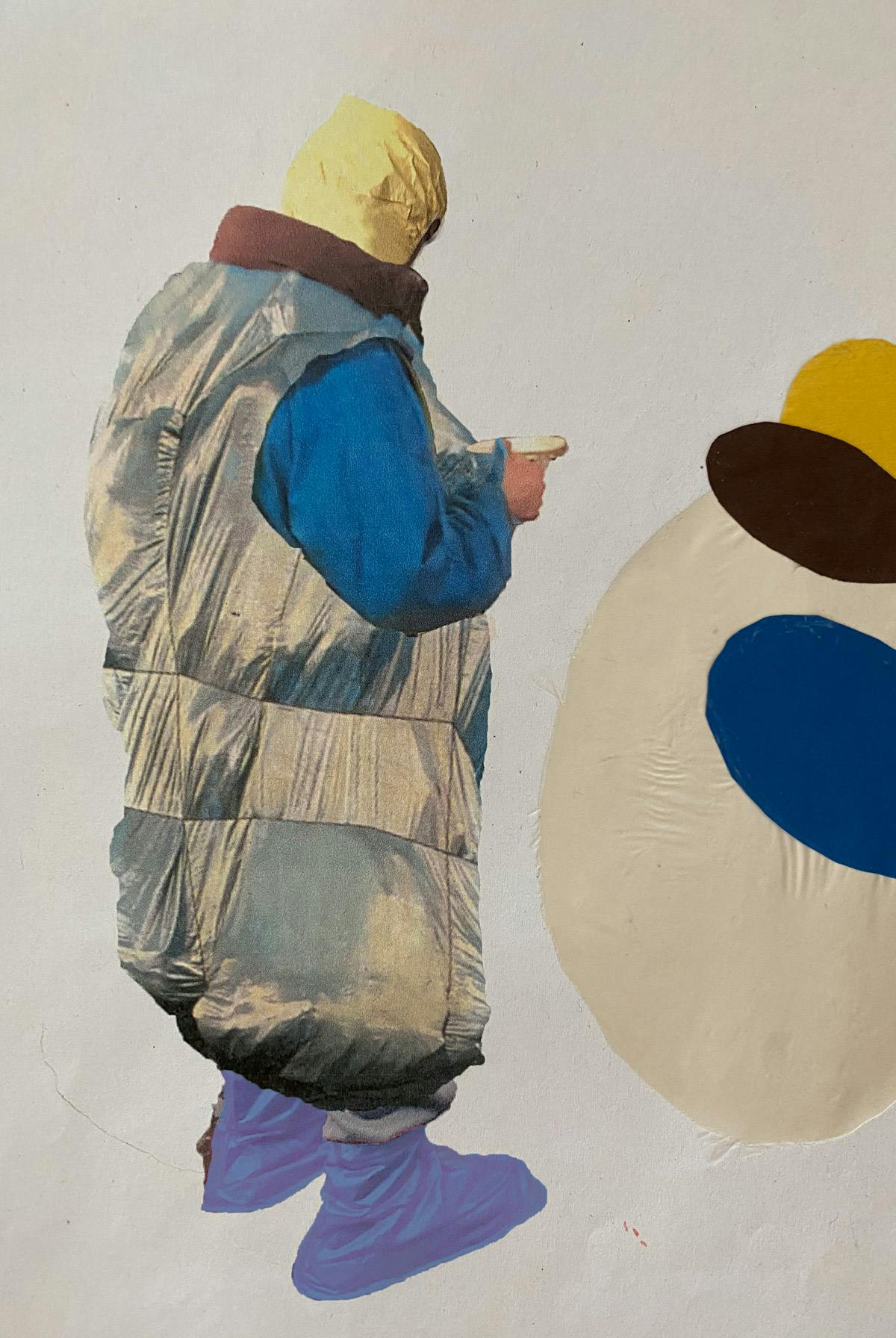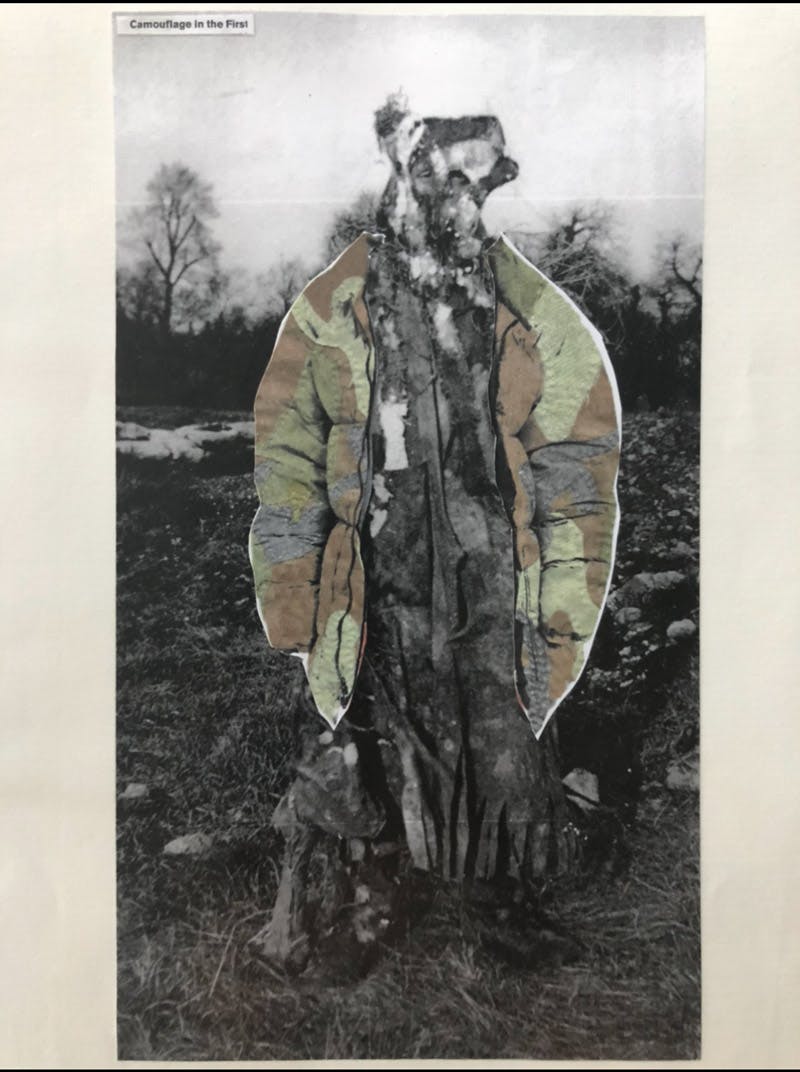 Zhang did his foundation year at the school, saying it helped him get into the highly competitive BA menswear course, and later the MA curriculum. At this time, the two once-contrasting worlds of streetwear and luxury fashion began to collide, a sea change in which Zhang saw an opportunity that fit his own interests. He noticed West progressing his chops as a creative director during his Watch the Throne Tour while building his relationship with the late Louise Wilson, a respected mentor and dean of the CSM MA course. Meanwhile, Zhang would buy Stone Island and C.P. Company, respected brands that have always lived in no man's land between street and luxe. "Among the people in my class, streetwear was kind of stigmatized as a 'fuccboi trend.' I was the only one in the group trying to work with and elevate it."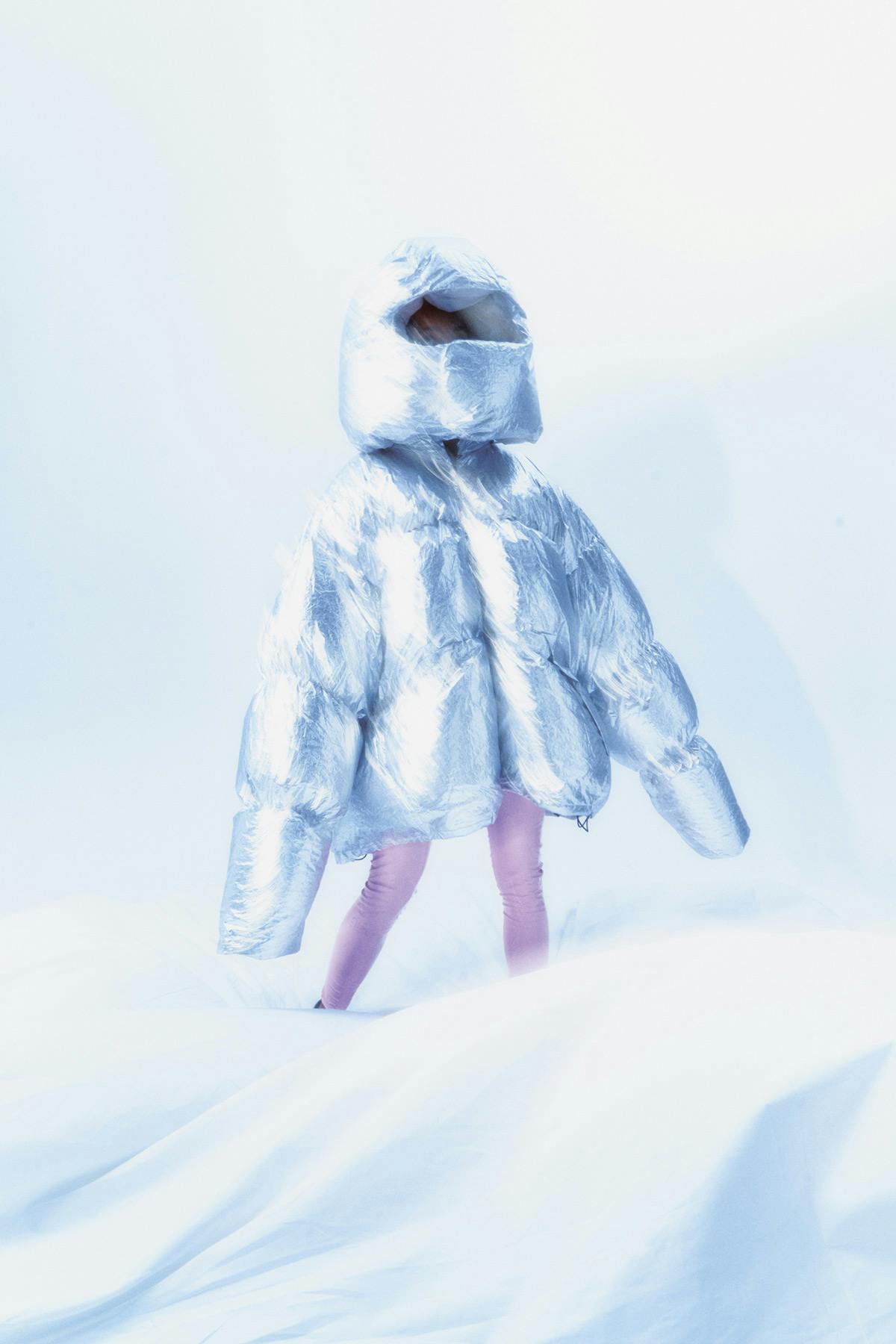 At the end of his second year, one of Zhang's tutors put him in touch with YEEZY. He flew to Calabasas and was hired on the spot. "In the beginning, I designed some of Season 4's bomber jackets, put things in the right color, worked on technical drawings and other errands." After a number of months, Zhang had another meeting with West, who reviewed his portfolio and was drawn to his unique collage-based pre-design process. "I started designing directly what he wanted. I started communicating with footwear factories and the apparel ateliers in LA, which helped me understand the process of how to produce a real shoe from scratch."
Since Zhang joined YEEZY, he's worked on popular sneakers including YEEZY 700 Wave Runner series as well as multiple basketball and military models. Earlier this year, West supplied Zhang with a custom YEEZY Foam RNNR for his graduate MA collection. An unreleased Foam RNNR High Top as teased on West's Twitter account was also designed by Zhang.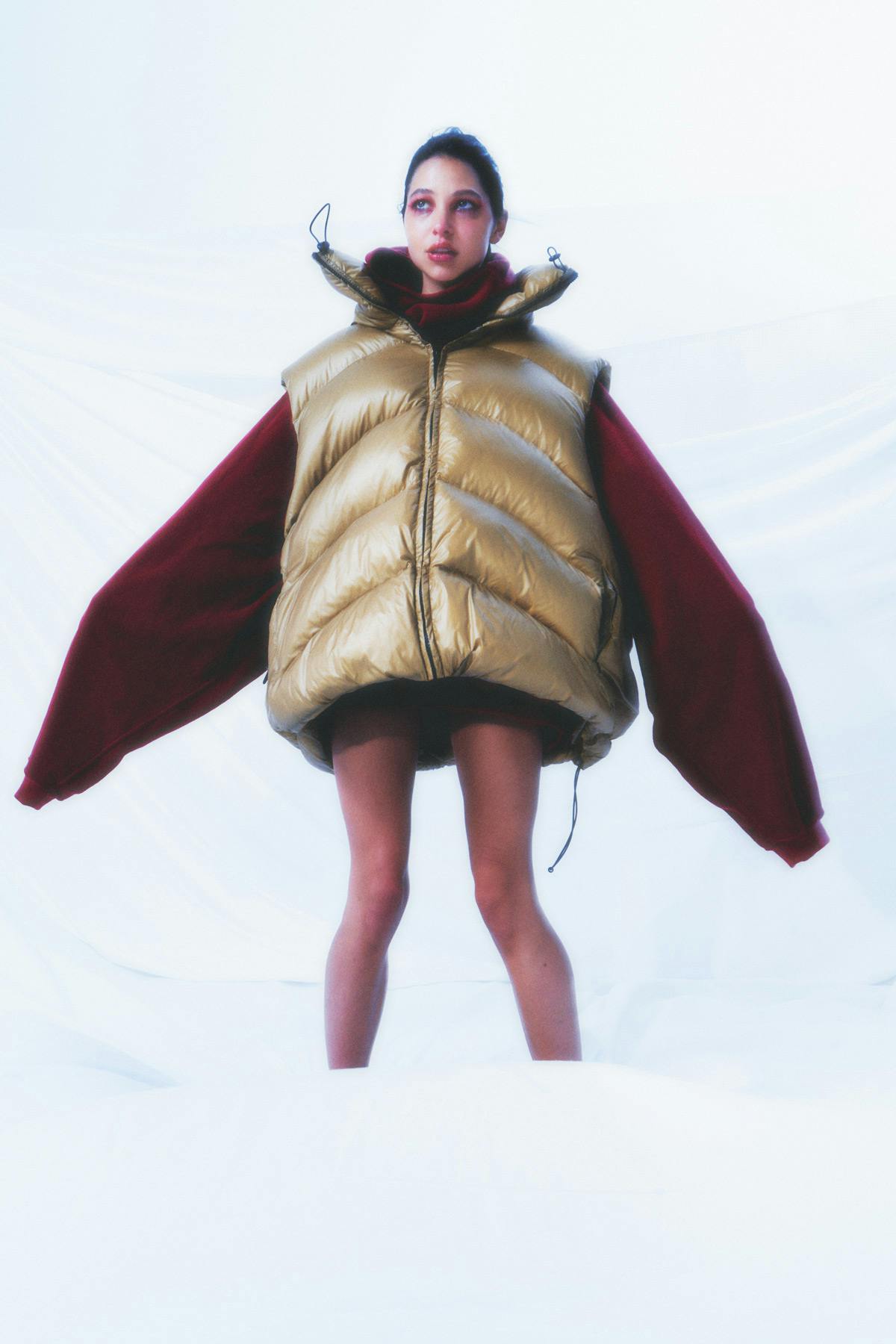 At this pivotal point in his career, Zhang is now stuck in limbo. Not only has COVID-19 slowed down the process of finding a local partner to produce his graduate collection — for the handful of stores who have already shown interest in carrying his label — but his move from London to Cody, Wyoming, where Kanye has turned his 1,400-acre ranch into a YEEZY Campus, has also been halted until US restrictions ease.
Until then, he's creating new footwear models from leftover materials in his room that he texts to Kanye daily, while plotting how he'll grow his own namesake brand. A collaboration with Birkenstock is already slated to release in February of next year. "I now do it alone, but eventually I'll gather a team," he says. Showing new collections through a fashion show format might not be the way for him, he adds. "The other day I went to an Andy Warhol show at Tate Modern, and maharishi did a collection at the [gift shop]. I bought one of the pants. It was the whole package. So, I was thinking about doing things like this."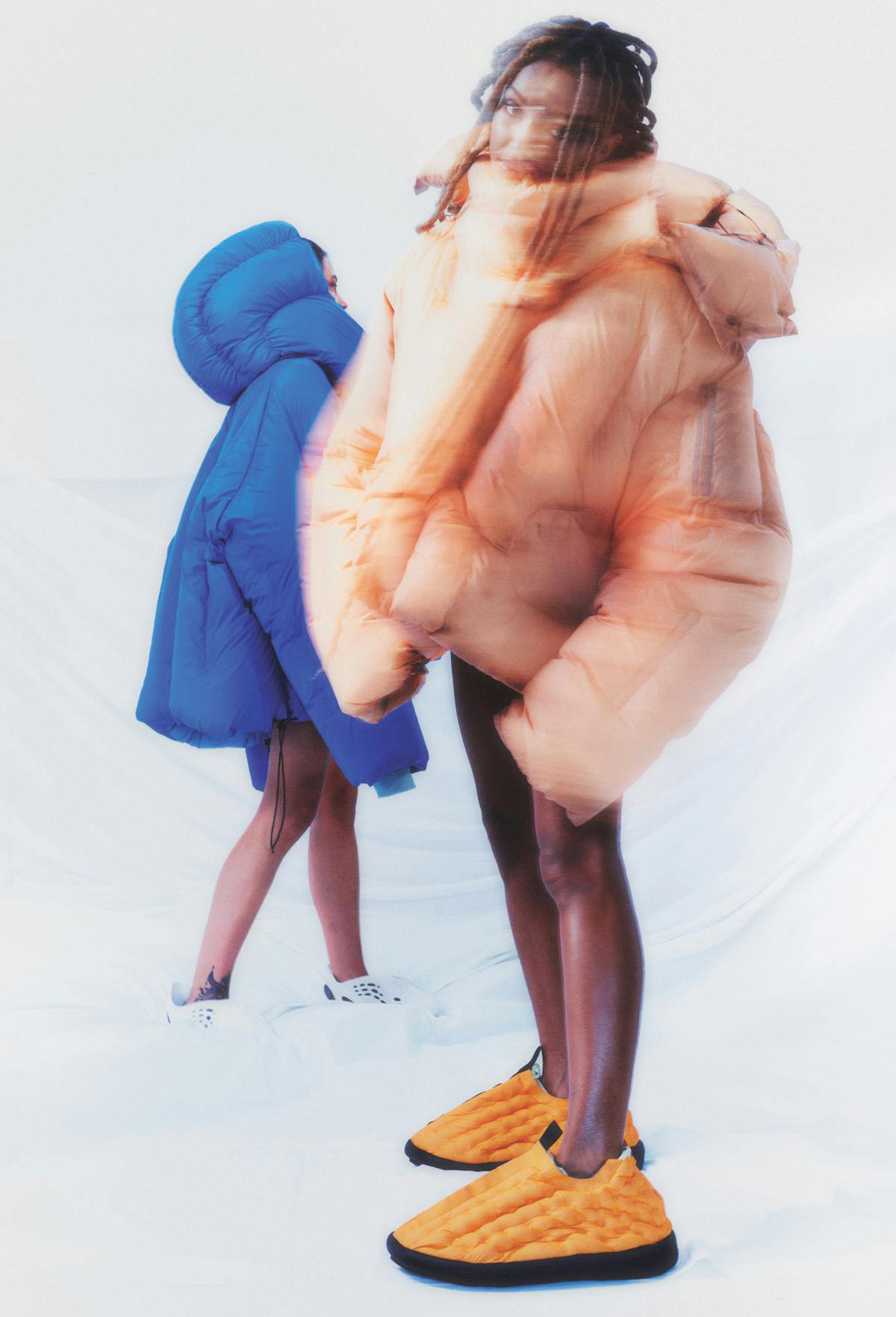 Details like the perfect wash tag, he stresses, will be crucial, as will finding sustainable solutions like recycled plastic bags for his packaging and alternatives to using animal products. The giant backpacks he recently pushed out on his channel are made from nylon and scuba diving neoprene, bonded together to mimic the properties of real leather.
"Perhaps I'll start releasing daily functional pieces through a digital space," he says. "The state of fashion right now when it comes to young designers seems more lucrative in terms of exposure and opportunities. Growing organically without trying to expand too soon is something I'll try to focus on."
Shop Our Favorite Puffer Jackets