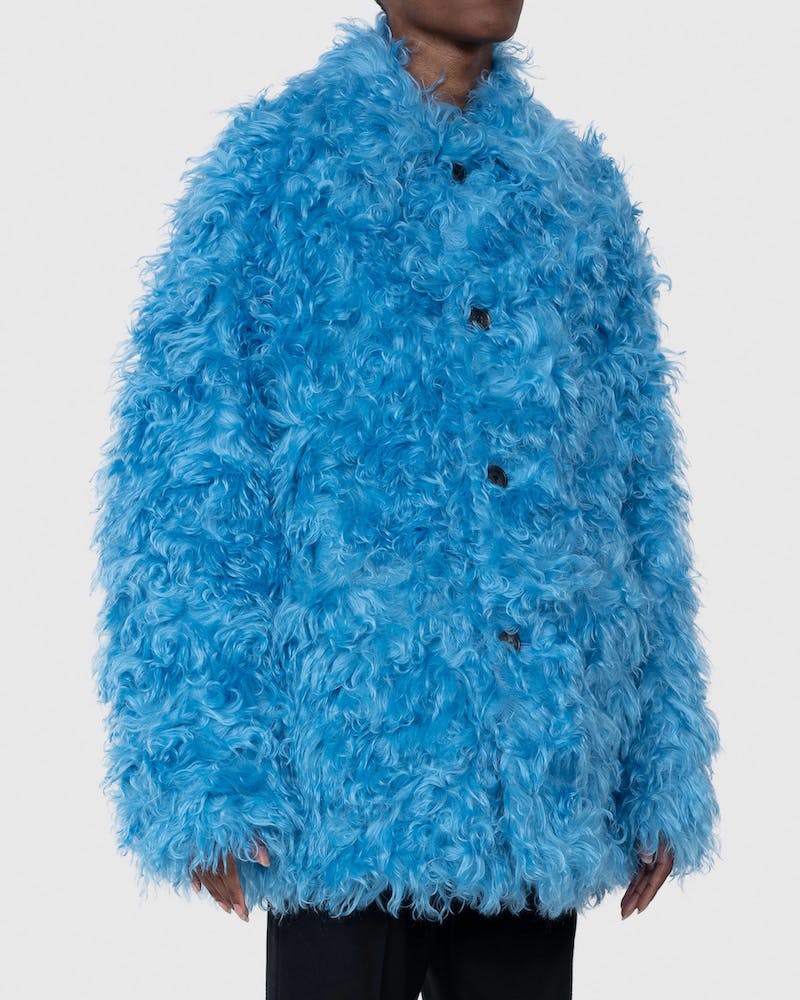 Brand: Dries Van Noten
Season: Fall/Winter 2022
Key Pieces: A master of prints and patterns, a Dries collection would not be complete if it didn't have some bold fabrics. We weren't quite expecting something as outlandish as these furry blue pieces from the designer though.
Buy: Highsnobiety Shop
Editor's Notes: Nicknamed the "diamond fabric," mohair has been one of the most sought-after materials in recent seasons. High fashion label Marni has turned its fluffy striped jumpers into a signature piece for the brand, even expanding to fluffy shoes, while streetwear labels such as Stüssy and Fucking Awesome have also been getting in on the fun.
However, I'm not sure any of them have been able to make the fabric more eye-catching than Dries Van Noten has with his FW22 collection.
The Belgian designer has released a selection of pieces covered in a bright blue mohair blend with long strands of soft hair spilling out to create a distinctive texture.
It's as if the Belgian designer has skinned a yeti, or the Cookie Monster, or maybe Sully from Monster's Inc., to create the fuzzy blue material.
To get the full fluffy experience, there are three pieces currently available in the fabric. There's a relatively standard-fitting bucket hat that often features in the designer's collections, called the Gilly Hat, an oversized button-up jacket, and a belt where the silver buckle can hardly be seen poking out from behind the piles of fluff in front of it.
When the FW22 collection was first presented through a lookbook, Dries described it in a press release as "a tribute to a life that we lost, a dreamy atmosphere with no boundaries. It is all about having fun again, touching, kissing people, exploring the forbidden, living carefree."
These latest pieces from the 64-year-old designer deliver on his want to have fun, and they arrive alongside a host of other distinctive styles.
Those who have watched the 2017 documentary Dries, will know that the designer's creative process begins with the fabrics and prints that he has become famous for as opposed to the silhouettes of the clothes. This season, those prints include florals, abstract splashes of color, and a blotchy tie-dye print which are used across the collection, from tote bags to long coats.
Also new for this season, lyrics to the British band Suicide's "Dream Baby Dream" are used to create a print. The song was used as the backing track for the short film that first introduced us to the collection, as well as being projected onto the walls.
To check out the latest pieces to drop from Dries Van Noten's FW22 menswear collection, head over to the Highsnobiety Shop.
Scroll down to shop a selection of pieces from the Dries Van Noten FW22 collection.
Want to keep browsing? Head to the Highsnobiety Shop for more products that we love.