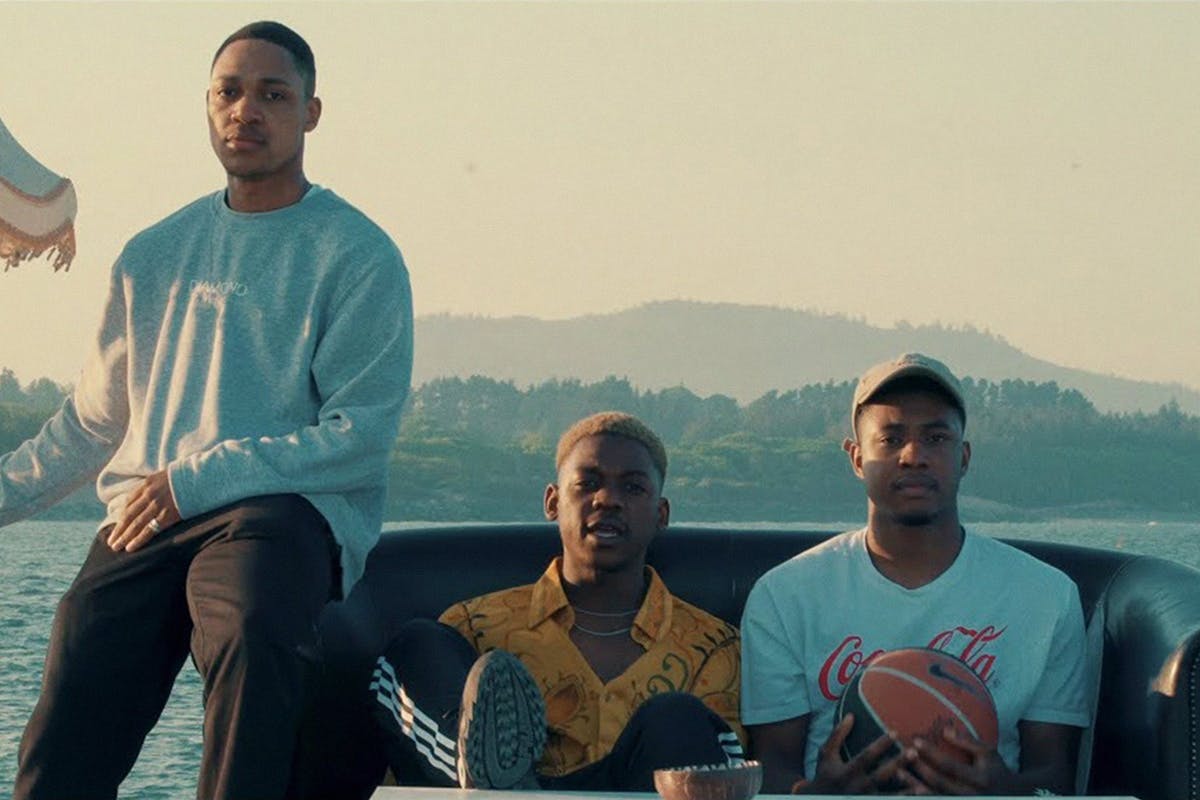 Hip-hop might be global, but in Ireland things have caught on a little slower. Don't get me wrong, Irish people have always listened to hip-hop, but until recently the idea of someone rapping with an Irish twang was considered laughable by many. But the popularity of grime and international hip-hop has helped lend legitimacy to Ireland's rising scene, with listeners worldwide looking outside of North America and embracing rap with an accent.
Hip-hop as a genre has moved from the fringe to the mainstream in Ireland. When I was growing up in Dublin, most acts would skip the city en route to more hip-hop friendly places across Europe. But this year, the lineup of Dublin's Longitude Festival rivaled that of New York's Panorama, with Migos, Post Malone, Cardi B (before she canceled), Travis Scott, and Tyler, the Creator all on the bill.
In terms of local output, there isn't a single, distinctive "Irish rap" sound. The acts on this list range from Kojaque's Dublin-focused tracks about fragile masculinity to the lighthearted, pop-inspired Hare Squead via trap group NUXSENSE rapping lines about Juuls. It's not Irish hip-hop, it's just hip-hop, and of a quality that's on an international level.
That said, with the scene still emerging, some of these artists haven't even "made it" in Ireland yet, much less anywhere else. But they're all changing the country's hip-hop game. One thing to note is the lack of women on this list. Ireland has plenty of women R&B singers, but when it comes to rap, the scene is definitely still a bit of a boys' club. Let's hope to see more women making a name for themselves in the scene as it grows.
For now, though, here are 10 Irish rappers that showcase the country's rising hip-hop scene.
Rejjie Snow
It's hard to talk about Irish hip-hop without mentioning Rejjie Snow. The artist is Ireland's biggest hip-hop export and helped pave the way for the current wave of rappers.
He came onto the scene in 2011 under the moniker Lecs Luther with the track "Dia Dhuit" (Irish for "hello"), prompting comparisons to Earl Sweatshirt and general bafflement that Irish people could rap. He later renamed himself Rejjie Snow and carved out a place for himself in the international scene.
Kojaque
Self-described "soft boy" Kojaque's work examines the daily realities of life in working-class Dublin, ranging from partying ("What's the bets I'll sneak a naggin in my boxers?") to a deeper exploration of modern masculinity ("What I like best about myself is I detest my fuckin' self").
Kojaque first rose to prominence with the beautifully shot "Midnight Flower" video, an extreme take on Radiohead's clip for "No Surprises" in which the artist deprived himself of oxygen by rapping underwater for a dangerously long three minutes. He recently dropped Deli Daydreams, a concept album of sorts that follows a week in the life of a deli worker, exploring what it's like working a job you hate and still struggling to get by.
An honorable mention also goes to Kojaque's frequent collaborator Luka Palm. Only just out of high school, Palm hasn't released many solo tracks to date but is definitely one to watch.
Hare Squead
Soulful Dublin trio Hare Squead almost defy genre. Taking inspiration as much from from pop-punk acts like Panic! at the Disco and Fall Out Boy as Kanye West and Kid Cudi, members Jessy Rose, Tony Konstone, and Lilo Blues produce a mishmash of hip-hop, R&B, and pop.
This mix is most evident on breakout hit "Herside Story," a lighthearted love song that's a perfect end-of-summer track. The group's optimistic beats act as an antidote to some of the more overtly emotional artists on this list.
NUXSENSE
Ireland's answer to BROCKHAMPTON, NUXSENSE are a seven-piece hip-hop group comprising Yung Peso, Jehnova, Luthor, AL-I, Prophet Goon, Bogzy, and sivv.
They're the best example of the international sound found in the Irish hip-hop scene. The members all grew up in Dublin but were born outside of the country, coming from places such as the Philippines, Nigeria, South Africa, Romania, and Brazil. But, like Rich Brian or Yung Lean, their sound isn't tied to their hometown, and instead speaks to the global domination of rap.
Over email, the group told Highsnobiety, "NUXSENSE, for us, is more than just a rap group; it's a brotherhood deeper than music." All members release music as solo acts, but as a group they've dropped EP Non-Linear and the "Reign" music video above. Expect a lot more from NUXSENSE in the coming months.
7th Obi
One of the most exciting artists to come out of Ireland recently, 20-year-old rapper 7th Obi hails from Waterford, releasing moody, atmospheric trap made in collaboration with local producer LHK.
To date, 7th Obi has only released a handful of tracks, but his upcoming release Taxi Club, which he describes as "something for the loners, midnight marauders, and heartbroken," is set to drop later this year. When it does, expect to hear a lot more about this rising star.
Bobby Basil
One half of now-defunct group Dah Jevu, Bobby Basil has been a figure in the Irish hip-hop scene for a few years now.
Basil's first big solo track was 2016's "Poppybella," before a long stretch of silence until this year's "Wanna" with Major Grave and the above "I Don't Get Enough." His laid-back drawl masks rhymes about self-image and relationships, with Basil oscillating between introspective insights and classic rap bravado.
Jafaris
Jafaris walks the line between pop and hip-hop, especially on the track above, "Found My Feet." The song is the lead single off his upcoming album Stride, which is set to drop on October 6. If the single is anything to go by, the album should be full of feel-good songs to help us through the winter months.
Bonus points for the song's accompanying video, too. Directed by Nathan Barlow, the clip manages to make Dublin look like a tropical getaway — no easy feat.
JyellowL
Part of Word Up Collective, a group dedicated to nurturing rising starts in spoken word and hip-hop, JyellowL first grabbed people's attention with "Cold in the Summer," a short film/music video hybrid that drew connections between Irish racism and police brutality in the US.
The rapper has maintained momentum since then, releasing tracks filled with strong, catchy bars such as "Spooky" (above) and tapping hip-hop's favorite mythical creature on "Medusa."
NEOMADiC
Dublin group NEOMADiC is for those still mourning the end of '90s hip-hop. Putting an Irish spin on the style, duo DYRAMiD and noGood rap about weed, cheap beer, and aliens in a way that owes more to Nas' Illmatic than anything out of Ireland.
Last year, the group dropped first mixtape The NEOMADiC Tape, which was part stoned imaginings and part Afrofuturism, and came paired with animated videos (of course). Listen to standout track "Languid Flowz" above.
Mythill Grim
One of the more emo rappers on the Irish scene, Mythill Grim pairs Drake-esque lovesick lyrics about failed relationships with dark, atmospheric beats. The result is great late-night-walk music or, as one YouTube commenter put it, music to listen to when you're in your feelings.
Grim's music pays tribute to both his Irish and Nigerian upbringing; the track "Leave Me Alone" (above) mixes his Dublin accent with a verse in Yoruba. Speaking about the track, Grim explained to District magazine, "It was just supposed to be a fun freestyle, but my heart got in the way."
For more in this series, check out 10 Norwegian rappers you need to know.