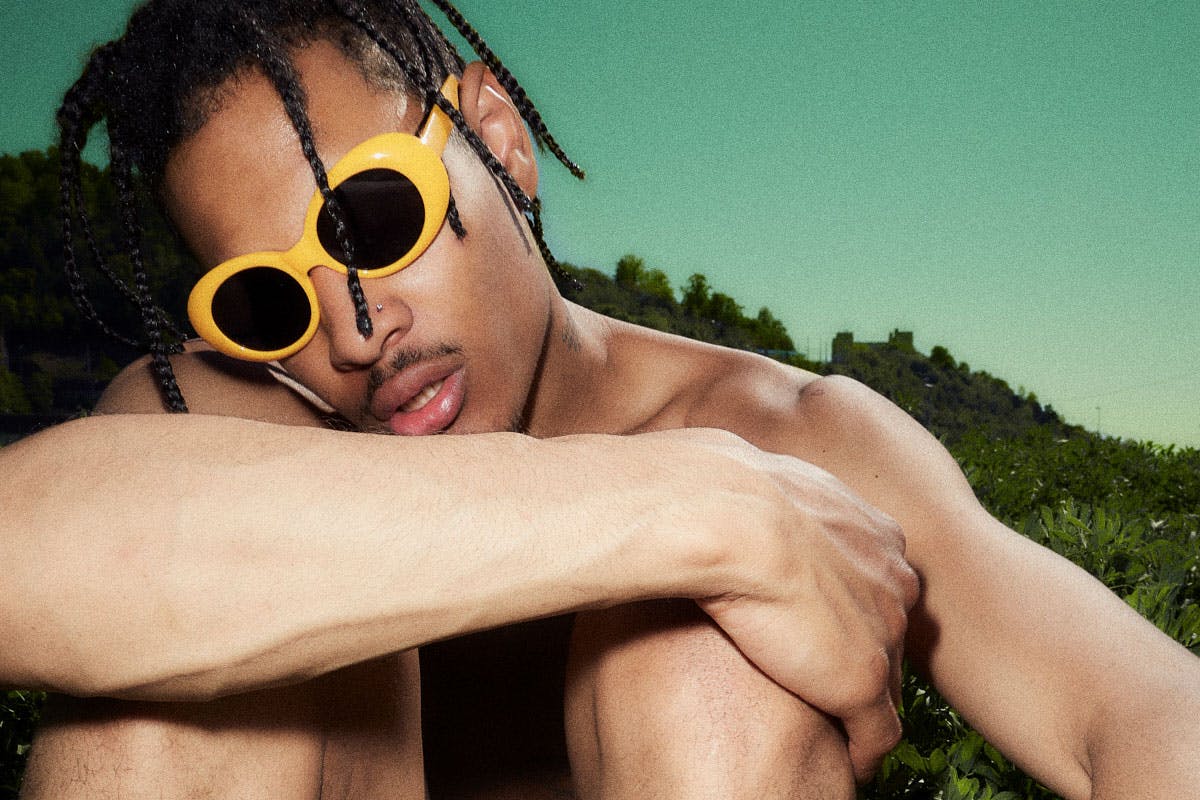 There's something about rap music that young artists – no matter what country they come from – find fascinating. Maybe it's the lifestyle: the fast-track route to fame and success, or maybe it's because it's a simple way for lone voices (perhaps even outcasts) to express themselves without ever having to submit to the traditional, well-oiled pop route.
In Norway, a country with a modest population of 5.2 million people, the thirst for rap music is huge. It's a place that, despite being so different to a gigantic media hotspot like the US, still consumes hip-hop as passionately as they do stateside; right now, everybody from Drake to Travis Scott to Nicki Minaj has a spot in the country's top 20.
But the country also has a solid reputation for launching homegrown rap talents, too. Some noteworthy names are coming out of the scenes in the capital city of Oslo and the coastal town of Bergen right now, and a lot of them congregated at this year's OYA Festival. Taking place in the lush Toyenparken in the center of Oslo, it hosted international rap talents like Kendrick Lamar, BROCKHAMPTON, and 6LACK, but also found plenty of space for the hip-hop acts that sent the local crowds wild.
Want to get clued up on the Norwegian artists you should be listening to? From Scandi rap legends to fresh talents you should definitely keep an eye on, these are 10 of Norway's most exciting names in hip-hop right now.
Arif
In a game populated by fresh-on-the-scene kids, Arif has the track record to back up his position as one of the most noteworthy rap talents in Norway today. Having dropped his first EP Kom, Så, Tok, Færdiih back in 2012, unaided by the wave of SoundCloud rap, Arif made it big after winning the radio station NRK URT's new talent competition. And from that point, he was free to spread his underground sound across the country.
His last record, 2017's Meg & Deg Mot Alle (or Me & You Against All in English) was a fast-paced rap beast that sonically feels like A$AP Rocky went full pop rap. He's embraced his position as a mainstream power now, and you can regularly see him linking up with the Lars Vaular (more on him later) and trap kid Unge Ferrari.
Cezinando
Born Kristoffer Karlsen in Norway's capital city of Oslo, 23-year-old Cezinando is a part-Norwegian, part-Portugese hip-hop entity who's spent the past half decade rising to the upper echelons of his country's rap scene. Known for the way he flits between rap bars and soulfully sung lyrics, his music deals with everything from heartbreak to hip-hop's sillier, throwaway themes – and he's gained a massive following for it so far.
But it's not just the kids of Oslo that are resonating with his stuff: in 2016, he picked up the Best Newcomer prize at the P3 Gold awards in Norway; an award that's gone to Cashmere Cat and Kygo in the past. To truly appreciate the hype, try and catch Cezinando live. A myriad of lights, tilted platforms, glittering costumes and jolting dance moves, it's a mad sight to behold; it's no surprise that OYA selected him to close this year's festival with a packed headline set.
Dutty Dior
Dutty Dior might be young and pretty new to the scene, but his solo releases and link-ups both have us predicting cool things for him later down the line. At just 21-years-old, the autotune-favoring rapper, born Kristoffer Eriemo, tore up the Vice party at this year's OYA Festival, and is already getting some serious support from Spotify in Norway.
Songs like "Famous" have that pre-set air of arrogance and self belief that feels vital when it comes to making it big in Nordic rap, while the production on "Fantasi," his link up with Isah, is giving us real Drake feels. If you like your rap music big, unambiguous, and catchy, Dutty Dior might be your boy.
Isak Shorty
When this dude burst out onto the stage at OYA this year, decked out in a beanie, Beatles tee and paint-spattered denim, he might've looked no older than 14 but had a flow and stage presence we could really fuck with. Born and raised in Ålesund, a sleepy port town on Norway's West Coast, he started making music in his bedroom, collaborating with producer Halvard Ivarjord over the internet before eventually winding up meeting in real life. Together, they make slickly-produced hip-hop that's harnessed by Isak's tongue-in-cheek and ironic style of lyricism.
Recently, the powers that be in Norway's music scene stepped up and took note. He might be one of the few artists not signed to a major label in the country, but he's already been blessed with an accolade courtesy of Momentium, a huge festival promoter in Norway, and it's helped his tracks becoming minor streaming hits on Spotify.
Ivan Ave
Shaped by his fascination of '90s R&B, hip-hop, and two-step, Ivan Ave is a Nordic rapper who credits his sisters' CD collections, something he scoured through as a kid as an important experience in the formation of his sound. Rapping over funk-laced beats produced by the likes of Kaytranada, he's spent the past four years breaking out of the notoriously small Norwegian music scene, making waves internationally, and performing for the revered YouTube music show, COLORS.
He's known for his ability to mix flexing lyrics about wooing women with the more existential shit, and his style is significantly old school – a true homage to the rappers of a bygone era that taught him how to make it through their work. Three LPs in – all released by Berlin's supercool label JAKARTA – and he's showing no signs of slowing down.
Kamelen
Part of the NMG/G-House roster alongside Myra, Kamelen has had a bunch of monikers lately. The young rapper, born Marcus Mosele and raised in Bergen – can also be found working under the name 'Slim Kamel' too; he's a hard one to keep track of.
He's one of the scene's few controversial faces too. Rising to fame back in 2015 with a millions-streamed breakout track "Si Ingeting," his success coincided with him running into legal troubles; Kamelen was arrested at a gig on charges related to car theft and violence. He's taken the time to consider redemption, and released a record titled Ambivalence in the process. About the changing nature of modern life, it's a part-party, part-redemption record that fans of his have been bumping for the past few months, waiting patiently for its follow-up.
Karpe Diem
Something of an inescapable force in Norwegian rap, Karpe Diem are the country's most prolific hip-hop group. Formed of two friends who met while studying in Oslo – Magdi Omar Ytreeide Abdelmaguid, who's half-Egyptian, and Chirag Rashmikant Patel, who's Indian by heritage – have become glowing symbols of unity and diversity in a rap scene that's prolifically and traditionally dominated by white voices.
First joining forces back in 2000, the duo have come to dominate the Norwegian scene for the past two decades with their brand of slow-burning, often sung hip-hop that will resonate with anybody who's a fan of Drake and The Weeknd's piercing R&B. Imagine that, laced with a sonic championing of a background that's so far flung from the rest of Norway's hip-hop crowd, and you'll have a good idea of what Karpe Diem do so well.
Lars Vaular
Every year, OYA Festival dedicates the last night of the festival to Norway's massive music scene. This year, Cezinando had the honor of closing the show. In 2017 though, Lars Vaular was the rap legend who earned himself the very same slot.
Described as 'alt hip-hop,' Lars brings out the theatrics for his stage show, appearing on stage at OYA wearing a wedding dresses lit by strobe lights to a beguiled crowd. You might think this weird, slightly effeminate behavior seems off for a rapper, but Lars definitely isn't the ordinary kind. His grimacing electro production and frantic delivery makes him sound a bit like Tommy Cash, if he came up during the dubstep era. It's bizarre, but brilliantly catchy.
Myra
Not to be confused with the short-lived noughties American pop star, Myra is one of the few women in Norwegian hip-hop making a name for herself on her own terms. Famed for her intuitive flow and poppy, seductive beats, she's become notorious on the scene as a deliverer of knockout live sets. In the past, she's both jumped out to deliver verses in the crowd and rocked up on stage riding an effing superbike!
Growing up in Bergen, a hotbed of new Nordic musical talent, it was the arrival of Nicki Minaj and her early mixtapes that hooked Myra, real name Regina Tucker, on to hip-hop in the first place. But her IDGAF aura doesn't feel like the by-product of those who came before her; hopefully, it's strong enough to help more young women in Norway step into the rap spotlight.
Softcore untd.
If the artists around you were achieving success by rapping over trap-dominant, digitized beats, would you follow suit, or try and do your own shit? That's a question Softcore untd. seriously consider before dropping each new track. A four-piece that switch between making rap, deep house and jazz music, their sound is wild; the single "Skolebenken" sounds part inspired by both UK garage and rulers of sleepy indie-electro, The XX.
If you listen to rap music to party, these guys might not be your thing, but their experimental production and somber sound has us thinking that they're making some of the most fascinating and complex rap music we've heard in a while now – period. They're based between Bergen and Oslo right now, but we predict mad things internationally for these guys in future.
Be sure to check out the previous edition of our international rap spotlight with 10 Dutch Rappers You Need to Know.