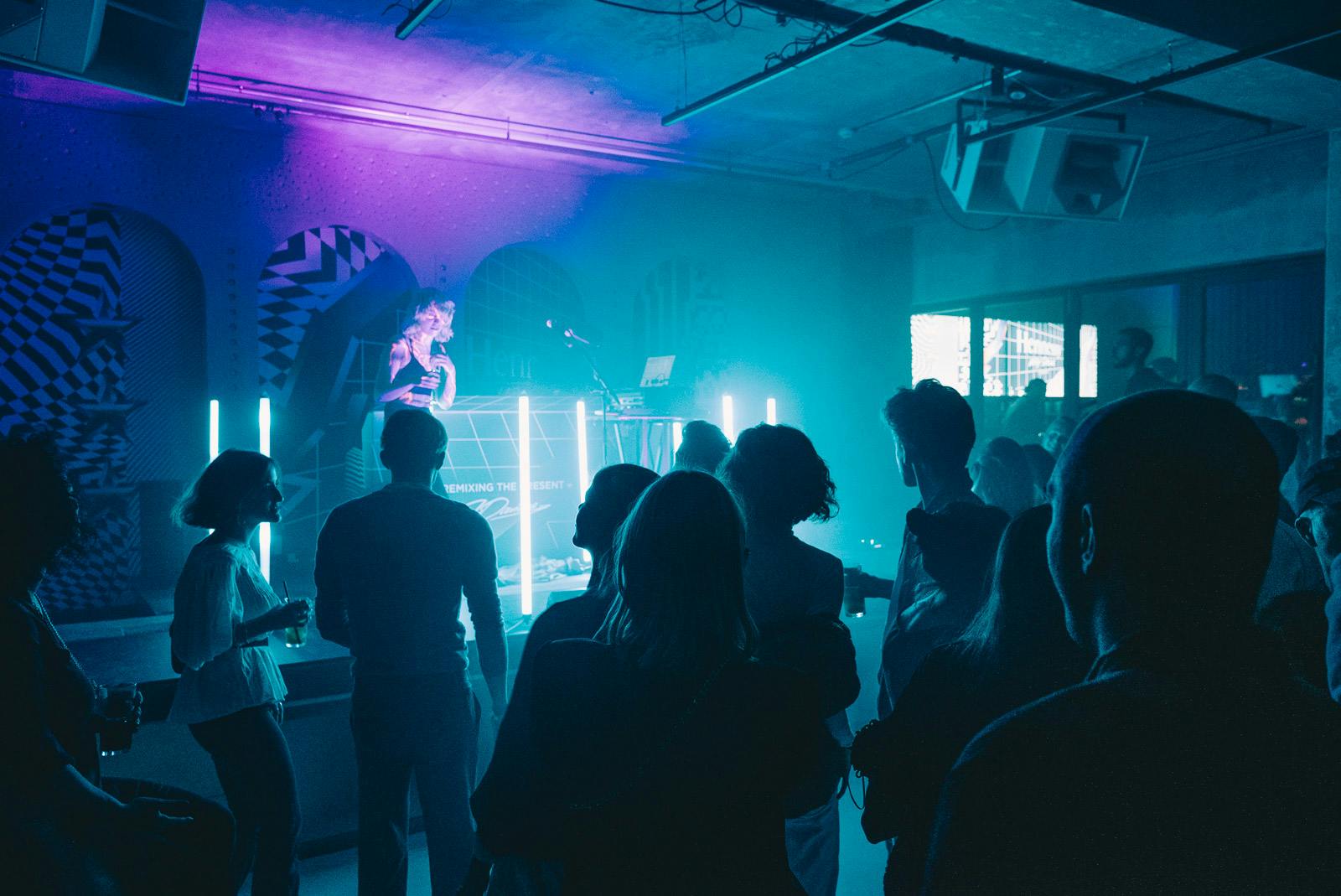 Hennessy / Rebecca Rütten
Felipe Pantone is famous for two things: his art and his anonymity. Yet, for all the camera dodging he's done over the years, he was an omnipresent force in Berlin's Kreuzberg neighborhood this week. It was here, in this graffiti mecca, that the Valencia-based artist settled into the concrete walls and excavated swimming pool at Prince Charles to showcase a collection of kinetic art inspired by an unlikely source: Hennessy.
On paper, it might be hard to align the idea of a 254-year-old cognac brand with an artist whose work looks like the most beautiful computer glitch you've ever seen. But, on canvas, Felipe and Hennessy's remixed journey through the cognac maker's archives was a perfect fit for the packed crowd who came together on Wednesday night for the partnership's Berlin debut.
Beyond the custom Hennessy VS Limited Edition by Felipe Pantone bottle and accompanying W-3 Dimensional Three Stars artwork, the artist also debuted a collection of new works that bridged classic design elements with some of the most cutting edge technology available — including one particularly crowd-pleasing interactive display that involved a motion sensor and some very aggressive arm-waving. With music coursing through the venue and a fashionably dressed crowd — including rising Berlin rapper Souly and graffiti artist Xuli — clutching custom Hennessy cocktails, the venue filled with the kind of kinetic energy that Felipe Pantone has become famous for.
And while the mystery man may have kept his identity hidden away amongst the partiers, we caught up with Pantone a few days earlier for a long talk about his Hennessy collab, the longstanding allure of heavy metal logos, and his "absolutely horrible" first piece of art. Slide through to see what he had to say (or press play on this week's edition of The Dropcast), and then click through to cop the custom Hennessy x Felipe Pantone bottle.
How was it looking through the Hennessy archives?
Felipe Pantone: It was good. I'm a visual maniac, so, it's like if you take a DJ producer to a good record store. They have so much stuff to look at. It's been very interesting to find things that I didn't know about the brand, and to be able to find things that I could incorporate in the work.
What was one of the more surprising things you found in the archives?
I care a lot about optical art so the quilted pattern, which is something that I didn't know they use, was perfect.
Walk me through the different parts of the Hennessy bottle design.
So, as I said, the quilted pattern is there. But it's a very, very nice type of background. Then I used these elements that I sometimes use on paintings — the cold colors and the warm colors. They're usually not balanced; usually the cold ones are always more important when they're in this design. [But] because of the color of the cognac, I actually picked so it matches the cognac. I made the warm colors a little bit more present there.
And the lightning bolts represent the fast pace of modern life and the internet, right?
Yeah. That's an element that I use in my work quite often. For me, even though abstract work is always very subjective, [I] try to put some meaning on things. Hopefully, people connect with it. But you never know. To me, they mean speed and dynamism. I think it's very, very present, which is the model of this collaboration: remixing the present.
Hennessy / Rebecca Rütten
It's very internet inspired. I see the QR code pattern in there.
Totally. I like it when people see what I tried to say — although you never know what people are going to get. But that's the thing with abstract work. You don't have a direct message, you just put things out there and hopefully, people will get something.
What's your favorite part of the design you made for the bottle?
I would totally say the fact that I could twist the logo. This is the first time that Hennessy let anyone do that — any limited edition or any bottle.
We're here in Berlin for the exhibition of the art you made for Hennessy. This city is famous for its graffiti, but what aspects of Berlin inspire you when you're here?
It's always been super fun and very inspiring to come here and see what's changing. With this city, it changes a lot. And so it's fun to come back every so often and see what's happening. It's a very free city, and people don't give a shit about anything, which is a great thing.
I know you studied art history. What period in art history speaks to you?
The '60s are a big inspiration for me, because they started exploring dynamism and transformation, which are two things that I think apply [today] quite a lot. Optical art [and] kinetic art really always spoke to me. And obviously you can see it in my work — it's very, very personal.
Of course, what's happening nowadays is changing everything, in my opinion. All the technological digital revolutions that we're going through are changing art. And not only visual art but also music, movies, the whole thing, it's changing everything. There's so much information.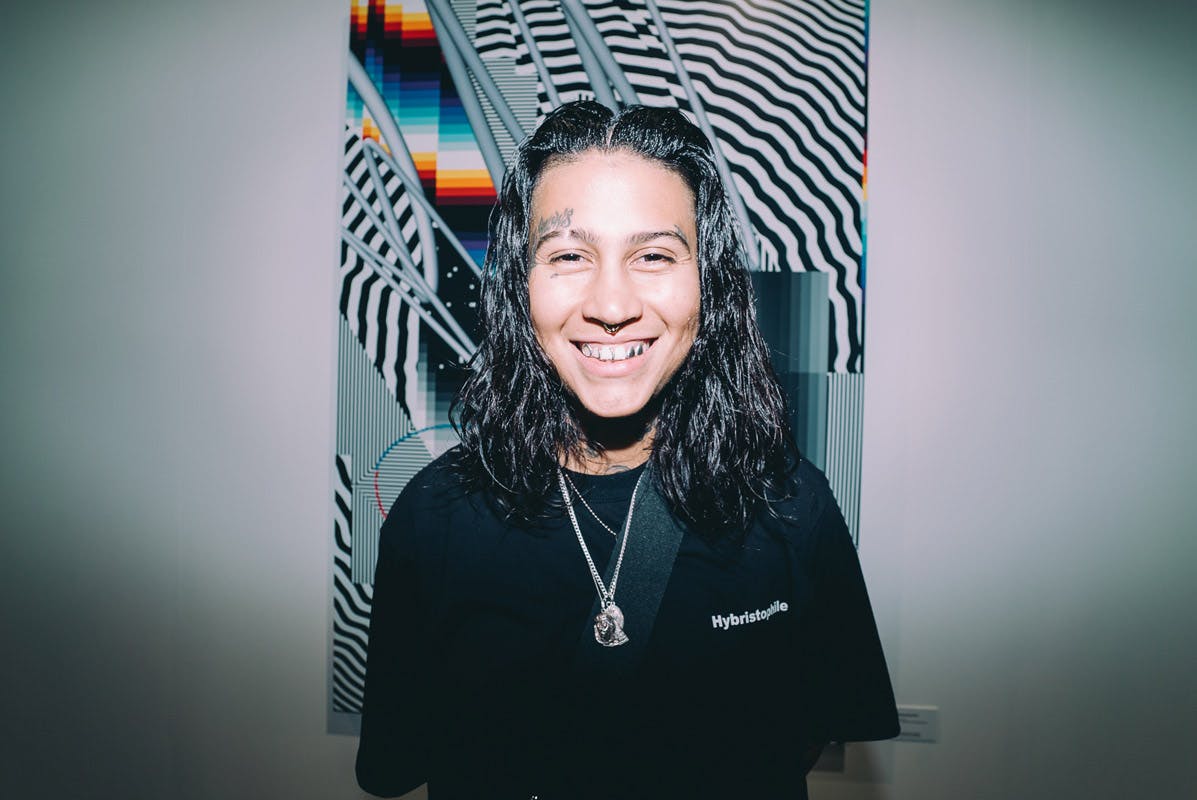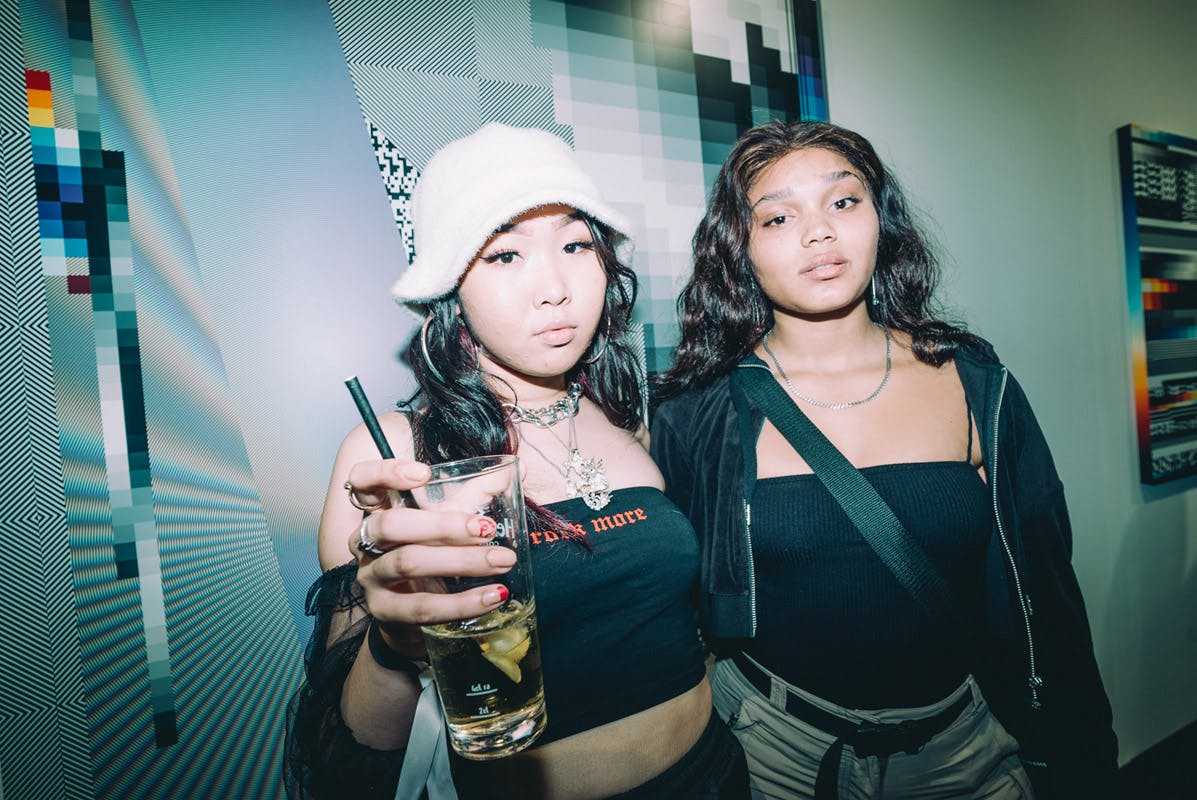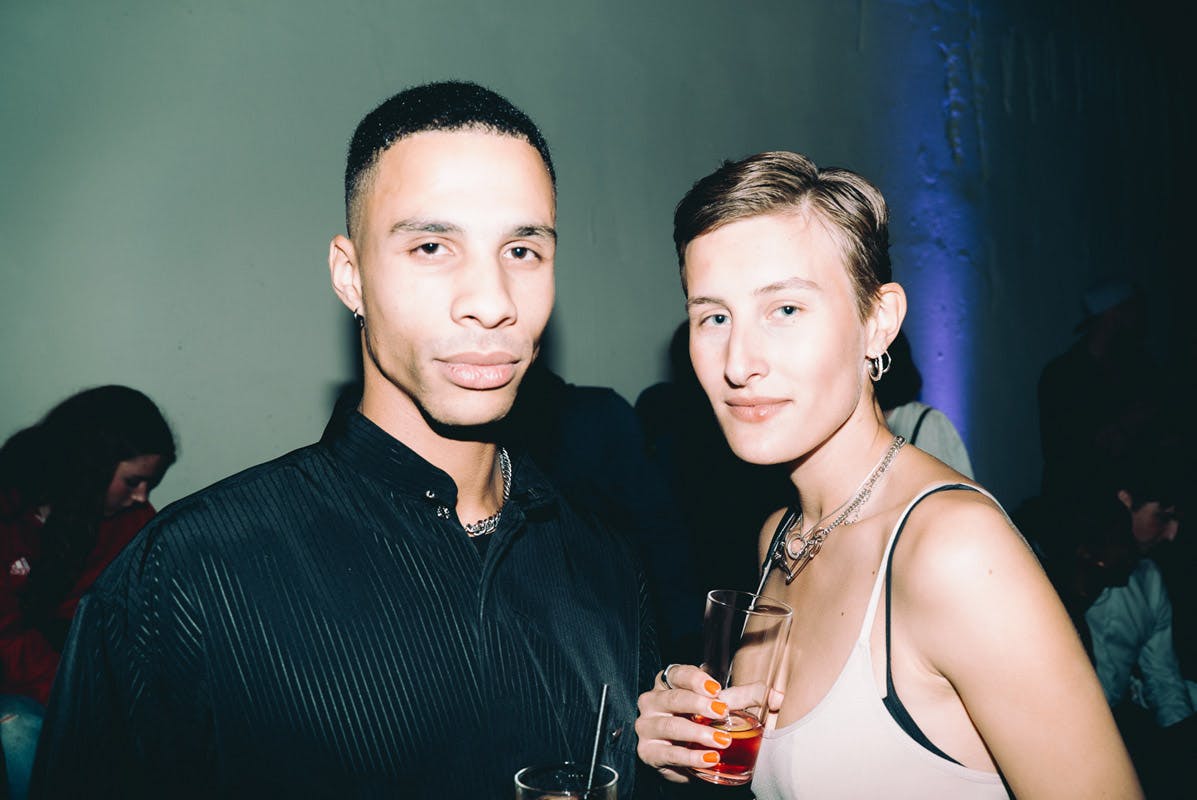 Going back to when you started, I know your first piece was when you were 12. Do you remember what it was?
When I say my first piece, I mean my first graffiti piece. I was doing tags before that; the year before I was already writing my name and things. When I was 12 I painted my first piece. It was absolutely horrible.
I feel like everyone's first anything was terrible. What inspired you to start tagging?
It was the neighborhood. It was all over. I was always the kid that would be drawing all the time, you know? I love to draw things. I would see graffiti everywhere in the neighborhoods. So I was like, "What's this? I want to do this." I just grabbed the paint and got a marker and started writing my name on things. It was very natural.
What points of reference inspired your art as a kid?
I grew up in the late '80s, so metal bands were a really big thing. Their logos were fucking beautiful. I still really enjoy them. My graffiti crew, the Ultra Boys, make a lot of t-shirts that are metal inspired. They're amazing… even though I don't listen to that music at all. When the guitars get too heavy, I don't really enjoy [them]. But the fashion and graphics, they were amazing. That really inspired me.
Did you have any other influences beyond metal bands?
When I was like a kid? Maybe like Japanese manga. And then growing up, when I started to know [more] about graffiti, I would just keep getting inspired by looking at the other graffiti.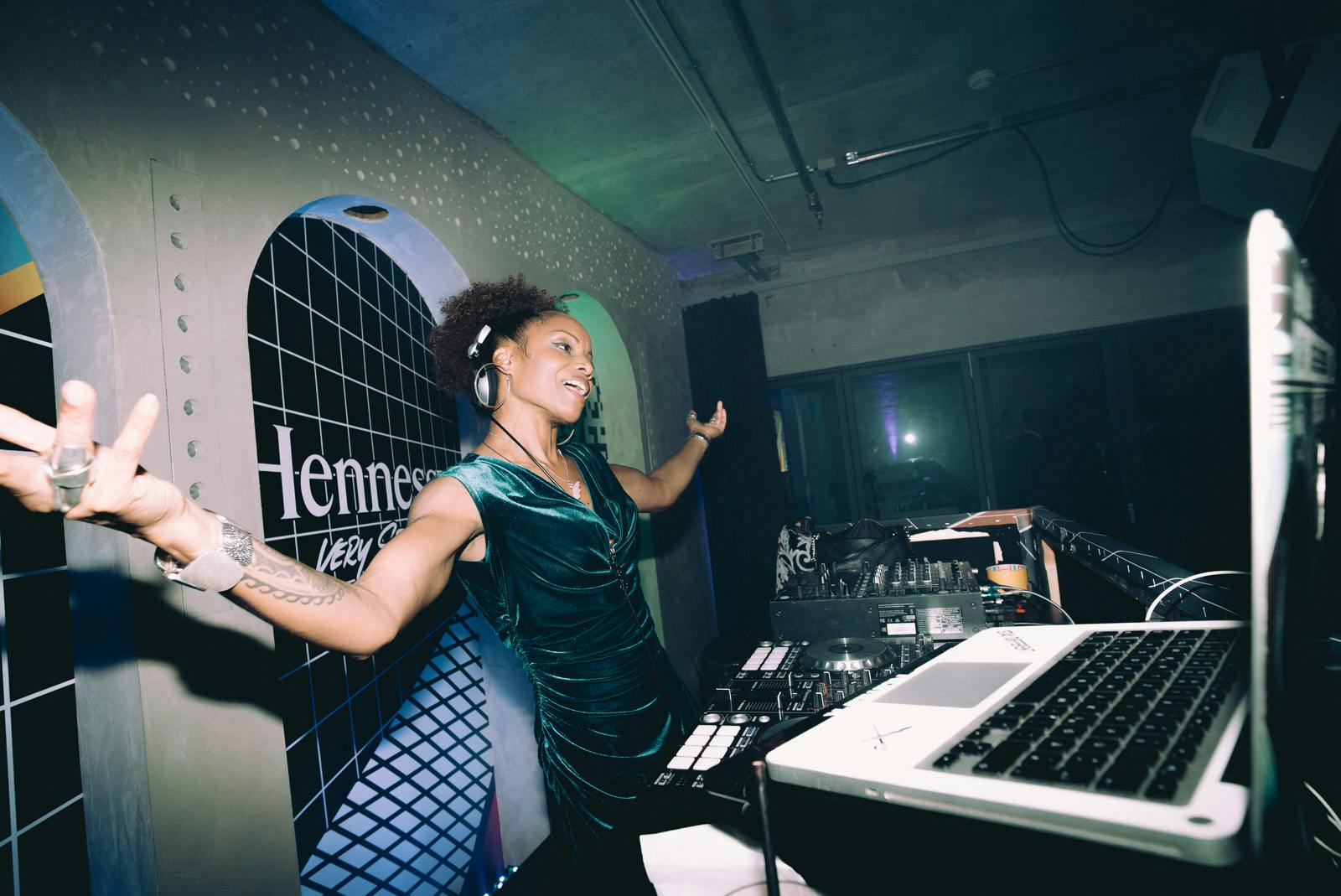 Hennessy / Rebecca Rütten
You used to go by PANT1. Where did that name come from?
Oh, that was some random letters I picked when I was a kid; I didn't even know about the color brand. Actually, in graffiti, a lot of people put the "1" next to the name because it makes the claim that I'm the one, you know? The only one, whatever. And as I grew older, I was like, "Wow, that makes so much sense. There's this color company and everything." So it ended up being my name. But Felipe, obviously, is my real name.
How do you cope with the fast pace of modern life? How do you find ways to calm down and take a minute for yourself?
I don't ever stop. (Laughs) For the first time this year, believe it or not, I took a month off in August. I did what normal people do and it felt amazing. I went home and went to the beach. It was great. I had a great time.
I know it's abstract, but is there a message that you hope to convey through your work?
I just think it's a great thing to embrace change. There's no point in sticking to the old things forever, and being like, "I don't want nothing to change." No, bro. Be adaptable. Have an open mind.