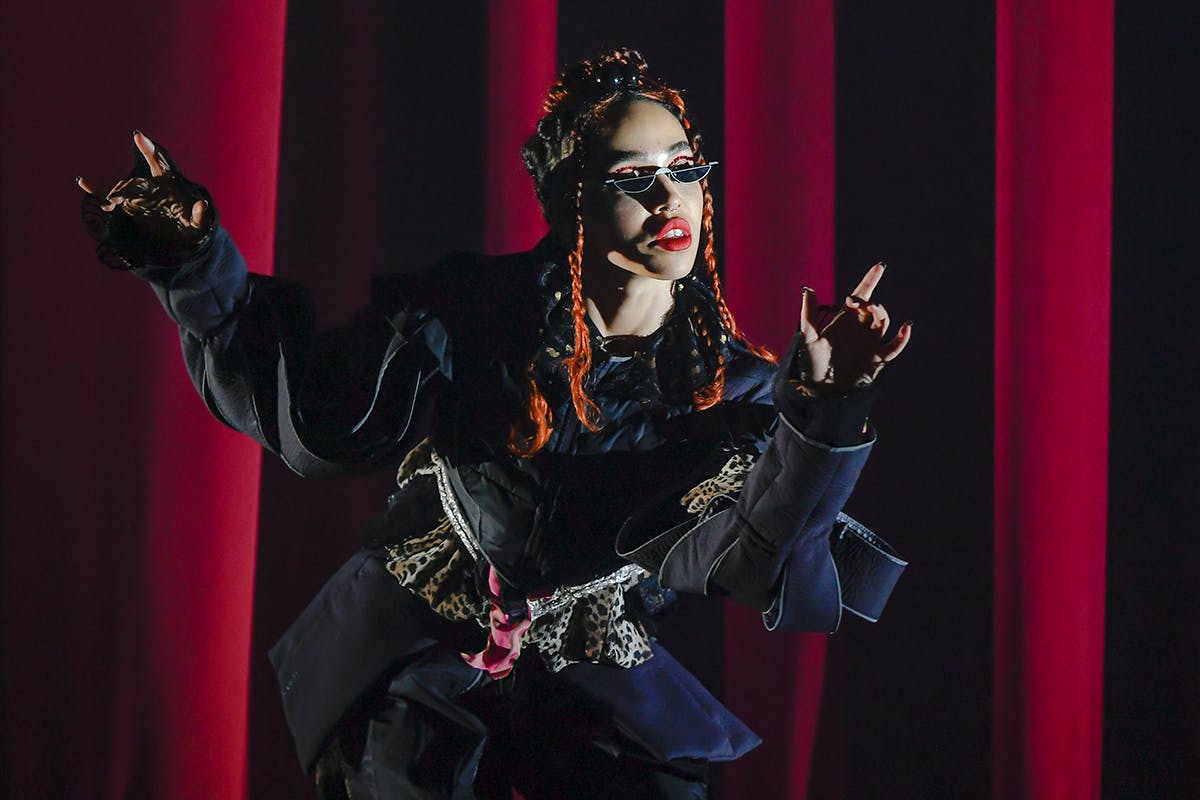 FKA Twigs released her new album, MAGDALENE, today, and in promotion of the work, the 31-year-old singer-songwriter stopped by Apple Music's Beats 1 to discuss the project with Zane Lowe. During the interview, she dished on where she was at mentally when writing the songs, her health issues, working with Spike Jonze on the HomePod commercial, a very public relationship coming to an end, and much more.
Below we've highlighted some key excerpts from FKA Twigs' conversation with Zane Lowe, as you can then watch the interview at the end of the post. Also, you can stream MAGDALENE here.
On being in a difficult place early on while making the album:
"I feel grateful that I'm able to put my experiences and put my hardships into work. [The start of the album process was] Pretty out of control. Yeah, it was pretty out of control. People say like, Oh, bad things come in threes. And you're like okay that's one bad thing. And then it's another bad thing. And then your friend will be like, yeah, but this is like a third bad thing...And then the three months goes by and then you're like, okay this is an extension of them all? Or are we starting again? Kind of like that. And then you're on five and you're like, Oh I see. This is just the new set of three. It did feel like that, which is fine. That's totally okay. And I'm grateful for all the experiences I've had. I'm grateful that I had to face a lot of things alone."
On where she was at mentally when writing the songs for the album:
"It was scary because I think I'd never written from, well I've always written from a really honest place, but an honest place at 22 or 23 with your life experience is different to an honest place. Then years on when you've experienced responsibility and heartbreak and a kind of glimpse of real adulthood...It became not easier in process, but just kind of like easier in the acceptance of myself to be able to put that on the table. And I think obviously like showing people your heart when it's raw, it is vulnerable. It's one thing showing people your heart when you're feeling sexy and sassy and you're 22, 23 running around New York like miss thing. Do you know what I mean? Like, Oh, I'm so sexy and so vulnerable at the same time. I'm discovering my sexuality, that's hot. know what I mean? But then it's another thing where like, Oh, I'm like, I'm broken now. It felt different, but I didn't give myself a hard time whenever I was into it."
On her vocals on the album and jazz being a big part of her life growing up:
"I have come from singing in cabaret. I've been a wedding singer, I've sang cocktail bars all over London. I was a part of a very avant garde cabaret scene in my early twenties. And I would sing big like Aretha Franklin or like Janis Joplin songs. So I think when I started to make my own music, I just didn't want that, because I was still working in those, spaces. I don't know, when I be in the studio I think like I didn't want to sing a big song or I don't want to use that my full range because honestly it just felt cheesy if, I'm honest with you. I just felt it was cheesy. I was training an opera from when I was like 11 and I was singing with a jazz band when I was 13. So like I've always said that has been a big part of my life. There'd be like an adult jazz band. And then like I'd come on stage, and sing with them and like scat and like tell everyone when they can have their solos and stuff like that. That's the best part of being a jazz band."
On MAGDALENE:
"When I realized that so many other women had kind of gone through like what I had been through and maybe that is unfortunately still part of being a woman that kind of like free emotional labor that we put into all of our relationships. That like unpaid work of nurturing and it's something that we're just taught. I'm from a generation, where as a woman, I was taught that your prince charming would choose you. And when he did you were grateful, and it was more about like being chosen. Then you asking like what's right for me and what do I need and what are my boundaries and what to I need to be nurtured or to feel complete. And that's very interesting because I envy girls a kind of 12 or 13 now. Growing into that womanhood, because there's so much like positive, so many positive affirmations and imagery. Because the conversation has changed. When I was younger that was not that conversation. But I'm indoctrinated and my generation isn't indoctrinated. So it's just about like undoing those threads. I feel I like pull these threads out of my brain of things. I was told. Like things I was told as a child through subliminally, watching soaps and cartoons and these things that you take in as a woman and you think, Oh like I need to be like this or this is what being a good mom is, or being a good wife is, or I think that subconsciously I definitely took that message in and for me Magdalene is unraveling that and just finding my voice without society's whispers."