Curated by Highsnobiety and presented during the time period formerly known as Paris Men's Fashion Week, "Not In Paris 2" is our second in a series of bi-annual digital exhibitions celebrating creativity in the age of remote interactions. Head here for the full series and cop our new merch via our online store.
To the uninitiated, a catalogue of works by the New York based gallery Friedman Benda might seem slightly schizophrenic. A minimal transparent chair by the designer Faye Toogood on one page, warps into a decadent multicolored monster masquerading as a lamp by Jonathan Trayte on the next. In addition to showcasing the works of younger artists, the gallery represents the older and more canonical estates of designers such as Ettore Sottsass and Wendell Castle. Taken all together, it's a roster that reinitiates (and explodes) the readymade conversation around form versus function. "Design is a very amorphous field," says Friedman Benda's founding partner Marc Benda. "It's hard to put boundaries on what constitutes design for our gallery and what doesn't. When we set out, we wanted to explore the entire universe."
In a special online presentation for Not In Paris, Benda pulled together a series of diptychs of works in the Friedman Benda program, which draw out the bifurcated logic behind the gallery's stable, and maps out how Janus-faced nature of how the objects themselves exist in space. Read the full interview below.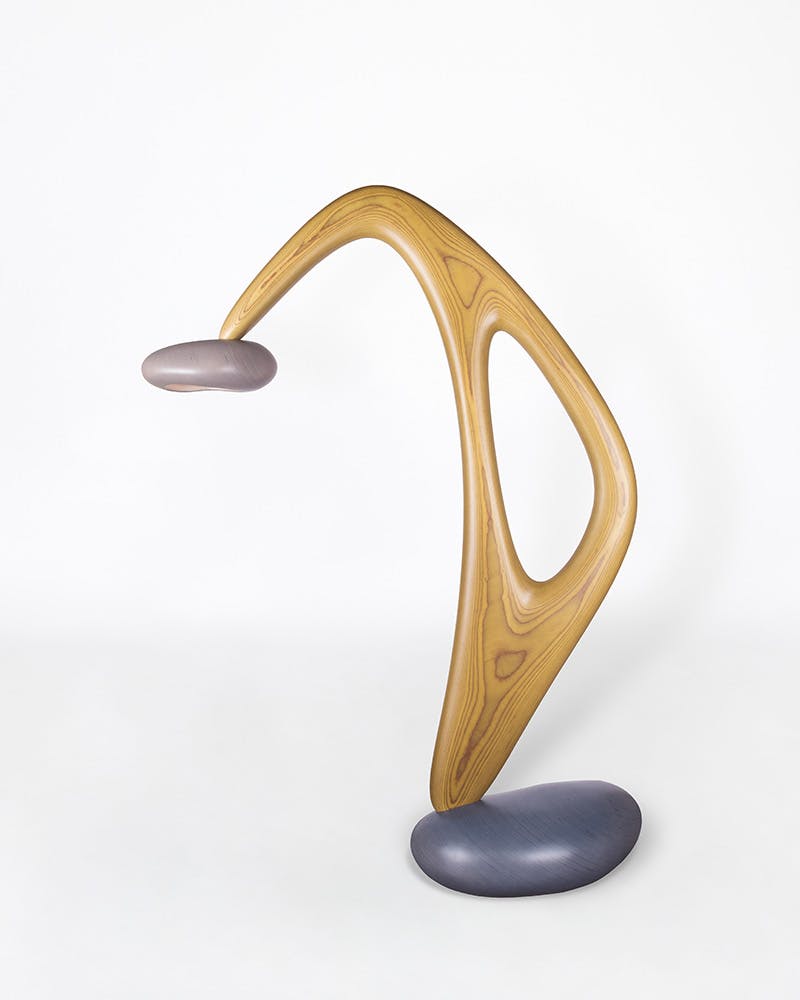 The Shanghai Chair is based on a chair that I had in the studio a number of years ago, which was literally just cut from a single block of foam. It was a remnant from an old construction site. One of the things I love about this chair is that it was actually sculpted while I was sitting in it. So I'd cut a little bit, sit in it, feel the form, feel the ergonomics of it, carve a little more. So the chair really does completely conform to the shape of the body as you sit in it.

Daniel Arsham
What's the narrative behind the selection this works?
The idea was to stake the entire homestead that is Friedman Benda with this selection of artists. So with each artist we tried to show just how varied a practice can possibly be. The variation can sometimes be within a single theme, and can sometimes be wildly different investigations. It's a chef's selection of the freshest fish on the market this morning.
Why are the works chosen so seemingly disparate?
The selection is based on the gallery's program. We tried to explore the entire universe of Friedman Benda within design with this selection. The selection of works is disparate because the gallery is not founded on aesthetic principles, but on formal principles about what sort of design we find relevant to follow. And for the gallery as a whole, we never pick an artist based on the look, on aesthetics. Process is way more interesting to us than the outcome. The output is a consequence of how you build your practice and not the other way around.
Both works exist on a spectrum, one end being highly practical and functional and the other end being more aspirational and speculative. So a lot of work combines fantasy and reality. So if you think about one of those childs beds that are shaped like a racecar. The function of that bed takes the form of a fantasy. You and I know that you can't start the car and drive down the street, but it inspires the idea of speed, exploration and competition. My work functions a lot like that.

Chris Schank
What are those principles as opposed to aesthetics?
Design is a very amorphous field. It's hard to put boundaries on what constitutes design for our gallery and what doesn't. When we set out, we wanted to explore the entire universe. We wanted to make objective choices for our program. We're the only gallery in the world that represents the Sottsass Estate, or the Wendell Castle estate. We do that because it gives a framework to our younger artists as well. It gives them something to look up to and gives them a certain context. We have a program that spans four or five generations, that's a choice. Instead of just having a program that only relates to people my own age, or passing on wisdom to the younger artists, we wanted to build a program that allows for these cross references and allows for a non-linear historical view. These sort of straight time arrows aren't very interesting to me. This isn't science, this isn't biology. It's not the 1960s, then 1990s, it's not one thing after the other. In our world, time can go forwards, backwards, and sideways.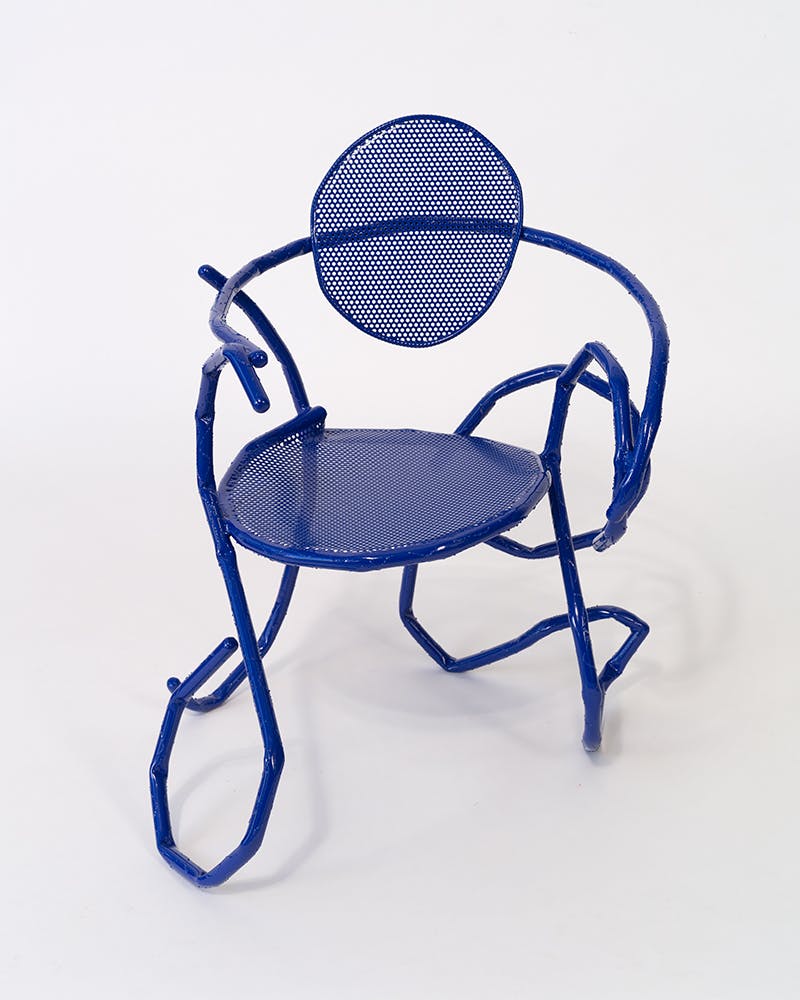 We always attack the material straightforwardly, to see in what direction we can bend it. Like with the chair, at a certain point, we just had all this bent metal and I realized it looked a bit a Thonet design, a melted one. That perfectly represents what we do. To take this object that was intended for mass production, and start to deform it — to manipulate it and see where it can go.

OrtaMiklos
How do you view the difference between mediums, like architecture, design, and furniture etc?
I'm trying to provide a platform that shows an expansive view of the world of design. Some of the greatest architects weren't architects. Some of the greatest architects were sculptors, or came from all kinds of directions and vice versa. Or their vernacular was incorporated by the field. I'm not trying to be the arbiter of what's what.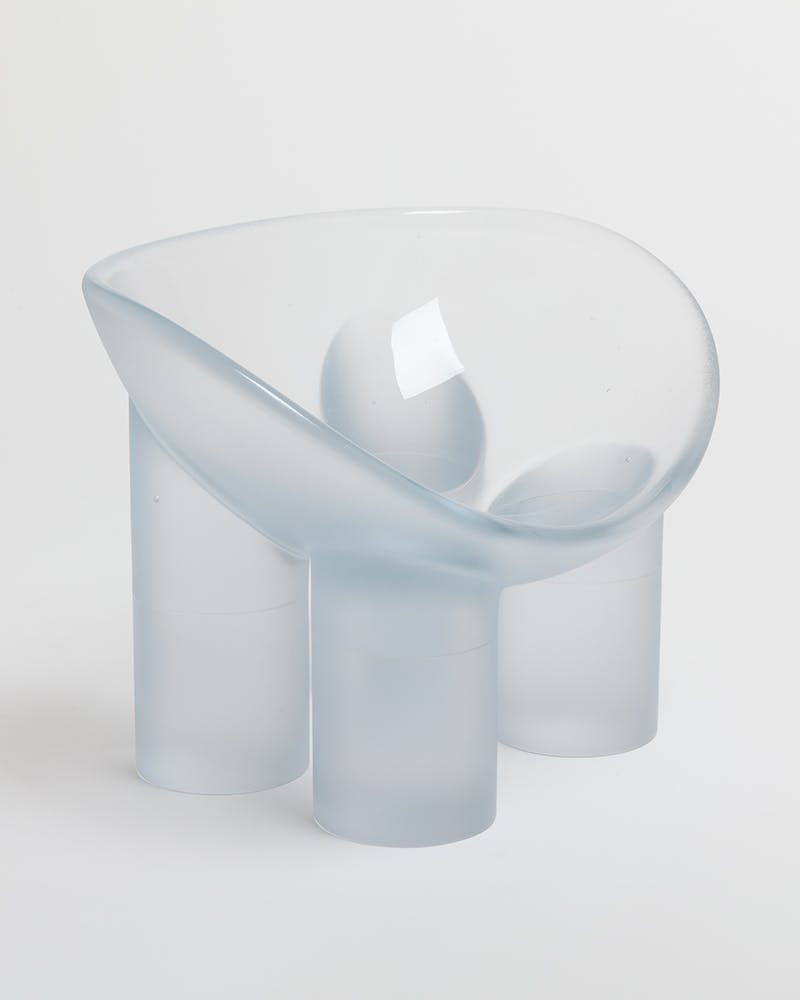 Is it possible to experience a piece of design digitally?
Yes, it is. I think it's a different layer of information, but there's a lot of information you can transmit digitally. Some things are omitted, not lost. It's like filmmakers saying that they want their movies shown in a theater initially, instead of being streamed. But the audience doesn't give a damn anymore, they just want to buy a nice TV and watch it on that. Even before Covid, if we had 60,000 people watching us on Instagram, and 30,000 people coming to Design Miami, for a successful show we probably had 1000 people actually coming to the gallery in a month. Those are rough numbers, but the majority of people have always experienced the work online, or on Instagram, or in catalogues as opposed to in person.
The reception desk is drawn entirely in VR, using what is basically a child's drawing program. It's probably designed for sculpting monsters. I drew it when I was really sick with a fever before COVID. I was just lying in bed for days, and that was the piece that came out of it. Now I feel that having this piece that feels like chaos and a fever dream feels prescient.

Misha Kahn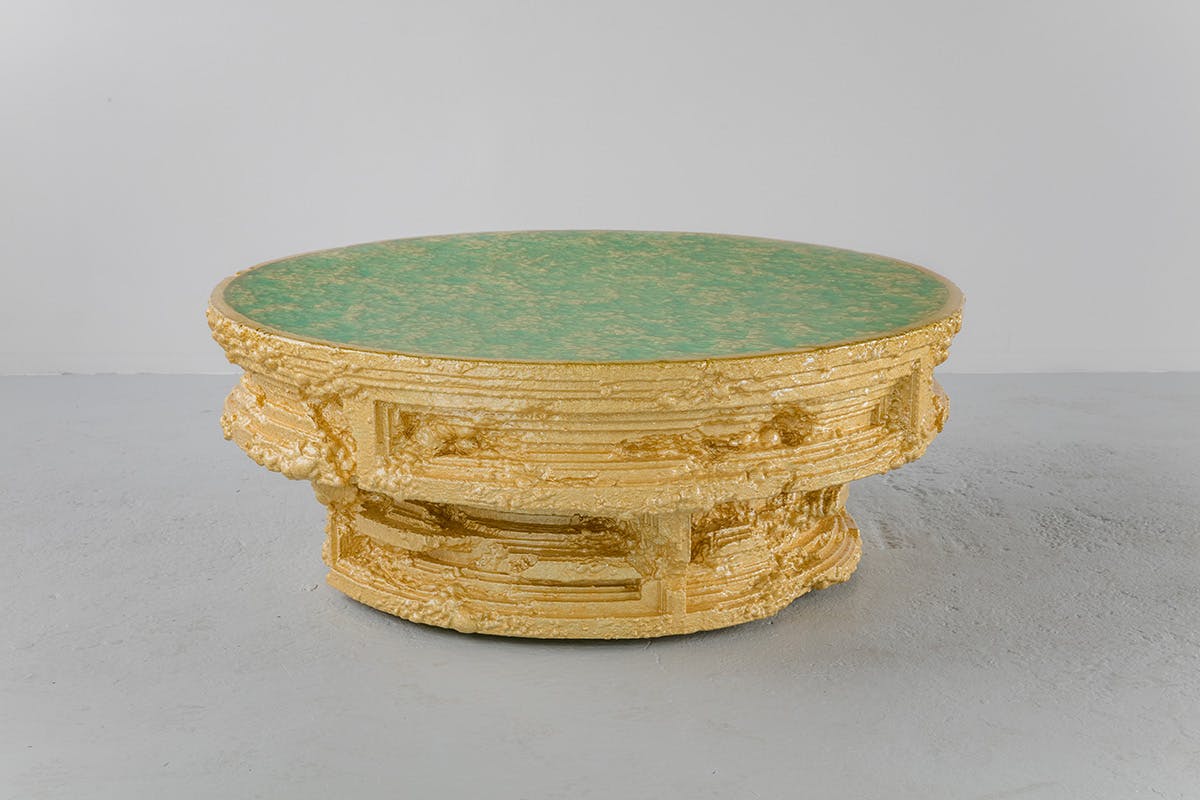 Where is the future of design heading?
I think we're living in a wonderful moment where things can coexist. Where there's not just an adherence to one school or another, but you can really consume design involving every school or collection. People are looking for authenticity. Differentiating between schools like parametric design or craft, is ultimately unimportant. Key people will always separate from the rest. Where design is headed, isn't based so much on formal dialogue, but based on how much people can layer onto an object nowadays. People want to know that an object is not just the object that they're looking at, but also the object that they're thinking.
I take a lot of inspiration from the natural world, things that I've seen in botanical gardens; plants, cacti, succulents. Even though that piece is still a lamp, because there's a lightbulb on it for illumination, it's not very functional in many respects. But I like incorporating incandescent bulbs into my work. It's a momentary luminescence, and then the bulb goes out. It also makes it more like a plant. It has a life cycle. It feels like it's alive.

Jonathan Trayte