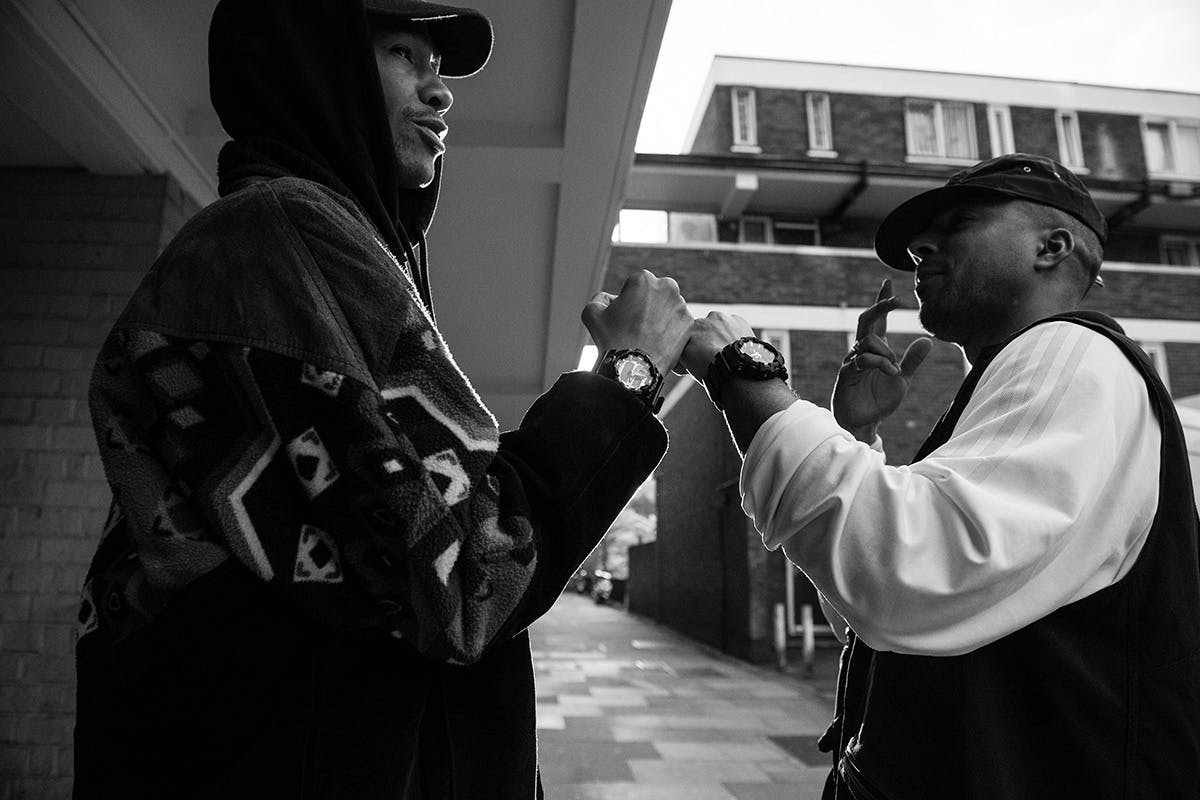 G-SHOCK has always associated itself with unconventional cultural movements like skateboarding and the hip hop scene. And as the brand prepares to enter its 35th year, it honors its history with the new "No Comply" campaign, taking its name from the well-known skate trick and referencing the hardline world of hip hop.
To complement the brand's "no comply" ethos, it looked to individuals who've taken their own path and broken the rules along the way. UK grime artist Novelist and famous skaters Lucien Clarke and Benny Fairfax worked with G-SHOCK on content exploring their unpredictable daily lives and unorthodox approaches to their craft.
Novelist, Lucien and Benny represent the rap and skate movements essential to G-SHOCK's biography. More specifically, Novelist represents the UK grime scene which, although undoubtedly influenced by hip hop, is defined more by the way it subverts the US-born genre. Early and contemporary grime artists, while aware of American hip hop, have written their own rap rulebook that greater reflects their personal experiences and developed out of UK garage and jungle. Earlier this week we spoke to Novelist to chat about the campaign, the British grime scene and much more in an interview you'll find at the bottom of the page.
G-SHOCK has always provided fashion-forward individuals with a tenacious alternative to traditional watches but hip hop artists and skaters, in particular, took a shine to the brand's unique range of models and colors during the '80s, '90s and '00s. These worlds helped the label establish its fashionable aesthetic and gain a loyal following among those who weren't satisfied with ordinary wristwatches.
On the road to its 35th anniversary, G-SHOCK also presents its latest no-nonsense model in a slick black and gold color scheme. The GA-710GB encapsulates everything the brand is known for: near-indestructible toughness, functionality and uncompromising flair.
The first G-SHOCK design in 1983 was both unique and functional, challenging the status quo and the notion that a watch is fragile. Kikuo Ibe was the original engineer, and he set out to create an indestructible watch that was water resistant to 10bar, had a minimum 10 year battery life, and could survive a minimum 10 metre drop. Prototype after prototype was subject to rigorous testing, Ibe refused to accept his dream was impossible and would not comply with anyone else's standards.
G-SHOCK celebrated the "No Comply" launch last weekend at the Mojo Club in Hamburg. Berlin-based rapper Megaloh and the German reggae and dancehall singer Trettmann performed for a sold-out crowd that also got the chance to check out a limited edition "No Comply" watch range.
Find out more via the link below and follow the 35th anniversary story over on G-SHOCK's Facebook and Instagram. Read our full interview with Novelist below.
You've been known to rock designers like Astrid Anderson, Polar and Liam Hodges. How would you describe your style and do you keep an eye out for up-and-coming designers?

I'm not a hypebeast at all when it comes to clothes, I'm more about if it actually looks nice. My whole thing is just putting things together rather than having one set style. It doesn't matter what brand it is, I'm a normal guy that just likes things that look nice on me. I like to keep it very basic. I don't really look out for designers, but I do pay attention to what's going on.
Talk us through how you've taken your own path, created your own rules and lived G-SHOCK's "no comply" ethos?
I'm from Lewisham, the school that I went to wasn't the best, it wasn't the worst either, but not many people from my area go on to do big things. I decided to forget the rulebook, forget the system, forget the pattern and just do what I felt was right.
Music has always been my passion, so I just followed it. I've been producing since before I was an MC, since I was about six. Sometimes I'd bunk school and I even dropped out of college because I'd started doing live shows. I just said to myself, you know what, I'm gonna keep griming, keep MC'ing, keep practicing. No matter what happens I'm gonna make sure that I do this music. Even if it means my last penny is spent on the music, I'm gonna be doing music.
Who's been guiding you along the way?
Myself and my family man. I've had different management and people come and go because, when you're doing well, people want to be around you. That's not a good or a bad thing, it's just a fact, but I had to understand it, maneuver within it, and understand who to work with and for how long.
But it's been more my family and God, you know? I'm a firm believer and I have a lot of faith in God. Any stress and I just take it back to basics. I pray and keep doing what I'm doing.
Skaters Lucien Clarke and Benny Fairfax also worked on this campaign, do you think there is a crossover between the worlds of skating and grime? Does anyone in the ends skate?
Yeah, 100% man. I'm an MC, producer, figurehead, activist, whatever you want to call me but I skateboard, I always have. I don't see myself as any different to these guys, it's just not my profession. Skaters listen to the music as well, they've probably got 15 bars, a couple of lyrics. It goes hand in hand man. It's all energy and activities.
Outside of early grime music, what were you listening to growing up and how has that influenced your work?
I listened to a lot of funk and G-funk. I really like film scores, you know, film soundtracks? If you listen to Be Blessed, my new EP, you'll get that, it's quite cinematic and euphoric. I even like listening to video game music like the original Street Fighter II soundtrack.
Do you have a favorite film score?
I quite like Beverly Hills Cop. I think it's Harold Faltermeyer, he's a bad boy producer when it comes to the film scoring. I like Stranger Things as well.
I'll tell you what brother, a lot of people look at the music as something in the background, they don't look at it like actual songs. The songs I hear in films are phenomenal man, and that's what I want to step into after a while.
What do you hope to achieve with your MMMYEH label?
The aim is to show young people that you can do it yourself. I could've signed for so many labels but I said no, let me take the tortoise and the hare approach. Let's get to the finish line in our own time, it's more fulfilling than sprinting.
I don't want to own anyone's music, owning someone's music is not a nice feeling bruv. That's their project so I'm not really with that, but I do want to show people that you can set something up yourself, build your own foundation, and put your music out there. Even if you're not the biggest guy at the moment, keep doing it. Start making a brick wall and turn that brick wall into a mansion.
Do you think you've learned from the earlier grime artists that signed quickly, and for who it didn't quite work out?
It was a learning curve for the whole game. That's part of the reason I pay homage to older MCs. We've got to learn from their mistakes as well as their achievements.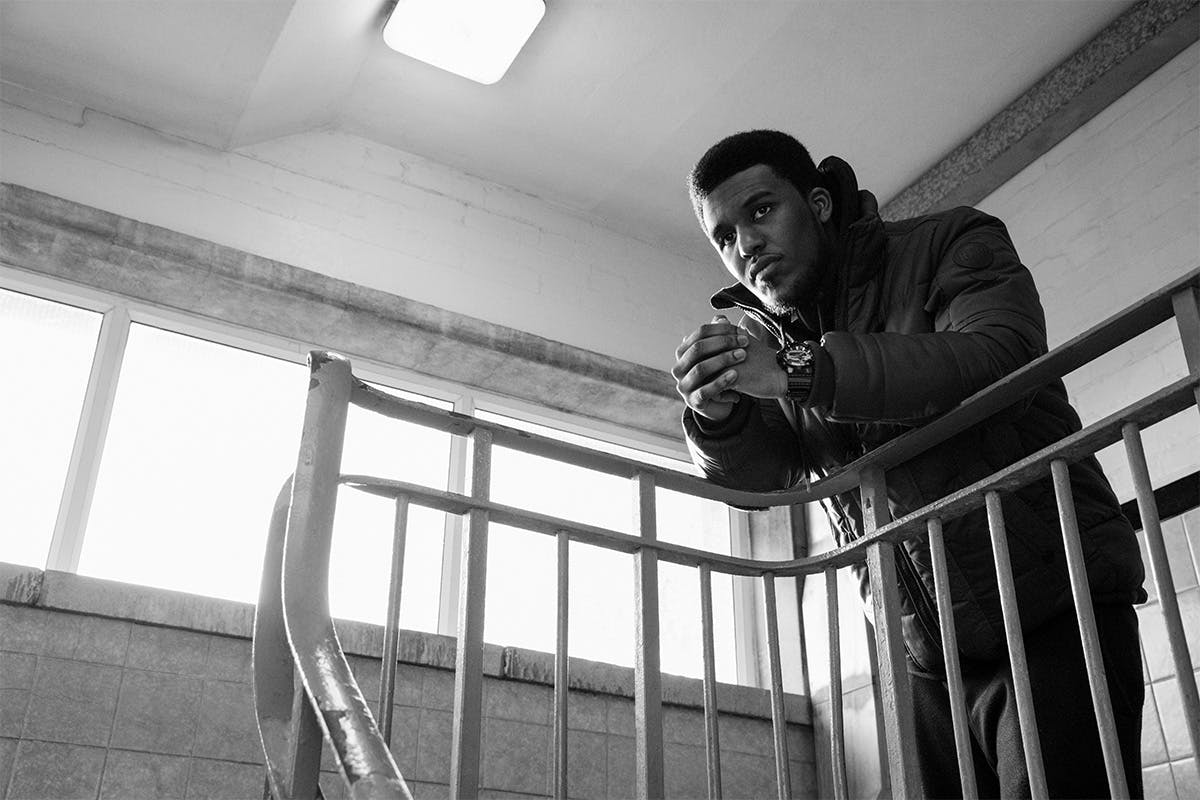 You, and other grime artists, have been trying to encourage people to vote for Jeremy Corbyn. How important do you think it is for people with an audience like yourself to take a political stance?
I'm not here just to be famous, that's a joke. I feel like everyone is so obsessed with themselves that they're forgetting this is about all of us. I don't look at this as different from anything else I'm speaking about on tracks, and it needs to be addressed. If you're a young person feeling you've got a leader that shouldn't be in control, get up and vote. Do the right thing. I'm voting for Corbyn myself, but I'm just encouraging people to vote because whoever you pick, at least you've tried to do something for the country you live in.
In the past, and even today, some people have criticized grime for having a negative message. You're a very positive individual, so what would you say to these people?
It's the truth, that's not a lie, but it all depends on how you speak about it. Are you trying to educate people? When you're trying to educate, you don't speak about things in a way that's gonna cause drama. There are a lot of people just glamorizing it.
I've been through a lot, you know what I'm saying? I've been through a whole lot, and because I haven't released many songs talking about my life, people probably wouldn't know a quarter of what I've been through. I might speak about being stabbed but in a way that isn't intimidating or promoting violence. It's all about the approach.
I don't feel like it's wrong of people to be speaking about it but a lot of people don't know how to articulate their feelings without it coming across a certain way. A lot of people don't even care about it. Be more tactful when you speak. That's my advice to an MC. Be tactful about how you express your story. Do you want people to look at you like a thug or do you want them to look at you like you're an artist?
You've just dropped an instrumental EP, what can you tell those who haven't listed to it yet about that project?
They're not typical grime beats, they're more like what we were talking about around film scoring. The title tracks are the names of different ranks of angels in Christianity. It's not about Christianity but it sounds angelic and supernatural.
What else is coming up for you this year?
I've got a whole lot of music ready, a whole lot of music. For years I've just been in the game, working hard, and now I'm about to show people why I'm here, who I am, and what good music really sounds like.
I've got a single called "No Smiles" coming out. I'm gonna start taking more bookings because at the start of the year I said I didn't want to take bookings, I was focusing on making music. Now I've got a little weight off my shoulders. I might do a tour in the US with Faze Miyake too.