This piece appears as part of our initiative on Identity & Representation, a six-month-long project highlighting different facets of identity and how they shape the practices, conventions, and conversations happening in the Highsnobiety world. Head here for the full series.
"I think that my men's clothes look as good on women as my women's clothing,'' influential Japanese designer Yohji Yamamoto told The New York Times in 1983. "I always wonder who decided that there should be a difference in the clothes of men and women."
Yamamoto's capacious men's garments did appeal to women. But outside of edgy stores such as NYC's now-defunct Charivari, where his designs were popular among a niche clientele, Yamamoto's idea of genderless clothing was considered radical.
Today, the world is a little different. While women have been comfortable wearing men's clothes for decades, men also now have fewer hesitations when it comes to buying and wearing women's fashion. And those purchasing patterns are challenging traditional gendered retail categories.
Zeke Hemme, 27, a former college soccer player and a Yamamoto fan, embodies the traditional all-American masculine ideal: an athletic 6-foot 3-inch frame, a mop of blond hair, a square jaw, and a raffish beard. Hemme, a straight cisgender male, also loves wearing baggy Issey Miyake track pants as much as he does his skirt-like Yamamoto culottes or his transparent mesh shirt decorated with floral prints and accessorized with faux pearl bracelets.
"It does not necessarily matter to me if a piece is more feminine or is meant solely for women. Simply put, if I try an item on and enjoy wearing it, then I will wear it," says Hemme, who works as an IT consultant and runs @soft_ee, a discerning selection of Japanese vintage clothing for rental and resale that counts Travis Scott as a client. "I am comfortable with who I am and what I like."
Hemme's relaxed attitude about his masculinity is not entirely unique. After all, he's a millennial, a generation whose reluctance to abide by labels is shattering rigid perceptions of sex and gender, masculinity and femininity. And the younger Gen Z is even more accepting of fluidity. According to a J. Walter Thompson study, 52 percent of the 300 Gen Z participants surveyed don't identify as "completely heterosexual," while 78 percent agree that gender no longer defines a person as much as it used to.
They're watching the LGBTQI+ community gain more mainstream visibility through shows such as RuPaul's Drag Race, the rebooted Queer Eye, and Pose, an FX show starring five transgender lead actors. They're also seeing women empowered by the #MeToo movement and listening to K-pop boy band BTS and streetwear-loving Billie Eilish, whose personal styles are not confined to gender norms.
"Social media has allowed people to see a constant stream of provocative images," says Hemme. "Over time, the ones considered outrageous or social faux pas will be normalized to a certain extent."
In fashion, there has been an abundance of independent labels promoting a genderless agenda, including CFDA winner Telfar, LVMH Prize winners Doublet and Wales Bonner, Ludovic de Saint Sernin, Paloma Spain, Hood By Air, Eckhaus Latta, Gypsy Sport, and Vaquera. Big brands have taken a similarly emboldening approach, including Gucci's brash open-minded brand messaging, JW Anderson's co-ed shows, Nike's gender-neutral activewear collection, Dior Men's transparent shirts, and Thom Browne's Instagrams of men in heels and skirts.
In 2009, Stavros Karelis opened London's Machine-A, an influential retailer that stocks directional brands like Craig Green and Raf Simons and merchandizes them genderlessly. "In the beginning, there were more reservations. But as time passed, it made very little sense for the clothes to be separated," he says. "The customer right now is much braver. They're feeling more secure with themselves and the society that they're living in."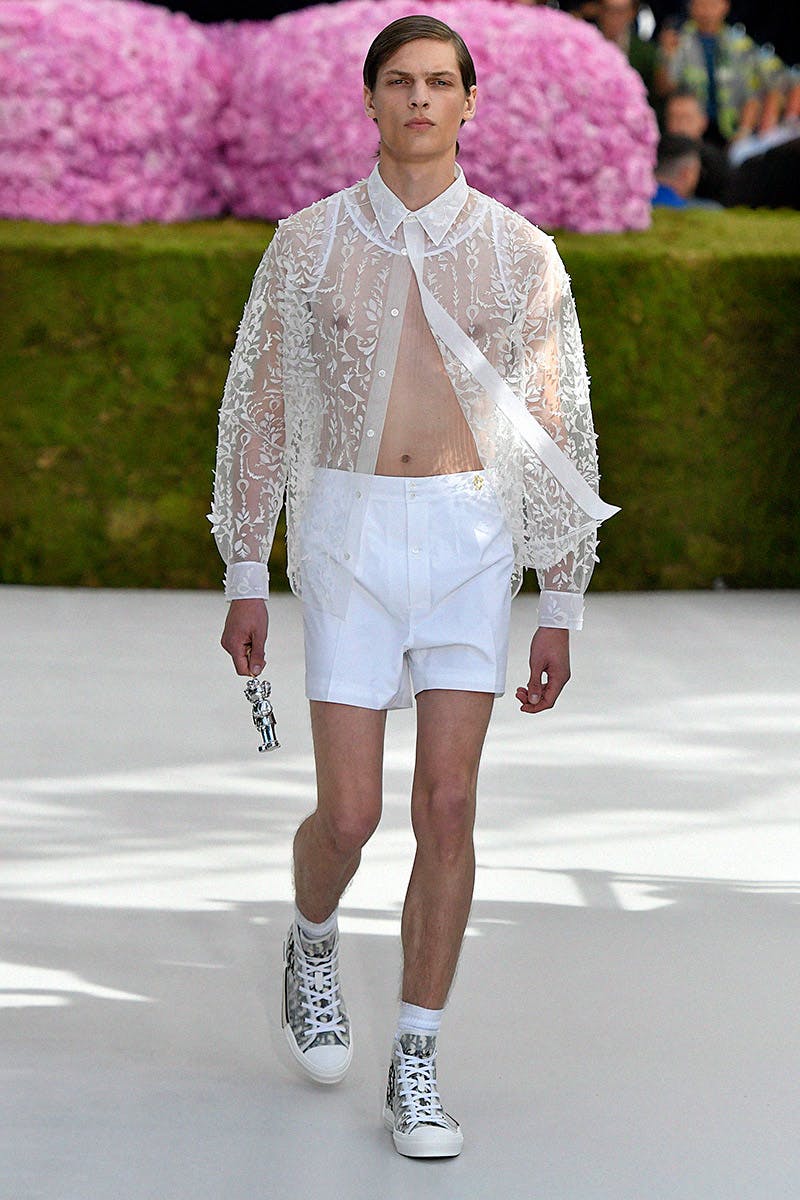 "I think we also have streetwear to thank for that because they really opened the door for men to look at fashion in a different way," says Sander Lak, creative director of New York label Sies Marjan.
When Sies Marjan launched in 2016, it was a womenswear brand known for vibrant colors and textures. But Lak soon noticed that men were buying the louche Sander women's button-down he often wore for his own public appearances. The demand for Sander shirts inspired Lak to launch a menswear capsule collection in December 2017. "The first thing we sold out of was our pink shearling jacket," says Lak.
Sandy Liang, whose eponymous line was also initially marketed for women, noticed that men were buying her colorful oversized fleece jackets. "[The jackets] have always been unisex to me and I've always had male customers," says Liang.
Those customers range from her more conservative brother to Mission Chinese Food founder Danny Bowien, a downtown NYC style icon recognizable for his gender-bending looks. "This past year, I've been marketing them as unisex, giving it a label for guys to feel more comfortable in purchasing them," Liang explains.
Liang recently opened a Lower East Side pop-up at 139 Eldridge Street. Although her unisex collection has yet to be delivered to the store, the pop-up has attracted a customer base that is split equally between men and women.
With more men buying pieces from women's collections and vice versa, Lak and Liang have started to see the operational benefits for their brands. Ahead of showing his full menswear collection in Paris this month, Lak notes those benefits. "If we have a fabric that we are selling both in the women's collection and men's collection, [instead of] setting up an order of, say, 400 meters, we can now have an order of 800 meters, because you're actually doubling sales in the same fabric," he says. "This really helps us."
"If a brand is presenting both men's and women's collections, they're doubling the cost," says Karelis of having two shows several times a year. As a merchant, he makes several trips a year to places like New York, London, Milan, and Paris to make selections for his store. "It's the same thing for the buyers because it's a time- and cost-consuming process. I hope at some point that the fashion week system is going to change the way it is presented right now, so it connects men's and women's."
Fashion seasons in general are becoming less relevant due to the demands of consumers who want to purchase things at the speed of an Instagram post. "The life expectancy of each product is about a month to sell something full price," says Karelis. A genderless piece has greater potential because it connects two market segments and the audience is much bigger.
"I think sizing and fit differences will always dictate the need for men's and women's departments," says Doug Stephens, an author and futurist known for his predictions about the retail industry. "But style and garment type will be less the driver going forward."
Karelis sees an opportunity in accessories such as shoes and bags, which can be made genderless seamlessly. He cites the commercial success of the Maison Margiela split-toe Tabi shoes, which in the '80s were predominantly worn by women. But last year, the style was relaunched with heels for men. "It became one of the best sellers of the season, not just at Machine-A, but also at other retailers like MATCHES and SSENSE," says Karelis. "There's obviously a huge market demand for that type of product in this age."
But will genderless clothing form a significant part of fashion's future?
Stephens seems to think so. "The way we dress from a gender standpoint is, to a larger extent, a reflection of how we regard gender roles," he says. "As gender roles are blurring, the traditional fashion identities of both men and women are blurring along with them. As long as we continue to become more progressive in our views of what it means to be a man or a woman, we'll see more progressive fashion designs to meet the change."
Perhaps 36 years after that New York Times interview, Yohji Yamamoto will no longer need to wonder.