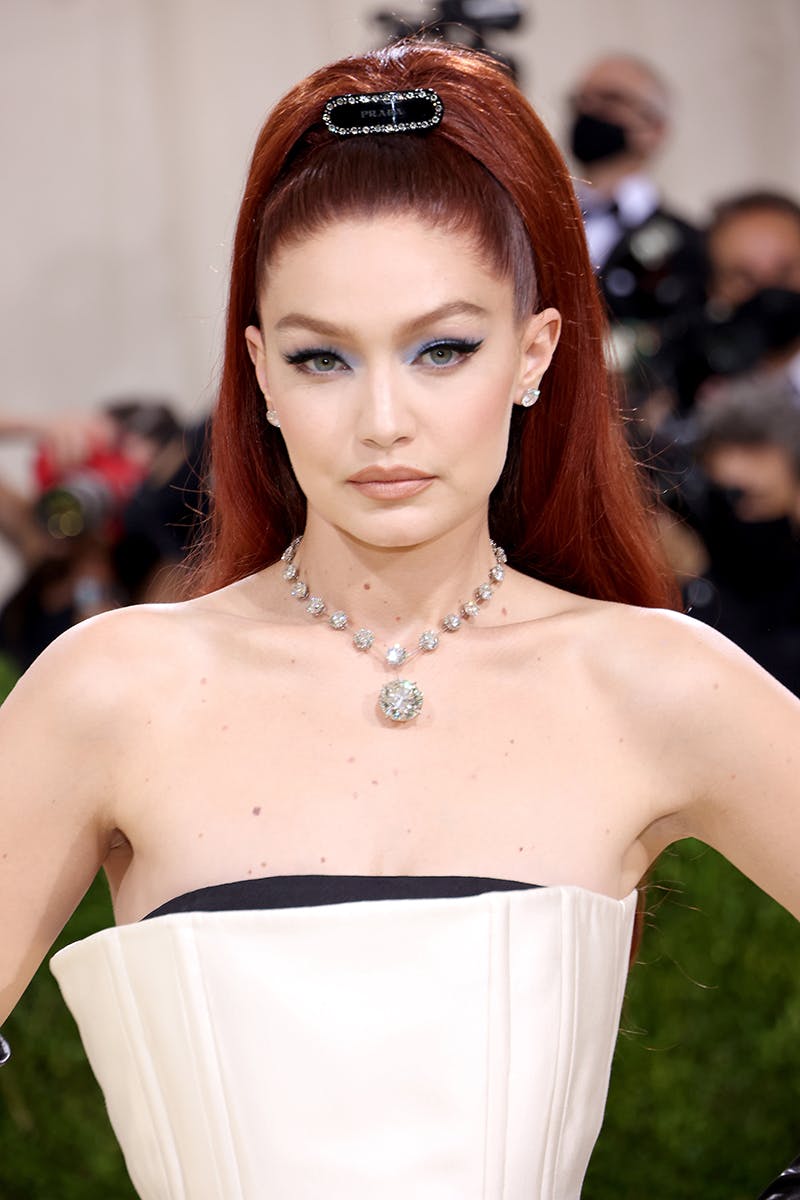 Admittedly, it's a little gauche to gawk at the sheer opulence on display at the 2021's Met Gala. We've covered all the most interesting looks of the evening, and the worst, and the weirdest, but we've mostly refrained from just celebrating wealth for the sake of it.
So forgive me for taking a second to simply survey the sheer audacity of Gigi Hadid's multi-million dollar Jacob & Co. flex. Dripping in diamonds and bespoke Prada, the elder Hadid sister showed off a one-of-a-kind necklace from Jacob & Co's high jewelry collection and matching stud earrings.
The earrings sport 10-carats of diamonds, while the necklace boasts a whopping 118 carats of round gems, all catching the flash of paparazzi cameras. In all, Gigi's three-piece set weighs in at a jaw-dropping $12 million — talk about power dressing.
Jacob & Co. also dressed a few other celebs, including Simu Liu (wearing a $780,000 Astronomia Baguette Solar watch) and Precious Lee, who rivaled Gigi with over 130 carats of diamonds between her choker, earrings, and rings, that weighed in at over $1.2 million.
Now, I'm very much at peace with the fact that I'll never be invited to wear fancy jewelry at a red carpet event (let alone invited to one) — that's fine by me, seriously.
Even still, I can only imagine how anxious one would feel when strolling around with seven figures worth of jewelry... too much pressure for me, thanks!
Frank Ocean, who stole the show with his audacious animatronic baby and his own velvet Prada, also showed off some heavyweight finery.
He rolled up with the most expensive piece of Homer jewelry: the Sphere Legs High Jewelry Necklace, a nearly $2 million dollar chain and pendant set made entirely of man-made diamonds.
Now, Frank didn't show up to compete with anyone. He probably only hit up The Met to flex that Homer-suited green child, which may have been a Shrek reference given his "Dreamcore" cap, a parody of the Dreamworks logo.
But Gigi still set the standard for over-the-top jewelry with that Jacob & Co. ensemble. And at a celebration of excess, like the Met Gala, the most extra outfit wins.