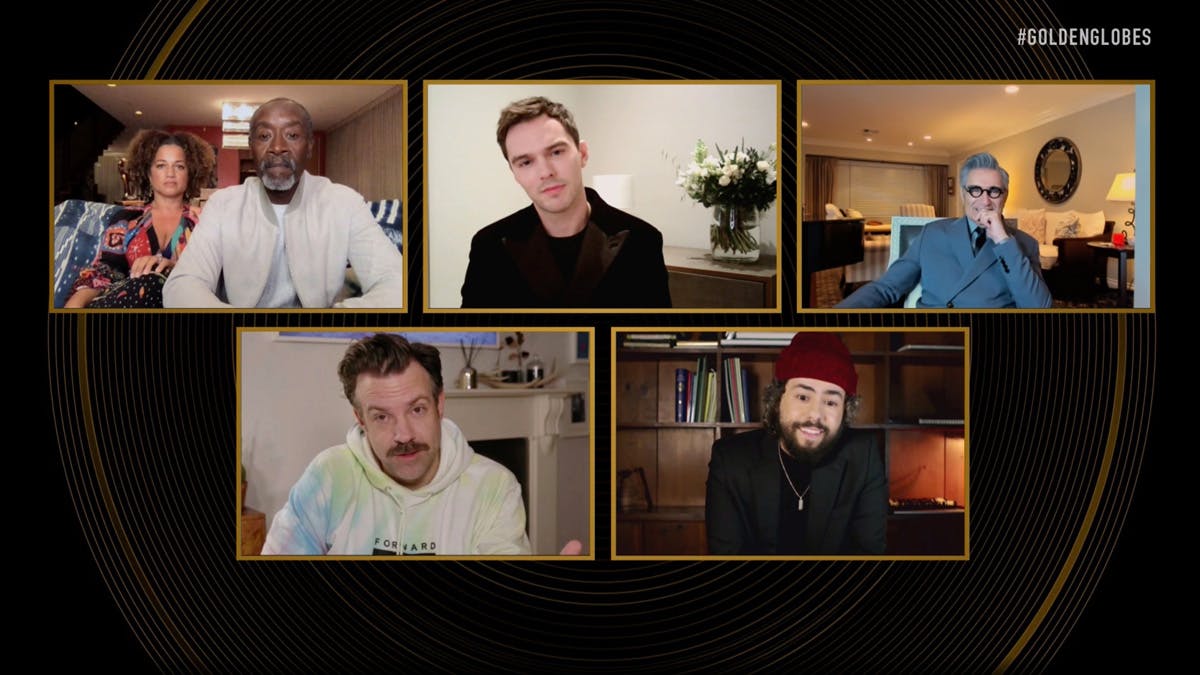 The 78th Golden Globes ceremony was held last night, and because we're a year into the pandemic, the event was held (mostly) online. Hosts and those presenting the awards were in-person while the nominees joined virtually. The whole process was akin to crashing someone's zoom meeting — complete with familiar technical difficulties like Daniel Kaluuya accidentally being muted during his acceptance speech.
Despite streaming the award show on their laptop like the rest of us, the majority of the celebrities in attendance wore full "red carpet" looks. There was Anya Taylor-Joy in Dior, Dan Levy in Valentino, and Josh O'Connor in a bespoke Loewe suit. While these were great looks, in our opinion the standout fits were the ones that didn't try at all.
Let's face it, virtual award shows are weird. Wearing couture in your living room is weird. That's why it felt refreshing when a somewhat scruffy-looking Jason Sudeikis accepted his win for "Ted Lasso" in a tie-dye hoodie made by his sister's workout brand. Or when Chloé Zhao made Golden Globes history, becoming the second woman and first Asian woman ever to win the best director award for her film Nomadland — all while wearing a simple olive green T-shirt. Similarly, Jeff Daniels gave us serious Dad-figuring-out-how-to-zoom vibes in his flannel shirt and bizarre door-filled background, while Jodie Foster brought some luxury into casual wear when she accepted an award in silk pajamas.
Before the award show, Bryan Cranston posted a picture of himself on Instagram in shorts and bare feet with the caption "They want us to dress up for the show tonight, but, when I consider the conundrum of fashion or comfort? Comfort wins out, doesn't it." We'd argue that the outfits weren't good because they're comfortable, they're good because they reflect the reality of the situation. The stay-at-home uniform has become sweats, leggings, and hoodies because of comfort, yes, but also because it feels weird to be dressing up in "going out" clothes to sit in a corner of your bedroom and stare into a screen.
While we understand the desire to dress up, especially for newer actors who are getting their time in the spotlight, the red carpet is usually an escapist fantasy, and the virtual version doesn't quite cut it. Watching celebrities break out the glam squad and pretend that everything is business as usual actually makes things feel more abnormal. That doesn't mean that we're turning our backs on fits with a capital F — trust us, when the pandemic ends we'll be dragging out our most ostentatious pieces — just that for our current moment, casual clothes seem better fit for purpose.
Shop some of our best stay-at-home pieces below