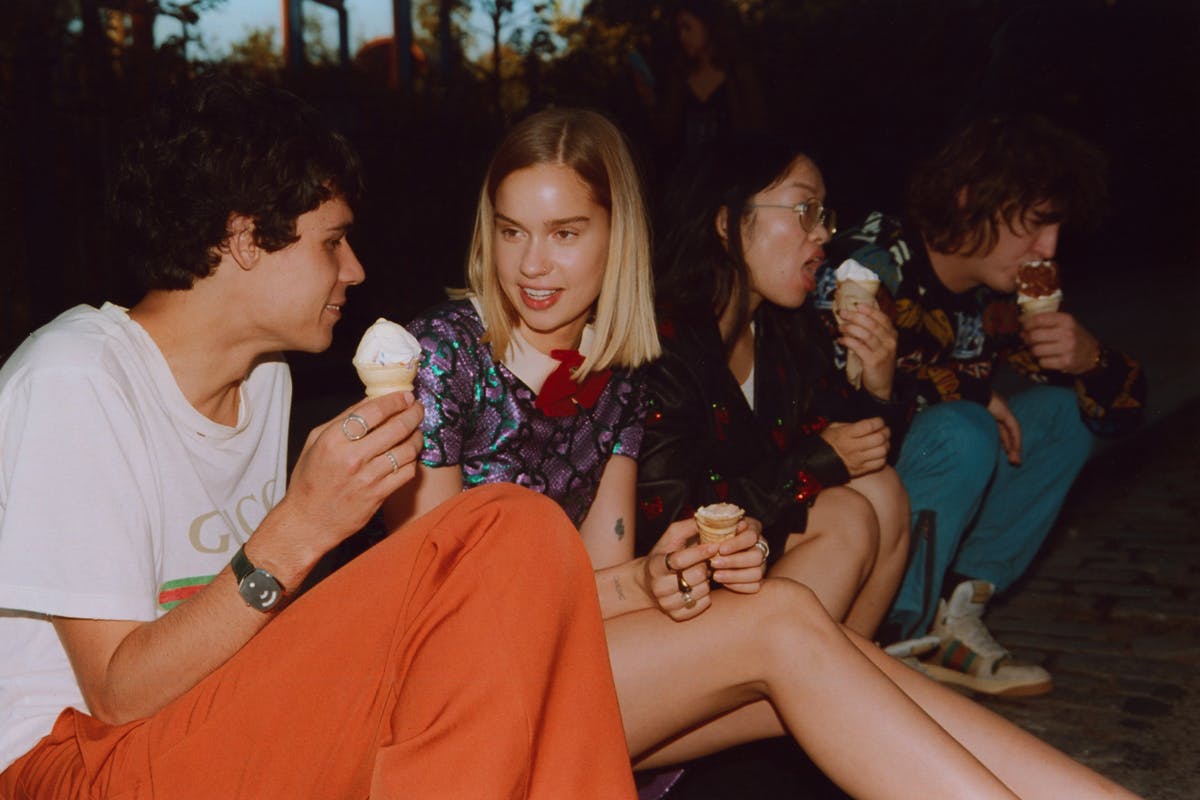 Fashion and skateboarding are intersecting now more than ever. Skaters like our latest cover star Blondey McCoy, as well as Evan Mock and Tyshawn Jones continue to break down industry barriers as models, designers, and creatives paving the way for a new generation of riders. From skate parks to brand lookbooks, one skater-turned-model, Tyler Blue Golden has also found success in front of the camera and recently garnished attention of one of fashion's biggest houses, Gucci.
Recently, Tyler has become the face of Gucci's new campaign for the release of the brands newest timepiece, the Gucci Grip. Inspired by grip tape, the luxury watch pays homage to the 1970s when skateboarding took a more widespread appeal. The model boasts a rotating dial that displays the hour, minute and date within three small openings. The rest is hidden behind engraved cases in gold and silver.
For the Gucci Grip campaign, the brand has collaborated with Tyler and other skaters from cities around the globe including London, Paris, Tokyo, Shanghai and Seoul. Shot by Noah Dillon, the campaign documents the luxury element of the timepieces alongside showing off the renegade authentic element of each individual skater in their respective hometown, doing tricks and of course, skating with friends in Gucci gear.
We sat down with Golden to discuss working with Gucci on the campaign, representing skateboarding in an authentic way, crossing over into modeling, and more. Read the full interview below.
From deck graphics to brand logos and video parts, skateboarding is an extremely visual medium. How did that aspect of skateboarding inspire how you see the world today?
A lot of the ways I dress are definitely inspired by skateboarding, and skateboarders, who I look up to or admire - or did when I was really young, and I'm still discovering that about myself. But also just as a worldview; it definitely shapes the way that I look at a normal sidewalk, or a street, or something like that as well.
Skateboarding also helps younger creative kids break into other industries like fashion and design. Did you always see yourself crossing over into these other industries?
A lot of what has happened with me, in fashion, has been kind of a happy coincidence. It was never something I thought I would find myself doing, because of fashion. But I think that it definitely has an impact on me, as somebody in fashion. Also being a skateboarder, I think that that definitely kind of makes me unique and special. I don't know. It just sets me apart a little bit in that way.
Where do you see yourself going from here?
I mean, I'm kind of doing a lot right now, in terms of modeling and skating. I'm working on a photo book, and some acting stuff. So just more, better, faster, stronger and all of that.
Alessandro Michele has worked with guys like Dapper Dan and Blondey Mccoy as well, making sure to represent the cultures and subcultures in an authentic way. What was it like working with Gucci on this campaign, and did you feel like skateboarding would be shown authentically?
Working on this came together really well. Noah shooting the photos really helped. I think when I met with Gucci initially, when this whole idea came about, they were really forthcoming about what they wanted and there was an ease of dialogue there. They really did entrust me with a lot of the creative process, while still maintaining it to be a Gucci shoot and what not. Everything was very professionally done.
It was really good to work with them, because for a lot of reasons I feel like often times skateboarding gets the short end of the stick when it's represented visually in fashion stories. In this, I definitely don't feel that way. I feel like with the amount of creative leeway I had when working with them was really helpful in the way that it comes across genuinely.
You've said social media is the only voice your generation listens to. What's driving the conversation on these platforms?
I think the conversations on social media platforms, of the popular topics that are discussed, a lot of the driving force behind it is just young people empowering themselves, and in a non-biased way. I think that ultimately leads to the most helpful exchange of information and ideas in that way.
The Gucci Grip is available now on gucci.com. The luxury watch ranges from $1,559 to $2,050.