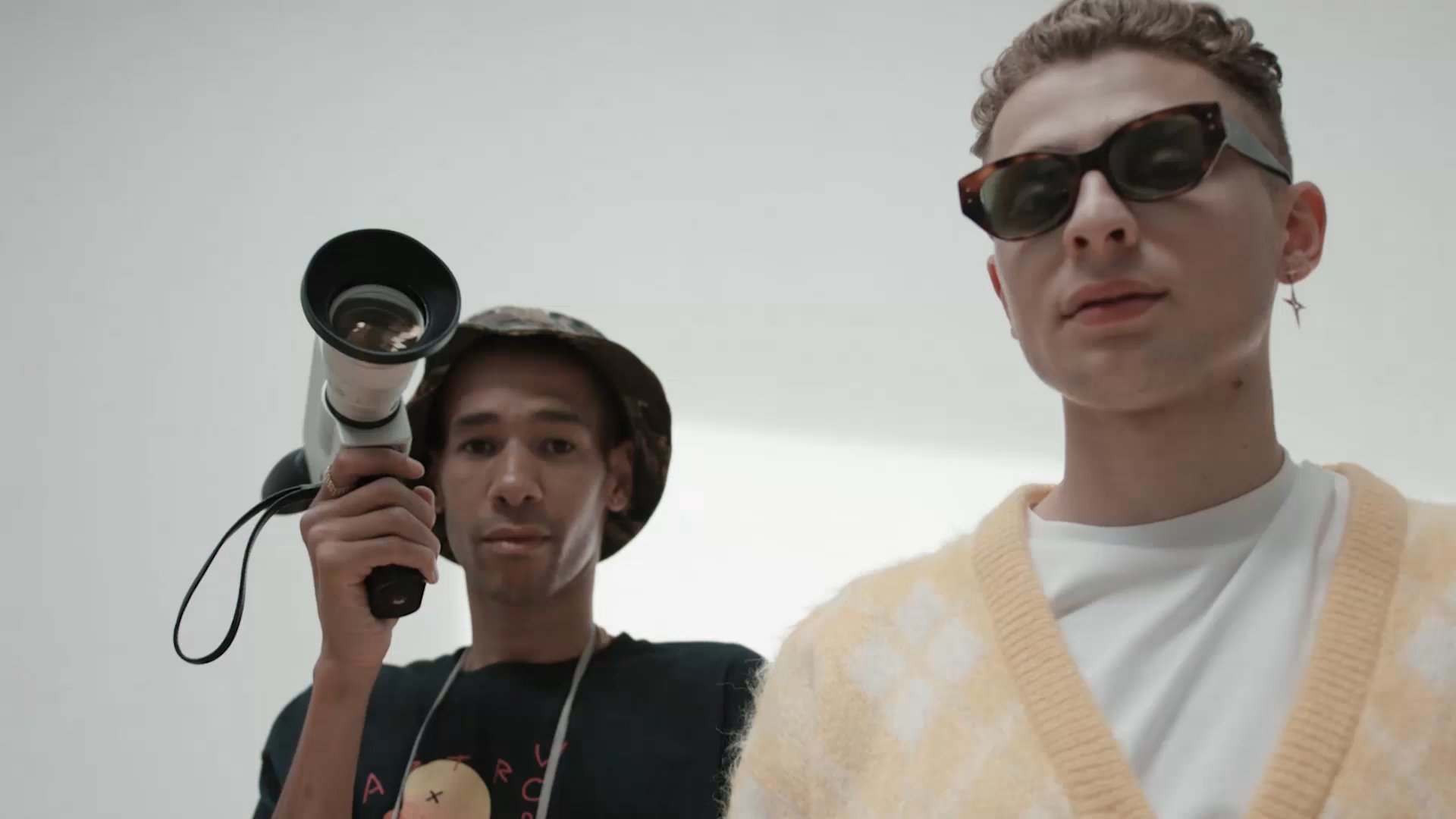 This story is from Issue 19 of Highsnobiety Magazine. You can buy it here.
When Blondey McCoy becomes Prime Minister of the United Kingdom, one of the first things he'll make mandatory are "Social Media Ed" classes for students. "If you ask kids today if they'd rather have sex galore or ten thousand Instagram followers, I'd bet they'd care more about the latter and that's crushing," he laughs.
The 22-year-old London pro-skater-artist-model-designer has a lot to say about the current state of youth culture, which has been gripped by the instant gratification garnered through social media.
"I'll work on an art show for a year and a half and pour a lot of myself into it, but then I get hit by a taxi while skateboarding and people go crazy," he says in reference to Palace's 2017 skate film Palasonic. "You realize you can't take it too seriously."
McCoy is pacing around Ronchini Gallery in London's upscale Mayfair neighborhood where his latest solo art show "Stella Populis" — his seventh to date — is on display. The show is a study on the manifestations of super-fanaticism related to both religion and pop culture and attempts to draw parallels between the two through photography, digital illustration, and installation art. It includes a rendered coronation portrait of the undisputed goddess of pop culture, Lady Diana Spencer, and a series of mirrored and acrylic crucifixes, engraved and UV-printed with lists of confessions and sins (with lines lifted from the Pet Shop Boys song "It's a Sin").
"Epiphanies," a series of 25 laser-etched portraits of celebrities on toast — a tongue-in-cheek parody of people spotting Christ himself on their breakfast as proof of his existence — cover the walls of the intimate space, accompanied by ironic passages: "Fuck my life superstar" accompanies the portrait of Dwayne "The Rock" Johnson; "Having let you finish," that of Taylor Swift; "Uneasy lies the head that wears a crown," Cristiano Ronaldo; and "The lips God gave me," Kendall Jenner. 
The centerpiece of the exhibition, titled "The Loved One," features a life-sized silicone sculpture of Plato, the fictional character played by Sal Mineo in the 1955 film Rebel Without a Cause who is shot down by police on the stairs of the Griffith Observatory, and, like a sacrificial lamb, dies for the sins of his fellow college-goers. The doll, made by film prop makers in a Los Angeles foundry, is completed with individually punched human hair and is crucified on a giant letter "T" in the same style as the letters of the famous Hollywood Sign. 
"Lady D and James Dean passed away very young and because of it they reached the land of the untouchables. People from my generation only really know their legacy, not the real-life happenings in between," McCoy says. "When pop icons die, they become this mythological thing instead of a real human and that's what religion is about, transcending mortality. Celebrities want to be remembered after they're dead."
People were tolerant of the artist drawing parallels between James Dean and Jesus. That goodwill vanished as soon as they heard the show would open on June 6 at 6 p.m. "I got a lot of messages from people telling me I'll burn in Hell, [and I] need to be saved and study the Bible."
It's all part of the artist's commentary on mass devotion, and how in today's pop culture there is little distinction between the 155 million people that live by Selena Gomez's "truth" on Instagram or the faith others have in Jesus. "Having something to aspire to is necessary in human life. Whether that worship has slipped to celebrities or makeup tutorials over religious figures, there's no absolute truth, neither in religion or pop culture. Everything is concealed, tied up, misquoted, or reprinted," he says.
Does that make Blondey McCoy, with nearly 300,000 followers on IG, a saint to his own micro-community?
"I've never felt like I needed to share more of my life to be more interesting because I don't live for anyone other than myself," he convincingly says.
"Success in any creative profession shouldn't be measured by sales, popularity, or followers. That doesn't equate to quality. Because ultimately people won't give a fuck about it. It's never going to mean more to someone else than it means to you, and I apply that method of thinking to my art and my skating."
McCoy is remarkably self-aware and has a dedicated work ethic well beyond his years. That also means the lines between what constitutes as business and as leisure are, in his book, often blurred.
On the day of his cover shoot, McCoy is seen smoking outside. 
With his signature cropped curly cut, an assemblage of jewelry, gold tooth, worn dress shoes, short shorts, and calf-length socks, he arrives at the North London studio with a rack of his own clothes — a vintage boiler suit and black brogues by Prada and a wide assortment of pastel T-shirts and pinstriped Oxfords, both from his skate brand Thames. Photographing him is close friend and fellow skater Lucien Clarke, whom McCoy has known since his early teens. 
What starts as a regular shoot day quickly takes a turn for the unexpected when McCoy's tattoo artist walks into the building and sets up his cling-wrapped bed. Clarke turns up Manchester street soul classic "Broadway 1991 Moss Side (Maxine's Party) Pt 1" and from a ladder takes some Polaroids of McCoy getting inked. Now it's leisure.
The result, a baseball-sized artwork located on McCoy's left chest, shows the newly sketched crown logo of Thames he drew a couple of weeks prior. He's torn about the accompanying typography, ultimately opting for the clean text over the hand-written one.
"I'm very proud to have my new logo on my heart. I love it, it's my favorite tattoo out of the 11," McCoy says. "You have to be committed. That's all that skateboarding is, man. You don't get anything done without it. I think as long as you go into getting any tattoo knowing that it's stupid, you're alright."
It's a singular look into McCoy's real life, going back to his blending of spontaneity and routine. That thread runs throughout the day. Between work calls and email exchanges, the shoot is adapted to his everyday schedule, from grabbing a late lunch at Art Deco-style Regency Cafe in Westminster to going into the night with a two-hour karaoke set with Clarke, his best friend Jackson, and some of the shoot's crew.
"It was an absolute shutdown, we did some big tunes and pulled out the wild cards," he says the next day over a portion of chips and a side of spinach at Dean Street Townhouse — a stone's throw from McCoy's Soho studio — which has become a daily activity, much like his habitual weekly trips to a local spa and dining at Bar Bruno. 
Next to riding roller coasters hours on end during the winter months at Winter Wonderland — a temporary amusement park and festival ground located in Hyde Park — karaoke has become somewhat of a pastime for McCoy ever since he became sober nearly three years back.
"I feel so comfortable in my sobriety now that I can achieve a feeling of confidence, happiness, and tranquility without the drugs. It sounds stupid but you go to karaoke and it's a release of endorphins. You go on a roller coaster and it's exhilarating," says McCoy, who steps into a karaoke bar twice a week.
"We have our repertoire and we know what works," he laughs. While it isn't the most elitist thing, he's adamant you can't let too many people in. "There are always people that want to sing 'Wonderwall' every other go and I just find that contemporary pop music should be off the cards really. The only rule we have is that we open with Robbie Williams' 'Angels' and close with Robbie Williams' 'Come Undone'. The rest is pretty much 1980s."
Amusement aside, the distraction has proven therapeutic for McCoy. It has kept him grounded during a time when his persona and work are swiftly breaking into the public arena. That didn't happen overnight.
Highsnobiety / Lucien Clarke C/O Huxley World, Highsnobiety / Lucien Clarke C/O Huxley World
Born to a British mother and a Lebanese father, McCoy — born Thomas Eblen — grew up the youngest of three in New Malden, a suburb of South West London. His parents divorced when he was 12, giving him more independence from a young age than most of his peers. Classes at Westminster School soon were skipped for long days skating at London's Southbank — the unofficial home of British skateboarding — and later Slam City Skates, before being pushed out completely for lack of attendance at age 15. 
"I wasn't a troublemaker in school and it's not that I didn't enjoy learning. I actually got on really well with the teachers, even though I didn't feel like I belonged with the other students," McCoy admits.
"But my eyes had been opened to another option than school at a young age. I studied skateboarding on YouTube through videos from American companies like Baker and Deathwish, so when I found out there was skateboarding in Britain my mind was blown," he continues. "When I came to South Bank and all these people that I had just worked out existed, they were all there. All the guys from Landscape, Heroin, and PWBC. As if I was going back to school after that. I'm skating with these guys! It was just a sensory overload for me."
Out there he found a home away from home. More importantly, he found a second family that embraced his free-spirited lifestyle. They nicknamed him "Blondey," a name he's gone by since age 11. Not long after, he was skating for Supreme, followed by adidas and Palace.
"His skating is unique and fun to watch. As a person I think he's intelligent, witty, and kind of mysterious," says skate legend and artist Mark Gonzales, who has known McCoy for five years and in addition to skating together, the pair have also visited galleries in New York, LA, and London.
But freedom doesn't equal happiness. It can be self-destructive.
"I was very shy, which was probably a big part of why I got so into drugs," he admits. "It gave me a lot of confidence, which now isn't a problem I have." He quit recreational drugs five years ago and successfully overcame his resulting dependence on alcohol in 2017.
"It took a few tries, but when I really made the decision to get sober, I just got sober," says McCoy, who is remarkably open about one of his darker times. He didn't follow any program, missing out on professional support. The skater describes his process of getting sober in three steps: During the first month of sobriety, the novelty of not continuously being high or drunk was a luxury in disguise. The second month got boring. The third month was when he realized the deeper meanings around his constant need to be under the influence. "The blanket is off and you need to have a hard look at your life."
After month three, he accepted prescription drugs from his doctor for the first time to help with his mental health. It was a predicament he didn't see coming. "They really don't ask you if you have a history of being a drug abuser; they just say, 'You're mental, take this.' Obviously, I abused those and that really fucked me up a lot. I did way too much and it was a complete disaster," McCoy says. Within months he crashed and overdosed.
"I'd been in a chemically altered state for months, and then just stopping cold turkey was probably as hard as it gets."
McCoy, however, is quick to note he has little time for sob stories. "It isn't necessary to have one. When people tell me I did drugs because I must not get along with my dad or because my cat died, I tell them I'm trying to get sober, not win The X Factor. I really believe that maybe [I] did drugs because it was more fun than not doing drugs. You don't always need to have some sort of excuse attached."
Getting clean is incredibly hard, he admits, and there's no right formula. But it's as much about having some element of blind faith and telling yourself it has to get worse before it gets better as it is about taking control of your own life and making choices that will benefit it.
Experiencing the turning point at such a young age was the wake-up call he needed to regain focus. But extremities haven't vanished. "I'm still an addict. I'm addicted to work and staying up all night. I'm just glad I'm addicted to something less destructive than I was," he says.
McCoy is a cultural polymath who throws his hands at ten different jobs at once. With an adherence to progress, it has worked to his advantage. As a model, currently signed to the Kate Moss Agency, he's faced campaigns for Burberry, Valentino, and Louis Vuitton; Virgil Abloh also hand-picked him to walk down the long, multi-colored runway of his debut show in a blood-red look. McCoy has also featured in editorials for i-D, British Vogue, LOVE, and Arena HOMME+, many of which were shot by celebrated British photographer Alasdair McLellan, who has become a mentor figure to McCoy since they met six years ago.
"I remember first seeing McCoy through a photo that an assistant of mine had taken," says McLellan, who has known McCoy since age 15. "I remember thinking he looked like a teenage Shaun Ryder from the band Happy Mondays so I cast him for a story I was working on. The clothes just worked on him. You can dress him in anything and he looks brilliant and believable, which is very rare."
Under Thames — McCoy's streetwear label founded in early 2012 and inspired by everything iconically British, from chav culture dress codes to those of the monarchy — he's collaborated with Fred Perry, jeweler Stephen Webster, and, most prominently, Palace, which legitimized Thames as a brand. A second, more personal clothing label, McCoy, bridges fashion with his art in a bid to democratize his work. It has all kept him running. 
That ethos continued in 2017 when he created three hand-painted holiday murals in New York City for Burberry that explored British culture through McCoy's signature approach to collage. That same year his fifth solo exhibition and accompanying art book, 'Us and Chem.', featured a collaboration with Damien Hirst titled Beautiful Chemical Imbalance. It was directly inspired by his sobriety and explored the relationship between art and therapy.
"McCoy has always had a certain surety about himself. Not in an obnoxious way; he just knows who he is," says respected fashion writer Jo-Ann Furniss, who was introduced to the skater through Alasdair McLellan six years ago and has kept a close relationship with him since. "He's extremely intelligent, funny, and determined — he feels he has a point to prove, I think more to himself than to other people. Although having that audience of 'I'll show them' does no harm. Fundamentally, McCoy's an autodidact. If he wants to find out about something, he immerses himself in it. He doesn't see why he can't teach himself about any number of things."
In that respect, McCoy is among a new wave of skaters that are part of a wider paradigm shift where the lines of what it means to be a skater are being redefined. Awareness around skate culture has funneled into the mainstream, with everyone from high-end and fast-fashion houses to musicians looking to the sport as a gateway to cultural relevance with young audiences.
On the contrary, it's enabled an environment where young skaters like McCoy, Lucien Clarke, Evan Mock, and the late Dylan Rieder have been able to cross-pollinate skating with other disciplines like music, art, and fashion, previously deemed inaccessible. The social stigma from the skate community around finding additional streams of income beyond skateboarding alone, too, has loosened.
"I've done things you would never have expected a skateboarder to do," McCoy agrees. "Everyone looks for new things to latch onto and skateboarding is a really authentic thing; the people have always dressed really well and it has interesting people [attached to it]. So it was bound to happen."
Highsnobiety / Lucien Clarke C/O Huxley World, Highsnobiety / Lucien Clarke C/O Huxley World
Though he adds a word of caution: "I just think that it's on the skateboarder to make the right decisions and to not exploit the culture. I was a skateboarder that was also in a Burberry trench campaign and that was a talking point. I'm happy to be that person and I'm very happy that we're at a stage now where the door to opportunities for skateboarders is open," he adds. "But I have a rule where I don't include actually skateboarding because it's a thing that certain people understand and others don't. There's exploiting and then there's supporting. If Virgil had asked me to skate down the runway I wouldn't have. But everyone's got their individual decisions to make."
McCoy thinks the same way about skateboarding making its Olympic debut at the Tokyo 2020 games. "I'm a fatalist about it. I know it was bound to happen but I think it's a disaster," he laughs. "I'd rather watch Mark Gonzales fall off a skateboard than watch a set of difficult tricks."
For someone who dreamt of entering the Olympics with high jump at a young age, that's surprising to hear. "Well, put it this way: I'm fucking obsessed with the Olympics [but] the way they've done it with uniforms and all sorts of branded badges plastered over a gray, wooden, man-made replica of a street scene, basically cramming in as many technically difficult tricks as you can to then be marked out of 10, is just so contrary to the skateboarding I fell in love with. I don't believe it should be scored because I believe skateboarding is an aesthetic thing."
It's clear skateboarding remains McCoy's true love, so he finds time to skate. Having a schedule that is becoming increasingly packed, more often this now happens at 4 a.m. or on international skate trips with friends.
"I've actually been really happy skating recently," he says. Earlier this year, McCoy announced via Instagram he no longer skates for Palace Skateboards. After seven years of representing the company that put London's skate scene on the world stage, it was time to part ways.
"In a sense, the company and I have grown up together, with the stories of our formative years intertwined and dependent upon each other. Needless to say, I will be forever appreciative of the upbringing and opportunities with which Palace has provided me," his statement read.
So why did he leave?
"I feel like I dedicated my life pretty much as far as I can remember to what is ultimately someone else's vision, and you only have so much energy and time. And that's fine, as we had a good time doing it and I couldn't have been luckier, but you reach a point where you want to level up and do your own thing — be in control of your skating the same way you're in control of other things," says McCoy, affirming his belief that Palace remains the greatest skate team in the world. 
Going solo also means reclaiming full control of Thames to create a fully-owned rider-run brand, something he's kept quiet about until now. After an 18-month hiatus, the brand is being relaunched in September 2019. The new Thames, his biggest project to date, will put the foundations and camaraderie that built skate culture at large front and center again.
"There's golden opportunity," he says. "There's not that many people representing British skateboarding, which isn't the case for British fashion and I don't really understand why that hasn't crossed over yet."
McCoy insists he didn't leave Palace to start Thames, but believes that on a global level, where the majority of skateboarding companies come from California, there should be more options for consumers to support a British company than Palace alone.
For Thames that means also subverting the traditional dress of skateboarders. There will be staples closer to the culture such as hoodies, skate decks, and other paraphernalia. T-shirts will be understated and on their backsides carry the surnames of famous historical Brits, including "Wren's," after Sir Christopher Wren, the architect of St. Paul's Cathedral; "Milne's," after Winnie-the-Pooh author and war hero A.A. Milne; "Dryden's," after poet and playwright John Dryden; and "Busby's," after Richard Busby, a British priest. McCoy being McCoy, all of them double as names of houses and headmasters of the school McCoy was asked to leave. The pastel hues are from each of the individual house's colors worn during sports days.
A big focus on formalwear might come as a surprise: sleek tailoring, sharply cut trousers, cardigans, Made-in-England knitwear, and classic shirting. Those are a direct riff on posh school uniforms, particularly that of six-year-old royal Prince George of Cambridge, who, via Instagram accounts like @garyjanetti, has become Britain's youngest style icon.
Where suiting and trousers cut on Savile Row will bear a higher price point, the majority of the brand will be priced for young people and sold direct to consumer via Thames' online shop and through select skate shops. "Like I said before, there's so much more to British skating and culture than tracksuits and roadman slang that isn't represented. There are things about rich British heritage which people just don't want to touch and I want to do something that is so the opposite of that."
It's clear McCoy feels most comfortable posing uncomfortable questions to people. It wouldn't be the first time he's created controversy around class appropriation. But he's got little time for any misconceptions regarding him exploiting blue-collar workers.
"It's the most absurd thing in the world. I'm not fucking blue-blooded by any stretch of the imagination. If anything, I feel like I've exploited posh culture. I've never made any attempt to appear working class." He continues: "I'm sick of every skateboarder in the world trying to pretend they're from the deepest, darkest 1990s [hole] in Detroit. I hate people not being themselves."
Ultimately McCoy hopes Thames will grow as big and powerful as Supreme, not for the obvious monetary gains, "but because I would love it to be the vehicle for supporting more young people to do the same," he says. "I'd love to give [the next generation] the opportunities that I got through Palace, and see things being born from Thames."
McCoy believes it would contribute to a shift in skateboarding's present-day approach at large. "Skateboarding is quite small-minded and can lack self-esteem, which is quite heartbreaking because I always believed it to be the opposite," he says. "Young skateboarders train so much to be good, but they don't realize that if they were to apply that same level of dedication and conviction to other areas of life, chances are they'd probably succeed. They just want to be unnecessarily institutionalized. You want to belong and if that means playing it safe and doing what everyone else does, then that's a shame. I think that's a mindset which has to fade."
McCoy finishes his side of spinach. "I don't think there's any reason why, as a skateboarder, you couldn't be a coder or a singer or fucking anything else."