"A haircut or hairstyle can make or break an individual," says hairstylist Mark Bustos, "It can make you feel better about yourself or it can make you feel worse about yourself." We may not take our hair as seriously as our 'fits, but it is one of the first things people notice and, as Bustos pointed out, has the power to transform how we feel about ourselves.
For Bustos, that sentiment is more than skin-deep. In 2012, he started hitting the streets of New York City, haircutting tools in hand, and giving free 'cuts to the homeless – something he continues to do every Sunday. Combining his expertise in hair with his humanitarian spirit has put him on a lot of people's radars, including ours.
That's why we tapped him for our guide to mastering your hair. With the help of göt2b®, Bustos showed us how to work with hairstyling products and how to create your own look to stay fresh every day. Peep the video above to see him in action and read below for more on the trailblazing hairstylist.
How did you get your start as a hairstylist?
I started doing hair when I was 14 out of my parents' garage. I've never had another job in my life ever since. I started with my best friend who lived across the street. I gave him the worst haircut. I had to shave his head a few times. Eventually, I got a little better and now people pay me for it.
At what point did you decide to combine hairstyling with humanitarian work?
I started about seven years ago. What inspired that was a family trip to the Philippines. It wasn't this whole big, grand idea that I had. It was one of those things that just something needed to be done because when you see homeless children living on the street in developing countries like the Philippines it hits you pretty hard. So I just thought what better way to be able to give back than by doing what I do best.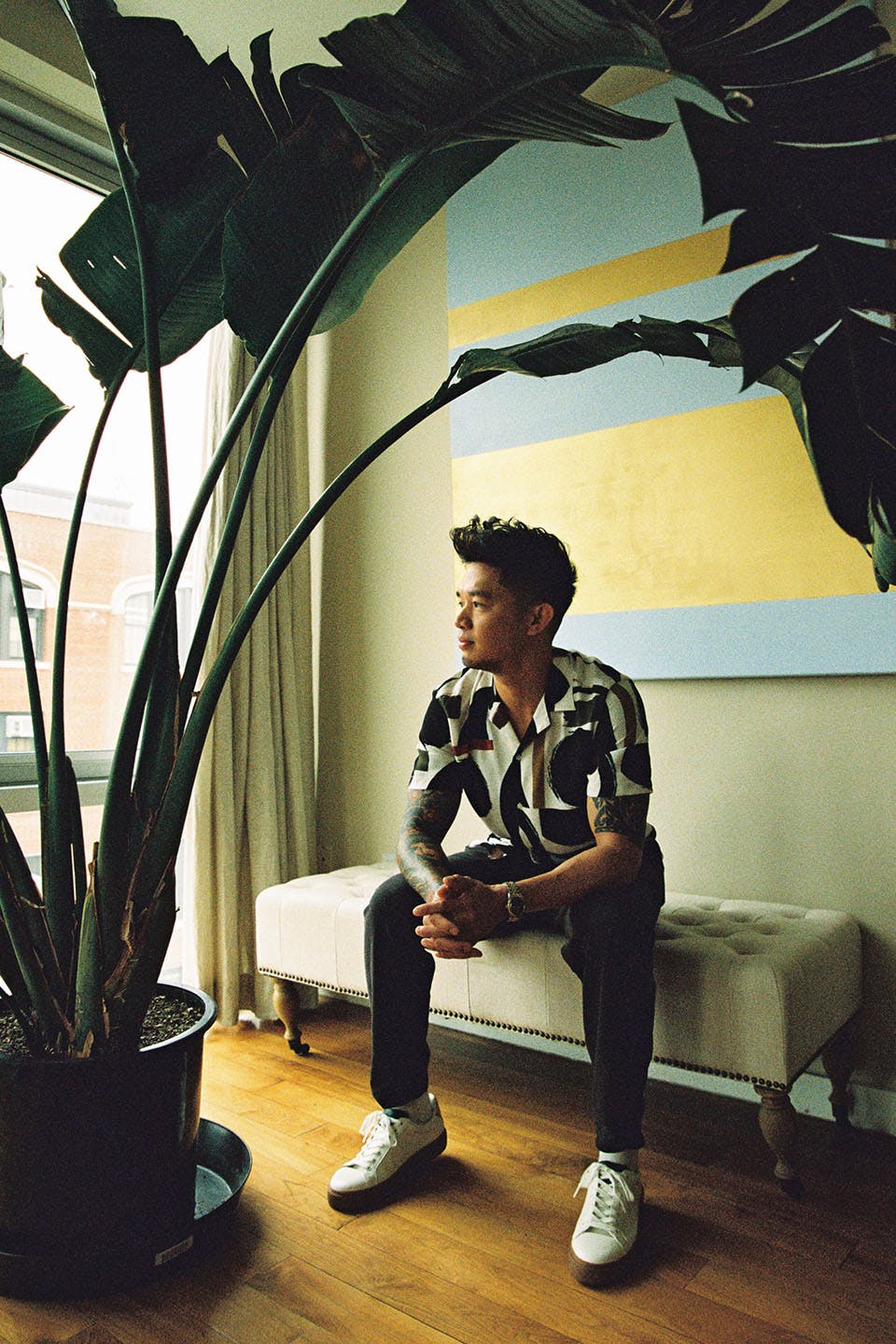 I rented a chair and a little barbershop. I got to hang out with the local barbers for the day and I had the homeless kids come in for free haircuts. I didn't really realize the impact that it was going to make on myself when I started doing it, but from the first boy that sat in my chair I realized that this is my true calling in life where I just love what I do for a living, and why not share it with others?
How did you bring that back to New York City?
The first time I hit the streets in New York was the first weekend I got back home from the Philippines from that trip. I packed up my bag with all cordless tools and I ended up on the Bowery by the Bowery Mission and I was walking back and forth past it. There were people standing outside and I just kept pacing, probably six or seven times. These people are looking at me like, "What is this guy doing?" I was afraid to approach anyone because I had never done it before, but as I was walking by someone standing alone, something inside of me pulled me towards him. I didn't know what I was going to say, but the first words that came out of my mouth were, "I want to do something nice for you today." And in my head I was like, "Oh, that sounded pretty cool." It had a nice ring to it. He was a little standoffish, but he was polite.
He was like, "OK," and I was like, "Are you hungry? Why are you guys all standing here?" And he said, "Oh, well actually they're serving food soon." And I said, "Do you like the food they serve you?" And he replied, "No." I was like, "Well, what do you like?" He had to think about it. I was like, "If you can have anything to eat right now, what would it be?" And it was something as simple as fried chicken and rice. And I was like, "Alright, cool. Let's get you some fried chicken and rice." He goes, "Really?" And I'm like, "Yeah." And then as we're walking towards the restaurant I told him a little bonus that I had for him. I was like, "I got everything in my bag right now. I'm a professional hairstylist and I want to hook you up." And he was like, "Alright." So we walked over to Christie Park and he was really polite. At the end of the haircut I handed him a mirror to show him what he looked like. I'll never forget this. He looked in the mirror and he says, "Do you know anybody who's hiring? I want to get a job."
That moment really made me realize that I was in the right place in life. And from that day on, I've never seen him again, which I see as a good thing because maybe he was able to go out and make a better living for himself. And I asked all the guys around the Bowery Mission, who I see frequently, and I asked everybody [if they've seen him]. And I even showed a photograph of him and nobody's ever even heard of him or seen him or anything. So I almost feel like he was an angel in disguise to put me in the right place in life.
That's an incredible story. As you've continued to work with the homeless in New York City, what's been some of the most memorable moments?
Everyone's got their own story and journey. But one story that stands out was an individual I saw at Christie Park by the Bowery Mission sitting on a bench by himself and he had a plastic bag on the floor next to him and he had fruits and vegetables in the bag. So I approached him, and his name is Graham, and he's from the island of Dominica and he was probably in his sixties at the time and I was like, "Hey, what's up? What's in your bag? Those fruits and vegetables?" And I was like, "Where do you stay?" And I never want to assume anybody's homeless. He ended up being homeless and I asked him how he got to that position. And he said that he's by himself in America.
He had family in Dominica who he hasn't spoken to in a long time and he worked in construction for 30 to 40 years and he ended up becoming a diabetic. So he lost his eyesight, which in turn he wasn't able to work anymore. So he was able to get his eyes corrected a little bit, but still not good enough to get back to work. And that's pretty much what put him on the streets. So I like to share that story with everyone because not everybody on the streets is going through substance abuse or alcoholism or anything along those lines.
On the subject of hair, what are some common mistakes people make with their hair?
I think the most common mistake is being influenced by trends that don't work for the particular individual, and using the wrong products, and using products to create the haircut rather than having a product support the haircut.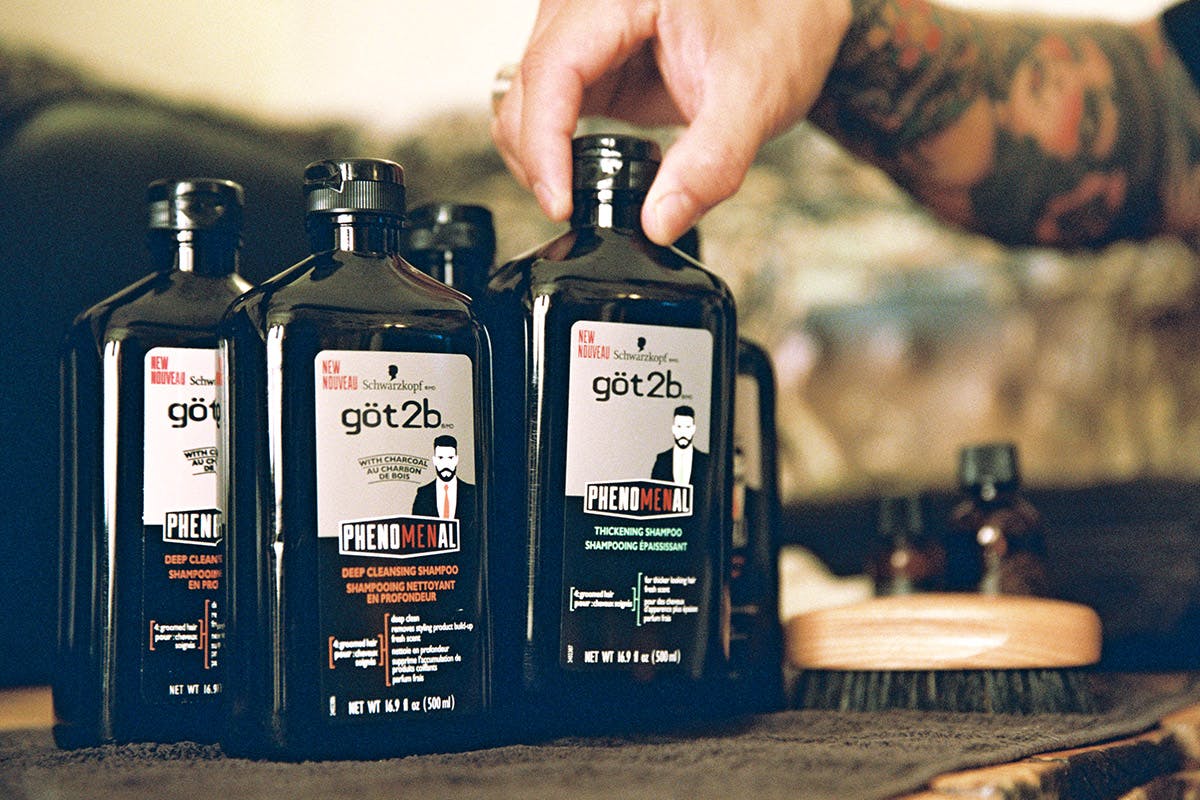 Speaking of products, how can people use göt2b® products and incorporate them in their daily routines to create an individual look?
People can use göt2b® products by finding the right product and being educated on how to style their hair… I think one of the biggest mistakes is that people will put product in their hair and it's soaking wet – if you think about it, it's almost like diluting the product because you're adding water to it, right? So finding that balance of how much moisture is left in the hair and combining it with the correct product to create the perfect look.
What about your hair?
My hair is – there's probably, like, seven different products in it right now. I got to sleep on it for two and a half days. I get one good hair day a week. I'm actually having a really good hair day today. I put a bunch of the göt2b® products in and the combination has been pretty, pretty awesome.
Every day your hair could look different depending on the day of the week, depending on the outfit you wear, your hair could change and göt2b® pretty much has you covered throughout all the different changes and all the different looks that you're trying to achieve throughout the week.
I love the fact that göt2b® is creating these products to stay more current and modern. There's other hair products out there that aren't as easily accessible for everybody – and everybody should be able to have that, the ability to be able to make themselves feel good about themselves.
What's next for you?
I don't really plan what I have going next. I just let life take me where it wants to take me.