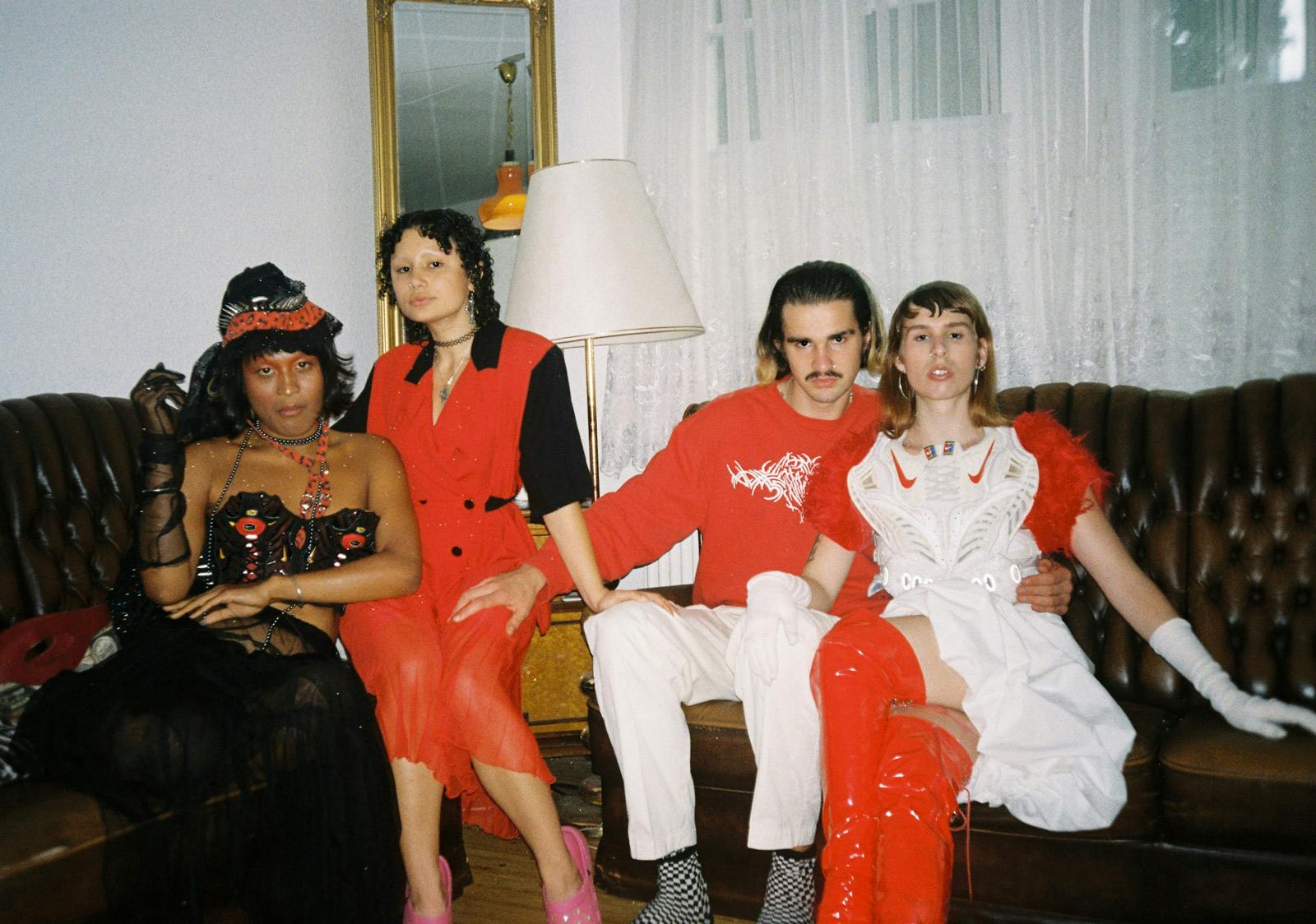 Highsnobiety / CAPRI FLORES
This piece appears as part of BERLIN, BERLIN — a week-long virtual celebration of creativity in the city Highsnobiety calls home. See the full series here, and shop our BERLIN, BERLIN merch here. 
Scrolling through HARAM's Instagram makes you want to take a pair of scissors to any old kicks you may have lying around. After dropping out from fashion school in 2019, designer All Amin started experimenting with sneakers, first making heels out of old ASICS and Nikes before finding what is now her signature piece — bodywear made from upcycled sneakers. Part corset, part body armor, All Amin's genderless creations look just at home in the club as they do in a fashion editorial.
Since launching the brand in 2020, it has steadily become a cult favorite among certain Berlin circles, and Amin even has people hitting her up in the DMs offering their old sneakers to be turned into HARAM creations (an offer that she readily accepts). All of the pieces they work with are second-hand, whether it's from donations or buying used ones from Ebay Kleinanzeigen, Germany's version of Craigslist.
Amin's designs range from full on sculptural bodysuits to seemingly simple open-back tops all made by painstakingly cutting apart and restitching sneakers. And as anyone has tried to do any sneaker DIYs knows all too well, sewing through layers of rubber and leather is no joke.
Below, we catch up with the Berlin-based Kurdish designer and discuss sustainability in fashion, self-love, and why "sometimes you gotta Masha'Allah yourself."
Why did you choose the name HARAM for your brand?
Haram is an Arabic word and means "sin" or "forbidden." It was important for me to choose Haram because that word has triggered me in the past. It was often used against me to keep myself down and not allow me to express myself. For my own healing process and symbolically to grow, I wanted to give the word a new positive energy by redefining it for myself. In all that pain I carried, I also knew that there was a lot of potential. So I started using it to describe my own fashion.
Can you explain your motto on Instagram, "Sometimes you gotta Masha'Allah yourself"?
It's all about self love. I'm a very self-critical person, and I always need to remember to not be too hard on myself. If you can say Masha'Allah to others, you can say it to yourself, too. You deserve it! Recognize what you have already achieved and be proud of who you are.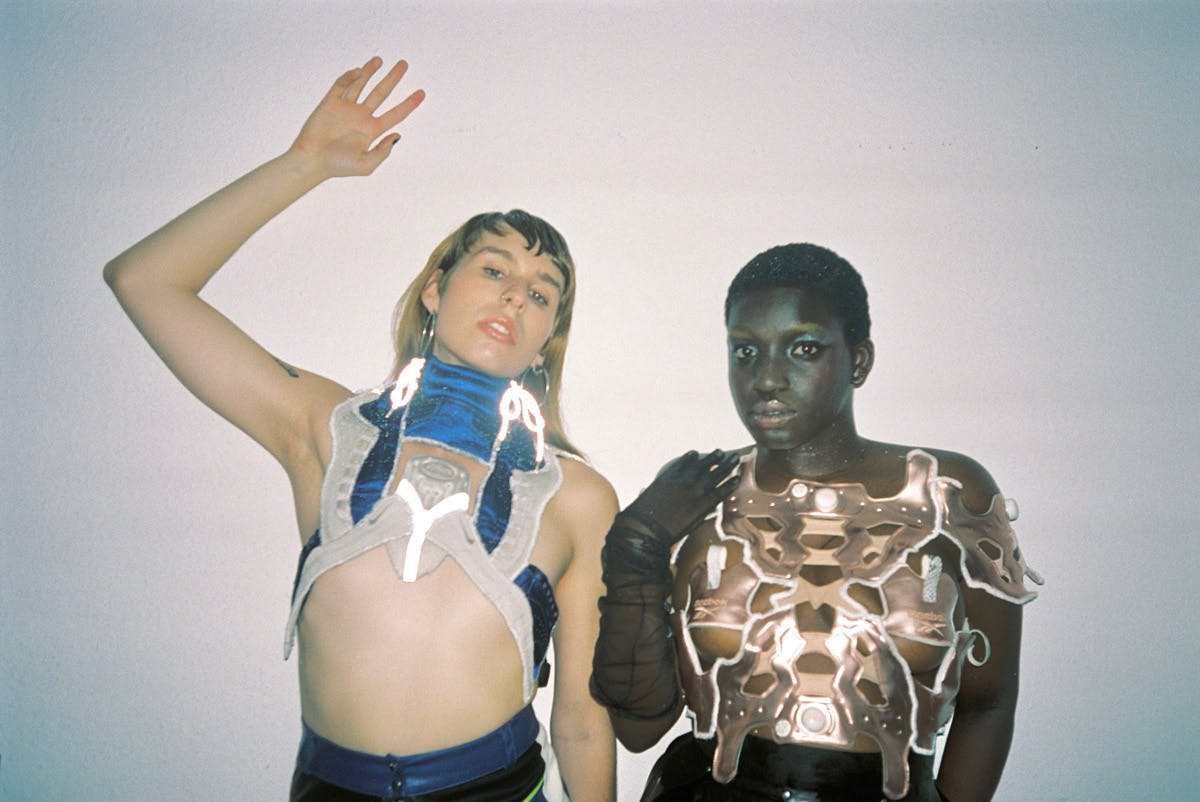 Tell me about starting the label
It goes back to how I grew up. When I was younger, I was pretty unaware about fast fashion and the big impact that the literally haram fashion industry has on both an environmental and humanitarian level. This made me consume more than necessary in the past. By educating myself and diving more into these topics, over time I had a big shift in my mindset and started to rethink my former way of consumption. I owned a lot of sneakers during that time, so I started to work with all the haram resources I already had at hand. By reworking the first old shoes, I already started the birth and transformation of HARAM. It was a symbolic way to leave the old uncritical me behind and start acting in the political discussion about sustainability.
In early 2020, I officially founded my clothing label HARAM together with my co-partner Viktor, specializing in sneaker upcycling. The vision of HARAM was for me to create a sustainable and safe space within the fashion industry as a collective of young creators. I believe that the boundaries in the fashion industry exist to be pushed even further, and that through upcycled fashion we can elevate collective awareness for a more sustainable future.
Why did you decide to work with sneakers?
I just wanted to rework my own wardrobe and give them a new purpose, because over the years it felt like a weight to me. I was a consumption monster back in the day; I worked at Foot Locker for over two years, so you can guess how many sneakers I collected during that period. It just was the right thing for me to give them the second life that they deserve.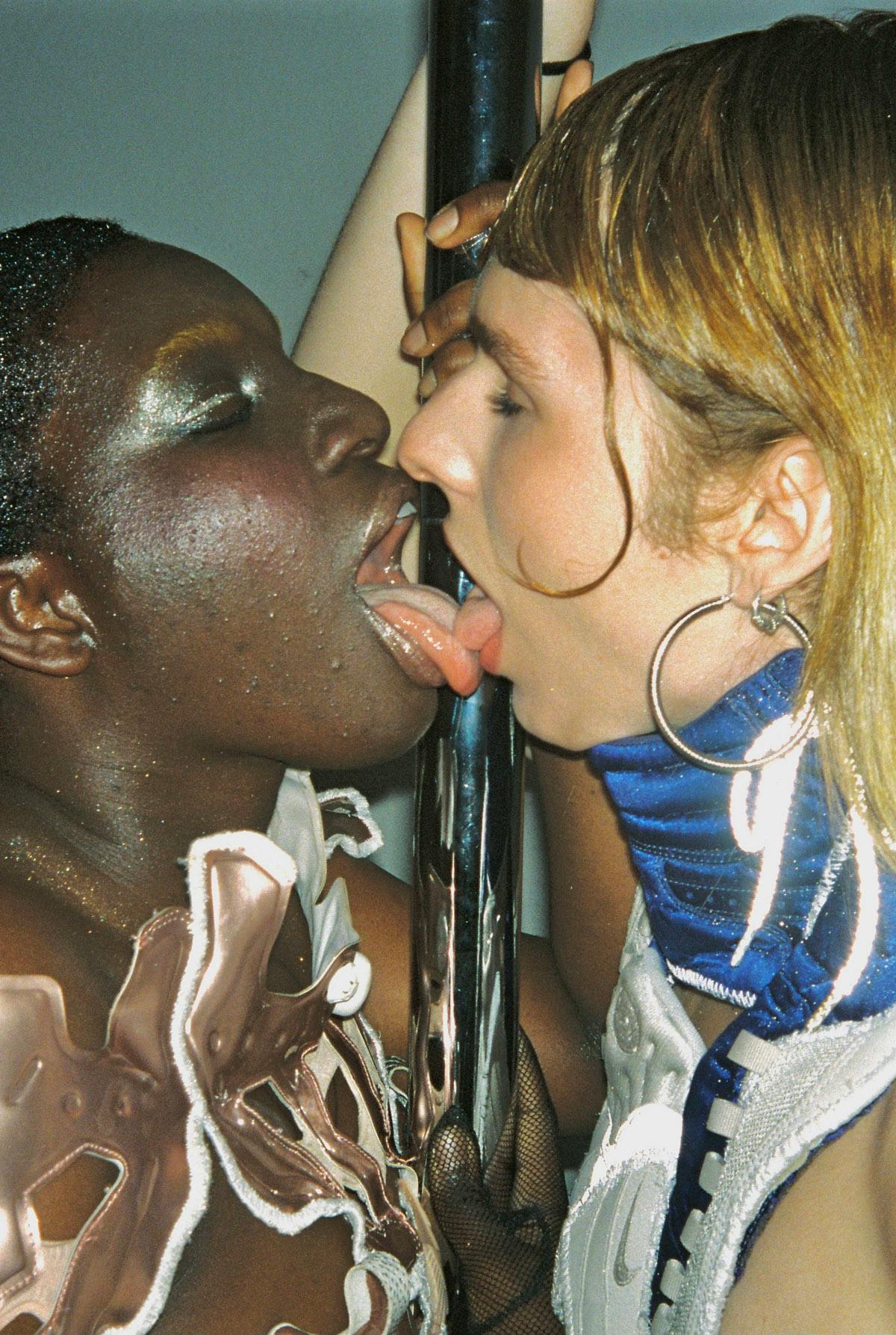 What's your design process like?
The material guides me from the beginning until the result. I never sketch anything or plan my designs. It's all about draping the materials together. Imagine me sitting on the floor whilst being surrounded by every kind of used materials. I really need the chaos around me to get the inspiration. It's about trying something unusual, and so I can't start with a concept as this would break my creativity. I just trust in myself that the process will always give me new ideas.
The good thing about working like this is that I can't be disappointed in myself if it doesn't turn out as I wanted it to. Working without making demands on yourself takes the pressure off, and I think that pressure most of the time is the little devil that gives us creative blocks. My favorite part in the process is to drape the materials on my own body and get the first impression of what my new piece could look like. From there, I just play around with different shapes and sew my piece together.
Do you believe that the conversation of sustainability in the fashion industry is finally being heard?
I think that upcycling is largely still considered a niche practice. There's a lack of systemic understanding about the success and importance of scaling up an upcycling business within the fashion industry. That's why it's necessary for me to continue taking part in the game and filling the gap in the current state of knowledge. But the difference really happens when big brands start applying it. I noticed how different people perceived upcycling after they saw my selection of designs. That's when I realize how much potential it would have in the bigger sustainability discussion, especially for younger generations.