Author and subcultural archivist Sam Knee explores how sneakers penetrated the '80s east coast hardcore scene with punk legends Al Barile of SSD and Walter Schreifels of Youth Of Today. For more rare images, follow Sam on Instagram.
The first wave of U.S. punk in the late '70s had largely been anglophile in its sartorial influences — all Kings Road/Seditionaries knock offs or pricey imports in the shape of bondage trousers, Dr. Martens, brothel creepers, and so on. As the scene fell away, the next generation bubbled up and evolved into the hardcore punk era, which was a more distilled and direct sound. It was no frills — short, fast and loud.
Hardcore fashion followed the same ethos. It rejected the rock 'n' roller boutique flamboyance of the '77 generation, instead taking the look to street level, basic and generic. The Hardcore generation embraced casual Americana obtained cheaply from thrift and surplus stores. In a pre-vintage boom world, relics of a near past were unwanted and available for cheap.
The look exuded pure suburban American punk rock. Nike's entry into this world came relatively late, mainly because the Oregon sportswear brand was perceived as being for jocks and devoid of any punk cred. One early Nike hardcore sighting, though, was a dramatic jumping shot of Al Barile, guitarist of Boston's SSD (Society System Decontrol), who sported a pair of white Blazers in a live show photo on the back cover of 1983 EP Get It Away.
"I wasn't paying attention to what people were wearing," says Barile. "I wore Nikes because I was an athlete. An athlete needed to wear the right shoes to fly, to jump, so it was obvious."
Engineer boots, often customized with studded straps, were also popular in the scene's early days. The influence of skateboarding on figures such as Minor Threat singer and Dischord Records co-founder Ian MacKaye and Black Flag's Henry Rollins was given away by the Vans on their feet.
"I think back then everyone wore boots except for some skateboarders," Barile notes, adding, "I don't think anyone was brand-conscious or anything. There were white Converse Chuck Taylors or whatever — that's what I wore before Nikes. There were Keds."
Of particular importance to Barile was the fact Nike made leather sneakers, meaning they could take more punishment than a canvas shoe. "In punk rock, I don't think Nike initially had any penetration," he recalls. "I know I wore them all the time because that's all I wore. But it wasn't a brand thing — it was a performance thing."
Nike's perceived jockishness wasn't necessarily out of step with hardcore. SSD were a straight edge band, following the same clean-living, alcohol and drug-free ethos that many hardcore kids subscribed to. It was DC's highly influential Minor Threat who had coined the "straight edge" term and with it created a subcultural monster.
Punk was born as a way to roil the status quo, and that manifested even within the scene, with rebellions against what was seen as rebellious by others. "I didn't wear khakis and loafers in high school; I wore dungarees and Nikes and T-shirts before I was in a punk band," says Barile. "[When I came to punk] I wore boots in the beginning, to rebel against the people I was with, the people in high school — I wanted to dress differently than them."
But the new look didn't last. "When you entered punk, there was definitely a look you were supposed to adopt; it was at that point that I looked out and saw a bunch of people with whom I didn't really want to be associated, so I reverted back to my original look. That's why I wore Nikes," Barile adds.
Inspired by the emerging hip-hop culture, skateboarding, graffiti artists, vegetarianism, and old school non-metallic hardcore, a new group hailing from NY called Youth Of Today truly captured the spiritual zeitgeist of mid/late '80s New York hardcore, which became known as the Youth Crew scene. By the mid-'80s, New York hardcore had become a punk sub-genre in its own right, while the likes of the Beastie Boys made the unlikely transition to hip-hop.
Others, meanwhile, cultivated a densely urban and raw sound: early '80s groups such as Agnostic Front, Urban Waste, and Reagan Youth combined minimalist punk rhetoric and anarchic diatribes, merging contemporary influences spanning Discharge and UK Oi, as well as homegrown movers and shaker such as Black Flag and Negative Approach.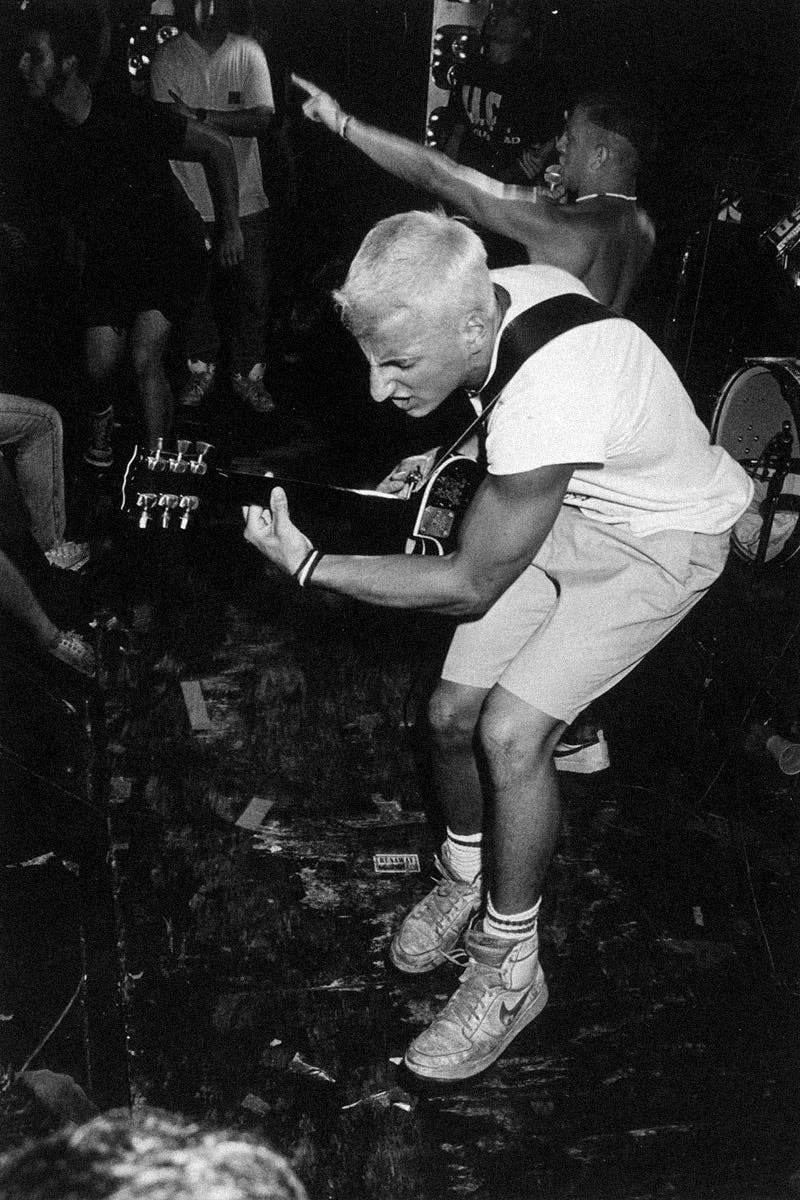 The Youth Crew look was clean cut and preppy to the max; a subversive style paradox far removed from the archaic leather, bristles, studs and acne punx of yore. Playing bass with YOT was a young Walter Schreifels, later the guitarist of the hugely influential Gorilla Biscuits and frontman of post-hardcore act Quicksand.
"The Youth Crew look was functional and affordable — Nikes and Champion were costly, but Vans and T-shirts were not — and allowed one to express a more low-key subversion," explains Schreifels. "You could blend in at high school, as well as at CBGB, without having to dress like Wattie," the mohawked singer of Scottish punk legends The Exploited.
Youth of Today's clean-cut look was influenced by the looks seen on records by SSD and fellow Bostonian's DYS, as well as hardcore fanzines such as xXx. "The hooded sweatshirt, high-tops, rolled-up jeans, a T-shirt, maybe a bomber jacket in the winter, and a shaved head — this was the basic look," says Schreifels, who describes the overall approach as "a more suburban high school-friendly adaptation of the British skinhead look." Fashion-wise, however, the NYHC scene had more in common with hip-hop than UK punk.
The figures making waves among hip-hop fans had the same effect on the Youth Crew. "The '80s were the time of Michael Jordan," says Schreifels. "It can't be overstated how massive he was and how the Air Jordan revolutionized sneakers. On a basic comfort level, Jordans were in another category compared to Chucks or Vans. The only comparison was the New Balance high-top or adidas Ewing, which were also popular, but Michael Jordan wasn't wearing those."
Schreifels says New York hardcore kids were early adapters to the "sneaker fetish scene."  "When a new sneaker would come out, we'd all jump on it," he says. Other popular Nike models included the Air Revolution, the Air Max series, and the Dunk. "Pretty much anything Nike was putting out between '86 and '91," Schreifels notes.
Early punk was a musical revolution because it stripped away the excesses of prog and classic rock, trading in long solos and bloated stage shows for three chords and the truth. But Johnny Rotten and Joe Strummer still looked like rock stars. Hardcore completed the revolution by having its idols look exactly like anyone else in the scene, ripping down the barrier between artist and audience.
"We can't claim we invented wearing Nike," says Schreifels. "Skaters, hip-hop, and normal sporty high school kids everywhere were picking up on Nike just as much. It's only that we tied it into our look by all dressing similarly. Beyond the bands, we were a crew."