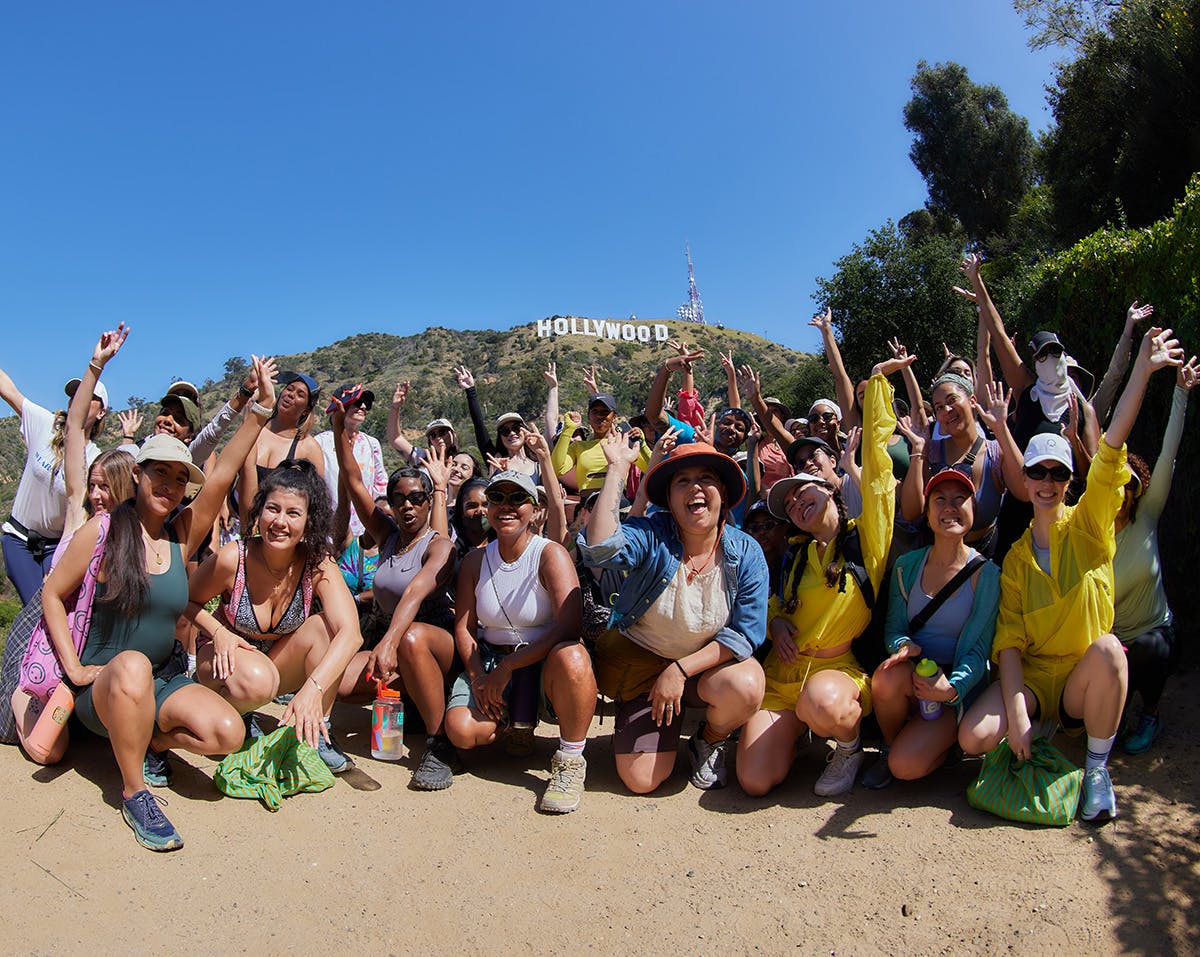 Highsnobiety Sports is our week-long exploration of the intersection between sport and style. Head here for the full series and check out exclusive drops via our online store.
As the group of roughly 60 people ascended a mountain that overlooked the city of Los Angeles on an unseasonably warm Saturday morning, they caught the eyes of everyone they passed. The heightened attention wasn't just on the flashy clothes and stylish sunglasses they wore, but the diversity of the group.
At one point during the 4.3-mile trek to the Hollywood sign, a white woman asked me what kind of group we were a part of—insinuating that we were an "urban" set that she was surprised to see on the trail—while a white man unabashedly pulled out his cell phone to capture what he was witnessing.
After repeatedly experiencing these types of interactions and recognizing that she was often one of few—if not the only—person of color on hiking trails, Evelynn Escobar created Hike Clerb, an LA-based intersectional women's hike club that centers Black and Brown people.
"It was mostly a solution to the problems or blind spots that I was seeing in the outdoors," Escobar tells me over a phone interview.
Growing up in Northern Virginia, Escobar experienced her first hike when she was 10 years old – when her aunt took her and her younger brother to Griffith Observatory during a trip to Los Angeles. Having unlocked a new appreciation for the outdoors, she continued exploring hiking trails through adulthood. But each time she went out, she recognized that fellow white hikers often looked at her as though she didn't belong there.
"It really baffled me that the outdoors were so white because these lands historically are not," says the 30-year-old, who is Black and Maya K'iche', which is indigenous to Guatemala.
With her collective, she wants to encourage Black and Brown people to hit the trails and reclaim the outdoors, while also providing a space for participants to heal themselves in nature as she's been able to do in her own life.
"As Black and Brown women, as women of color, we carry all this generational trauma and a lot of it that has been imposed on us from us being forcibly removed from our lands," Escobar says. "Being able to provide a place for healing—collective healing—was really important and on my spirit to do something about it."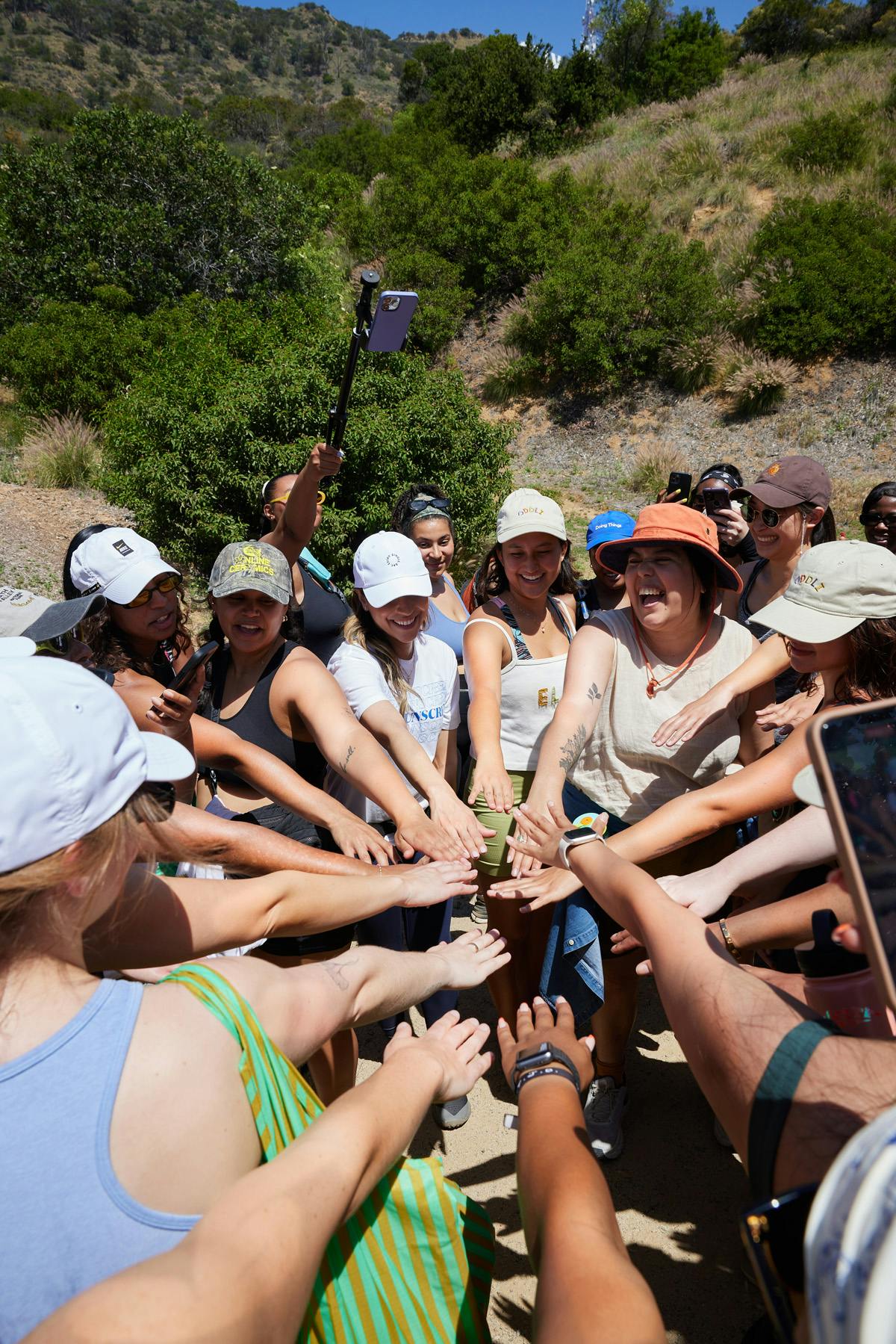 From the outside, it may seem like Hike Clerb, which was founded in 2017 and became an official non-profit in 2020, is a new organization that gained attention right away. The collective boasts 30,000 Instagram followers and counting, and their newly launched TikTok account has already achieved viral status. Securing an RSVP spot to attend one of their hikes is like trying to land a pair of Nikes on the SNKRS app.
Escobar says the popularity has helped introduce the group to more people, but she also believes it's a direct result of the outreach work she and the collective have done over the years.
"We were already taking up space and preaching the gospel that is us reconnecting with ourselves through the land and healing ourselves," she explains. "We were uniquely prepared for all the things that were to come as a result of this fresh set of eyes."
Hike Clerb's fresh and unique perspective extends to their sense of style. On the gram, they exude ultra-cool girl vibes. They've elevated what hiking fashion looks like by incorporating streetwear, bold colors, and accessories into their 'fits—defying norms of what many traditional outdoors retail brands may market a typical hiker to look like. Hike Clerb is composed of various creatives ranging from beauty writers to fashion consultants, content creators, and artists.
What makes them stand out is the fact that there's no singular Hike Clerb look, so to speak. There's a "come as you are" vibe that intentionally remains inclusive when it comes to their looks as well as their mission.
"It truly is an extension of myself. And so with that, I bring my full self into [Hike Clerb]," says Escobar, who describes herself as an "embodied hiker."
"And because I take that step for myself, other people feel comfortable to be their full selves out there," she continues. "And then it becomes this really beautiful, colorful community where people are doing awesome things on their own. Then when we come [together] as a collective, it's like 'Damn, wow. This is so cool.'"
Laci Jordan, who has been hiking with the collective since its founding, says being a part has introduced her to a number of trails around the country and how to properly dress for hikes.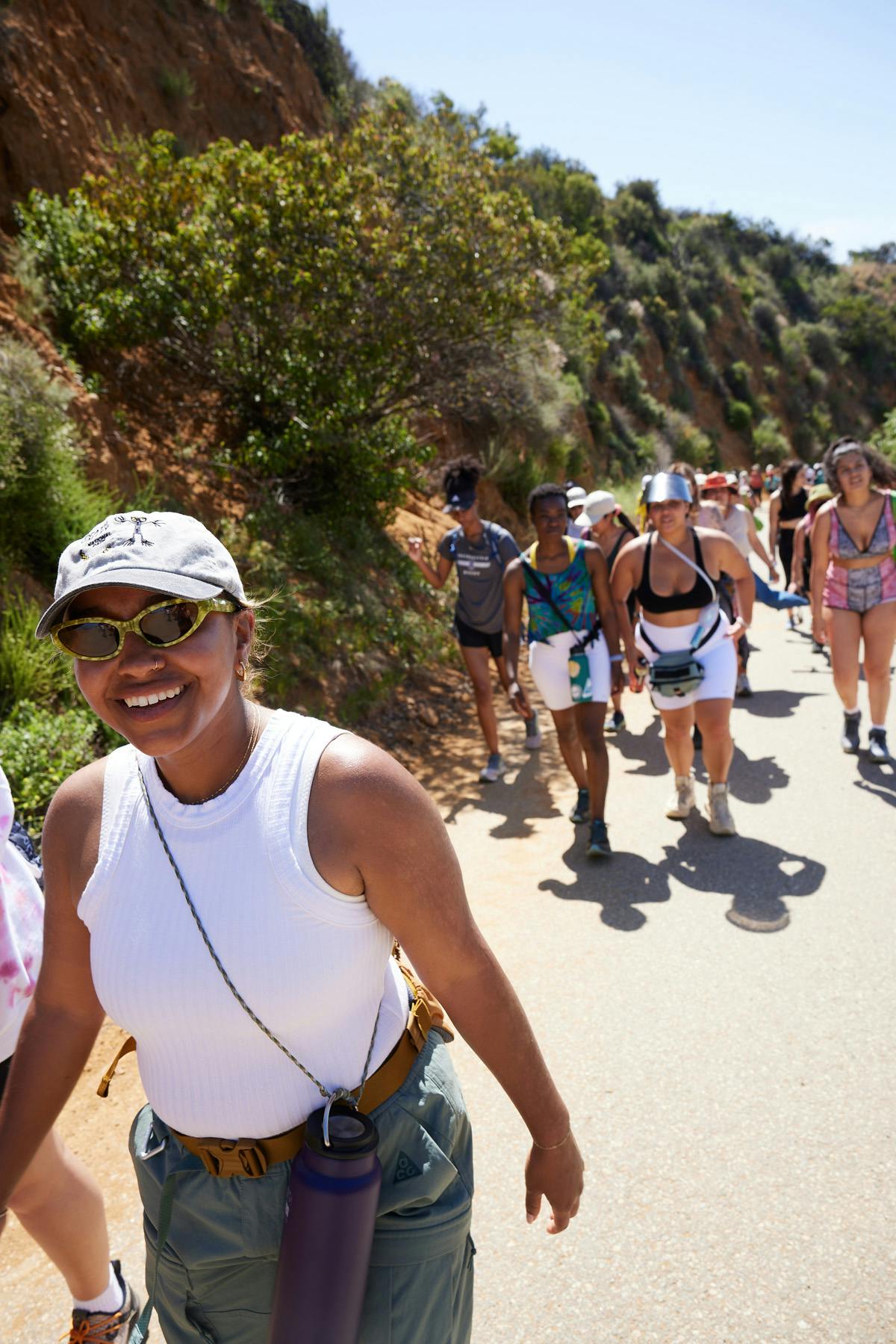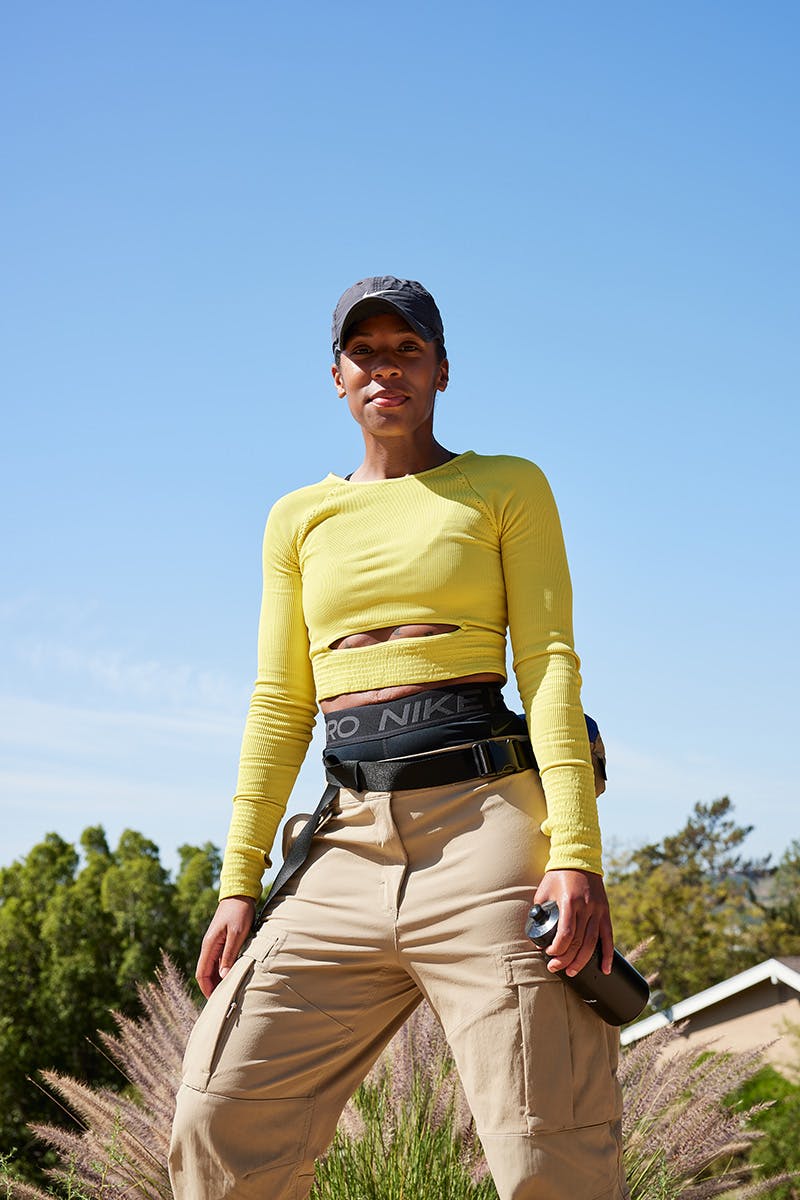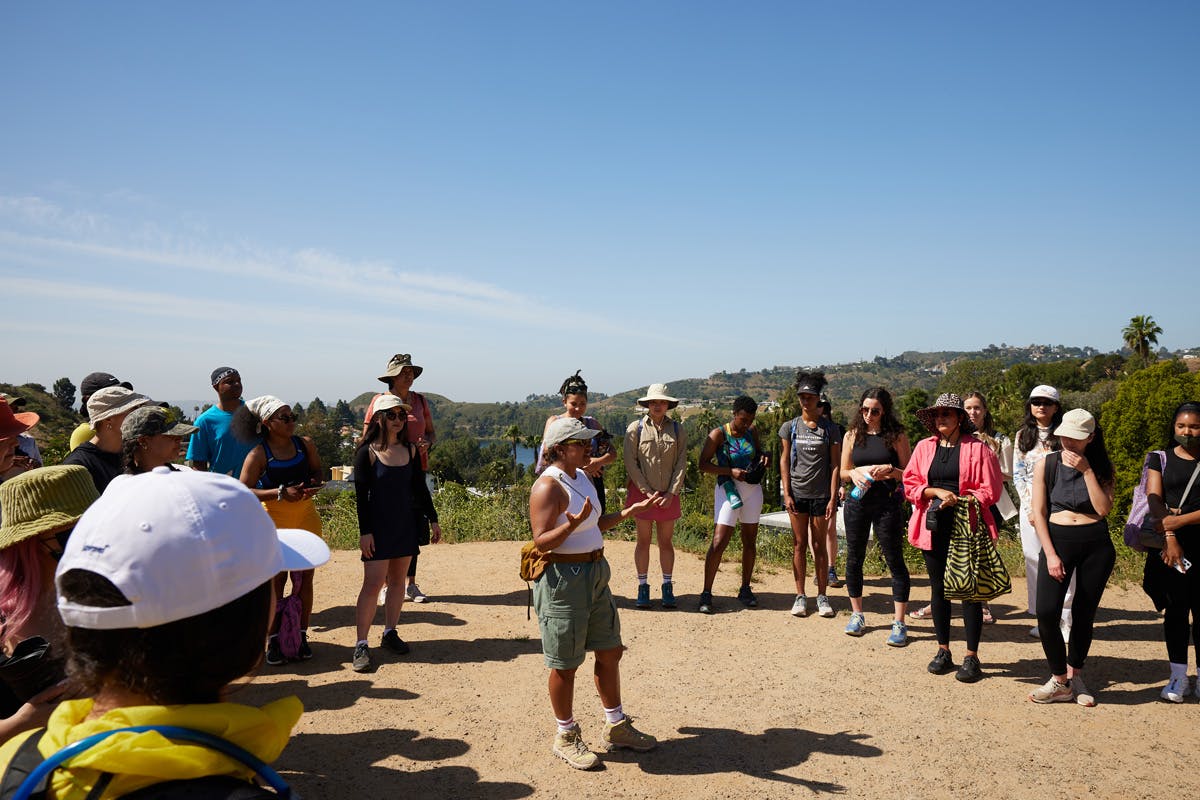 "Sometimes I just want to be like, 'Let me put on my super fly shit just to go out in nature,'" the Alabama-born, LA-based artist says. "You'll think about fits for brunch or the club, but never for nature and it makes me want to turn that up a notch. Like what's in Utah? What's in Wyoming? What are other places in the world that as a Black person we haven't historically pulled up to and explored?"
Jordan adds that Escobar has also helped remind her of how "nature can really release you from a lot of stuff like stress and depression." Hike Clerb has served as a reminder for her to "make sure that I'm carving out time to be in nature and realizing how much that affects me and paying attention to that."
Several people attend Hike Clerb events on their own and end up leaving with a new connection or potential friend. Others, such as Marlene Luciano and Mikki Tesfaye, used a recent Hike Clerb event—which was held in sponsorship with the sunscreen brand Supergoop!—to serve as their first official hang out after recently becoming acquainted.
"I'm always [like], 'Wow, there [are] so many girls getting together,'" Luciano says about discovering Hike Clerb on Instagram. "I love seeing people that we reflect physically. This is a nice way to stay in touch with what's going on in the culture and meet new people."
On paper, hiking isn't viewed as an official sport. But for those who take part in it, it very much feels like one. For many Hike Clerb members, who recently went on their longest hike yet of roughly eight miles in Ojai, hiking represents more of a competition within ones' self—how far they can go, the elevation they can tackle, and the pace they can maintain. In essence, hiking has all of the elements of a sport.
"I think our concept and idea of sport has been evolving and shifting so much as of recently," Escobar says. When she thinks about sports, she considers them to be "an expression of movement. An expression of physical exertion," adding that Hike Clerb events are a team sport because each of their participants start and finish together.
Jennifer Volcy, another OG member, agrees: "You can do a glorified nature walk where everything is kind of paved or you can do really intense trails where there is tougher terrain," says Volcy, who attended Hike Clerb's first hike in 2017 and has been attending ever since. "And I mean, when you hit a really good incline, then you realize this is actually a workout. This is actually a sport. You can make it as intense or not as intense as you want it to be."
As the collective has grown, Hike Clerb has become much more than just hiking. Beyond hike meetups, Escobar and her team have been incorporating educational components into their events to teach people about lands and historic sites where Black and Brown people were once excluded from such as Bruce's Beach—a beach resort in Manhattan Beach, CA that was owned and operated by a Black couple in the early 1900s until their white neighbors ran them out of the area. Hike Clerb hosted a clean-up at the historic site, which as of September 2021 has been returned to the descendants of the land.
Escobar, who became a mother last year, recently launched a mentorship program called B.I.O (Building Inclusivity Outdoors) in which Hike Clerb takes school-age girls and nonbinary students out of school to go on hikes in order to introduce them to the wonders of the outdoors just as her aunt did for her nearly 20 years ago.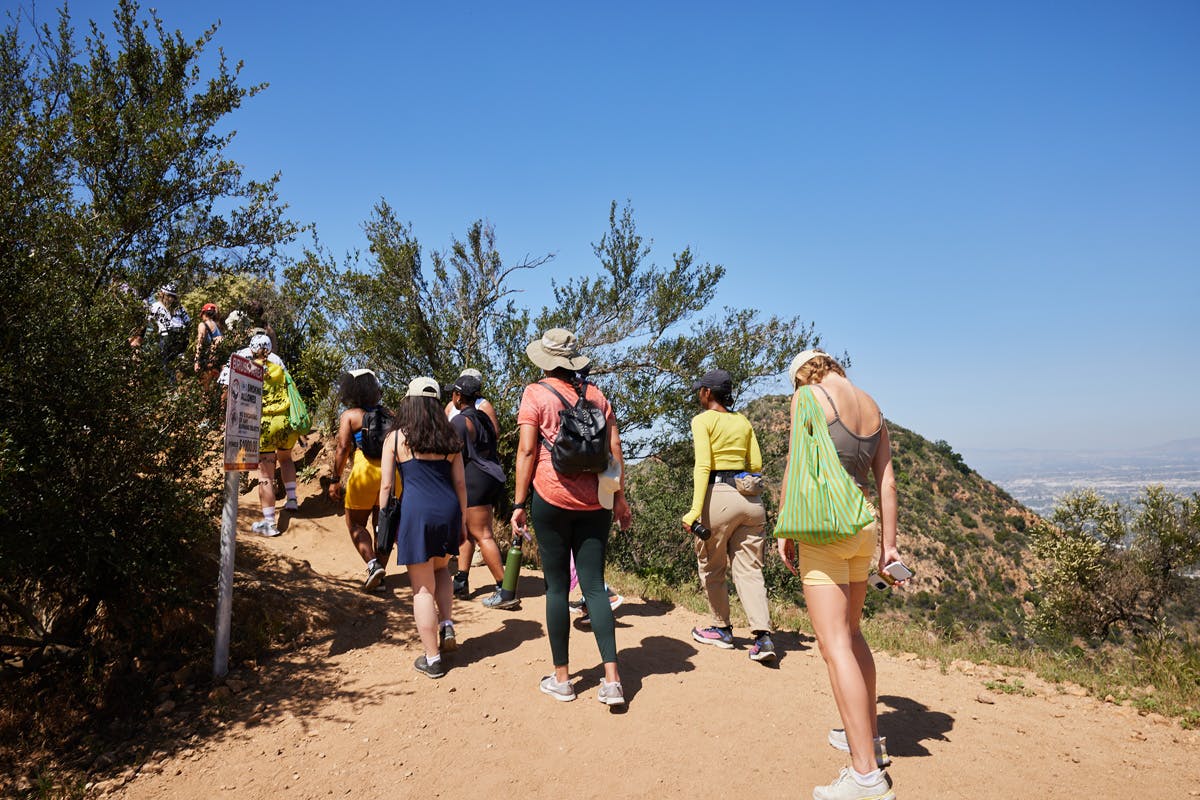 Looking forward, she wants to continue expanding the Hike Clerb universe by curating larger experiences such as national park visits, kayaking, and camping trips like the Night Clerb event coming up in June, among other activities.
When the Hike Clerb participants reached the top of the hill that overlooked the iconic Hollywood sign, Escobar gave them time to take photos of the breathtaking view of the city before asking them to partake in one minute of silence. She explained that she wanted them to take in the moment, the smells, and the views of where they were standing in nature so they could "connect with the essence of what we're doing."
"We're all having fun. We are kiking up the hill, but at the end of the day, it is very intentional," Escobar says about why she prioritizes this practice. "I think that's truly the magic sauce of Hike Clerb. Even though it's fun, even though it looks cool, even though all these creatives and diverse people are out and about, it's super thoughtful and intentional."