Highsnobiety / Thomas Welch
The following excerpt appears in Highsnobiety's new book with Gestalten: The Incomplete Highsnobiety Guide to Fashion and Street Culture. You can buy it here.
Hip-hop culture has had the biggest influence on street culture, informing plenty of the style trends and clothing brands that rose to prominence. In just a few decades, it evolved from fringe subculture to the most dominant force in pop culture.
In '70s New York, hip-hop was born as a reaction to disco culture. Caribbean immigrants and African-American youth in disenfranchised neighborhoods began coming together for impromptu block parties in boroughs like the Bronx. Early pioneers like DJ Kool Herc, Grand Wizzard Theodore, and Grandmaster Flash started the practice of using two turntables to extend the dance break in funk and soul records — creating a seamless sound loop ideal for dancing to endlessly. The "breakbeat" formed the backbone of hip-hop music and later led to the practice of sampling existing music to create something new, adding different tracks and instruments to transform the original piece into a brand new song.
The rhythmic delivery of rapping came from the practice of "capping," where two men would compete with their words over a microphone and win over the audience. The term emcee came from the traditional acronym "MC," short for Master of Ceremonies. Before rappers, the MC's role was to hype up the audience between a DJ's songs and encourage them to dance. Early hip-hop culture was comprised of four elements: rapping, DJing, graffiti writing, and breakdancing, an athletically challenging dance form that developed in the '80s, involving acrobatic moves such as headspins, windmills, and flairs, as well as popping and locking, which relied more on precise body movements.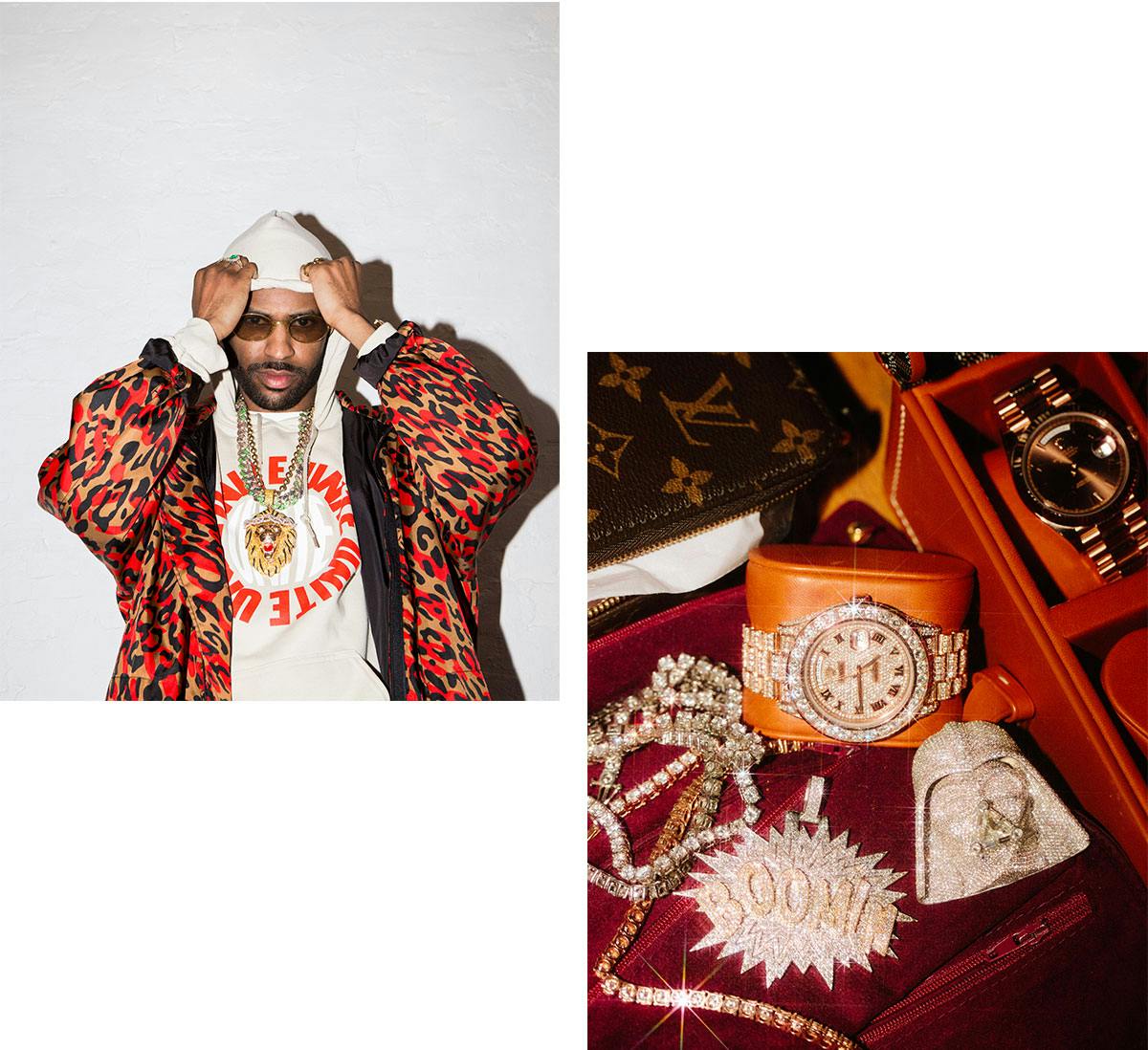 In the nascent days of hip-hop, photographers such as Jamel Shabazz, Martha Cooper, and Henry Chalfant documented the culture's rise in New York's inner cities. B-boys and b-girls wore adidas tracksuits and straight-legged denim over Puma Suede sneakers or adidas Superstars customized with fat laces. Kangol bucket hats and Cazal sunglasses were commonplace, and in the winter, it was time to whip out a shearling coat or leather blazer. Jewelry and chains became a prominent flex on your peers, and no other rapper embodied that more than Slick Rick.
Rick the Ruler's penchant for layered chains, rings, and self-professed love for Bally shoes and Kangol hats are expressed in his 1985 song with Doug E. Fresh, "La Di Da Di." From the start, this is what separated hip-hop from its rock-and-roll predecessors. Movements like punk were founded on anti-fashion ideals and stood in contrast to consumption and capitalism. Hip-hop fully embraced it from the start, seeing dressing up as its own competition — and every rapper boasted he dressed better than the rest.
Ironicallly, rappers weren't the original hip-hop style icons; it was the drug dealers who actually had the money and high-end gear most rappers lyrically bragged about. A great portion of the hip-hop uniform is informed by what drug dealers wore. In an age before streetwear boutiques, you had sportswear stores and old-school outfitters that peddled sneakers and workwear products like Carhartt chore coats and Timberland boots — rough items that could withstand a New York winter or a day spent hustling on the block. But if you really wanted to get fresh, there was one person you had to see: Harlem tailor Dapper Dan.
Born Daniel Day, the man known as Dapper Dan grew up in Harlem on 129th Street and Lexington. He got his name from besting an older man in craps, who went by Dapper Dan. After defeat, he passed his name down and decided to go by "Tenor Man Dan" thereafter, because he played the saxophone. He opened a boutique in 1982 at 43 East 125th Street, taking fabrics from popular luxury brands such as Gucci, MCM, Louis Vuitton, and Fendi, and repurposing them into street-ready silhouettes like tracksuits, bomber jackets, and puffy-shouldered coats. The boutique operated 24/7 for 10 years and served some of hip-hop's most prolific figures. Eric B. & Rakim wear Dapper Dan's creations — custom Chanel tracksuits — on the cover of their album Paid in Full. The store was shut down in 1992 for numerous copyright violations.
B-boys and b-girls wore adidas tracksuits and straight-legged denim over Puma Suede sneakers or adidas Superstars customized with fat laces.
Beyond the appreciation for European fashion designers like Gucci, Chanel, and Louis Vuitton, brands such as Polo Ralph Lauren and Tommy Hilfiger were gaining steam in hip-hop culture. Entire crews devoted to rocking Polo formed, like the Lo-Lifes, who couldn't afford the high-priced gear, so took to "racking" it — that is, shoplifting copious amounts of it, keeping what they wanted for themselves, and reselling the rest. Sportswear brands like Nike and adidas were always important in the hip-hop style uniform, and as hip-hop evolved, so did sneaker culture.
The first inkling of today's barrage of rapper/sneaker brand collaborations occurred in 1986, when adidas signed Run-D.M.C. to a $1 million endorsement deal that included a signature line for the group. The story goes that the trio had just released their third album, Raising Hell, and their manager at the time, Lyor Cohen, invited adidas executive Angelo Anastasio to a show at Madison Square Garden. Before performing their hit song "My Adidas," the group asked the audience to raise their shoes in the air. Impressed with the amount of three-striped kicks he saw in the building, Anastasio signed the group.
Movements like punk were founded on anti-fashion ideals and stood in contrast to consumption and capitalism. Hip-hop fully embraced it from the start, seeing dressing up as its own competition — and every rapper boasted he dressed better than the rest.
On the West Coast, groups such as Public Enemy and N.W.A came forth with their own unique sound and sense of style. Baseball caps, coach jackets, and a more militaristic dress code similar to the Black Panther Party provided a contrast to East Coast hip-hop style. As hip-hop entered the '90s, sports teams and Afrocentric colors began to seep into the style conversation, as well as early streetwear labels like Stüssy and X-LARGE. Filmmaker Spike Lee immortalized the Air Jordan sneaker series in his films, often outfitting characters like Mars Blackmon and Buggin' Out in crisp pairs of Jordan kicks, oversized eyeglasses, and African print shorts.
The '90s and early '00s were marked by a time of streetwear and "urban" brands born out of hip-hop culture. Graffiti writers like Mark Ecko, Stash, and KAWS turned T-shirts into a canvas for their work. Moguls like Russell Simmons and Puff Daddy decided to start their own clothing lines rather than kowtow to designers outside of the culture. Daymond John founded his FUBU label and got LL Cool J to wear one of his hats and shout the brand out during a Gap commercial in a legendary moment of marketing inception.
If one needed further proof that hip-hop wasn't just about the music but the lifestyle and attitude it represented, look no further than how NBA style has evolved. The basketball league's stars transitioned from Magic Johnson and Larry Bird to Michael Jordan and Allen Iverson. Jordan was a style icon in his own right. His Jordan Brand line of sneakers and apparel were a shorthand status symbol on the streets, infamously inspiring a Sports Illustrated article about people being killed for their kicks. Iverson, a tattooed, corn-rowed star player for the Philadelphia 76ers, drew the ire of then-league commissioner David Stern. Iverson often sat courtside or showed up to games in baggy, oversized sweat suits, jeans, T-shirts, and fitted baseball caps, as was par for the course in hip-hop trends. In 2005, Stern implemented a mandatory dress code for the NBA, requiring all players to dress in "business or conservative attire" when representing the NBA in any official capacity.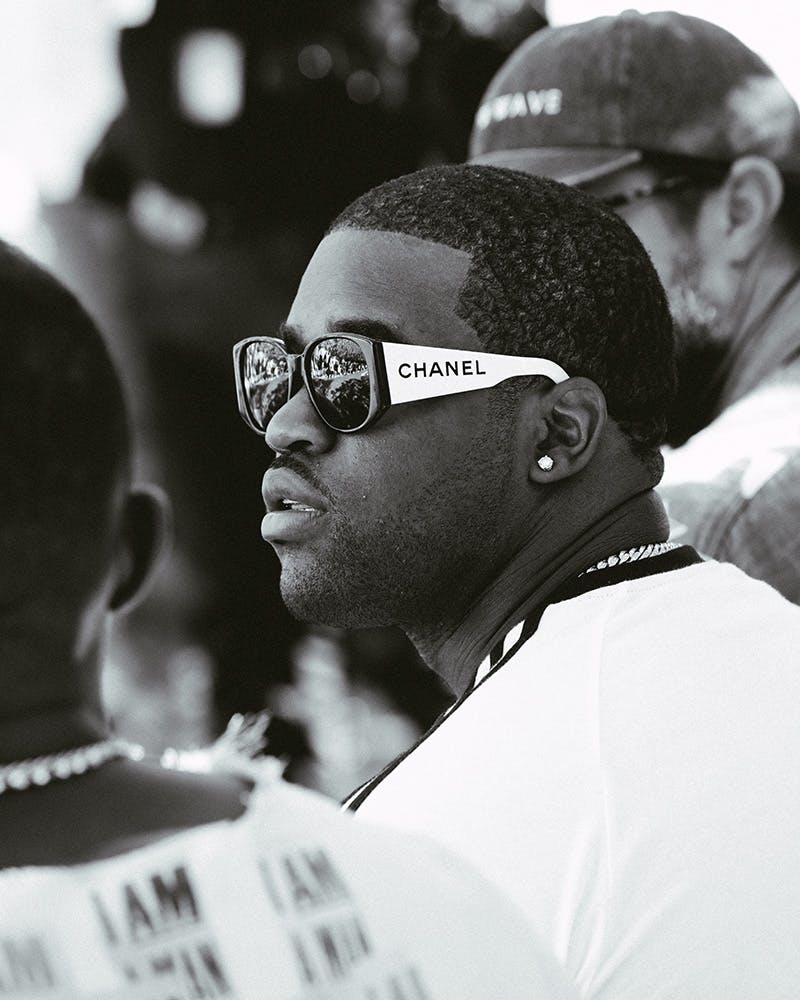 That jumpstarted a new era of athlete style, as NBA players struggled to fit in with the new dress code, but ultimately giving rise to the next generation of stylish athletes, who learned the rules well enough to know how to break them. Hip-hop's fashion iconoclasts began to rise up as well. André 3000 of Outkast favored slim, tailored garments that contrasted with the baggier styles of the time. Pharrell Williams favored skate brands, mesh trucker caps, and Japanese labels like A Bathing Ape. Kanye West broke the barriers between hip-hop and high fashion, proving hip-hop artists could do so much more for the fashion industry than simply attend the shows and buy the clothes.
It wasn't long before the likes of Pharrell, Kanye, A$AP Rocky, and Travis Scott were tapped for designer collaborations. Pharrell did collaborations with Timberland, Mark McNairy, Chanel, and G-Star RAW. West designed a capsule collection with A.P.C. Scott was tapped for a line with Helmut Lang. A$AP Rocky secured a campaign with Dior Homme and capsule collections for GUESS and cult Japanese sportswear line Needles. But things truly came full circle when Dapper Dan, whose atelier was once raided by police at the behest of litigious fashion labels, reopened his Harlem boutique in 2018 in an official collaboration with Gucci. In addition to designing a capsule collection for the Italian fashion house, Dapper Dan's restored atelier is back to making one-of-a-kind custom pieces using official Gucci fabrics. Twenty-six years after he was forced to close, the respect due to the inimitable Harlem tailor was repaid in full.
For more information on the people, brands, and trends that shook the worlds of fashion and street culture, order your copy of The Incomplete Highsnobiety Guide to Street Fashion and Culture.