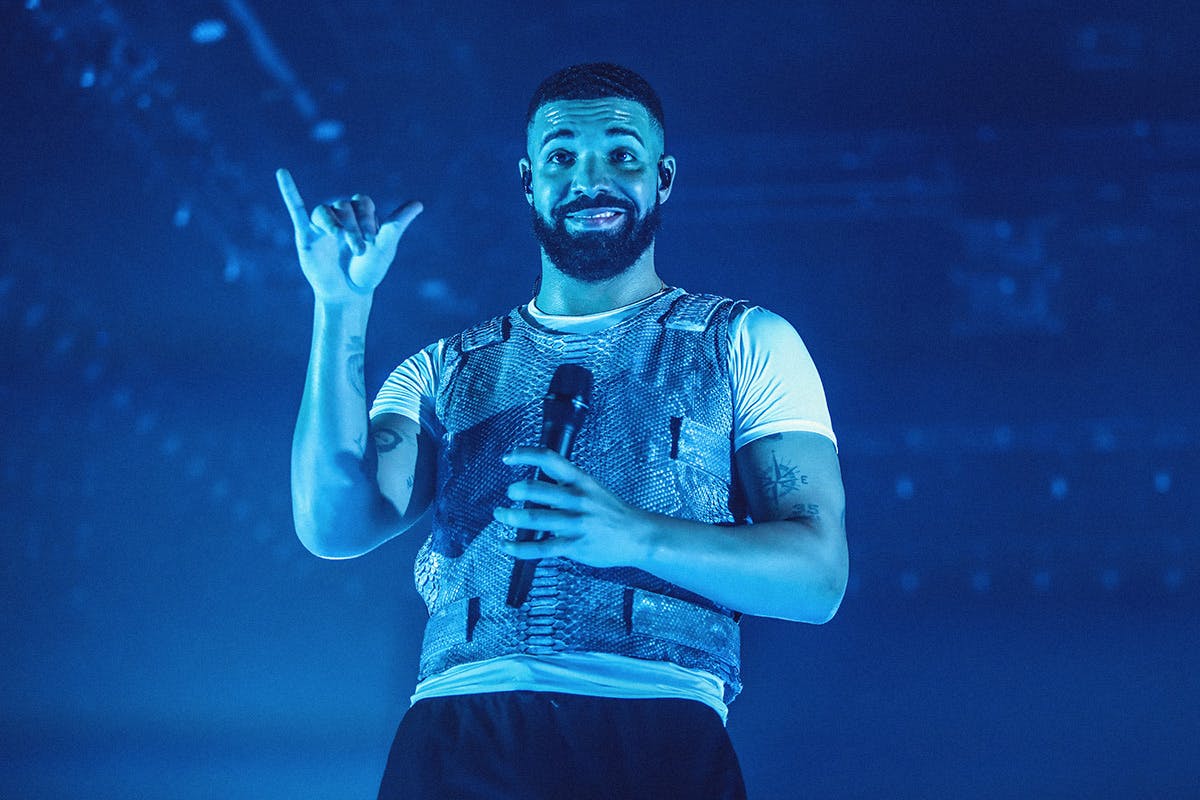 You'd be hard-pressed to find a hip-hop artist out there whose body is a clean slate when it comes to tattoos. Ink has always been an inherent part of hip-hop, with iconic tattoos such as Tupac's classic "Thug Life" through to 21 Savage's notorious knife and Gucci Mane's ice cream cone all part of the genre's affinity for all things body art.
While certain tattoos will go down in hip-hop folklore, there has been a slew of distinctly less tasteful — and much more regrettable — ink put to flesh, with each piece having its own specific backstory. Whether marking old flames à la Iggy Azalea or Tyga, shouting out recent Billboard accomplishments as Drake did, or getting your favorite sneaker inked on your face like Chris Brown, diving through the world of musicians' body art reveals a treasure trove of poor life decisions.
So, with that in mind, we've sifted (and laughed) our way through the web to bring you this list of the worst hip-hop tattoos of all time.
Chris Brown's "Air Jordan 3" face tattoo
Chris Brown loves Nike's Air Jordan 3 so much that he had the sneaker tattoed. On his face.
The piece is courtesy of tattoo artist, Ganga, who proudly shared a picture of Brown's latest tattoo on his Instagram account. He explained to Complex that Brown was driven to the deeply questionable decision after seeing Ganga's other sneaker-inspired tats. "He loved it and showed me the Jordan shoe he wanted [the Air Jordan 3], which was his favorite."
Ja Rule's "Loki"
This piece was originally triggered by an image of Ja Rule in an article detailing his Fyre Festival fiasco. The Highsnobiety music team believed he had gotten his own name tatted on his neck, but unfortunately, upon closer inspection, this proved to be false. What we did discover, however, was that he has a Norse god's son/famous Marvel villain's name tattooed above his navel.
A Complex article points out that Ja got this done when he was planning to change his name to Loki for an album. He then scrapped plans to release the album under that moniker after a rapper of the same name called him out. But the Loki tattoo still presumably remains anything but "low key" — much like Ja Rule's now-infamous festival catastrophe.
Drake commemorates having more slaps than The Beatles
Drake has been dominating the Billboard 100 over the last couple of years, and to celebrate surpassing a longstanding chart recording belonging to The Beatles, he went full Drake. Sure, there's the BBK ode to Skepta and the Drakkar Noir deodorant bottle on his arm, but this tongue-in-cheek take on the iconic Abbey Road album cover takes the cake. It's unclear here where the joke ends and where self-awareness goes completely out of the window.
Iggy Azalea's "Live Love A$AP"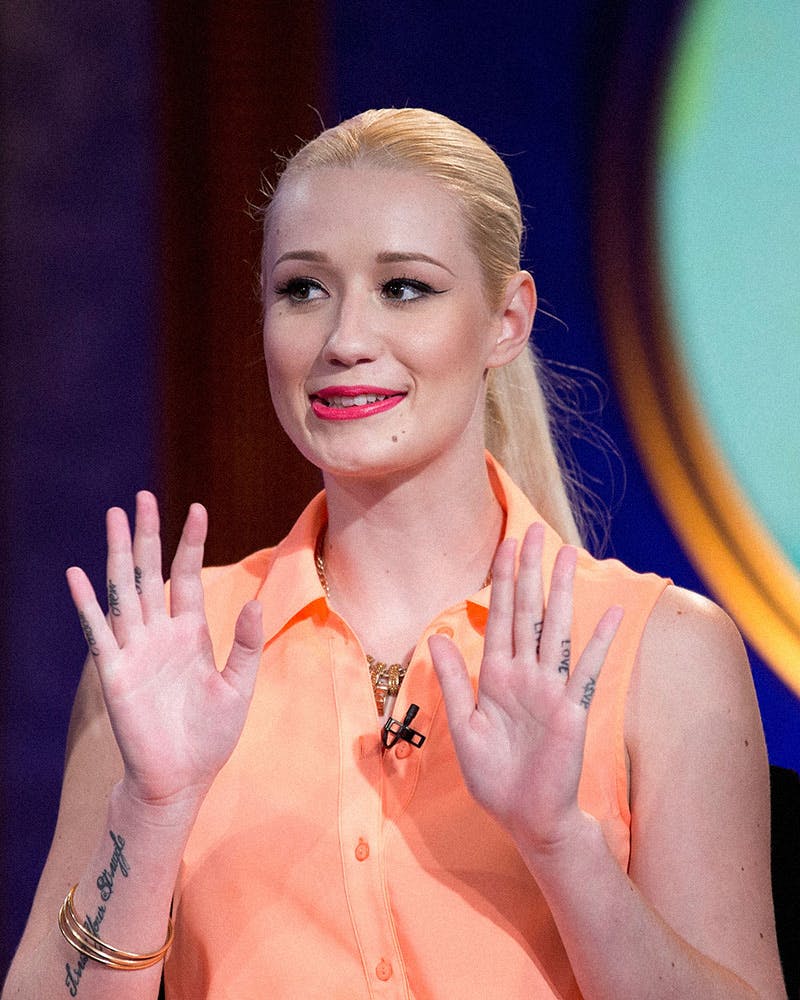 Whether or not Iggy Azalea should be categorized as hip-hop is about as debatable as her decision to get "Live Love A$AP" tatted on her fingers. Getting this ink when she dated A$AP Rocky for a brief period around 2011, Iggy said that the pair were so into each other that they got matching tats signifying their affection. But unlike Rocky's non-visible — perhaps non-existing — tattoo, the "Fancy" singer got "Live Love A$AP" tattooed along three of her fingers.
Since the two stopped dating in 2012, she has since put a big "X" through the "A$AP" before getting it permanently removed. It's fair to say, then, that it didn't live long.
Stitches' whole face
This guy has one gnarly face. It's not just the "stitches" (see what he did there?) coursing across his mouth that are bad, it's more the words randomly planted on his skull, including "SEX," "FUCK A JOB," and, naturally, "COCAINE." Cringe. May your rap career be fruitful, Stitches, for any other future employment prospects look as bleak as these will in 30 years' time.
RiFF RAFF's TV network tattoos
RiFF RAFF's obsession with TV-related tattoos originally came from him joining the cast of MTV reality show From G's to Gents. Before the show started, RAFF got a giant MTV logo tattooed on his neck and adjusted his stage name to "MTV RiFF RAFF." He also has WorldStar Hip Hop and BET tattoos, the latter of which he's had covered up with a husky, his favorite dog breed.
Tyga's "Kylie"
Poor Tyga. The G.O.O.D Music signee was an on-again, off-again beau of Kylie Jenner. Now, Tyga is left with a lasting reminder that he no longer dates the youngest self-made billionaire ever.
Drake's family
While the 6 God's Adonis tattoo was a subtle, if belated, tribute to his son, his other familial homage is a little more unsettling. This ink rendering of his uncle and grandmother, acquired between getting his infamous tattoo of the late singer Aaliyah and one of the OVO owl, takes the biscuit for the most unruly ting. Despite the good intentions, the sheer size of it — as well as that disconcertingly eternal gaze from the pair — is just really fucking creepy.
Bonus: Drake's dad's follow-up
In response to Drake's inked family love, and clearly full of fatherly pride, Drake's dad Dennis Graham got a tat of his son on his right arm. Administered by Money Mike for free, the ink depicts Drake circa 2010, an era we can all fondly look back on.
Birdman's five red stars
Talking about his body art fetish to UK hip-hop presenter Tim Westwood, Baby said, "It became a hobby… I love that pain. I love to feel that." If you needed any further evidence that Birdman is a massive masochist, just look at the state of his head. Presumably inked to mark his album 5 * Stunna, the five stars here are pretty difficult to put any sort of respek' on.

T-Pain's Facebook "Like"
"I get a tat every time I come to Hawaii," Pain tweeted in 2011 with a photo of a tattoo on his arm reading "YOU DON'T HAVE TO LIKE ME," with the "Like" being of the Facebook variety, thumbs-up and everything. "I think this one's pretty sweet, unless Facebook shuts down soon."
Facebook has since redesigned its "Like" function to include "reactions" to posts. If the social media platform had had a "react" feature when T-Pain got this inked, there's no doubt the overwhelming response would have been a shit-ton of "HAHA"s.
Nick Cannon's "Mariah"
Once one of the "hottest celebrity couples on the planet," Mariah Carey and Nick Cannon both got tattoos of each other to signify their love for each other. Sadly, the pair got divorced back in December 2014, leading to Cannon getting one of the largest back piece cover-ups of all time. Ouch.
The Game's evolving face tattoo
The Game's experience with his face tattoo is a cautionary tale for anyone thinking of getting ink in the future. What was once a butterfly tattoo after an artist in New York "didn't do it right" has since morphed into an LA Dodgers cover-up. "Know what you're gonna get and know what it's gonna do for you." Real talk, Game, especially if you don't want to end up with what he described to VladTV as "a motherfucking moth" on your face.
Jhené Aiko's grand gesture for Big Sean
Jhené Aiko and Big Sean had a pretty intense relationship. They were engaged both romantically and artistically, sharing a home and collaborative albums alike. Naturally, Aiko wanted to honor their union in the form of ink, but few could have expected the end result: Big Sean's face poking out of a tuxedo collar, looking a little too life-like to be entirely comfortable, a bit too illustrative to be taken seriously.
Rumors of their split began to circulate before they made the news public, fueled in part by Aiko's decision to cover up her Big Sean ink with a swirling galaxy.
Not got enough ink-related content yet? Find out more about Soundwave tattoos — the next big thing in body art — right here.