Origins examines some of the most iconic figures, brands, stores and neighborhoods in the Highsnobiety universe, breaking down how they left an unforgettable mark on street culture. This installment looks at fragment design founder and Japanese streetwear OG, Hiroshi Fujiwara.
With a legacy in fashion and culture stretching back more than 30 years, there's more than one reason Hiroshi Fujiwara is commonly referred to as the godfather of streetwear. Mover, shaker, maker of all things coveted and collectible, Fujiwara can be connected in some way to virtually every corner of contemporary fashion. In fact, in some ways, it's easier to define him not through who he is or the things he's done, but through the world he has created.
It's a story that starts in the late '80s and the early days of Tokyo's Harajuku scene, leading all the way up to collaborations with some of the world's most famous brands. Part musician, part designer, part curator, part consultant — some might say Fujiwara is the archetype for the multi-faceted creators now defining mainstream culture. But he's more than any one of those things; he's the guy that connects the dots between them.
The early days, GOODENOUGH, and Ura-Harajuku
Hiroshi Fujiwara moved to Tokyo from the town of Ise in the early '80s at the age of 18. During his early adolescence, he'd become fascinated with London's punk rock scene. After visiting London, a friend suggested he travel to New York as well.
He arrived amid the eruption of hip-hop, and quickly fell in love with the scene, bringing records and DJ culture back with him to Tokyo. His travels and growing international network of friends even led to him hooking up with Shawn Stussy in Tokyo and becoming the vanguard of the International Stüssy Tribe in Japan.
Over the next few years, the backstreets of Tokyo's creative Harajuku district would evolve, with Fujiwara at the center of it all. In 1990, following in the footsteps of labels such as Hysteric Glamour, Fujiwara launched GOODENOUGH.
Influenced by Fujiwara's US contemporaries and his passion for punk, hip-hop, and style, GOODENOUGH gave the scene some of its famous names, such as BAPE contributor and C.E co-founder Sk8thing. It is commonly heralded as one of the first true streetwear brands.
NOWHERE
During this period, Fujiwara came into contact with Jun Takahashi and Tomoaki Nagao, who shared many of his passions. Nagao bore a striking resemblance to Fujiwara, six years his senior, earning him the nickname "Number Two," or "NIGO" in Japanese.
Takahashi and NIGO were in the process of putting together their retail store NOWHERE, whose doors opened in 1993. The store started out selling imported American goods and memorabilia, and eventually expanded to stock product by Fujiwara and NIGO.
It also stocked FORTY PERCENTS AGAINST RIGHTS, an anarchist-inspired label by Tetsu "TET" Nishiyama of WTAPS fame, and Fujiwara and Takahashi's AFFA (Anarchy Forever Forever Anarchy). In 1993, Takahashi also founded his own label, UNDERCOVER.
NOWHERE was ground zero for a movement that would birth and nurture brands such as A Bathing Ape, WTAPS, NEIGHBORHOOD, SOPHNET., and many more.
fragment design
As Tokyo fashion and the broader world of streetwear evolved, Fujiwara remained at the center of it all and GOODENOUGH gave way to a new project: fragment design.
A combination of cultural archive, design agency, consultancy firm, and marketing project, fragment design served as a space for Fujiwara to collaborate with brands and companies on a one-to-one basis, releasing all manner of goods, from clothing to electronics, watches, and beyond.
Vast in scope and elusive in interpretation, fragment changes depending on the angle from which you approach it. To some, it's little more than the placement of two lightning bolts on a product. To others, it's a roadmap of the history of lifestyle and culture, with every product certified as culturally vital.
Either way, one thing is clear: those two lightning bolts are a stamp of approval that'll never fade.
fragment design collabs through the years
To create a comprehensive list of fragment design collaborations would be virtually impossible. In fact, it might be easier to list the brands Fujiwara hasn't collaborated with.
Among the most noteworthy, however, are Louis Vuitton, Carhartt WIP, mastermind JAPAN, visvim, Converse, as well as numerous collaborations with Starbucks on everything from cups and thermal mugs to loyalty cards — Fujiwara even designed a Starbucks store in 2011.
Some of fragment's most popular collabs have been on sneakers, creating premium editions of countless Nike silhouettes, as well as brands under the Nike umbrella such as Jordan Brand, Converse, and Cole Haan. But in terms of the Nike connection, that's just the tip of the iceberg…
HTM
Three letters, three names: Hiroshi, Tinker, and Mark. That's Fujiwara, legendary Nike designer Tinker Hatfield, and Nike chairman, president, and CEO Mark Parker.
Since its foundation in 2002, Nike's HTM project has been a vanguard in innovation and experimentation, pioneering Nike's Flyknit tech among others. It has created new interpretations of classic Swoosh silhouettes and implemented the brand's latest technological developments in new and unexpected ways, including moccasin designs and the Sock Dart.
"Hi & Lo" exhibition with Takashi Murakami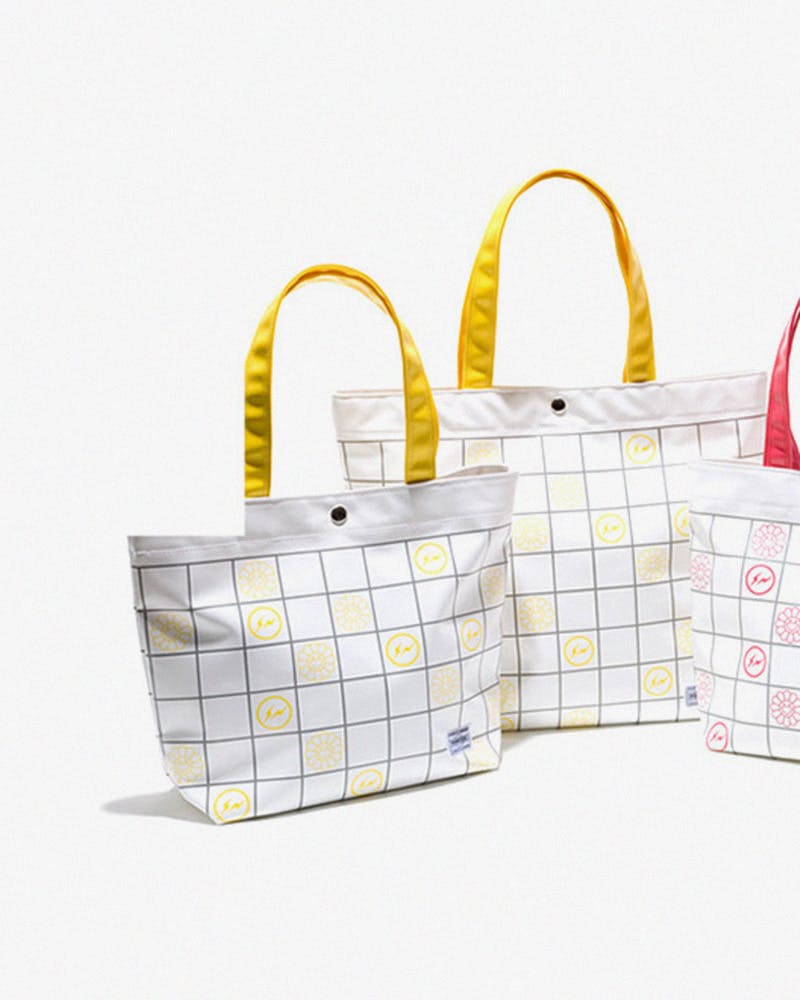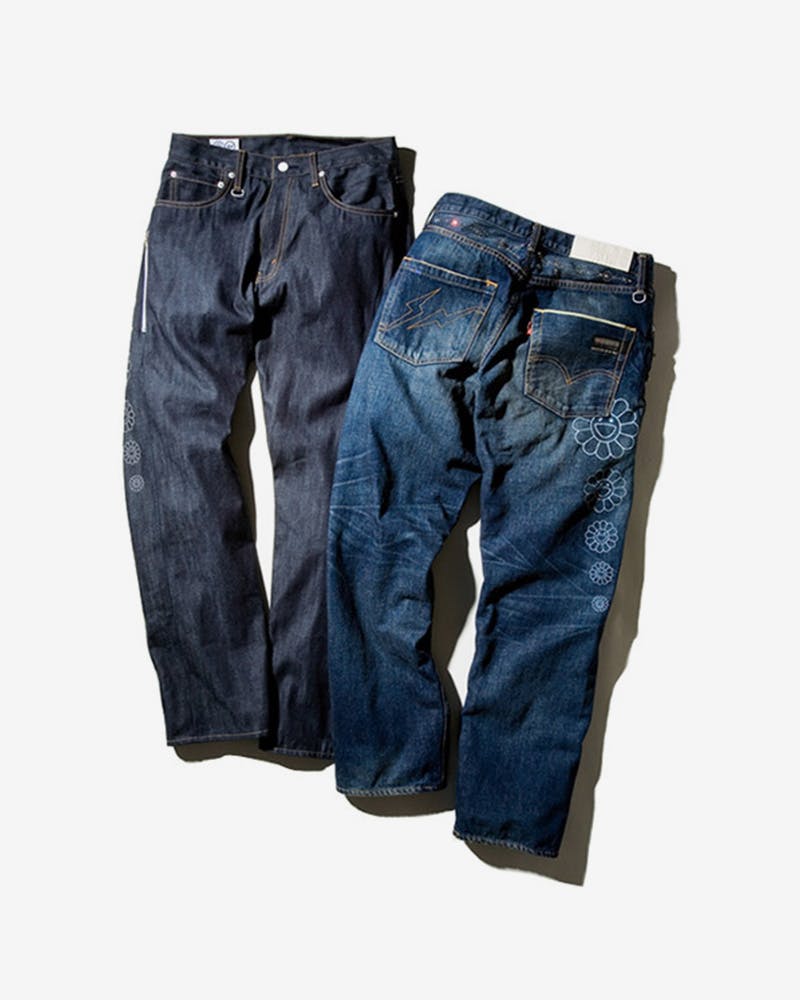 Takashi Murakami's collaborative exhibitions with OFF-WHITE and Louis Vuitton's Virgil Abloh have been causing a storm in 2018, but Murakami came together with countryman Fujiwara as far back as 2008 on the joint exhibition "Hi & Lo."
"Hi & Lo" combined Murakami's trademark flower designs with the rainbow checkerboard pattern Fujiwara has implemented across multiple fragment projects. Exclusive products were also created for the exhibition, including a pair of visvim canvas sneakers decorated with fragment and Murakami branding details.
Levi's Fenom
Another pivotal collaboration with a major brand, the Levi's Fenom label was launched in the mid '00s, capitalizing on the selvedge denim trend.
Levi's Fenom jeans featured a number of elevated details, including precise distressing, premium Talon-branded zippers, metal keyring holsters, and collaborative branding. Made in Japan and produced in limited quantities, the jeans commanded high prices and demonstrated Fujiwara's gift for leveraging a trend into a marketing exercise.
The Levi's Fenom imprint stands alongside contemporaries such as NEIGHBORHOOD's iconic Savage line, visvim's Social Sculpture, and the likes of Samurai Jeans and Iron Heart as some of the highest-quality denim ever.
honeyee.com
Founded in 2005 by Fujiwara and SOPHNET. founder Hirofumi Kiyonaga, honeyee.com was created as an online magazine bringing the latest news in fashion, streetwear, and Tokyo culture. Think of it as the journalistic arm of Fujiwara's all-encompassing cultural curation project, comparable to the website you're reading right now.
Although Fujiwara sold the website several years ago, it has gone from strength to strength, and continues to be one of the go-to places for updates from the Japanese fashion scene.
the POOL aoyama
In 2014, Fujiwara launched his most ambitious retail project yet with the opening of the POOL aoyama, a concept store located in a converted residential swimming pool facility and retaining much of the original space's architecture and feel.
The store boasted a wide range of homewares and collaborative products, including limited-edition items by brands such as WTAPS, SOPHNET., NEIGHBORHOOD, and UNDERCOVER. A wide range of the POOL-branded objects incorporated the aesthetics typically found in a municipal swimming pool. It might sound strange, and that's because it kind of was.
In the end, the POOL aoyama was short-lived, closing after a year, but those who visited certainly won't have forgotten the experience.
THE PARK・ING GINZA
Continuing in the same vein as the POOL aoyama, Fujiwara's next retail endeavor was THE PARK・ING GINZA, which opened in March 2016. Like its predecessor, THE PARK・ING offered a conceptual retail experience in an unexpected location — this time, a multi-level parking lot in Tokyo's Ginza shopping district.
Once more, there were limited-edition and collaborative products before the store closed its doors just 12 months after opening. Perhaps you're noticing a pattern at this point.
Ring of Colour
Launched late in 2015 and described as "a digital media collection of things worth knowing about," Ring of Colour was an evolution of what Fujiwara had started with honeyee.com.
Part Instagram feed, part Tumblr blog, part news site, it's a place where Fujiwara and likeminded peers can share discoveries, news, and tidbits. The site hasn't been active in recent months, but it remains another example of how dialed in Fujiwara is when it comes to all things art and culture.
Moncler Genius
Given Fujiwara's inherently rebellious streak and almost preternatural grip on contemporary trends (this is a man once dubbed "the living internet" by SSENSE), his involvement in Moncler's Genius series was always assured. The project gave free rein to some of fashion's most creative contemporary designers, including Pierpaolo Piccioli, Craig Green, and Palm Angels, letting them reinterpret Moncler's elevated technical outerwear.
The first part of Fujiwara's collection was launched in the courtyard of Florence's palatial Museo Nazionale del Bargello in June 2018, but it was no tea and scones affair. Rather, former punk Fujiwara brought the noise, decking out the lavish surroundings with industrial flight cases, lasers, and smoke machines. Think The Sex Pistols spitting at Renaissance masterworks.
Fujiwara's collection took cues from Moncler's history as an outdoor specialist, with cozy staples making up the bulk of the offering. Six months later, he contributed a co-branded Moncler x fragment snowboard made in collaboration with Burton to the year-ending special items drop.
THE CONVENI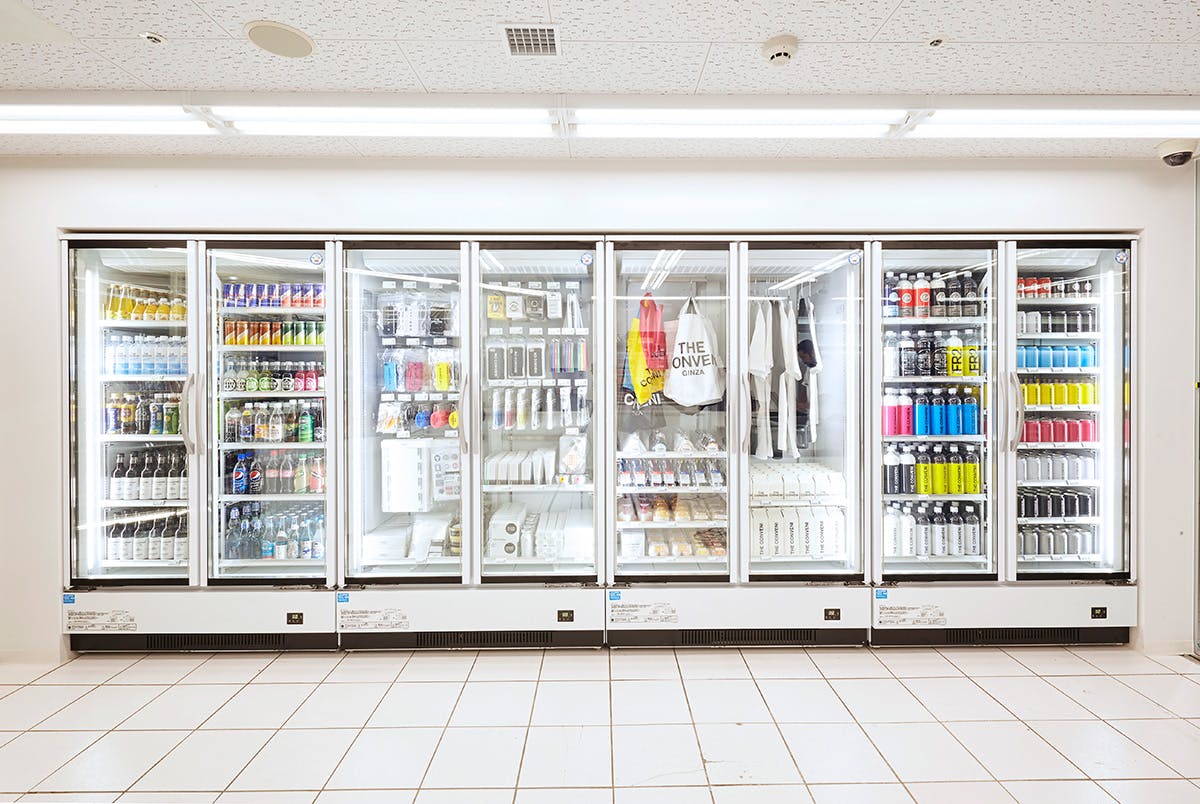 The latest iteration of Fujiwara's concept store series is THE CONVENI, which opened in August 2018 in the basement of Ginza Sony Park on the site of the former Sony Building.
As its name suggests, THE CONVENI is a take on the 24-hour convenience stores that litter Japanese cities, selling sodas and refreshments alongside branded shopping bags, homewares, and ceramics, as well as the usual array of collaborations.
THE CONVENI is still going strong, but don't be surprised if it shuts its doors in August 2019. _
With someone whose resumé runs as long as Fujiwara's, it's difficult to summarize his career in a single article. Rizzoli's 2014 monograph Hiroshi Fujiwara: Fragment demonstrates this — you can literally fill a book with the things he has created.
His is the legacy of someone whose work transcends the simple process of creating and selling products. Although he is best known for the products he has created and the logo he has stamped on everything from coffee cups to basketball sneakers, the bigger picture is an expansive project of curation within contemporary consumer culture. Fujiwara is the godfather — he rocked up in Tokyo as a teenager and nothing was the same again.
For the most comprehensive study yet on "The New Luxury" and which brands and consumers define it, download our full white paper here.