It's no secret that Jack Harlow is a huge New Balance fanatic. The Kentucky-born rapper is often seen rocking a pair, whether it's on stage at one of his shows or working in the studio, and admitted to owning at least 40-50 pairs.
That's why he's the perfect muse to front the latest colorways of the New Balance 327, a sneaker rooted in '70s heritage that's been a surprising hit with both sneakerheads and casual fans alike.
The shoe references two archival models — the New Balance 320 and Super Comp — both released in the 1970s and serve as the main source of inspiration for the 327. The 327's lightweight suede and nylon construction is complemented by a stylish oversized logo for casual, retro-meets-modern appeal.
We connected with Harlow outside his studio in Atlanta and spoke to him about his longtime connection with New Balance, his collection's most coveted pairs, and how he's rocking the latest colorways of the 327.
Could you explain your connection with New Balance? How did you discover the brand?
In Kentucky, New Balance wasn't a popular shoe to wear when I was in high school. I wanted to rock something other kids weren't wearing and the comfort of the shoe was always there. I always liked how simple the logo was and it just felt iconic to me. I wore them so much that people started to associate the brand with me.
What was your first pair and what made you want them?
I had a pair of blue and gray 574s. I was attracted to how well they could go with a lot of fits – you could plug them in with a lot of other colors.
You've name-dropped New Balance in your music before — do you have a go-to New Balance shoe?
The 990 is forever my favorite silhouette for any shoe ever. I've always leaned on different colorways and models. As of late, I find myself wearing the white Aime Leon Dore 827s constantly. I wear a lot of white and it's just a great looking shoe.
You have quite a large New Balance collection — are there any that have particular meaning to you?
I have the 990s DMV EATs that I like a lot. They represent an entire region and the culture for New Balance over there is something I've always been blown away by. I think the green and purple Stray Rats 990s are amazing, and I try to keep them in great condition.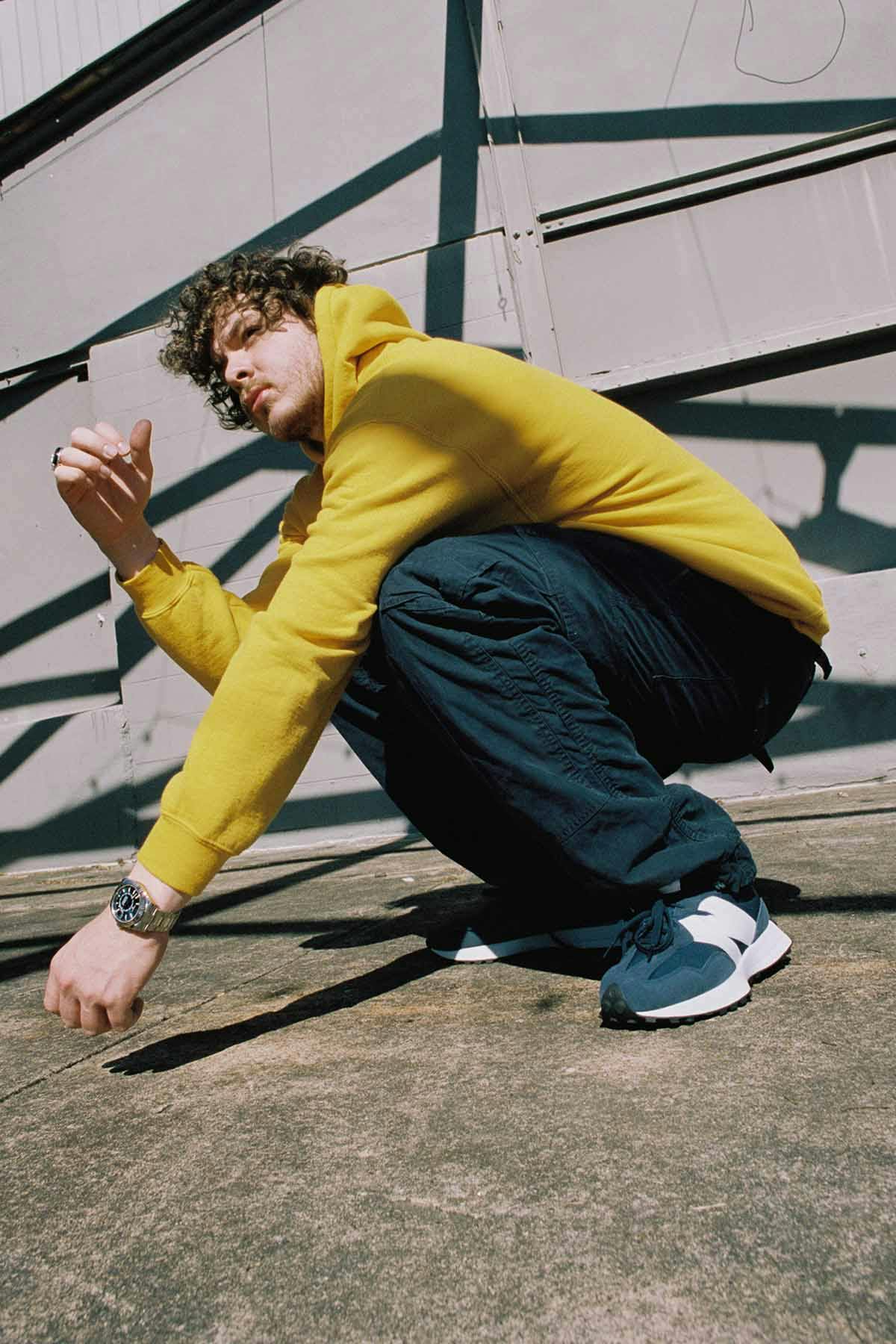 What do you like about the new 327? How did you style them?
The shape of the shoe is unique. It feels forward-thinking but still minimal, and not too loud or funky. I was wearing baggy navy blue cargos and it just felt good throwing those on. They aren't as chunky as I would usually go with some pants like that, but I was attracted to the look.