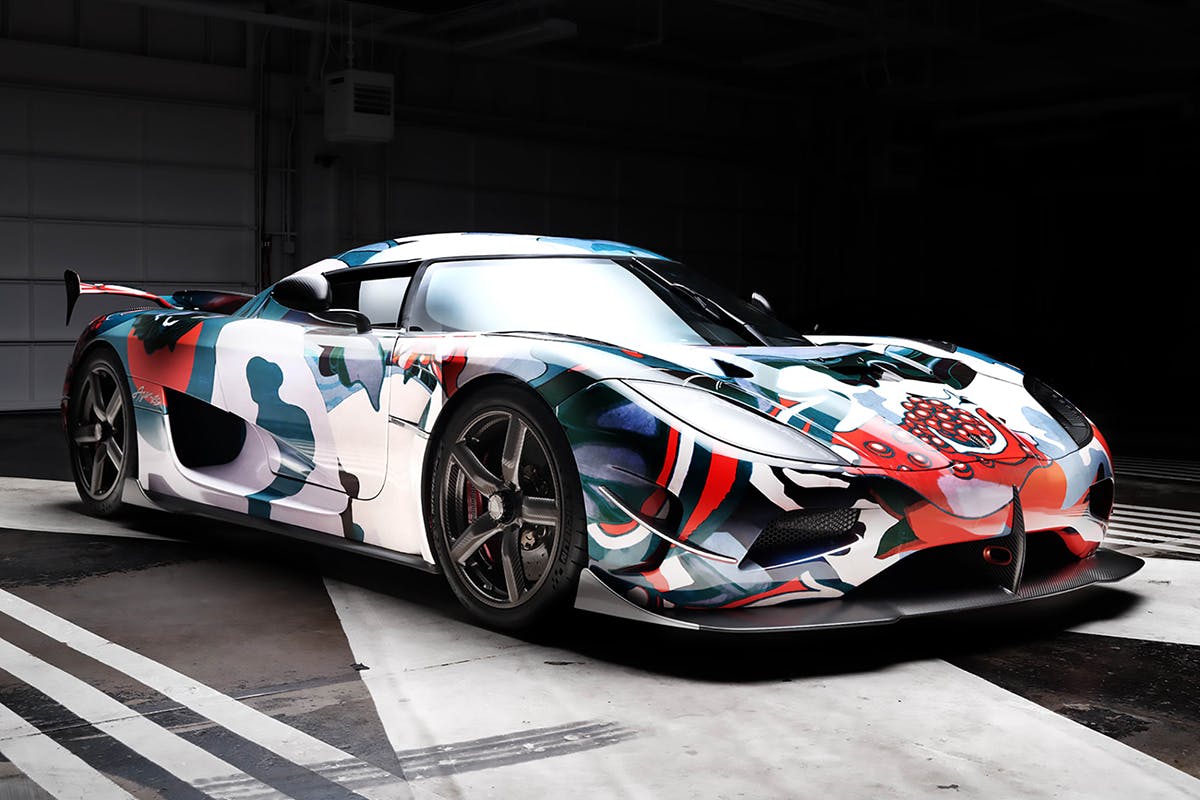 With the extreme outlandishness of concept cars, art cars can quant by comparison. Don't get me wrong, I'll always have eyes for Kenny Scarf's Karbombz, but specially painted or wrapped cars sometimes lack the pure shock value of a crazy concept car, for better or worse.
James Jean's take on a Koenigsegg Agera RS feels like the best of both worlds. The super-speedy hypercar — it's been clocked at speeds that peak around nearly 290 mph — is one of the fastest production cars on the market and its sleek facade is a neat fit for Jean's eye.
"Ruthie," as this particular Agera is known, wears a custom wrap of Jean's Pomegranate designed by Wrap Legends.
Jean's woodblock-inspired painting becomes pretty abstracted when shaped around Ruthie's frame, its warm, smeary hues looking almost like a milkshake upturned across the car's body.
Only 25 editions of the Koenigsegg Agera RS were ever made and eight are in California. Ruthie is a particularly special model: she holds five different speed records, including highest speed on public road, highest speed for production vehicle, and fastest 0-400-0 kmh run. Even Jay Leno's a fan.
The James Jean connection isn't entirely clear — maybe Ruthie's owner, Koenigsegg marketing director Tim Cadiente, is a fan? — but the union has yielded a new breed of hypercar: the art hypercar. Okay, it's not really new but Alec Monopoly's awful doodles don't count.
Cadiente is lending the car to Southcoast Plaza's Ghost Squadron in Costa Mesa for The Festival of Children Foundation's 20th anniversary, where it'll be on display through the month of September.