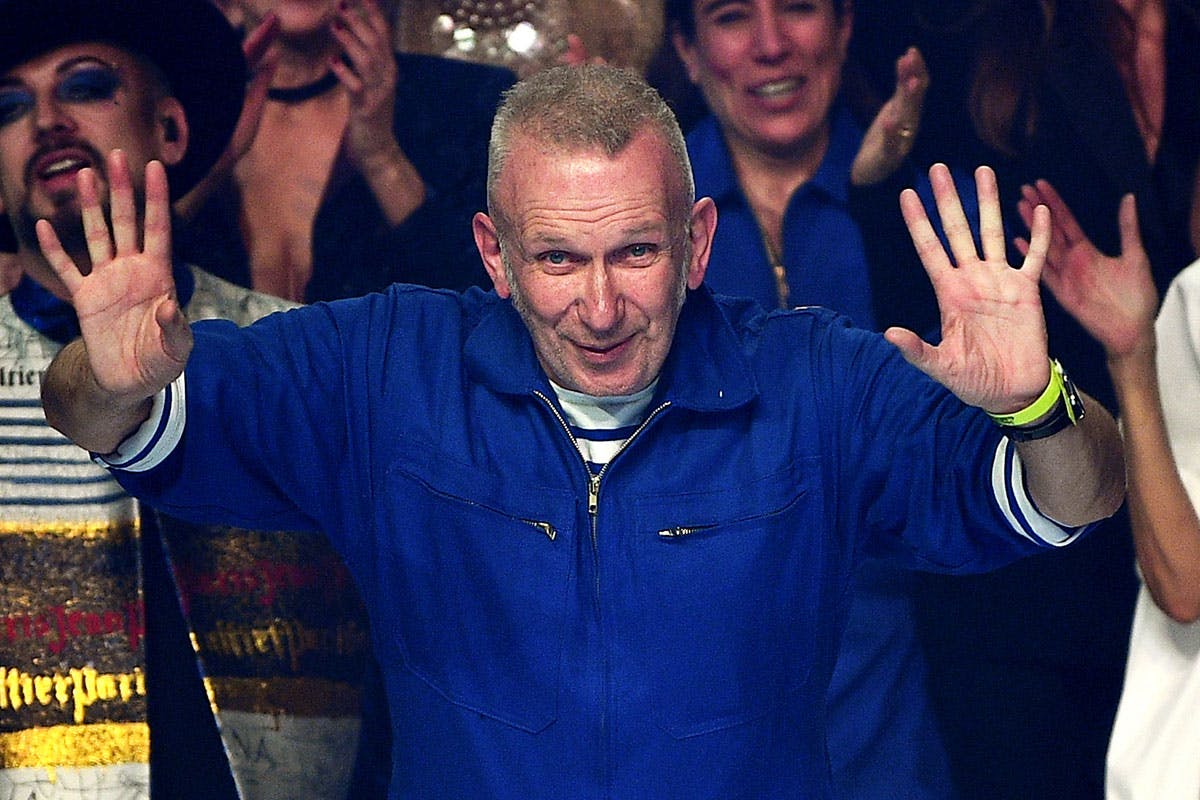 Rumors of Jean Paul Gaultier's demise appear to have been greatly exaggerated. After the legendary French designer's Instagram page uploaded a mysterious "The End" post over the weekend, it continued fanning the flames with a video post hash-tagged with #FutureIsCollective. Now the veil has been lifted a little further, as Gaultier's social media reveals the imminent return of his ready-to-wear, or prêt-à-porter if you like, designed by five guest designers.
The Maison revealed it is "opening a new collective era." It announced that Jean-Paul Gaultier has invited five designers to take part in its ready-to-wear rebirth: Marvin M'Toumo, Nicola "lecourtmaison," Ottolinger, Alan Crocetti, and Palomo. "These collaborations meet JPG's new vision: give more visibility and value to a new generation of talented designers."
The announcement followed a  brief teaser clip that saw Omar Sesay, Bella Hadid, and Qaher Harhash clad in nautically themed apparel informed by Gaultier's longtime love for sailor style, down to a clipper ship cap and Breton stripes. Some of Gaultier's signature design cues draw directly from sailor's uniforms, so it's appropriate that the designer would return to his comfort zone for revived ready-to-wear. Those jaunty caps and blue stripes have appeared in various Gaultier runway shows, his Le Males fragrance bottles, and even a Parisian exhibition dedicated to the seaman's style.
Gaultier's final ready-to-wear presentation in 2015 was a blow-out affair. A rogues' gallery of influential industry insiders watched as the designer presented a comprehensive 70-plus look womenswear show that ran through his entire oeuvre, from the iconic cone bra to gender-refuting tailoring. It was a fitting cap to a career that shaped fashion as we know it today, as Gaultier departed RTW to focus exclusively on haute couture until his "retirement" in 2020.
The #FutureIsCollective post that proceeded the news of Gaultier's reborn RTW may also hint at the nature of the endeavor — it flashed through a host of contemporary designers and creatives that included Ottolinger, Dr. Woo, Pierre Hardy, D'Heygere, SSENSE, and sacai, suggesting that a series of guest designers may be brought in to oversee the line. Given that sacai founder Chitose Abe was already brought in to design the couture collection — its debut delayed, due to the COVID-19 pandemic, until this July — it makes sense that she'd also be lending a hand on other Gaultier goings-ons.
Visit Jean Paul Gaultier's dedicated website to subscribe for future news and, presumably, to live stream the presentation when it debuts on May 28.