Kanye West's quest for the perfect hoodie has come to a fitting conclusion — he ending up making it himself. West's second drop for GAP is a double-layered, 100 percent organic hoodie. Its initial release (retailing at $90) is 100 percent sold out. Already you'll find it on the secondary market for around $300.
It's no surprise that constructing the world's greatest hoodie would be a personal mission for a man who previously declared that "sweatshirts are fucking important." A glance at the evolution of West's style over the past two decades makes it clear he likes his hoodies oversized and lived-in. For West, it's as much about comfort as it is style. It's also possible to see a correlation between his waning musical relevance and his rising fashion credentials over that same time (if you're of that persuasion).
As with all things Kanye West, what he wears isn't just about expressing personal style or identifying trends and talent, it's as much about self-promotion. Whether it's merch promoting an album release, the latest YEEZY drop, or his political campaigns, you can guarantee there's a bigger cultural context around anything West is wearing – especially his choice of hoodie.
Here we take a look at West's hoodie highs and lows over the past 20 years.
Before they'd become the most contentiously debated label on earth, West caught Paris-based label/collective Vetements' debut collection and visited their showroom. During his subsequent, year-long, personal Vetements hype campaign, West would rave about the Demna Gvasalia-led collective, telling Vanity Fair: "It's like the No 1. Everyone's waiting on it." But it was from the front row of Paris Fashion week in March 2015 that West would propel Vetements from relative fashion unknowns to global fame, simply by wearing their signature oversized logo hoodie. In Lorde, he found a fellow fan.
The hoodie in question would come to epitomize Vetements' upcycled, post-ironic graphics and "trash" fashion aesthetic. Its Korn-esque heavy metal typeface invoked Thrasher's gnarly logo, while the slouchy fit was pure skater boy comfort. Kanye would sport the same hoodie many times that year, by the time Rihanna was papped wearing the same hoodie leaving Roc Nation offices, haute couture hoodies were having a full-blown moment. Fast forward to 2021, and the same Vetements number is back again.
Black Yeezy Season 1
The inaugural Fall/Winter Adidas Originals x Kanye West apparel collaboration, titled YEEZY SEASON 1, kicked off with West's voice booming "I'm here to crack the pavement" over the sound system. The collection was 18 months in the making, and staged at New York Fashion Week by Italian performance artist Vanessa Beecroft. It's also where Kanye debuted the track "Wolves," featuring Vic Mensa and Sia. West dubbed the collection the world's first "solutions-based" clothing line, declaring, "I don't want the clothes to be the life, I want the clothes to help the life."
Despite criticisms of the utilitarian collections workmanship and its delayed scheduling, the spectacle was unavoidable, if not undeniable. The black hoodie West wore to the runway show felt like a statement of intent, striking a serious tone as it marked West's transition to full-blown fashion mogul. You could call it the prototype for what would become the "perfect hoodie" from today's GAP collection.
Rick and Morty
West's coveted Rick and Morty hoodie from 2019 featured original art by the show's illustrator Justin Noel and co-creator Justin Roiland. The custom designs incorporated characters like Scary Terry and the giant Armagheadon head from the "Get Schwifty" episode, plus a bunch of "Yo Kanye!" and "Love & Peace" doodles.
West's fandom for the show was no secret at this point. He famously tweeted, "This is the greatest news. This is my favorite show. I've seen every episode at least 5 times each," in response to the show's 70-episode renewal in 2018. Rick and Morty creators Dan Harmon and Justin Roiland responded, calling West a "fucking kindred spirit, genius, visionary," before going all out and offering West his own episode. Though it hasn't materialized yet, Harmon gave MSNBC an update on the Kanye episode, saying "time will tell." He went on to reveal that the end result was going to involve a lot of original music, which meant "seven different corporations" had to get involved to try and figure out the legal logistics.
Orange Wyoming
On a Thursday night in May 2018, West held a live-streamed listening party for his seven-track album ye. Private jets were chartered to drop in a select audience of musicians, journalists, and influencers to Jackson Hole, Wyoming, where the album was recorded. Ty Dolla $ign, 2 Chainz, Nas, A$AP Nast, Lil Yachty, Kid Cudi, Pusha-T, Jonah Hill, and Kim Kardashian were all in attendance.
Guests were issued with a special commemorative merch pack upon arrival. The Wyoming capsule collection was created in collaboration with Bravado and designed by artist and long-time YEEZUS collaborator Wes Lang. The collection included the orange hoodie West (no stranger to wearing his own merch*) would wear that night, emblazoned with "WYOMING" in slime green text and featuring images of Wyoming's snowy peaks. The bratty design fittingly aligned to an album that Pitchfork dubbed "born from chaos for chaos' sake."
*Honorable mention to the Lucky Me I See Ghosts and Jesus is King merch hoodies.
Burgundy Velour
The velour 'fit made multiple outings in 2015, including an appearance on The Breakfast Club radio show, during New York Fashion Week for Jeremy Scott's Fall/Winter 2015 presentation, and dinner with Taylor Swift. Six years after West's infamous Taylor Swift interruption incident, it seemed, for a moment, like they might collaborate. "She wants to get in the studio and we're definitely going to go in," West would tell Ryan Seacrest at the time.
The velour hoodie made its most notable appearance at the Grammys, where West would make another awards show interruption. This time it was during Beck's Best Album of the Year acceptance speech to once again defend Beyoncé, saying: "Beck needs to respect artistry and he should have given his award to Beyoncé." According to Theophilus London, the velour hoodie was the "Yeezy fabric x addias [sic] jumpsuit" that was one of 95 looks West designed for his adidas line that year. It also recalls Kanye's circa 2012 Haider Ackermann fits.
Vote Kanye
Taking its cue from Katharine Hamnett's iconic slogan designs — Kanye is a big fan of Hamnett's work — the Vote Kanye is an underrated fashion moment from West's 2020 presidential election run. In the 1980s Hamnett was adept at causing a sensation (like West) with her socio-politically charged sloganeering collections – including the iconic "CHOOSE LIFE" T-shirt worn by George Michael – intentionally designed to be copied en masse.
Unfortunately for West, the "Vote Kanye" sentiment wasn't widely adopted, with his bid to insert himself into the 2020 election resulting in his self-styled "Birthday Party" collecting just 60,000 votes out of an estimated 160 million. At the time West was allegedly looking to trademark other phrases, including "God Save America," for a planned apparel line that seemed to be placing faith at the center of his politics. That said, the sentiment works beyond the context of West's flatlining circus show of an election bid – you can Vote Kanye with your heart any damn day you choose.
A Bathing Ape
Although West's preppy look was integral in defining his College Dropout era, the preppy backpack rapper aesthetic (influenced by Chicago's Reggieknow) is a world away from the Kanye we see today. During this period the staples of West's wardrobe were Ralph Lauren polo shirts, rugby polos with popped collars, blazers, Louis Vuitton backpacks, and rare sneakers.
In 2007 West and BAPE teamed up to release the "Dropout Bear" versions of the label classic Bapesta sneakers, echoing the brown, orange, and tan colour schemes of the The College Dropout cover art. West was an avid BAPE aficionado throughout the Dropout era, donning pieces like the BAPE camo hoodie he wore backstage in December 2004 at an EA Games "Def Jam Fight For NY" party at Alife Club in Tokyo.
Lifted Research Group "Dead Series"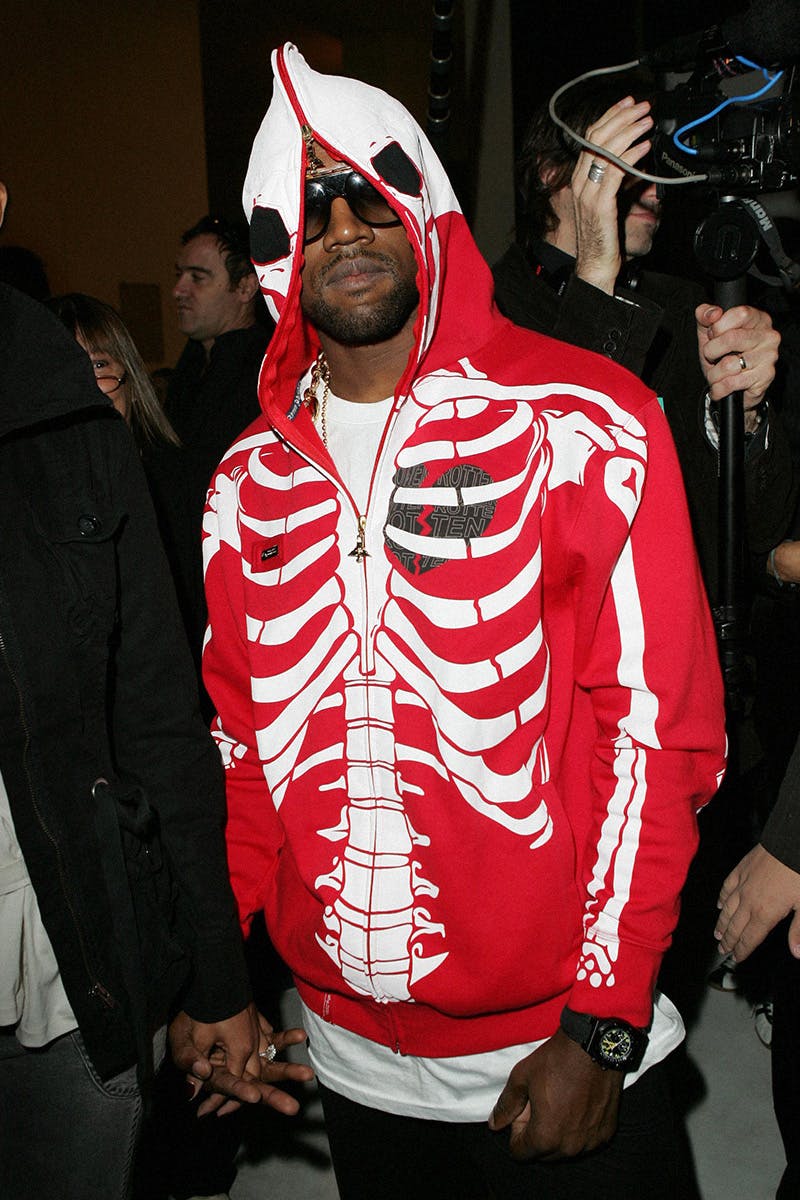 The early 2000s are full of fashion pit-falls that haven't dated well – unless, that is, you're talking about Justin Timberlake and Britney Spears iconic double-denim matching looks at the 2001 American Music Awards. One of the noughties fashion moments probably better forgotten is the red Lifted Research Group "Dead Series" zip-up hoodie that West wore to a Stella McCartney fashion show in 2006.
Originally released in 2005, the LRG hoodie featured glow-in-the-dark skeleton graphics and mesh eyes in the hood so you can see with the hood fully zipped up. Not to be mistaken for BAPE's Shark Hoodie, the LRG "Dead Serious" piece retailed for around $100 at the time. Today the hoodie screams Camden Market and surely chills even diehard nostalgic streetwear fans to the bone – though that didn't stop LRG reviving the hoodie in 2020 in a new black with grey skeleton and yellow heart colorway.
In related news, shop a selection of our favorite hoodies below