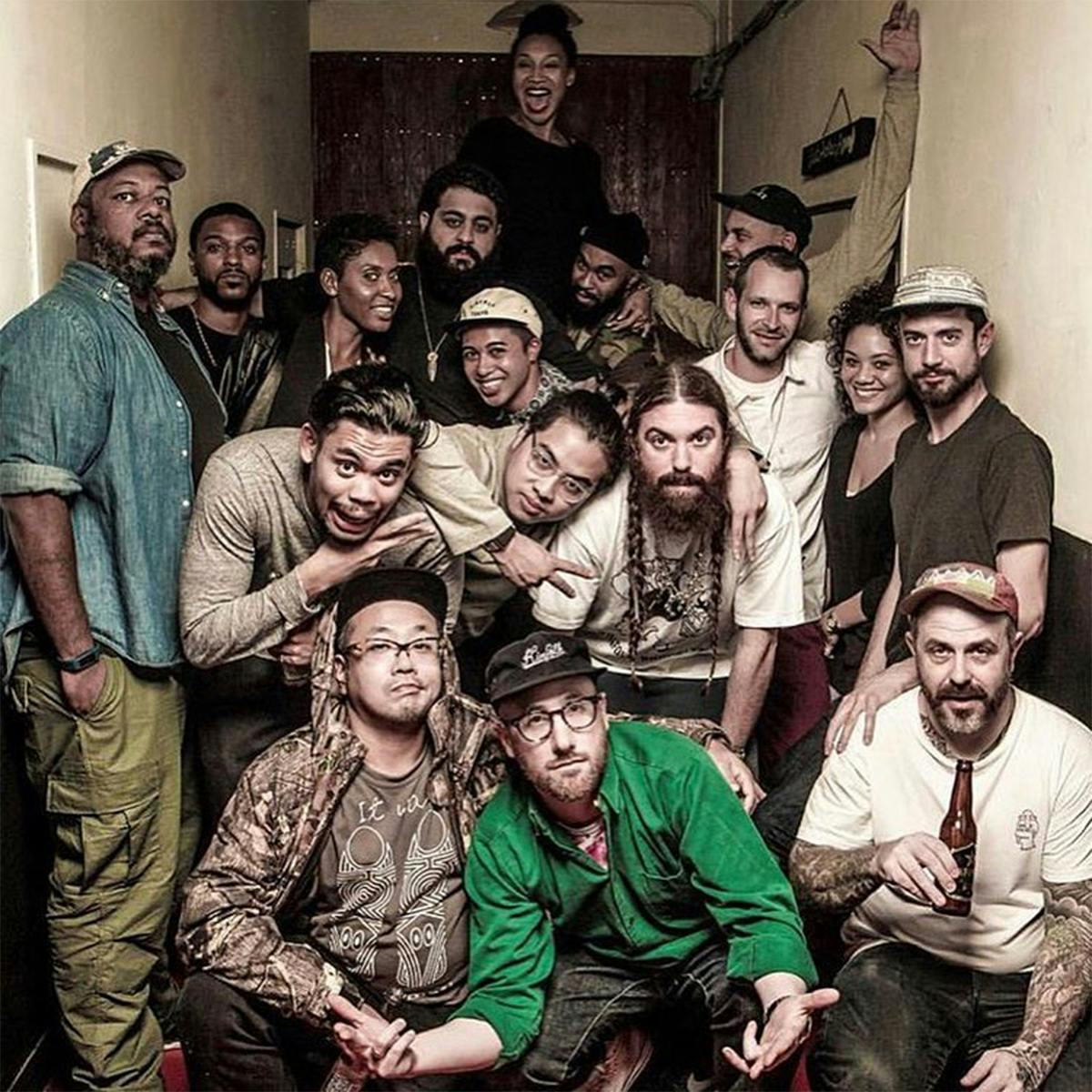 Today's episode is a special edition of Vibe Check. We catch up with some of the guys behind Kinfolk, the recently shuttered club, café, store, and brand once headquartered in Williamsburg, Brooklyn. The packed podcast includes former retail director Josh Ilyas, former creative director Jey Perie, former partner Keith Abrams, former communications manager and head of nightlife Felipe Delerme, and former general manager Sam Sundos.
Of course, the full cast of Kinfolk characters who were instrumental in cementing the venue's legacy is far too vast to be contained in a single podcast, but we try to speak on how the Kinfolk brand surpassed a singular location, but really represented the creative zeitgeist of a decade.
The following interview has been edited and condensed.
Jian DeLeon: Kinfolk was a place that means different things to a lot of people. How would each of you guys describe what Kinfolk was individually?
Felipe Delerme: We started out exploring these high-end Japanese bike frames. There was a showroom which turned into a lounge and got super popular in Tokyo before my involvement. Then they opened up in Williamsburg and had a café, events space, and creative studio which transformed into a bar that threw parties. We went on to open up the store and the nightclub next door, not mention the Kinfolk brand clothing that Keith, Jey and Josh were in charge of. It was no small task in terms of the cross-pollination of that stuff and trying to make people who love come to the club aware that we also sell fly clothes. I think the easiest connection was people who like to dress well also like to party.
Keith Abrams: Adding on to that, I think that to our benefit — and to our detriment — it was a little bit of everything, and had we been more focused and disciplined, maybe we could've excelled in one area versus the other. But the fact that we were constantly chasing after what we were interested in even if it didn't make sense as a business made it the special place that it was. That was part of the magic, I think.
Josh Ilyas: For me it was a place for opportunity and potential for anyone who walked in. Before Kinfolk I was a bike messenger for a bit, freelancing, going to college, and working at another retail shop. Keith and Jey — knowing that I didn't have experience — paved the way for me, and I did the same once I got into a higher position. That experience builds this natural family not only within the staff, but the community in general. It was just a hub for many people at that time. It was like I grew up there.
JD: There was definitely a different vibe at Kinfolk than at Output or Schimanski down the street in terms of how the door was run, the DJs, and the kind of music you'd hear. How would you describe the eclecticness of it all?
FD: Big respect for identifying that, I think what Kinfolk gets credit for is being one of the first major institutions to play hiphop consistently in that area, which started in 2011/2012, and that's mind- boggling.
KA: There was Output who was flying in Tiesto or whoever the fuck. They had huge electronic acts, and before there was Schimanski there was Verboten, which also largely serviced electronic music fans. Even though we enjoy electronic music and enjoy a variety of sounds, we want to hear hip-hop; we want to dance; we want to fucking get in there, throw our hands up, and wild out.
Sam Sundos: You didn't come for the drinks, but we made good drinks; we played good music; we offered good culture. We created a space and I think that's why we were different than everybody else.
FD: Shout out to Jeremiah Mandel who was the original programming director and brand director. He was one of the most connected people in New York City who understood wasn't just about New York City, it was the world over. This is a dude who is easy to be friends with, who I knew through his love of vintage clothing. He threw the Dudes Sale aand was able to pull together all these people that had the most fire wares,.
JD: Shout out to the Dudes Sale! I've paid rent off of that several times. Moving on, Jey and Josh — how would you describe the Kinfolk clothing line aesthetic?
Jey Perie: High-life and low-lifes was the big idea. There were men and women who wanted to wear designer clothes, but also will go to McDonald's and get chicken nuggets.
JI: It's for whoever, whomever, wherever. When it comes to store, Jey set a pretty good foundation about the curation of the landscape — how the store works and a lot of the brands we carried were based on those connections. It was about good people doing good things and cool things.
JD: What's the Kinfolk collab or product that you'll never get rid of?
SS: Mine is the first Brain Bead co-lab that we did.
Keith: That first Brain Dead co-lab is dope. I still have one T-shirt on ice, but I think for me the adidas collab was such a big brand to notice us.
FD: I like the Converse, they're comfy.
JP: The best thing we made is the souvenir jacket with the rabbit on the back.
FD: Yes that jacket was insane. To this day I regret not picking that up.
JD: Beyoncé, Ed Sheeran, and Jonah Hill are some of the celebs who have come through over the years. What are some of your favorite high-profile client moments?
JI: We already had something scheduled for the night of the Erykah Badu listing party, but the night before she came in at store closing, and asked if we could play her new mixtape while she shopped around. I was geeking out inside.
KA: The line went from Wythe Ave all the way to Kent Ave, and people from the hotel were like: "Yo, you got to tell these people that they are not getting in. The block can't handle this." s not happening at all please go home.
JP: As a company we have never been very good at delivering bad news. For me, my favorite celebrity moment is the one I couldn't witness. Jay Z came to Kinfolk and I couldn't goo because my cat had a physical problem so I had to take him to the cat hospital. I'm still mad at him for that.
FD: I poured Andre 3000 the best glass of water I have ever poured for anybody. I eyed him and I gave him the "I will be right with you" finger.
JD: You poured it through the Brita twice for him.
FD: Yes. With a nice slice of lemon and a straw.
JD: Where do you guys think New York goes from here? Will there be another Kinfolk?
SS: To say New York is dead is silly.. I think we sent ripples through our spaces, and there will be a next generation that will take it beyond what we did. You have to be optimistic — they've killed New York so many times, and its sad to see our favorite places go, but people just need to just take it into their own hands again. It got too big, it got out of the hands of the people, and knock on wood, but I think this is what we'll hopefully see. The place was beautiful, but it would've been shit without everyone who worked there, everyone who came through, and everyone who gave us love.
FD: There will never be another Kinfolk. Don't look its over, if you want that vibe you can go to La Noxe. That's literally the spirit of Kinfolk continued. The memories that we created are irreplaceable, but there is no next Kinfolk. One thing that I learned from Kinfolk is that New York City is going to give you what you give to it, everybody that worked there gave everything that they have and probably took everything that they could at the same time, I know I did.
KA: The amount of people talking about Kinfolk in a nostalgic way like it was a special important place to them makes me think that people will make an effort to recreate or create something of their own to try and capture that magic.
JP: Life at Kinfolk was the Wu Tang and now I'm dropping my solo album: La Noxe. My club is in the MTA somewhere in New York City. It's this tiny little bar hidden in New York that's my vision of nightlife.
JI: Sam put it in great words, New York City is always evolving and growing in many ways. What we did at kinfolk set a tone for a lot of people. Spiritually, Kinfolk can live on in those people and what they do.
Stay tuned for new episodes of Vibe Check every Tuesday and Thursday.