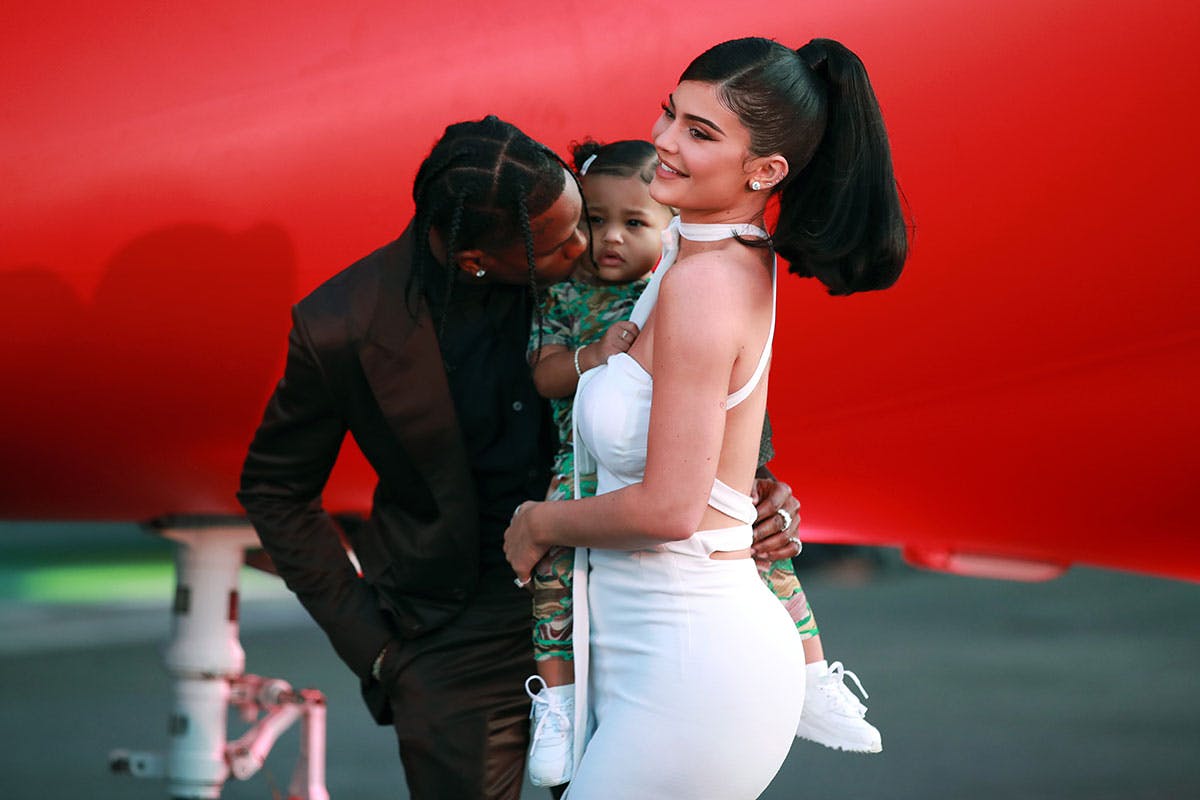 The never-ending saga of Kylie Jenner's pregnancy and birth continues" Jenner and Travis Scott decided to re-name their son.
You might remember that TikTok went on a big investigation and ended up finding the baby's birth certificate (don't ask me how they did it, I have no idea), which revealed that their son was initially named "Valentine." But, then Kylie took to Instagram to share an image that read "Wolf – 2.2.22" on her story, putting fans into a state of confusion.
Now, about a month and a half after the birth of the baby, Kylie revealed that they'll be changing his name. "FYI our son's name isn't Wolf anymore, we just really didn't feel like it was him," she wrote, on the same day she shared a video on her YouTube channel titled "To Our Son." She also shared a Chrome Hearts stroller, which instantly went viral.
Kylie stans may remember that the star did the same for Stormi, although the latest video features Travis Scott a lot more than the first one did. Is the rapper finally ditching his "rager" persona to become a full-time dad? Well, considering he recently launched a mental health initiative, it seems as if he's trying to put the Astroworld tragedy behind him and focus on family.
Of course, Kylie has kept the baby's new name a secret. But, Twitter and TikTok has some ideas – especially considering their initial reaction to the name "Wolf."
Basically, Twitter thinks that it was one of the many jokes posted on social media following the name reveal that finally caused the need to change it, and that they managed to bully the couple into renaming their kid.
There are also rumors that that the name change was a result of an old conflict with Tammy Hembrow, who's supposedly an old friend of Kylie's who once upon a time flirted with Tyga, and now has a son named – you guessed it – Wolf.
Honestly, who knows why they decided to change it, I quite liked it! It's much better than whatever Elon Musk and Grimes are up to, and there are plenty of celebrity babies with unusual names out there. Bully them as much as you want, they'll still be millionaires straight out of the womb.
Personally, I think it would be a missed opportunity to not go with "Cloudy."
https://vm.tiktok.com/ZMLmyuQFJ/
https://vm.tiktok.com/ZMLmyxSXR/
https://vm.tiktok.com/ZMLmyAmmp/
https://vm.tiktok.com/ZMLmy9RrP/