With more than 5.6 billion streams, three Grammys, and an Academy Award nomination under his belt, The Weeknd has pretty much conquered the planet. But the self-proclaimed "Starboy" didn't do it alone. As creative director of record label XO, La Mar Taylor is responsible for branding and marketing everything The Weeknd puts out, including merchandise and album artwork. He even oversees the singer's live shows.
Photographer, director, designer — Taylor has done it all. So it's no wonder that Forbes has already recognized his achievements, including him in its "30 Under 30" list last year at the age of 26. It hasn't always been like this, though. Back when Taylor and best friend Abel Tesfaye started collaborating, money and resources were hard to come by. To finish the artwork for The Weeknd's debut mixtape, House of Balloons, Taylor was forced to get creative and hack into Toronto art and design school OCAD University's computer system to get access to Adobe Creative Suite.
Happily, these days Taylor has an entire record company's resources at his disposal, but when he isn't shooting Drake videos or working on The Weeknd's tour design, he's at work on a new creative venture called HXOUSE. Its aim is to empower a new generation of entrepreneurs looking to develop a career just like his. Due to open in fall, the Toronto facility will provide all the skills and tools needed for creative individuals to innovate across all mediums. It's something Taylor himself wishes he had access to when he was starting out.
We caught up with Taylor to learn more about HXOUSE, discussing everything from The Weeknd and his recent My Dear Melancholy, mini-album, to the Starboy's collaboration with Marvel Comics.
You recently hit the Forbes list thanks to your phenomenal success with record label XO and The Weeknd. When did it feel like you'd truly made it?
I get moments when we win an award or hit a new milestone and we're like, "Damn, we made it." We're still climbing. I don't think that feeling of making it is ever going to stop. For example, we were in Cannes recently and had a dope dinner with Spike Lee and Lars von Trier. We went to the screenings, got introduced to a whole bunch of people. We've been in the music industry for so long, but being in those film circles and having people we admire say they really like our work — damn, we made it.
You've directed music videos for Drake. Would you ever consider directing a film or something else based on long-form visuals?
Yeah, potentially, in years to come.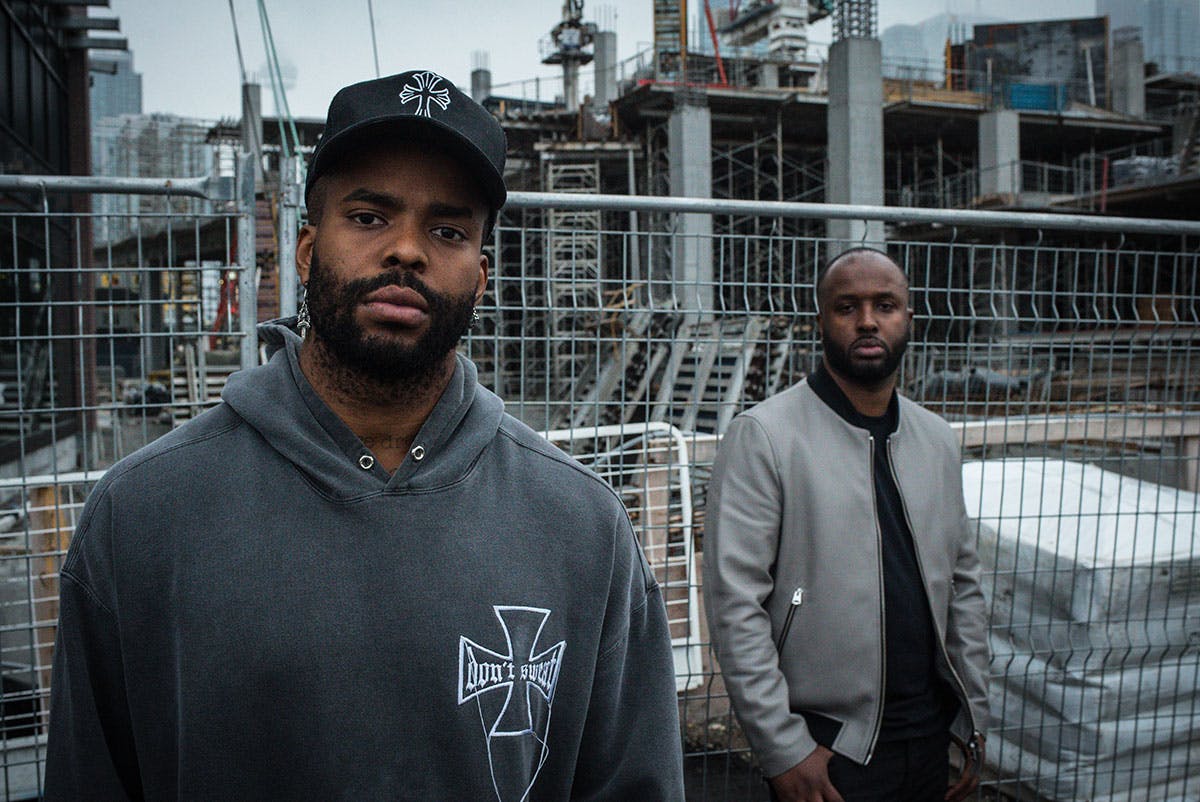 The Weeknd's 'Starboy: Legend of the Fall' tour incorporated a wide range of cinematic and artistic influences. What did you enjoy most about working on that tour?
My favorite part was how dynamic the surface of the structures were that we used on stage. It was really challenging to try and figure out how we could do the production because there were 12 different looks throughout the show. When people came to the show, they couldn't pinpoint what the structure was. Some people felt it was a spaceship, or that it looked like something from Star Wars, or it just looked like this real weird geographical form. How people perceived it, that was really interesting.
There must be a lot of pressure each time you work on a tour to match and better everything you've done before, all while competing with whatever else is out there.
I mean, yeah, I definitely feel the pressure, always, because Abel is one of the biggest touring stars alive. When people come to the shows, they're expecting a show, so we always have to live up to expectations. But it's a challenge that we love. It's good pressure, for sure.
You oversee everything from art direction and merchandise to album covers and comics. What do you enjoy working on most for XO? Is there anything you find particularly satisfying, or does it vary from project to project?
I like it all. I really enjoy when an album comes along because we can create a world visually, and that to me is always the best, when we're creating something from scratch, really pushing our imaginations to see how far we can take it.
Let's talk about the last mini-album, 'My Dear Melancholy,'. The hype was huge in the days leading up to its release. Can you talk us through why you and The Weeknd decided to announce its existence via that screenshot?
That whole project was on the sly. We did the whole thing in, like, two months. It was super organic. "Yo, what do you think? Should we put it out like this?" Me and Abel just had a conversation. "How should we roll this out? Should I be in the studio recording a video looking at the music? Why don't we just drop our conversation and leave it at that." We sat with the idea for a couple of hours and we both agreed that it was fire. We just uploaded it and it pretty much blew up.
You've helped create The Weeknd's cover art since day one. The artwork for My Dear Melancholy, has a darker vibe reminiscent of Abel's earlier work, but still looks ahead to something new. Was that a deliberate choice?
No, not necessarily. The original concept that we wanted to do with the album cover was way different than that. We did the shoot at Abel's house, in one of his offices. After we did the headshots, we started adding effects. It didn't really turn out the way we imagined it would, so we started fooling around with this concept and it complemented the music so much that we all unanimously decided that this was the way to go. It just came to be, and I think it's one of my strongest album covers to date.
Following your visual collaborations with The Weeknd, fans were extremely excited to hear you would venture into comic books together. What's it been like working with Marvel on the 'Starboy' comic?
Abel originally came up with the Starboy concept and put it into the music. He later had an interview with Zane Lowe and told him that one of his biggest influences was Marvel and Stan Lee. One of the heads at Marvel heard this interview and wanted to sit down with us. We were like, "No way, are you serious?" A couple of days after that, we went to Marvel headquarters and pretty much came up with the whole vision of creating Starboy as a character.
The first issue was hugely successful. Would you want to revisit the Starboy character again or was this a one-off project?
It's definitely something we'll come back to again and again in the future if all goes well. I know the first comic sold out in, like, 24 hours. The feedback has been great. I think people are itching for more series, so we definitely want to give them that.
Marvel has been more successful than ever this year thanks to the likes of 'Black Panther' and 'Avengers: Infinity War'. Could 'Starboy' link up with other Marvel properties in the future?
Disney has lots of rules. Unfortunately, since we created Starboy, it can't officially live in the Marvel Cinematic Universe. But hopefully we can bend those rules in the future. God willing, if everything goes well and the hype continues, you might see Starboy in a blockbuster near you.
In the meantime, you're developing a collaborative space in Toronto for young creatives called HXOUSE. Could you tell us a bit more about this "playground for innovators" and explain the mission statement behind it?
Growing up as a creative, I never had the platform that I needed to really pull everything together. I never had any mentorship or a big brother guiding me in the right direction. We did that ourselves. We've been doing this for almost a decade now. I'm working in different areas of the industry, killing it in multiple fields. I have a robust team around me and I want to share that for the next generation that's coming up. The mission statement is about giving young creative entrepreneurs the tools that they need to make it to the next level, to actually crack it and get through the gate.
How will HXOUSE help people achieve their creative goals?
Through both scholarships and the physical tools found on site. I feel a lot of creatives are lacking resources right now and I think this space can hopefully change that. It's going to have a recording lab, editing booths, photography and green-screen rooms, electronic studios, textile workshops, jewelry design — anything you can think of is going to be in that space. A lot of times, kids go into these kinds of programs and learn a lot of cool things, but then they come out of it like, "What do I do after this? Where do I go?" I want to change that kind of direction.
This sounds exactly like the kind of thing you would have loved when you were younger.
Absolutely. As much as the space is great, I love the potential of great minds all together under one roof, having those kinds of conversations. When you put a bunch of a people in one room, there's no telling what can happen.
When will HXOUSE become a reality? And what are the long-term goals of the project?
It's either going to be October or November. I can't give an exact date right now, but it's definitely opening in the fall. The goal is to open in Toronto first before hopefully in other territories, too. I feel like this is something that the whole world needs. It's a first-of-its-kind concept, so I feel that there's huge benefits in taking HXOUSE to London, New York, L.A., South Africa, Australia, Asia… We're still looking for people to work with us, though. We're still looking to raise money. We're still looking for collaborators to come up and get behind this project that we're doing, because we believe in it. We believe it's the future for how creativity can evolve in the world.
You're juggling a lot of projects!
There's so much on my plate right now that I often find myself turning down great opportunities because I'm so focused on Abel and the HXOUSE project and XO Records. But I've been thinking to myself that, with all these opportunities, I know graphic designers and art directors who could take these campaigns that I just turned down, including people involved with HXOUSE. As much as I love working on music, I want to push different sides of my creativity. I want to work with big-level brands, like the Nikes, the Apples, the Microsofts — global brands that are really killing it and people live with culturally on a day-to-day basis.
You've achieved so much already in such a short space of time. What are you most proud of in your career so far?
In recent memory, what I'm most proud of is the Marvel Starboy collaboration that we did. I think it's one of the coolest things we've done thus far, and I'm super proud of this because growing up a kid, I would read Marvel comics, and now, watching all those films Marvel has put out… For us to be in that realm, with these epic characters, and having a physical comic book that exists in the world is still mind-blowing to me. I think I'll never get over that.
Read our review of The Weeknd's 'My Dear Melancholy,' right here.