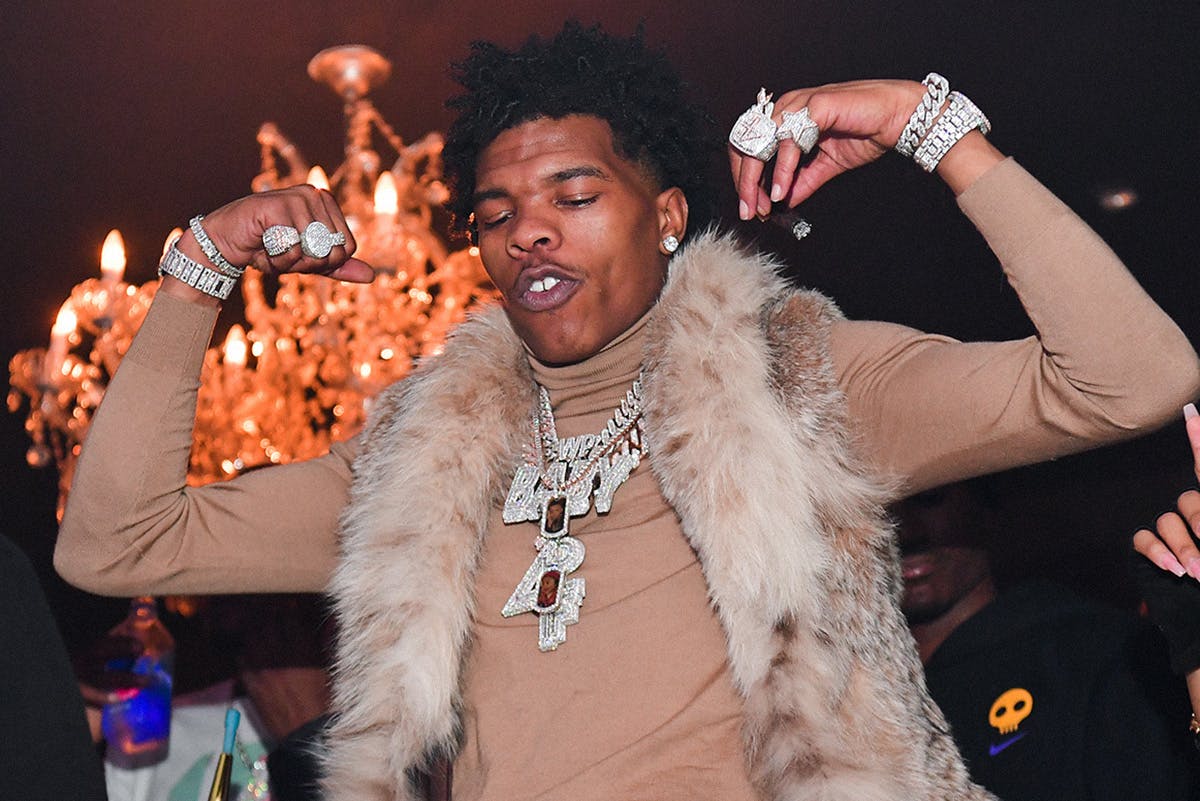 Earlier this year, Lil Baby went to Atlanta jeweler Icebox Diamonds & Watches and bought seven chains for his friends. Its insignia was 4PF, the rapper's brand which signifies his approach to life: "4 Pockets Full." As shown during his 2018 appearance on GQ's "On the Rocks" series (where he showcased more than $500,000 in jewelry), diamonds mean a lot to Lil Baby. Getting these for his close circle showcased to the world the importance of this cosign, and as his name grows up towards the stratosphere of rap, people want to be as close to his inner circle as possible. And thanks to Weekend Gifts, Inc., fans had the opportunity to get their own for no more than $75.
Just ten days after his sophomore album My Turn hit the Billboard 200's top spot in June, fans began to notice that Lil Baby's signature 4PF chain, posted as "Hip Hop Celebrity Style Fashion Silver Plated LIL BABY 4PF Pendant with Silver Tone Plated 16" Cuban Chain," could be bought on Walmart's Marketplace for anywhere from $24.99 to $74.99. Obviously fake, it looked nearly identical to the one that he wears, so jokes began to swirl about how easy it was to get a hold of one. Lil Baby himself chimed in on the situation, more annoyed than anything, tweeting: "Walmart got me fucced up." This cast Walmart itself in a negative light, but how it got up there, and why it continues to be a problem after being removed, shows that Walmart isn't solely to blame.
Walmart's Marketplace, the retail giant's answer to eBay and Amazon that was first launched in 2009, is home to millions of products, some of which happen to be fake jewelry. According to SellerApp, Walmart Marketplace has between 300-400 companies listed on its site, and gets more than 100 million unique visitors each month. The products that are listed there are sold alongside Walmart's official items, creating the appearance that these items are sold by Walmart. And that's exactly what happened in the case of the 4PF chain — it was sold by a third-party vendor.
That vendor is WG Jewelry, or, as it appears elsewhere online, Weekend Gifts, Inc. Finding out more about it is hard to do, since its existence has since been practically scrubbed from the internet. The only place that reveals more about Weekend Gifts' history is LinkedIn, surprisingly, where company founder Jay Park is listed to be a resident of Englewood Cliffs, New Jersey. They couldn't be reached after repeated interview requests, and most of its products were removed from the Walmart Marketplace shortly after Lil Baby's initial response tweet. And there hasn't been any news about legal fallout from the situation, at least not yet.
The reason for the quick clean-up by Walmart is that if Lil Baby were to sue and win, there would be grounds for other artists, and companies, to do the same. A day after Lil Baby's tweet about Walmart, Kodak Black's attorney, Bradford Cohen, revealed to TMZ that he was preparing a cease and desist letter for Walmart after fans found a Sniper Gang chain for sale on its site. "If Walmart refuses to recognize that the seller is not a licensed authorized dealer of Sniper Gang products, we will be proceeding with a lawsuit against both Walmart and the unauthorized seller," he said.
21 Savage had a slightly different reaction after finding out that a double chain inspired by him, featuring the word "Savage" on one and a picture of Jason Voorhees on the other, was listed on Walmart's marketplace. He tagged Lil Baby on his Instagram story and said, after putting some laughing emojis up, "We finna own 1."
While Walmart has cleaned up its marketplace of all WG Jewelry products, the problem of rapper-related jewelry posted there seems to be bigger than just that profile. There's another listing of a chain with late rapper Nipsey Hussle's likeness, titled "Rapper Face Head 14K White Tone Designer Pendant Chain" by a company named Master of Bling for $69.99. Going through the company's listings also showcases jewelry made after famous cartoons like DragonBall Z, Jimmy Neutron, and Danny Phantom.
With no serious regulation of the jewelry on Walmart's Marketplace, it feels like it's only a matter of time before Lil Baby's 4PF chain gets another listing. People are more interested than ever to become a member of 4PF by any means necessary; dropping $74.99 for an official-looking chain may seem like a small price to pay to align yourself with your favorite rapper. In fact, it appears that they can still be found online on other sites.
Walmart did not respond to repeated requests to comment on this story.