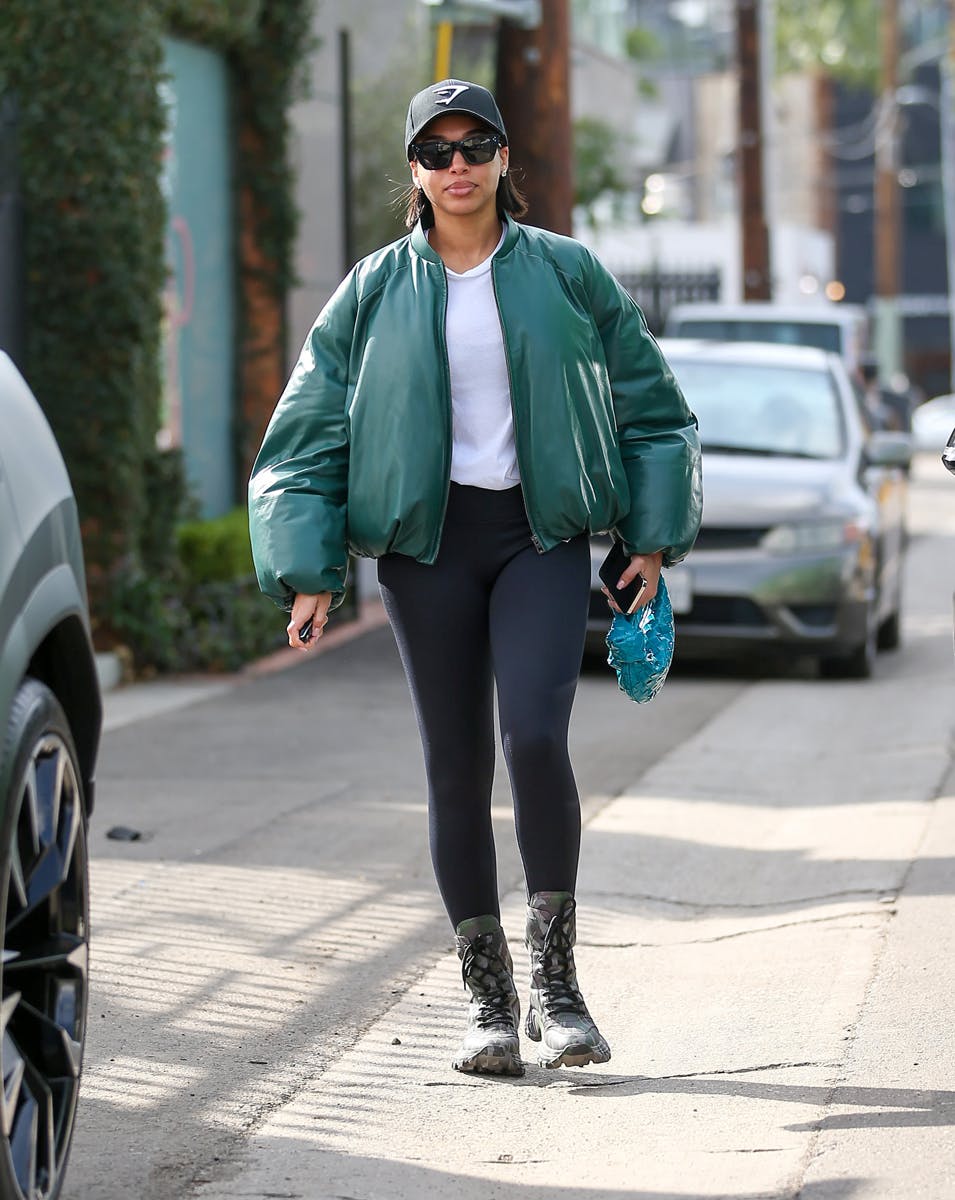 After the wild Burberry jeans, Lori Harvey is back in her cozy bag, having sported a few comfy-look ensembles matched with some designer flexes.
Let's rewind to December 6, shall we? On that Tuesday, the SKN by LH founder left her pilates class in Los Angeles, wearing Loewe's padded leather bomber jacket, which is well on its way to becoming Winter '22's it piece (Loewe princess and style star Taylor Russell also owns one).
She paired super inflated outerwear piece with a white tee, leggings, a Bottega Veneta mini Jodie bag, Miu Miu boots, and Celine shades.
The following two days saw Miss Harvey don coveted Essentials by Fear of God hoodies and Gymshark pieces coupled with Hermés Kelly bags, shearling Louis Vuitton slippers, and another Bottega handbag (I'd love to see her Jodie collection, at this point).
What can I say? Her post-pilates outfits were cozy and stylish with hints of designer drip. And I'm not mad at it. Go ahead and rock your workout clothes with your LV mules, Lori!
Interestingly, Harvey didn't have her abs on display following any of these pilates sessions, the core-focused workout partly responsible for her ripped physique. Perhaps, she's just waiting for that right bare-midriff moment to come along. Who knows?
Harvey undoubtedly joins the buff Nicole Kidman — who recently flexed her cannons while wearing Y/Project — in the toned fashion girlies club (I just made the club up, but you get the point).
Say what you want about Harvey, but the woman knows how to make the simplest of ensembles look significantly good. Plus, it's just nice to see her back in her cozy 'fits and out of the grandad pants.