Fragrance brands have created supporting products for their most popular scents for a long time, transforming them into everything from candles and hand lotions to hair perfume. To that category, some brands are adding a new way to wear our favorite scents: laundry detergent.
But many of those perfume-adjacent products like candles and lotions already carry a whiff of luxury; they are indulgent rather than practical, unlike laundry with its quotidian sense of drudgery. For some, a luxury, finely perfumed laundry detergent might be as incongruent as a high-end toilet bowl cleaner.
And that's also precisely what makes it ripe for a bit of polishing up. If brands can make toothpaste or deodorant into an enjoyably indulgent product, why not laundry detergent?
Some of the wave of luxury detergents come from brands associated first and foremost with perfume, like Le Labo's detergent versions of Santal 33 and Rose 31 made in collaboration with The Laundress, or Maison Francis Kurkdjian's line of Aqua Universalis detergents. Parisian perfume house BDK touts the credentials of its laundry detergent as though it were an eau de parfum, citing perfumer Anne-Sophie Behaghel as the nose behind the scent. "I just wanted the creative process for the Eau de Lessive to be the same as for a perfume. I collaborate with the perfumers in the same way as for a perfume," says BDK founder David Benedek. The detergent was launched as part of a project with department store Le Bon Marché, with the goal of making a daily item into something luxurious and playful, Benedek notes. "I wanted to make a differentiating and lifestyle product that allows BDK Parfums to immerse itself in the world of the house, but in a different way."
Others come from brands that start with laundry, but put an emphasis on fine scent as much as cleaning. "So often, your laundry detergent is the first layer of your personal scent," says Kair founder Sally Hughes. The British brand launched in 2021 with a line of detergents for various fabric types in scents like cedarwood, amber and iris, and bergamot and juniper. "One of the things that we learned was just how important scent was as part of the [laundry] experience. And we'd seen so much on mindfulness about interiors and scent in the home, and the impact that scent can have on your mood. And yet it blew our mind that the scents that were available [in detergents] were things like 'fuchsia passion' and 'crystal rain' and 'gold topaz.' And I was like, 'What on earth is that? And I certainly don't want to smell like it,'" Hughes says.
Just like perfume, the sort of scent that works best for a detergent is largely a matter of personal taste. But unlike an eau de parfum, a laundry detergent scent needs to survive a wash, spin, and dryer cycle and still retain its potency, as Hughes notes that early scent prototypes were often nixed for their lack of longevity. That means you're likely to see detergents anchored with long-lasting notes like musk, amber, and wood aromas, whose larger molecules are more persistent than volatile, smaller molecules like citrus or herb scents.
Though in theory, any perfume can be translated to a detergent. In the case of Los Angeles-based perfume brand DedCool, its "dedtergents" include the exact same scent formulation of some of its eau de parfums, including its signature musky Milk scent and floral-vanilla Taunt perfume. "The laundry detergent really stemmed from DedCool wanting to create a different experience and a more inclusive and immersive experience when it came to fragrance. Because fragrance has been this luxury for so long," founder Carina Chaz says of the dedtergent line, which DedCool initially debuted in 2020 and relaunched with new packaging this past August. Though expensive for a laundry detergent at $35 each, the dedtergents are far more accessible than a $90 perfume.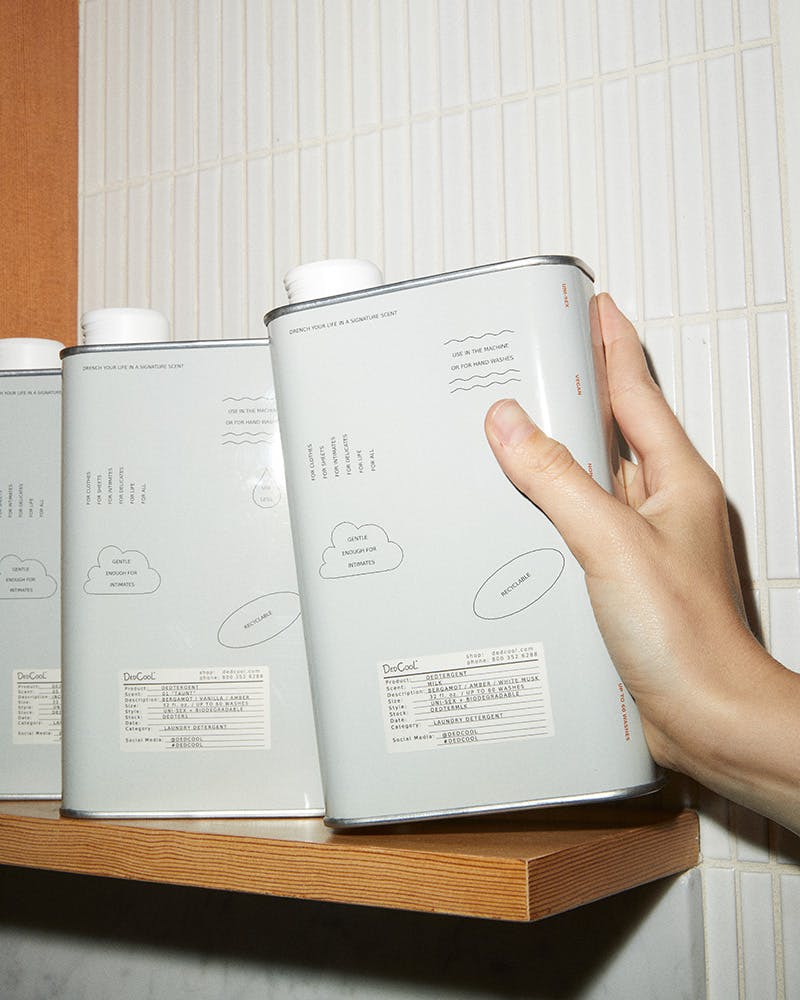 There is a common thread to many high-end detergents that goes beyond a delectable scent: sustainability. Like with more stylish deodorants from the likes of byHumankind and Corpus that tout "natural" ingredients and sustainable packaging, many luxury detergents speak to a customer who is interested in more earth-friendly products.
But these consumers are not necessarily the hippie, granola buyers of traditional natural products. For Chaz, the consumer who might be interested in dedtergent's reusable aluminum packaging and biodegradable formulations are largely style-conscious Gen Zers, who expect sustainability as a given, rather than a niche subset. "These are freedom fighters, they vote with their dollar," Chaz says. "They're shapeshifters, they're into sustainability."
In the case of laundry detergent, the sustainability conversation doesn't pertain to just reusable packaging or a limited use of single-use plastics, but also to a larger goal of extending the life of clothing. "The answer, truly, to the fashion sustainability crisis is what's already in our wardrobes," says Hughes, who founded Kair after working in marketing for fashion brands and retailers. "The reason that [my former] brand and many other brands were writing 'dry clean only' on the labels isn't because they can't be washed, but because the standard detergents include ingredients that are not suitable for many garments that are more delicate. Either because the level of chemical in them is enough to cause color fade, or there's bleaching agents, or there are certain enzymes which may be great at breaking down certain types of biological stains, but will also attack natural proteins and natural fibers."
"The fact is that we do not wear out our clothes, we actually wash out our clothes," says Frej Lewenhaupt, co-founder of Stockholm-based clothing care brand Steamery. Lewenhaupt founded the line along with Martin Lingner and Petra Ringström Oxhamre in 2014 first – as the name implies – with an energy-efficient handheld steamer molded in Scandinavian simplicity. The line has since expanded to all sorts of apparel-saving tools, including fabric shavers, sewing kits and, of course, laundry detergent, all created with an eye to aesthetics and efficiency. "The trick is to inspire the user to feel good while doing this process," Lewenhaupt says. "The classic, boring laundry Sunday is not the most appealing time of the week, and therefore we work with making this process fun."
The addition of scents like rose and musk certainly add to the feel-good nature of using the products, to the point that following customer feedback, Steamery has launched a fabric spray version of the scent so that customers can refresh the scent without overwashing their clothes. But a good scent can act as a gateway for consumers to learn to better care for clothes, as both Kair and Steamery distinguish their detergents not just by smell but by their formulations for particular fabrics. Steamery's delicates wash for example is free of enzymes, which can break down proteins found in wool and silk, while Kair's activewear wash uses deodorizing ingredients intended to remove odor-causing bacteria that can persist in workout clothes designed to wick sweat and moisture.
But what customers are largely paying for, intentionally or not, in a higher-end detergent is the scent. "The biggest thing that drives our price point is our inclusion of fine fragrance, because we are a very, very different experience to your traditional laundry experience," says Hughes. And $20 to $30 is a steep price when you consider you could spend $10 on a jug of Tide detergent to do essentially the same thing. But it's a relatively small expense when compared to other luxury products designed to spruce up your home, like a $70 candle or a $1,000 sink. Which is as much of the appeal of the high-end laundry detergent as their primary function of cleaning your clothes.
"If you go look online, buying an apartment, all of a sudden you find that the kitchen is in the middle of the living room, for example. So the kitchen has to look dope. It used to be hidden in the back where the staff was hanging out. But now it's the center of the place so everything has to look good. It's the same with the bathroom. And it's the same with the laundry room," says Lewenhaupt. Like an Aesop hand soap, a fancy detergent can be left out on a sink to signal a certain aspirational aesthetic in a time when few of us have the luxury of a large enough home to hide away our messy kitchens and laundry rooms. Or when even the most private of rooms, like the bathroom, can be fodder for top-shelf Instagram envy.
Scent can't be seen like a stylish bottle. But it is still an important part of our sensorial design, as a good scent can have a subtle, but powerful effect on our surroundings and mental state. Not everyone is willing to pay the extra price for a heightened olfactory experience, but for those who wish to indulge their sense of smell, almost anything can now be a carrier for our favorite scents, whether that's a car freshener, textile spray, or a laundry detergent.